NBA Win Total Odds & Pick: Has the Market Overcorrected on the Chicago Bulls?
Credit:
Mark Blinch/NBAE via Getty Images. Pictured: DeMar DeRozan #11 of the Chicago Bulls.
Check out this post for updated season win total odds for all 30 NBA teams.
---
Chicago Bulls Win Total Odds
| | |
| --- | --- |
| 2023-23 Win Total | 41.5 |
| Previous Season's Wins | 46 |
The Case for the Over
A Drastic Level of Skepticism
Billy Donovan
The Injury Illusion
This number screams, "The Bulls were frauds last year."
The Bulls can have been frauds last season and still go over. This team still has a Tier-3 star in Zach LaVine, a Tier-4 star in DeMar DeRozan, capable veterans, good young talent, and a lot of upside.
This feels like the books are trying to get ahead of sentiment on them and wound up overreacting.
Patrick Williams should improve and give them a signature wing defender. Nikola Vucevic had a terrible season, not just defensively but doing things he's always done in his career, like making bunnies. Ayo Dosunmu looks like a legit weapon on both ends.
With Alex Caruso in the lineup, the Bulls won 55% of their games. Caruso is back and has no severe injury history. This roster, position by position, does not grade out as a .500 team.
Billy Donovan's teams are 5-2 to the over overall, but more specifically, the totals were super high in his early days in OKC. Against a win total of less than 50, Donovan is 5-0.
Donovan isn't talked about in the top tier of NBA coaches because Twitter can't ooh and ahh over his after-time-out plays or unconventional defensive schemes. He's just an extremely professional basketball coach who establishes good principles on both ends.
Donovan isn't beloved by players like some coaches, but those "player's coaches" also tend to get tuned out. Donovan is just professional and instills professionalism in his teams. This ain't some small state school.
Let's talk about who the Bulls really were last season and what the number reflects. Chicago was on pace for 53 wins on Feb. 1 with the fifth-best offense and the 18th-ranked defense.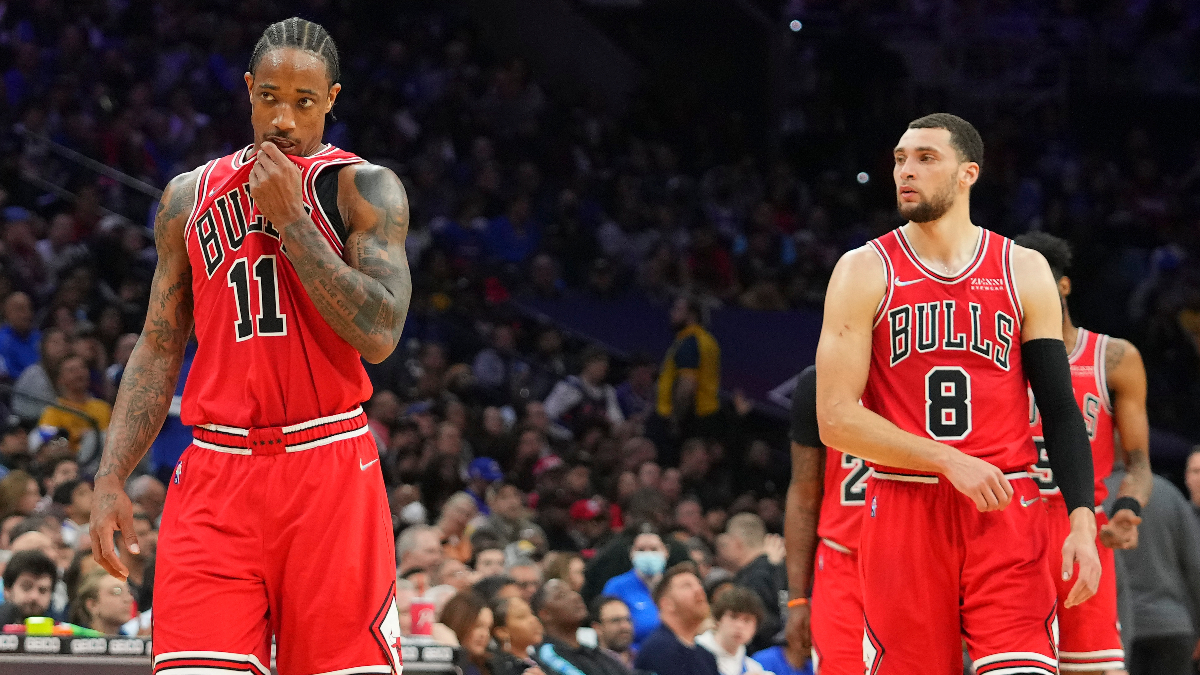 That's before all the injuries really started to overwhelm them. Even adjusting for the expected win rate (point differential vs. strength of schedule), they were on pace for 46 wins.
Then the compound injuries piled up, the team ran out of gas, and slid in the back half of the season. They finished with 46 wins but an expected win count of 40.4.
Guess which number the win total is set against?
Over the last 10 years, win total lines are more strongly correlated with expected wins (Pythagorean) than actual wins. That's a sound process, over time, that's been shown to be a stronger indicator of team strength. The problem is, that inherently influences the number too much.
Chicago was second league-wide in the difference between their actual wins (46) and their expected wins (40.4) at 5.6.
Teams at the 80th percentile (+1.6) in expected win over-performance (won more games than they "should") have gone 12-9-1 (55%) to the over.
So the final expected-wins number for the Bulls shows that they were way worse than their record, which pushed their win total closer to 40 wins than 45 wins.
Let's go back to the injury element. Chicago was sixth in VORP lost to injury per Man Games Lost. Teams that were 75th percentile in VORP lost to injury went 13-8 to the over the last 10 seasons.
So the Bulls won a bunch of games despite really bad injury luck, then slid because of an overload of injuries, their numbers suffered for it and made them look like a much worse team than their record, and the bookmakers set this line too low.
Don't play the team; play the number.
---
The Case for the Under
DeRozan's Regression
Lonzo Ball' Uncertainty
DeRozan was phenomenal last year. He was untouchable. DeRozan averaged a career-high in points at 32 years of age with the second-best eFG% of his career. He had long stretches of sheer dominance.
But as it is with everything with DeRozan, the problem is not the highs, it's the consistency and what happens when his star gets a little dimmer.
There are just a lot of reasons to believe DeRozan will not be as good as last season. That doesn't mean he falls off a cliff, just that he's not quite as good as he was the year before.
Lonzo Ball is out indefinitely. This is disastrous for the Bulls. They're still hopeful he'll play at some point this season, but that sure seems like a dubious proposition.
Ball said on media day he can't run or jump without pain and that going up stairs hurts. It's hard not to feel for the guy who has dealt with unrealistic expectations early in his career, an unstable situation in New Orleans, and finally found a home where he could thrive only to get hit with the injury last season.
The Bulls' defense without Ball was eight points worse last season, going from very good (107) to bottom-barrel (115) without him. Caruso's return can mitigate that some, but they'll miss Ball. Ball was essential not only on-ball but as a help defender in the Bulls' drop scheme in pick-and-roll.
You need good wing defenders to help down in pick-and-roll as Vucevic drops. Vucevic can't switch or play up, and Zach LaVine and DeRozan struggle when trying to get over screens. Ball is great at helping down and recovering to the edge on top of taking on the primary on-ball defensive assignment.
Chicago's defense cannot be top-15 without Ball, barring an unforeseen mega-leap from Williams or Dosunmu.
If we know the defense won't be as good as it was to start the season last year due to injuries and how the games were officiated early last season, and the offense wound up 14th (again, with injuries), and we believe DeRozan regresses, then what is this team good at?
A top-10 offense and a bottom-10 defense is probably .500 or worse, and that's right where this line is.
Bulls Win Total Pick
When we recorded our Buckets podcast on this team, we didn't expect it to hit 41.5. At the opener of 44.5, it's lean to the under, but at 41.5, I think you have to play the over.
This number just screams that the oddsmakers are overreacting to what the Bulls "should have been" despite so much of their season being impacted by injuries.
Yes, this season will be impacted by injuries as well, not only by Ball but whoever else gets banged up or out, but even then, the injury impact would have to be so severe as to be equal with the risk of any team being scuttled by injuries.
I keep coming back to "Do I think a team with three former All-Stars with a good coach and a capable front office (that completely swung out this summer) will go under .500?" And the answer is no.
I'm going to hold my nose and bet the over on a small play at 2 units.
How would you rate this article?
This site contains commercial content. We may be compensated for the links provided on this page. The content on this page is for informational purposes only. Action Network makes no representation or warranty as to the accuracy of the information given or the outcome of any game or event.