The Point God's Requital: How Chris Paul's NBA Finals Breakthrough Changes His Narrative
Credit:
Adam Pantozzi/NBAE via Getty Images. Pictured: Chris Paul #3 of the Phoenix Suns.
How much are you willing to give?
We all ask ourselves that question. For Chris Paul, in the game of basketball, it has always been "whatever it takes."
With Paul finally stepping onto the NBA Finals stage, we get another chapter written in a book we all thought was entering its prologue, the quiet years at the end of a marvelous, if ultimately unfulfilled career. Up to this point, it never quite came together for Paul.
Except this year, in this difficult, maladroit, aberrant season, it has almost come together. Four more wins, and everything in Paul's career reflects through a different prism.
There's a bizarre symmetry in the fact that the NBA season has been, for the most part, exceptionally unlucky for all involved. Between the brutal schedule, the rash of injuries that schedule created, the disruptions of COVID and the general instability of the last 18 months, most teams would consider this a cursed season.
Yet, Paul, whom fate has always found a way to trip on his way to an elusive championship, has flourished. Even his bad luck in the playoffs, including a shoulder injury and an absence for COVID health and safety protocols, didn't derail him.
(I will now take this moment so that we may all knock on all the wood we can find. Go to the forest if you must.)
In the most unlucky season in NBA history, somehow a title-star-crossed superstar has made it to the final stage.
---
I find there are two types of NBA fans when it comes to Paul.
One side can't escape the top layer of his career. Gifted? Surely. Talented? Absolutely.
But they see the way Carmelo Anthony (one of Paul's good friends in the Banana Boat Gang by the way) was treated in regards to his playoff success and wonder why Anthony was so dragged and Paul was so absolved.
After all, Paul had made just one Conference finals before this season. That's it, in 16 seasons. Sure, you can explain some of it away, but he simply hadn't won.
His critics only see the flopping, the barking, the history of boy-that-looked-like-a-shot-to-the-nuts moments, and the way he grated on teammates.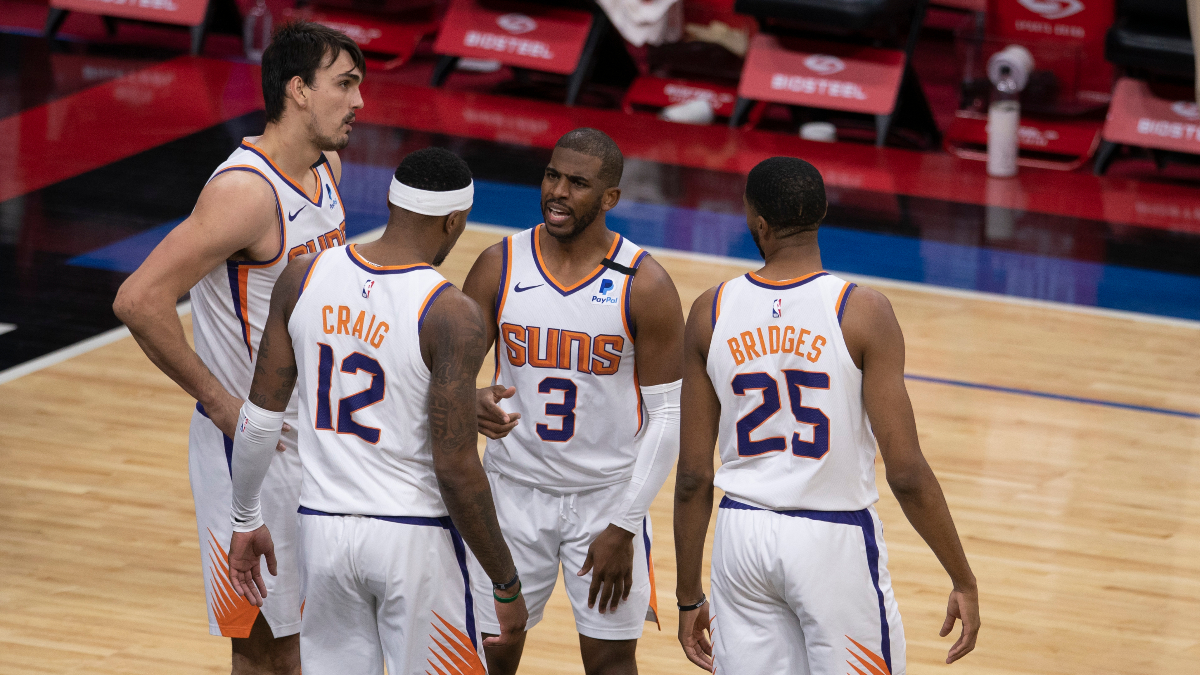 But Paul was never quite a villain because he didn't relish it. It wasn't performance art. He just kind of acted like an asshole.
The other side sees, well, everything else.
Those notions that form the opinions of the former group all make sense when you put them into the bigger puzzle.
The flopping, the barking, the chirping at officials? Paul is driven to win every single possession, every single second on the court. This is a subjective idea, but I can claim with a high level of confidence that Paul is the most hyper-competitive player in the NBA since Kobe Bryant retired.
Paul was relentless to a fault, but isn't that what we want? Don't we want athletes who are willing to commit themselves so much it makes them unpopular?
Barking at his Lob City teammates? They were young and excited, he was in his prime, looking to win a title. He may have been wrong in his approach, but the Clippers every season would feature one of the best five-man lineups for their starting unit.
The falling out with James Harden? At this point we have a lot of evidence that was a two-way street and more about Harden than Paul.
When I say Paul gave everything, I mean it. Whatever it was that he was supposed to do, he did it. Paul was forced early in his career to undergo surgery for a torn meniscus in his knee, the meniscus was ultimately removed, a procedure that promised a faster recovery time but would lead to greater issues later in his career.
That was 11 years ago.
---
When he came into the league in 2005, Paul took on the mantle as the franchise player of the then New Orleans Hornets from the moment he was drafted and won Rookie of the Year.
He helped manage the team's transition to New Orleans, and then, when the franchise was forced to spend a season in Oklahoma City after Hurricane Katrina, he invested himself in that community as well.
That community involvement cannot be overstated. Paul walks the walk off the court. He never let his on-court severity cost his off-court priorities. He balanced them. Yes, he's a brand ambassador and in a million State Farm commercials.
He's also the guy whose charitable foundation has made an impact with high risk students from Winston-Salem to New Orleans to Los Angeles to Houston to Oklahoma City and now Phoenix. It's not just the money Paul has put in, which is significant even for an NBA superstar, but the time and actual programs his foundation has put together.
He's a good guy off the court, the way a lot of players are.
He's also truly one of the greatest to ever play. On top of all his historical positions, the overall impact and efficiency for Paul is just through the roof.
I try not to get bogged down in too many qualifiers on StatHead, you can make the parameters a little too narrow. But 16 points per game is a good amount of scoring. Shooting 50% from 2-point range, 36% from 3, and 85% from the line are all "really good" marks for an NBA player. And 8.0 assists per game is quite a bit.
Chris Paul averaged gone at least 16.0 points and 8.0 assists on 50% 2's, 36% 3's and 85% line or better in eight seasons. The second-closest player is Steve Nash who did it four times. No one else had done it more than two times.
Those are numbers. As far as the playoffs, you can recount the failures, but you can't overlook the moments of greatness, either.
---
This one, though, is my personal favorite.
In 2015, the Clippers and Spurs met in what I still consider to be the best basketball in a first-round series ever. Paul eventually ousted the Spurs in seven games; it was a masterclass from CP3 that included the Game 7 series-winner.
In the final three games of that series, Paul scored 65 points with 31 assists and two turnovers, despite playing on a sprained hamstring that would hamper him the next series, the infamous 3-1 collapse vs. Houston.
And man, the injury luck doesn't even begin to stop there.
The broken hand in 2014. Blake Griffin's torn meniscus in 2017. Paul's hamstring injury in 2018. Over and over. (Again, knocking on wood here, you do the same, we're all in this together.)
There were failures. I'm not here to claim there weren't. The 2013 loss to the Grizzlies. The 2014 Game 5 collapse vs. the Thunder. The aforementioned 3-1 loss against Houston.
But Paul came by those losses honestly. It wasn't effort, will, or heart. He wasn't shying away from the moment. Paul just wasn't good enough. After every loss, he stood before cameras and admitted the failures with his head held high.
Paul's vicious on the court, exact and exacting. His passing isn't flashy, it's precise like surgical cuts. His scoring doesn't come from logo launches, it's more like a laser carving through aluminum. He exaggerates contact to get the whistle he wants, he wears defenders out with moves, countermoves, screens and re-screens.
Paul has proven you could give everything on the court, while being a devoted family man, a profitable businessman and model spokesperson as the head of the NBPA. No quarter given, none asked from Paul's life.
The sense of public support for Paul since his trade from Houston is typical. Paul's been the golden boy, the wily veteran, the crusty villain, and now is the elder legend.
A title, however, changes so much. Paul not needing to go the Gary Payton route and tag along as a bit player makes the impact greater. To put it in context, a title evens him with Kevin Garnett and Dirk Nowitzki. The whole conversation changes.
Come up short, and Paul's still earned the begrudging respect his recalcitrant antics had spoiled in the mid-to-late 2010's. But win, and the discussion is about exactly how high he ranks on the all-time point guard list.
But if you want to know what it took to get Paul to the Finals?
It took everything.
How would you rate this article?
This site contains commercial content. We may be compensated for the links provided on this page. The content on this page is for informational purposes only. Action Network makes no representation or warranty as to the accuracy of the information given or the outcome of any game or event.