NBA Win Total Odds & Pick: Go All-In With the Denver Nuggets?
Credit:
Aaron Ontiveroz/MediaNews Group/The Denver Post via Getty Images. Pictured: Nikola Jokic (15) of the Denver Nuggets.
Check out this post for updated season win total odds for all 30 NBA teams.
---
Denver Nuggets Win Total Odds
| | |
| --- | --- |
| 2023-23 Win Total | 49.5 |
| Previous Season's Wins | 48 |
The Case for the Over
Stacked Team
Strong Vibes
Michael Malone
Everything has lined up for the Nuggets. Jamal Murray did not return last season, giving him a full six extra months of rest and recovery. Michael Porter Jr. has been cleared.
They upgraded the roster significantly, sending out Will Barton and taking the pain of moving Monte Morris to get Kentavious Caldwell-Pope. The free agency addition of Bruce Brown helps them at multiple positions with his flexibility.
They're not talking championship aspirations, they're saying things like, "We can't talk about it, we have to be about it." The vibes are through the roof with this team.
They're a more veteran team now centered around the two-time MVP with a head coach who has gone over the win total in every season of his career except the 2020 COVID-shortened season.
The KCP upgrade from Barton is significant. He's younger and shot better on catch-and-shoot opportunities while being arguably the best point-of-attack defender on the team. Brown gives them a player who can sub 1-4 and defend 1-5.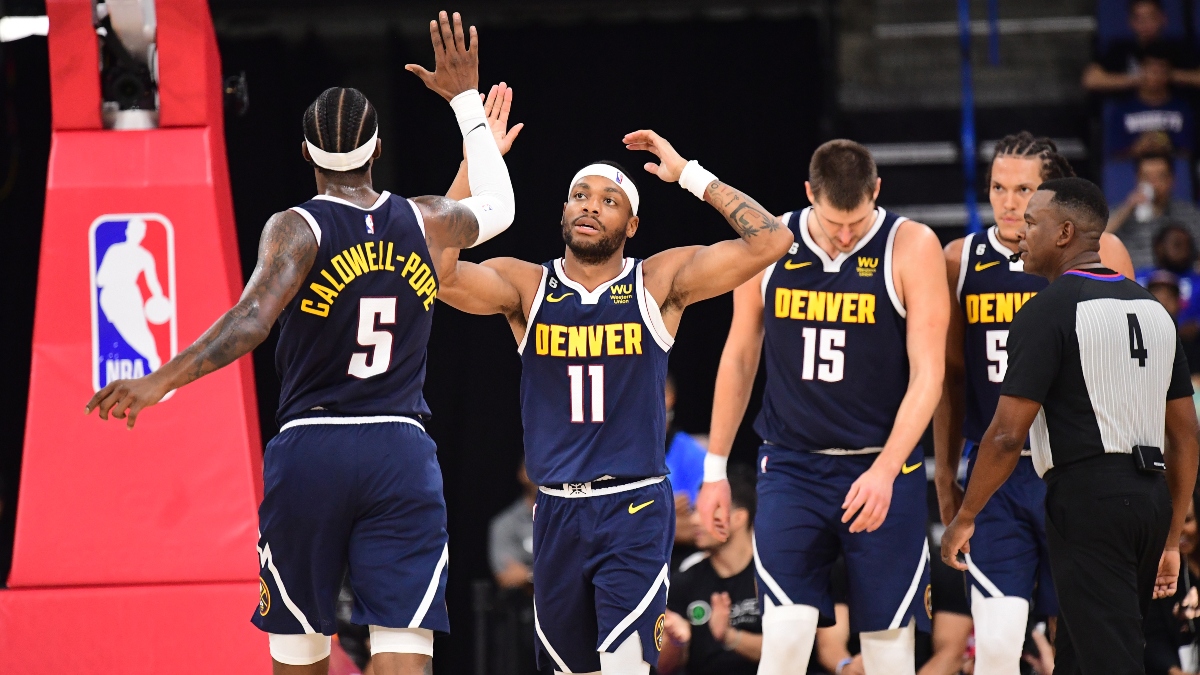 KCP shoots 36% in his career on 3's, higher on spot-ups. MPJ is 41% career 3-point. Aaron Gordon has learned to play with Jokic and is a high-level cutter, and become a very good passer in this offense. Murray, when he's back to whatever form he gets to, is a devastating pick-and-roll scorer.
How does anyone slow this offense down? I'm not prone to much hyperbole on offense, but this may be one of the best offenses we've ever seen, which says something after the past few years.
The defense won't be elite, it won't need to be, but it will be better than it was last season and better than any season in the Jokic era.
Speaking of Jokic, there's no sign of him slowing down. His MVP chances may take a hit with lower usage and the fact that no one has won it thrice in a row since Bird in '86, but he'll still be a monster.
Bones Hyland has garnered rave reviews in training camp and looks like he's primed for a big step forward. Zeke Nnaji gives them a quality 3-point shooter who can play 4 or 5 in lineups. DeAndre Jordan is already making friends. He may be unplayable like he has been the past four seasons, but the Nuggets just need to improve what was honestly the worst bench unit I've ever seen.
I need to stress that Malone's teams have only gone under once, and that season was voided due to the COVID outbreak. He lost two starters for essentially the entire season last year, and they still went over.
In related news, the Nuggets have gone 149-67 (69%) in games vs. teams that finished the season under .500 under Malone. Teams that win more than 68% of their games vs. teams under .500 have gone 65-29-1 to the under in the last 10 seasons. They win their home games (63.6%). They win their division games (54.8% straight up).
---
The Case for the Under 
Bar Is Too High
Injury Concern Is Higher
Trends Are Bad
The high line is 51.5, and there can only be so many West 50-win teams. (Well, maybe not, in 2015, seven Western Conference teams won 50 or more games, and eight did so in 2010. Just a berserk season of West dominance.)
The Nuggets have eight new rotation players thanks to the draft, free agency, and the returning players from injury. The only holdovers are Jokic, Aaron Gordon, Hyland, Jeff Green, and Nnaji. Everyone else in the rotation is new or on relatively low minutes. It's possible it takes them some time to gel, especially with the learning curve of playing with Jokic.
The injury concerns are more than an average team. Murray took a full year and a half to recover from his ACL surgery and said in training camp he's still having physical limitations. Porter Jr. has had four back surgeries, and everyone will always be on pins and needles with him.
Jokic hasn't had a major injury in his career, and the usage on him has been simply incredible the last three seasons. He also played in EuroBasket just before training camp. He had basically May, June, and July off before EuroBasket camp in August. He's a beast when it comes to reliability and endurance, but very few players make it through this length of time unscathed.
Nnaji and Hyland both had issues with injuries last season. Green is deep into his career, as is Jordan. Center depth is perilously thin.
The trends for teams at this level are poor.
The 45-50-win zone is a dead zone in the NBA as of late. Teams that have won between 45 and 50 games and then had a win total of 50 or more the following season are 10-2-1 to the under over the last 10 seasons.
Teams with a win total above 50 are 31-16-1 to the under overall at 64.5% over the last ten seasons. It just seems like 50 wins is a key number in win totals and every team that isn't a super squad needs a lot of help to get there.
Nuggets Win Total Bet
Being based in Denver, I'm subject to the same inherent bias that every local reporter faces with the local team. You're going to see how good they are and how bad they are and when they're good, that's going to really impact you.
I'm just telling you, I'm not a Nuggets fan in any respect. I'm a transplant and a natural skeptic.
I'm drinking the Kool-Aid. The preseason vibes with this team are through the roof. The roster is loaded. The coach is underrated. The schedule is winnable. They have the least back-to-backs and a travel-heavy early schedule which is easier to manage.
The Nuggets have been prepping for this season since Jamal Murray went down. They loaded up on veterans. The chemistry is good. The talent is excellent.
I think this might be the best regular-season team in a stacked conference. I bet the over at 49.5 at release. I like the over at any number. It's a max bet for me at five units.
How would you rate this article?
This site contains commercial content. We may be compensated for the links provided on this page. The content on this page is for informational purposes only. Action Network makes no representation or warranty as to the accuracy of the information given or the outcome of any game or event.