Moore: A Short History of How Pistons (-8) Wrecked My Soul
Credit:
Rick Scuteri-USA TODAY Sports. Pictured: Andre Drummond
The Detroit Pistons were 8-point favorites over the Cleveland Cavaliers on Thursday night.
The final minute of the game did not go well for anyone -- myself included! -- who bet the favorite.
I knew better. I should start there. I said on our 5-Minute Lines podcast that betting Detroit and its rock-fight offense as 8-point favorites was a bad idea — even against the Cavs, who have been a complete disaster.
Yes, the Cavs were on a back-to-back, but that's always baked into the line.
So I will acknowledge that I should have stayed away here. And yet … I dove in. I took Pistons -8. I was basically in that First Take meme with myself.
Me: Self, I want to address this issue.
Also me: (Nods)
Me: You know I know I shouldn't take the Pistons at any number above 6 vs. anyone.
Also me: Absolutely!
Me: BUT!
And yet, for all that, it looked so good.
The Pistons led almost the whole game. Their largest lead was 16, double the spread. With 1:19 to go, the Pistons led by 10. Not much of a differential. But all the Pistons really needed was one more bucket to probably finish it. And they got it.
Which is where the pain began. Join me. Hop on this boat, and journey down this Heart-of-Gambling-Darkness river of misery that led to Cavs +8 cashing on Thursday night.
Narrator: 1:03 left, Pistons up 10. Reggie Jackson fouled at the basket
Status:
All right, here we go, that'll do it. This makes it 12, that's too much, the Cavs might hit a meaningless 3, but with clock and multiple possessions left for Detroit, I'm good here.
Right?
Right?
First free throw:
OK, that's annoying, but let's get this to 11 and as long as nothing crazy happens, we're still good.
Cool. Now the Cavs will likely go for a quick 2.
NARRATOR: 58.9 seconds left, Pistons up 11. The Cavs did indeed go for a quick 2.
Well, that's not great, but we're still in cover range. Run clock, get a bucket, and let's go home.
NARRATOR: 57.3 seconds left, a pleasant twist arrives
Oh, they're fouling! Insurance buckets! This is clearly Tyronn Lue's last gasp. Reggie Bullock knocks these two down and the Cavs probably pack it in. I feel good. This is all good. Everything's good.
Hey, have I mentioned Bullock is a career 81% free-throw shooter, who hadn't missed one (8-for-8!) before this attempt?
All right, it's 10. Now I'm a little concerned, but hey, even if they get a 3 here, it's still seven with less than 48 seconds left most likely. There's no reason to really contest that.
As long as nothing insane happens, like a four-point play, this is closer than it needed to be, but no big deal.
NARRATOR: 49.1 seconds left, Pistons up 10. It was a big deal
I do not have the words for how infuriating this is. First off, you foul Kyle Korver up 10. It's Kyle Korver. If he's shooting it, you contesting it heavily is not going to make a difference. It's Dead-Eye Kyle.
Second, look at the bounce this shot takes. I could live with this if Korver just splashed it through. I could live with that. But no. I get the "slow-motion 'Teen Wolf'" style straight up bounce and in.
Third, look at Korver's leg! We had a whole officiating emphasis on this!
My little win probability in The Action Network app for Pistons (-8) just took a nosedive. Now it's going to be six after Korver hits this free throw and I'm going to need the Cavs to keep fouling just to push and do it twice to hit the cover.
Why, Gambling Gods? Why have thou forsaken me?
Korver hits his free throw because he's an adult.
NARRATOR: 36 seconds left, Pistons up six, a series of unfortunate events
At this point I enter a state of confusion and alarm like I'm in some sort of psycho experimental indie thriller.
First, the Cavs don't foul.
OK, I get it. You're now down two 3s and you can get a stop here and have time for quick 3, foul, quick 3, foul, etc. That Korver play opened the door.
So naturally, the Pistons are going to use all the clock right? They're not going to do something dumb like have Jackson drive with 15 seconds left on the clock, right?
Now, he drew free throws. That's good. That's great. Just… couldn't you have held on to the ball for another 15 seconds, gotten this thing under a single possession, and then after you make your free throws I can at least push?
No? OK then.
Well, at least Jackson is a good free-throw shooter.
See? OK, he makes this one, and if I don't get backdoored, I push. This is fine. It's not great. It's fine.
Wait, salvation is nigh! An offensive rebound! And the Cavs took the foul! This is even better! The cover is alive!
I'm feeling like the smartest man alive. That's right. Knew it the whole way.
Never. In. Doubt.
Jackson will sink these two, it'll be nine, the Cavs will run out the clock, and even if they throw up a backdoor attempt my odds are still great. We're good.
NARRATOR: 32.6 seconds left, Pistons up seven. He was not good. 
See, I'm not even mad at Jackson here. Look at his body language. He's just as mad at himself. He's coming back from a serious injury. I get it. I get it. It's just: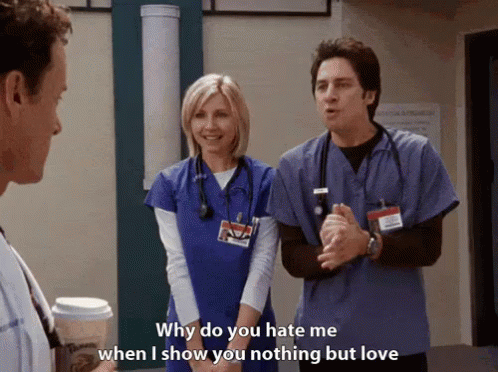 So now I'm screwed. The Cavs are definitely going to try to win, and one bucket, even a layup, gets this thing within five and the odds of getting four three throws in that span are not good. I need a miss here by the Cavs badly.
NARRATOR: 25.2 seconds left, Pistons up 7. There is light at the end of the tunnel.
Thank God for rookie point guards. Collin Sexton takes a tough contested floater, and Blake Griffin gets the rebound. I mean, look at this.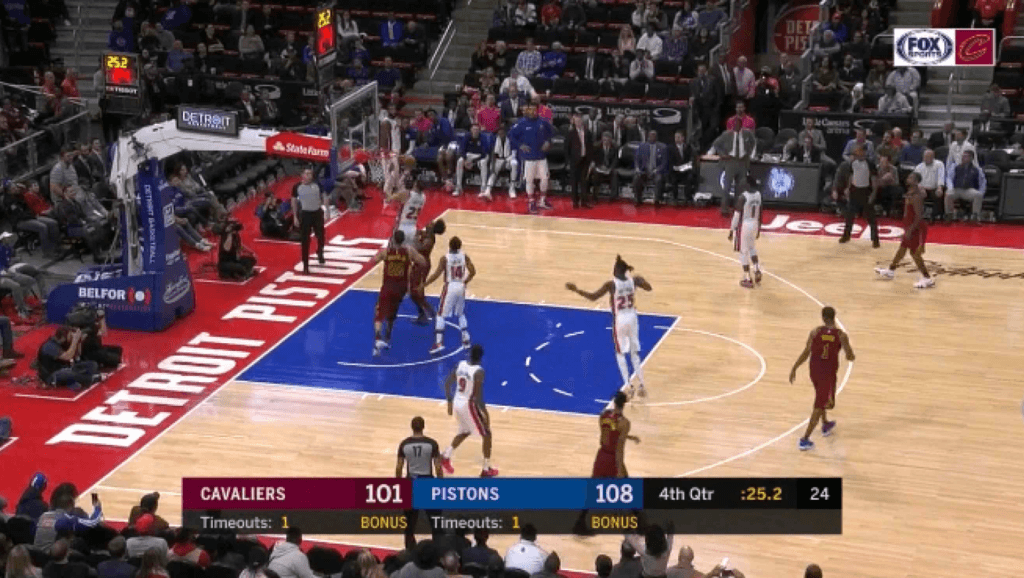 They've got it, Cavs will foul, I can nab the one-point cover or push if Blake can just make a free throw or two.
NARRATOR: 20.4 seconds left, Pistons up seven. A mixed success.
He had the ball! But OK, OK. This isn't bad, can still get the jump ball and… technical foul on the Cavs!
My win probability just spiked like bridge stocks when climate change finally bites us. Let's go.
Jackson makes it, and he and I are in the same place, spiritually, after he just stands there staring at the basket after draining that free throw following all those misses.
NARRATOR: 20 seconds left. Pistons up eight. Good times are here again.
Pistons win the jump ball and the Cavs don't capitulate and now I'm greedy.
No more push for this man, I'm getting the whole cover. Langston Galloway is career 79% from the line, so sure, there's some concern with the fact no Piston seems to want his coffee for closers, but all I need is one.
Of course. Cool. This is great. This is all great.
I am now, at this point, horrified of the backdoor cover. Sexton's jumper is a huge question mark, but he's also shooting 45% this season.
I don't know what the Cavs are going to do. I just need one little miss. Just one tiiiiiiiiiny miss here.
NARRATOR: 12 seconds left. Pistons up 9. That light you saw earlier was, in fact, a train.
Thanks for nothing, Collin. (I'm kidding, good job playing to the end and working on that late-game jumper, kiddo.)
But at least the Cavs will foul, right? They've fought this long. They're not just going to…
NARRATOR: 0.00 seconds left, Pistons win by 7. Cavs (+8) cashes.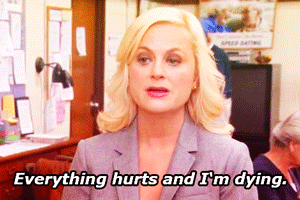 Again, I have no one to blame but myself. I knew better. But, to recap, that was six missed free throws inside of 63 seconds, an early take on a late possession and a four-point play surrendered on a kick-out to burst through that backdoor.
It's not that they blew the cover. It's that there were so many turns inside of that minute where they went from "very probably covering" to "definitely covering" to "maybe covering" to "super likely covering" to "not covering at all."
And that, my friends, is the sweat.