Eastern Conference Odds & Betting Picks: Which Team Is the Biggest Threat to the Bucks?
Credit:
Stacy Revere/Getty Images. Pictured: Giannis Antetokounmpo defended by Al Horford and Joel Embiid
The NBA's Eastern Conference is a gauntlet of its own this year, after the West stealing the spotlight every season. There are serious contenders throughout the conference, all hidden behind an all-time great Bucks team that looks very much on its way to 70-plus wins.
The Bucks match up with all these teams because, well, they're the best team in the league and match up with anyone. But for every stat I can give you about how great the Bucks are, there are elements in all these teams that give me pause would give me pause on going all-in on Milwaukee to win the East.
Here's a look at the four main challengers to Milwaukee's presumptive throne: the Toronto Raptors (+750 odds), Boston Celtics (+750 odds), Miami Heat (+750 odds) and Philadelphia 76ers (+800 odds). I'm excluding the Pacers for a number of reasons, among them how Indy absolutely disassembled after Victor Oladipo came back from injury and its other rampant injury concerns.
---
Odds as of Tuesday at 6 p.m. ET and via FanDuel. Get up to a $500 risk-free bet at FanDuel today or see more offers and reviews for the best online sportsbooks.
---
TORONTO RAPTORS
Eastern Conference odds: +750
Biggest strengths: Defensive versatility and experience
Biggest weaknesses: Star power, halfcourt offense
Toronto has a lot going for it. The Raptors are the reigning champs, and while everyone expected them to just roll over and accept their fate after Kawhi Leonard left, they've had other ideas.
Toronto's biggest asset in all East matchups is its versatility. The Raptors can play any style. Seerat Sohi described this for Yahoo, Blake Murphy wrote a breakdown on how they give up so many 3s but remain an elite defense.
This is an underrated element; you see different teams throughout the playoffs. Toronto will need to be able to switch vs. the Celtics,  play zone vs. Sixers, drop vs. the Bucks and use all those things at different points in each series. They're undoubtedly the team best equipped for it.
Most teams have a standard pick-and-roll defensive scheme, and everything flows out of that. Your adjustments are slight, because that's the one type of play you're good at. But the Raptors are so athletic, smart and disciplined, they can adjust on the fly.
Toronto is 10th in offensive efficiency despite a litany of injuries. But the Raptors are only 15th in half-court offense via Synergy Sports and just 16th via Cleaning The Glass. Their injuries surely have to be accounted for, but there are concerns beyond that. The Raptors generate so much offense from transition (11th in the league per game) that when the half-court game slows down in the playoffs, that might be an issue.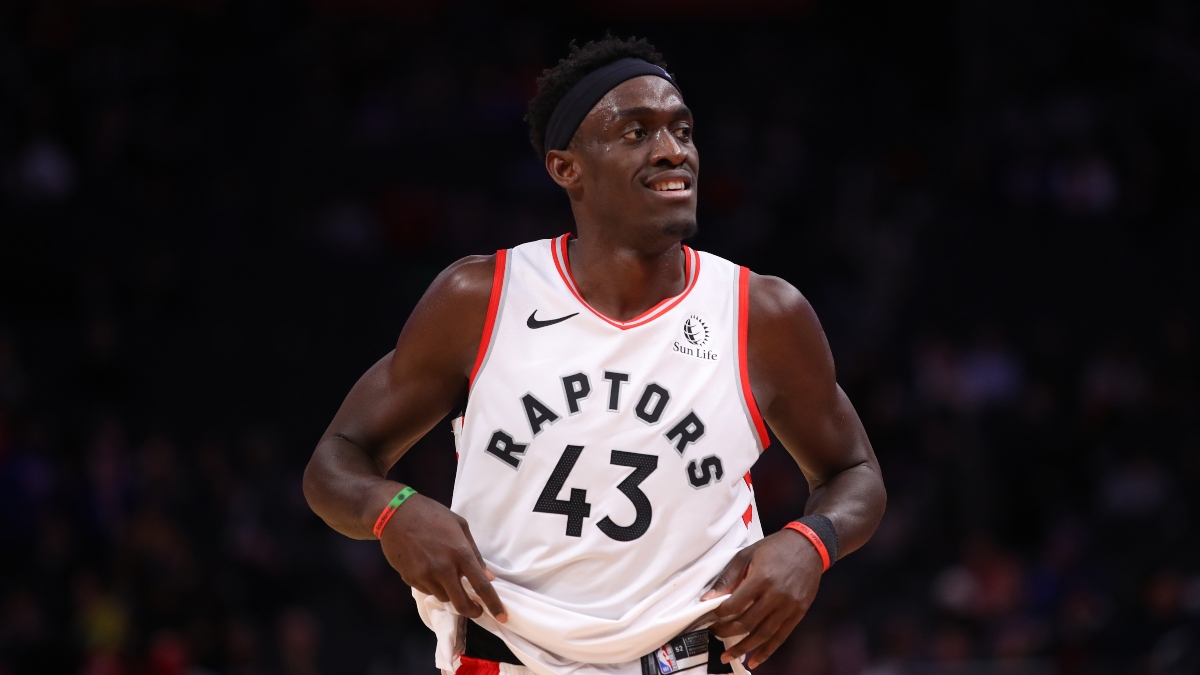 Pascal Siakam was an All-Star this season and is a monster. But a closer examination of his numbers shows that he's essentially the same player as last season with a higher usage rate. That usage rate increase (8 percentage points year over year) explains much of why his field goal percentage has dropped below 50%, and it also takes away some of the shine from his having made a substantial leap.
The Raptors will try to be the better team, with the amalgam of the best player drawn across its various supporting guys. Siakam brings athleticism and versatility. Fred VanVleet and Kyle Lowry bring both floor generalship and elite shot-making.
But last year's run was built on this great, versatile supporting cast with Leonard still as the edge that weighted the coin-flips in their direction. Without both him and Danny Green, they're lesser than last year.
That may be counterbalanced by their experience and confidence, however. The Raptors will feel like they can beat anyone, and will take the same approach they did last year if they face the Bucks: Throw Siakam on Giannis, bring help down low with Marc Gasol, have VanVleet and others make big-time shots. It's not a bad strategy.
But there are enough question marks under the hood, from their best shot creators to their half-court offense, to make their chances less than top-level.
Best Realistic Path: Nets-Heat-Bucks
---
BOSTON CELTICS
Eastern Conference odds: +750
Biggest strengths: Wing defense, shot-making
Biggest weaknesses: Rim pressure, interior defense vs. post-presences (Embiid)
The Celtics are legitimately awesome, and a big reason why everyone buys into them as potential East title contenders is they have one traditional asset that is easy to subscribe to: They have shot makers. Their five wings — Kemba Walker, Marcus Smart, Jaylen Brown, Jayson Tatum, and Gordon Hayward — are all guys who can create offense. All of those players except Smart are good shooting off the dribble, they're all good passers, and none of them are an outright liability defensively. (Walker is getting close, however.)
Their defense is relentless and even if it's not quite as versatile as Toronto's, they're still able to play a number of different styles. By default, they are playing smallball most of the time and doing it exceptionally well. The Celtics are, amazingly, fourth in the league defending the rim per possession on plays other than post-ups, but just 20th defending post-ups.
This is why the Embiid matchup has been so bad for the Celtics: They don't have the ability to defend true big men down low. Luckily, there just aren't that many of them. But the Sixers and Bucks are top 10. That's a concern.
Tatum is really the X-factor here. As good as all their players are — and they are great — Tatum has shown the ability to take over games this season and that fundamentally changes what they're capable of. If he's the best player in a series? They can beat anyone.
Best Realistic Path: Magic, Bucks, Raptors
---
MIAMI HEAT
Eastern Conference odds: +750
Biggest strength: Shot-making, offensive execution, finishing
Biggest weakness: On-ball defense, rim protection
The Heat are both super dangerous and super vulnerable at the same time. Their big advantage is shot-making. The Heat have the sixth-highest effective field goal percentage on jumpshots this season.
They have six rotation players in the 60th percentile or better on spot-up attempts. Their three main creators on-ball all are 60th percentile or better in pick and roll. Bam Adebayo is simply sensational and will likely steal some hearts in the playoffs.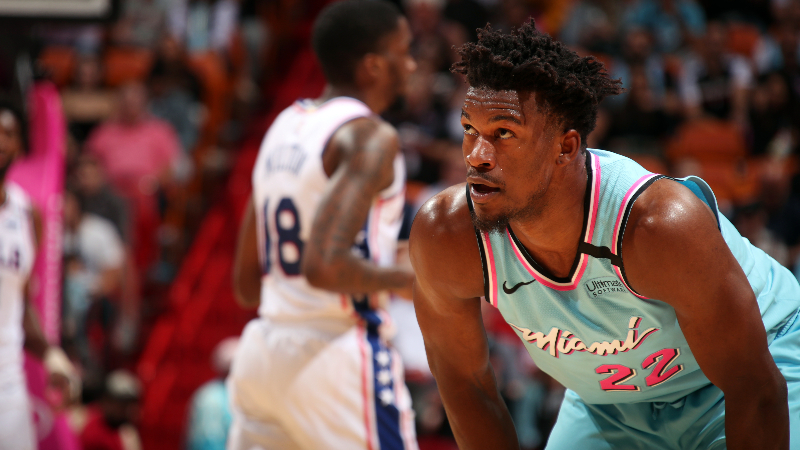 The Heat can hurt you inside and out, and they hit you with waves. Throw in Jimmy Butler's ability to take over a game whenever it's called for, and they are a dangerous opponent.
But they're also really questionable defensively. Miami is 5-8 since I wrote in late January that it was time to fade them as their defense regressed. The Heat give up the second-fewest shots per game within five feet of the rim, but allow 64% shooting. If you get to the rim, they are the 29th-ranked defense on non-post-ups. They give up the ninth-most points off cuts in the league. Their backside protection is vulnerable and as I outlined, their luck against shooters is fading.
After shooting below 34% through November, Heat opponents have been trending upwards, including 39% in February. Those numbers will fluctuate wildly, but here's why it matters: The Heat are not a good defensive team. They are a fine defensive team. And whether that is good enough to deal with the kinds of offenses they'll face in the playoffs is a serious question.
Best Realistic Path: Sixers-Bucks-Celtics
---
PHILADELPHIA 76ERS
Eastern Conference odds: +800
Biggest strengths: Joel Embiid, stifling defense
Biggest weaknesses: Shot-making and creation, general harmony
Oh, the Sixers: too good to give up on, too bad to trust and believe in.
Joel Embiid can dominate the Heat, Raptors, Bucks and Celtics. Three of those teams (outside of Boston) have defenders to throw at him, but if he puts his mind to it and plays to his potential, he can tear them limb from limb.
But he just doesn't. He routinely just opts to let defenses off the hook. Want proof? Joel Embiid is taking the sixth-most mid-range shots per game in the league. He takes more mid-range shots than Khris Middleton and Bradley Beal. Think about that!
So if he becomes the man-dragon he can be, they can beat anyone, or at least give themselves a chance. And he just routinely does not do that. He's still vulnerable to turnovers off double teams, still gets into mind games more than gamesmanship, and still doesn't inspire confidence.
The Sixers so long and good defensively, though. There are units that Philly can use defensively that are genuinely frightening. Any combination of Matisse Thybulle and Ben Simmons should send coaches into night sweats. Moving Al Horford to the bench has helped. Josh Richardson still shows flashes every now and again.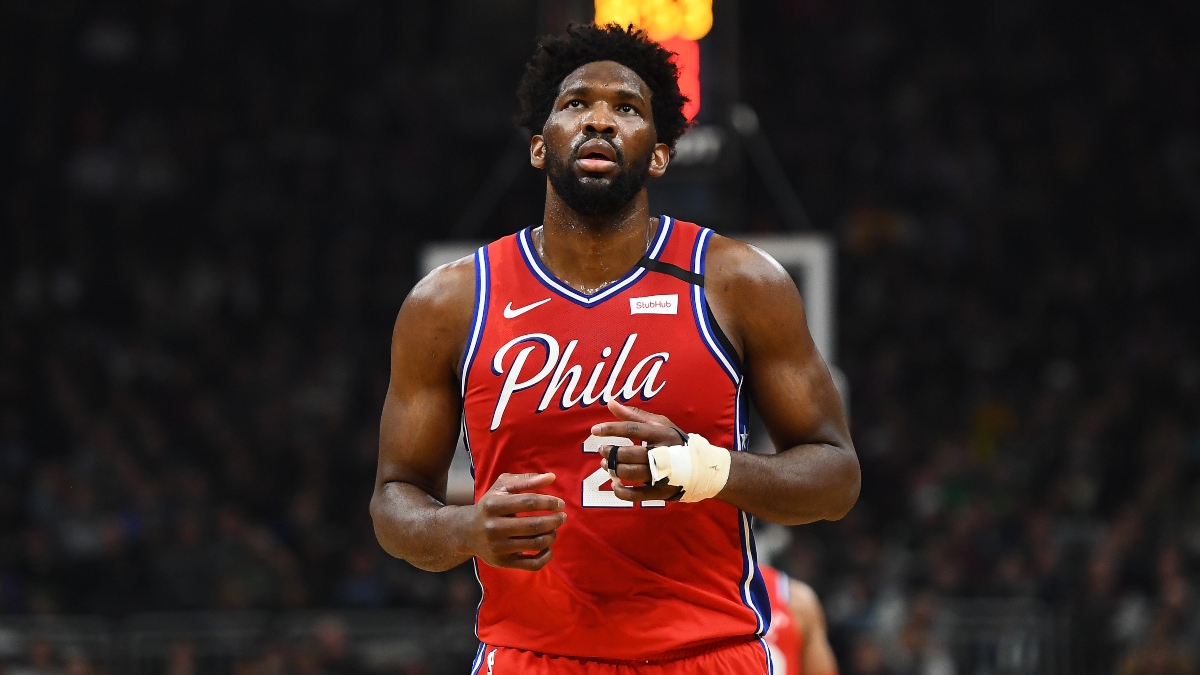 But the 76ers are still pedestrian offensively. They just don't scare you with how they execute, and there's never a guy who can break your system … outside of Embiid. If you let NBA defenses, which are all system-built, defend you at a systemic level and not have to adjust based on exceptional personnel, you're screwed.
Their chemistry has been a mess for some time. I am in a constant wheel with this team: "OK, sure, but if they can just make it to the playoffs, they have the talent to make a run. We still thought this team would be elite."
"We said this exact same thing about the Celtics."
"But they're so good at home."
"But a) we know home/road splits aren't really stable long-term or in the playoffs, and b) they will have to, you know, go on the road a lot given where they'll be seeded."
"But Embiid can win them any series."
"But will he?"
And on and on. They're infuriating.
Best Realistic Path: Celtics-Bucks-Raptors
---
Ranking the odds
Raptors +750
Celtics +750 (if you go this route, you might as well go all the way and bet +2200 to win the NBA title outright, which is not true of the other teams on this list)
Sixers +800
Heat +750
How would you rate this article?