Pass or Play: Are the Clippers Worth a Bet After Morris, Jackson Additions?
Credit:
Katelyn Mulcahy/Getty Images. Pictured: Kawhi Leonard
The Los Angeles Clippers loaded up at the trade deadline and after.
The Clippers managed to trade for Marcus Morris, having a career year, mind you, from the Knicks for Moe Harkless and picks, and then picked up Reggie Jackson off the buyout market when the Pistons decided to fold up the tent and go home for the year.
These were considered big wins. But those moves should not spark you to feel like there is more value on them at +300 to win the title than there were before.
Subtraction by Addition
Marcus Morris Sr.  is a good player, having a great season. He's shooting 43% from the field, and he averaged 18.7 points with New York, now 10 points per game with the Clippers, along with five boards. His catch-and-shoot percentages with the Knicks were ridiculous.
The idea is that Morris provides another sharpshooter to punish defenses for sending help at Kawhi Leonard and/or Paul George, and he enables a small-ball lineup at the 5, being able to play a hyper-switchable, high-defensive-IQ lineup that can all shoot.
---
Looking to bet the NBA? Check out FanDuel. Get up to a $500 risk-free bet at FanDuel today or see more offers and reviews for the best online sportsbooks.
---
But there are complications, there. Morris is big, physical and aggressive, sometimes to a fault. His efforts to be physical can result in altercations that amp up emotional swings that can work for or against his team, and depending on the assignment, can mean fouls.
It's difficult to analyze Morris' defense on the Knicks, because, well, it's the Knicks. But the numbers are poor. The Celtics' defense last year was 6 points worse (per 100 possessions) with Morris on the floor. The Knicks' defense was 1.9 points worse. It's too early to tell anything good or bad with the Clippers.
Morris's identity from anyone that's covered him is "He's a clutch player who will take clutch shots you absolutely do not want him taking." It's a good thing for a player to be ready to knock down a big shot. But when that's how he is for all of his minutes on the floor, it can mean possessions that go outside of the ideal balance.
Now, if he makes them, it's fine, but the chemistry with the Clippers is already tenuous, and there are a lot of mouths to feed.
Additionally, I just want to note this: Moe Harkless was playing really well. He was 69th percentile on spot-up opportunities and drove off those kick-outs with confidence and authority. He's a sound, capable defender. I thought they gave up on him a little early. Morris is better, both as a shooter and a playoff-caliber guy; Harkless was unplayable vs. Denver last year in the postseason. But Harkless might have been fine and brings fewer complications.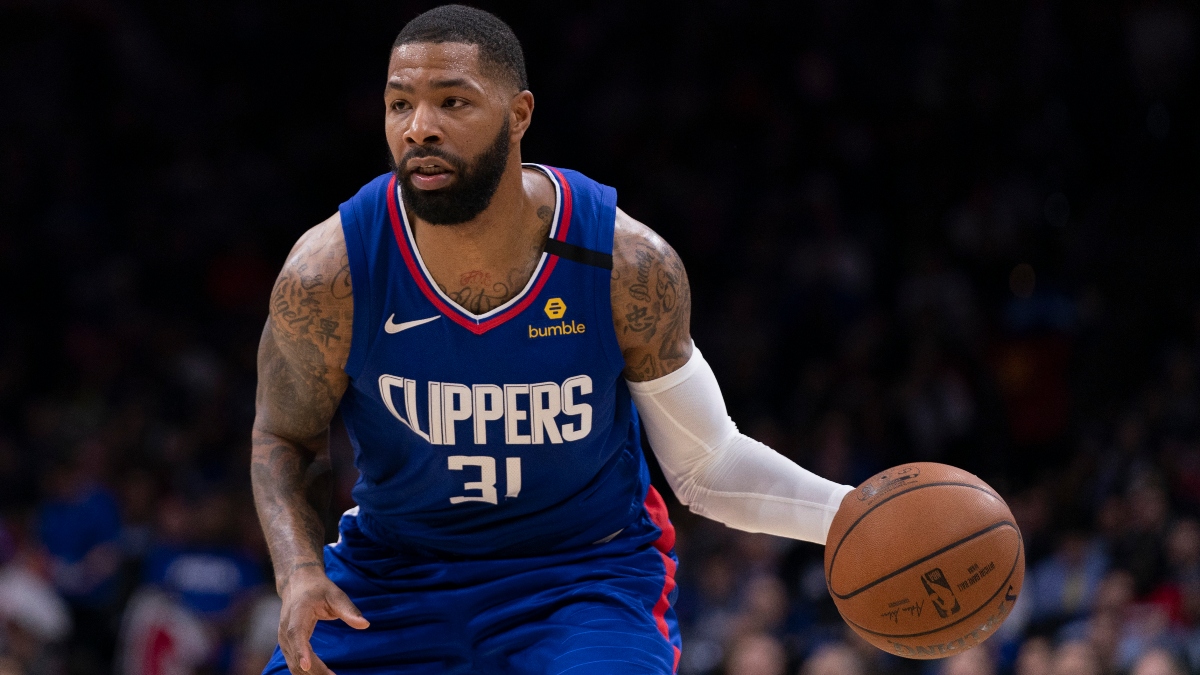 The Clippers have lost three of four since the trade, with the win being a blowout vs. the self-detonating Cavaliers. Now, there are injuries to consider here (as there always are with this team), but they haven't thrived really at any point this season. The losses aren't concerning, but the absence of a prolonged period where you feel good about the team is at least notable.
The move for Morris may specifically help with the Rockets and their new small-ball approach. The Clippers' small-ball lineups are versatile but having Patrick Beverley, Morris, Kawhi, and Paul George with either JaMychal Green or Montrezl Harrell is a pretty good counter for Westbrook-Harden-insert-wing-here-P.J. Tucker-Robert Covington.
But the overall value isn't worth putting higher chances on their title odds.
Reggie Jackson is less of a problem. Jackson clearly understood the situation he's coming into. He's been injury-plagued the past two years and now gets a low-usage situation off the bench behind both Patrick Beverley and Lou Williams as lead guard. He can shoot as a spot-up guy, set the offense, and can take a bigger role if called upon.
But Jackson has never been a high-impact player, and while he's a nice luxury to have, it's not a difference-maker.
The Odds Are Still Good
Now, this isn't to say there isn't any value on the Clippers. I tend to think they're worse than the public and market perception of them, but that doesn't mean they're not elite.
The gambit is essentially this:
Once the playoffs come around, Kawhi is going to lock in, stop load managing, and carry the Clips the way he did that Raptors team. He has a better No. 2 in Paul George than the Raptors did (which is debatable based on Pascal Siakam's play this season). They have great defenders across the board, can play big (with Zubac) or small, have shooting, defense, and big-time players. They have matchup advantages over the Lakers and no one else can beat their top talent. And if they reach the Finals, they have the best defender against Giannis Antetokounmpo in the league. They are 7th in offense and 6th in defense despite all the injuries. To be succinct:Their best is better than everyone else's best and we just haven't seen it yet.
That's a sound argument, but adding Morris and Jackson doesn't change or improve their chances. If you liked them before, like them now. If you're looking for the right time to get in on the Clippers? It's not now.
How would you rate this article?