How the Warriors Create Open Looks for Steph Curry, Klay Thompson
Credit:
Credit: Mark J. Rebilas-USA TODAY Sports. Pictured: Golden State Warriors guard Stephen Curry (left) and guard Klay Thompson.
Stephen Curry and Klay Thompson -- the best shooters in the NBA -- manage to get open shot attempts at an alarmingly high rate.
Curry is adept at using his athleticism and stamina to free himself of his defender.
While the Warriors can beat most teams with talent alone, their elite system is what sets them apart from the rest of the NBA.
Let's say you wanted to stop the Warriors.
I mean, provided they are engaged and healthy, you're not going to. But let's pretend there's hope. What's on your list of priorities?
Priority No. 1 is probably "don't give them runout layups," since that is the most simple and effective defensive principle.
Priority No. 2 is probably "don't turn the ball over," since that leads to runout layups.
Priority No. 3, though, should plainly be "don't let Steph Curry and Klay Thompson take open 3-pointers."
Guarding Kevin Durant is impossible. He's a 7-foot sharpshooter, he's going to get whatever look he wants.
And Curry off the dribble … look at the shots he takes. I mean, what are you honestly supposed to do with this?
The Warriors are in large part an unstoppable juggernaut, and there's nothing you can do about it. However, we're now heading into the fifth season of the Steve Kerr era, and after three titles, and an absolutely bonkers stat is proven out time and time again.

Synergy Sports tracks this info by hand, which means that there are cases when you and I could watch the same clip, and you might think it was unguarded, while I think the defender got close enough to contest.
That said, NBA.com tracking data bears this out, too, with Curry and Thompson having combined for an average of 6.2 made 3-pointers with a defender at least four feet away in 2017-18.
This is, quite frankly, astonishing. Especially since every team in the league knows the Splash Brothers are great at shooting.
These are the best shooters of all time and they are consistently getting more open looks than the rest of the league.
Some of this can be attributed to the combination of Curry, Thompson and Durant, for sure. Opposing defenses are constantly having a panic attack about the array of weapons the Warriors put on the floor at any moment. But it also speaks to a fundamental element of the Warriors' greatness, which no one has been able to solve, and more importantly, been able to duplicate.
The Warriors' use of movement gets lost in the individual accolades and championships. Yes, if you watch enough, you're aware that they move the ball and push tempo. You're able to see that they use complex screening systems, but what goes unnoticed is how hard the Warriors work to create these shots.
Golden State's rate of settling for an isolation or one-pass possession is remarkably low, especially for a team as loaded as the Warriors. It is why I've stressed how important Kerr is. The Warriors were fun and dangerous before, but they were also a first-round out to the Clippers before Kerr showed up.
In order for Golden State to get these two shooters those open looks, it requires both a system that encourages movement and players willing to participate.
Three main things happen in most of the situations where Curry gets open:
Step 1: He uses a small push off.
Nothing that would really elicit an offensive foul, but enough to get the defender off balance, which gives Curry that much time to sprint free.
Step 2: He runs almost constantly.
This needs to be stressed, because honestly, it's one of the reasons no team manages to duplicate what Golden State does. The Russell Westbrook backlash has jumped the shark, sailed over the moon and is headed into a distant solar system. But it is true that you do not see Westbrook commit the same way when he doesn't have the ball. Or John Wall. Or really any major star.
Now, this isn't just an issue of effort. Curry has more energy on account of a diminished workload on both ends. He is not responsible for the toughest assignment defensively, but he is targeted more consistently than Draymond Green or Durant.
And Curry isn't facing constant double-teams the way those other stars are. But the result is the same: Curry spends an incredible amount of time running to get open.
Step 3: The screens.
It's not one pindown or even a set of stagger screens, it's often multiple layers.
They're used with off-ball weakside screeners, who then receive the ball, forcing confusion and mayhem. It's always a sequence that at once requires focus, but also improvisation to decide upon who and how to execute.
It winds up looking like a fractal design on the old Winamp MP3 player.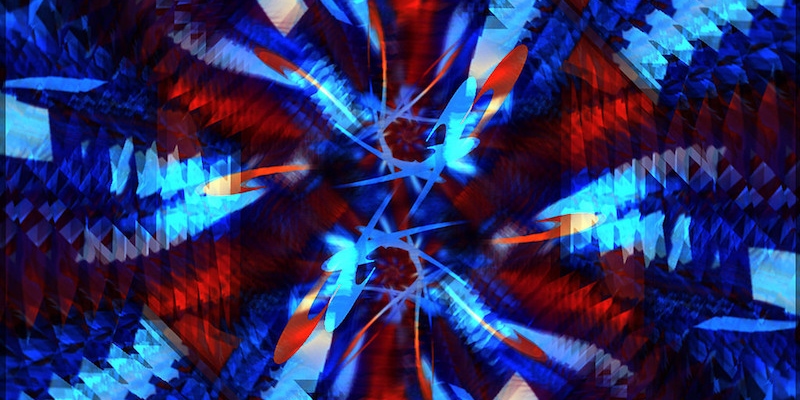 Teams don't consistently execute this way. Either a team's star player isn't always moving to free himself, the off-ball guys aren't constantly looking to free him or the ball simply sticks with guys who are making one-on-one moves.
The Warriors offense is poetry in motion that requires more commitment than what most NBA players give, and those players give an incredible amount.
Take this example against the Spurs — one of the best defensive teams in the league, year after year, that has high-IQ players on the floor at all times. Curry runs toward the right corner, stops, fakes a reverse, then pushes off. And just as he does, the stagger screens set, closing off the baseline and forcing a chasing defender to loop around, closing off the middle to prevent trying to short cut.
This next one is way simpler, but it's also an example of how naturally the Warriors exploit any defense that isn't specifically designed to counter it.
Al Horford plays back vs. Green, which means that when Curry pushes clear of Kyrie Irving, Irving winds up running into his own man screening him. Aron Baynes plays back to the rim at baseline instead of switching up, so when Zaza Pachulia sets his (hilariously illegal) screen, Irving has zero chance:
Note: Most NBA screens that result in an open player are illegal.
These guys move like ninjas, especially the guards. They run around and through screens every day for nine months a year. They are great at it.
The rules of screens are also more complicated and nuanced than most of us couch-side official critics are aware of. So these things should not be called as often as we tend to think they should be, and moving screens are also a simple fact of life in the NBA.
Even teams that switch get jammed up by the stagger screens.
Here James Harden basically assumes that his teammates are going to switch, which is fine, that's how the Rockets had so much success in the Western Conference Finals. But as Chris Paul tries to switch, there's Pachulia. Clint Capela can't get up and around, and bam.
To showcase how small your margin for error is here, take a look at Capela's head. Curry is looking right at him and seeing that Capela is trying to keep an eye on the strong side and up top.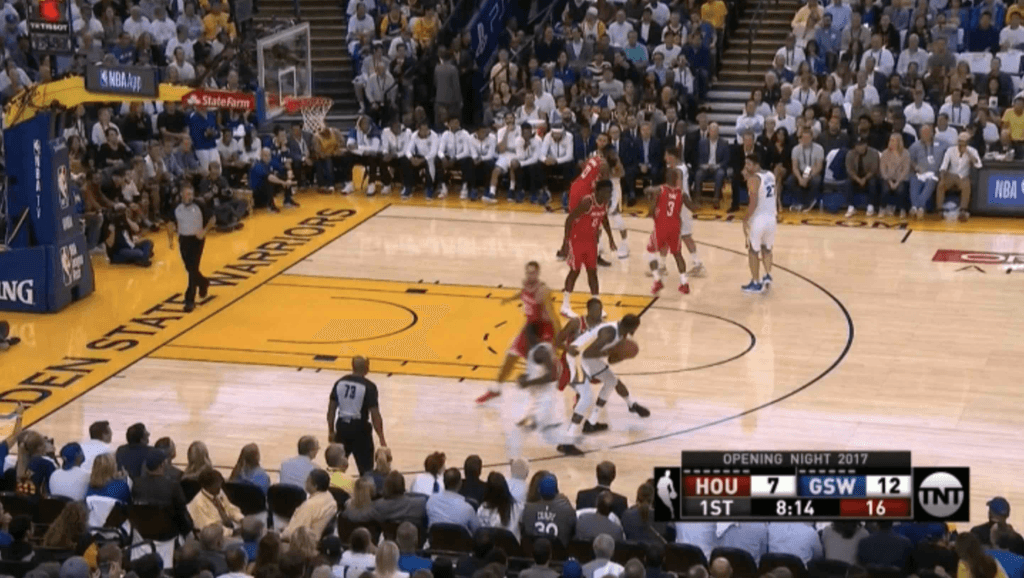 Capela turns his head at the exact moment that Curry pushes.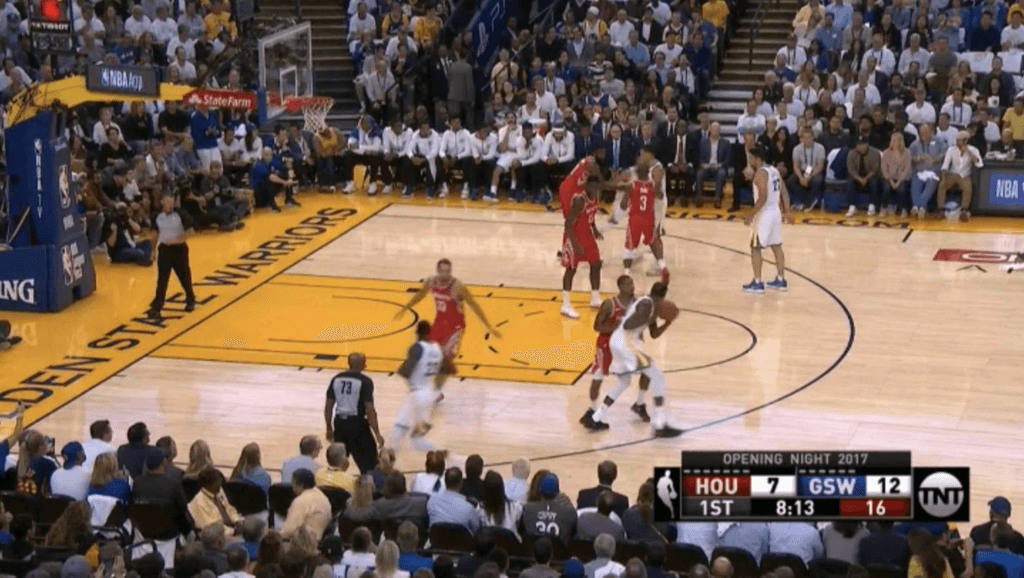 That's all it takes.
Another mechanism that winds up chopping and screwing the defense is Curry's penchant for using how defenses relax after he passes on a drive.
Patrick Beverley hounds him here, and the defense collapses. Curry's pass to the perimeter isn't great (he's generally not a great passer). But after Curry passes, the defense relaxes.
Beverley calls out Curry in the corner, but at the same time Klay Thompson — you know, the second-best shooter in the NBA — is popping to the wing. Which means Curry is just forgotten.
Sam Dekker finds it necessary to try to guard Green, even though Green is definitely not pulling up for a jumper here and DeAndre Jordan is there to contest at the rim. But if Dekker leaves Green to stay home on the shooters, Green has a two-on-one with Pachulia.
You still take that over what they wound up with, an open Curry three-pointer, but it shows the type of decisions teams are forced to make because of the skills of guys such as Green.
Oh, and by the way, that's going to be DeMarcus Cousins instead of Pachulia next year. So good luck with that.
If you don't communicate when Curry disconnects from the drive, he is almost always looking to exploit you. Nikola Jokic switches onto Curry off a wide closeout from Wilson Chandler, but when Curry passes, Jokic doesn't let Gary Harris know that Curry's coming to the corner. Because Jokic is rotating to Green, and Harris has to stay with Thompson with no one to switch him to, that's an open attempt for Curry.
Second-chance 3-pointers are also a huge array. I'm not an NBA coach, I will never know as much about the game as any assistant or scout in the league. But it is unavoidable to mention that if you are tasked with guarding Curry, you should legitimately not stop face-guarding him until someone on your team yells "we have the basketball, you can go now."
Just ask Austin Rivers:
If Curry takes advantage of complex mechanisms and the defense relaxing after the tension of guarding him, Thompson exploits simple openings while everyone else is terrified of the other weapons.
Here, after a switch, Green winds up guarded by J.J. Barea. Just as he is off the dribble, Green in the post is genuinely not terrifying. You would live with a shot from Green in the post vs. almost any other attempt the Warriors can offer with their starters on the floor. And yet, because Green knows that attacking the tiny Barea will draw defenders, he does it.
Even when Green gets blocked, take a look at the floor balance defensively for the Mavericks:
In case you're missing it, there are two defenders trying to guard Thompson, Curry and Durant. Yeesh.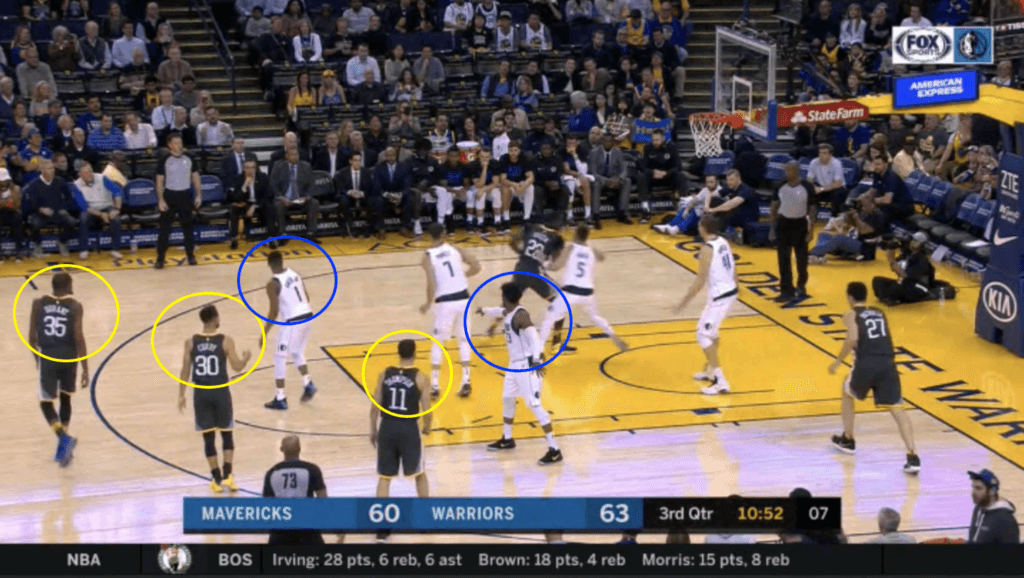 This isn't to say that Thompson isn't doing anything. His strides are so long that when playing against small defenders, he gains fractions of space that he honestly doesn't really need given how fast his release is and how tall he stands. So when he sprints end to end, he's gaining more and more space against his defender, even though he can hit when contested anyway.
None of this is particularly shocking; everyone knows the Splash Brothers are the best shooters in the game. Everyone knows how much they benefit from the skills and talents of their unbelievable teammates. But the point here is how much work goes into getting these players open.
The Warriors could just use blunt force trauma with their talent to hammer teams into the ground. But instead, they take this elite talent and they maximize it.
It's a model that no team seems capable of or willing to try to emulate, but it's also what sets the Warriors apart. The Wizards, for example, wouldn't be the Wizards if they played this way. But they would be closer.
The Warriors have the talent to settle, and yet they don't. That's why they take the two most fearsome perimeter threats in the NBA — arguably in league history — and still create so many open looks for them.
How would you rate this article?