NBA Win Total Odds & Pick: Is Offense Enough for the Indiana Pacers?
Credit:
Brock Williams-Smith/NBAE via Getty Images. Pictured: Tyrese Haliburton #0 of the Indiana Pacers.
Check out this post for updated season win total odds for all 30 NBA teams.
---
Indiana Pacers Win Total Odds
| | |
| --- | --- |
| 2023-23 Win Total | 22.5 |
| Previous Season's Wins | 25 |
The Case for the Over
The Offense Is Really Good
Bad Teams Don't Stay Bad
Indiana's offense ranked 18th last season and 14th after All-Star break. This is despite their being ranked 26th in jump shot efficiency, and 25th in 3-point percentage. They ranked fourth in points in the paint per 100 possessions.
Tyrese Haliburton really is that good; he's a popular Most Improved Player candidate (though I don't think the Pacers will win enough for him to come out on top, given who has won the award in recent years). He and Isaiah Jackson combined for a 1.01 points per possession mark, which was 93rd among all combinations with at least 200 attempts.
There's something here with this Pacers offense, it's just a matter of whether they can put it together or not. Between Haliburton, Chris Duarte in his second season, rookie Ben Mathurin, and Buddy Hield for as long as he's on the roster, the Pacers have guards to create offense and shoot.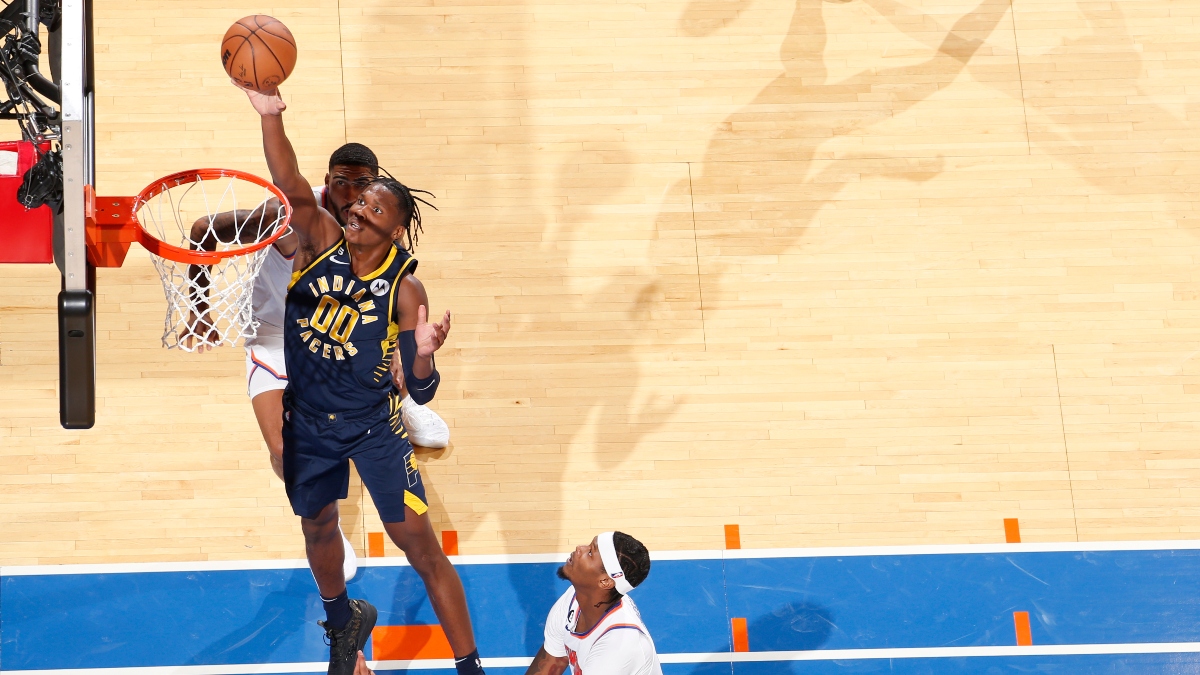 Haliburton averaged 18-10-4 after the trade to Indiana in February, shooting better than 50% from the field and better than 40% from 3-point range.
The debate in our Action Network NBA Slack is about whether or not the Pacers will win enough games for Haliburton to win Most Improved Player. If they even sniff the playoffs, and if Haliburton even sniffs the All-Star roster, then he projects as an automatic top-three candidate.
In the last ten years, teams who won 27 games or fewer and then had a win total of 27 or fewer the following season are 11-6 to the over (65%).
The way to put this in actual terms is that most often, when a team is bad and expected to be as bad the following season, they tend to overperform expectations slightly. This makes sense from the perspective of how internal development is hard to actually weigh in preseason.
Some teams move down unexpectedly, and there's a slow uptick relative to expectations from the bad teams.
---
The Case for the Under
The Defense Is Atrocious
The Victor Wembanyama Effect
So all that great stuff about the offense? Yeah, it was completely outweighed by the defense.
Indiana was 14th in offense after the trade for Haliburton. That's a really good number for a team in their position with so many injuries that pivoted to a tank.
They were 29th in defense in that stretch. They scored 114 points per 100 possessions, and gave up 121.8. The only team with a worse defense was Portland who put up one of the most impressive tank performances you will ever see. Do you know how bad the defense has to be for you to allow over 120 points per 100 possessions over a long stretch of time?
The idea will be that the return of Myles Turner and the effort to, you know, actually win games will lead to better defensive performance.
But there's still a league-wide belief that Turner and the other vets (Buddy Hield, TJ McConnell, and Daniel Theis) will get moved. The Pacers have six players total with more than four years of NBA experience. Young teams are most often bad defensively.
And often times that's on purpose. The bookmakers are suggesting that the Pacers will be one of the worst teams in the league. Any team that is within that range is likely pursuing losses more than the average team given the hype surrounding Victor Wembanyama, Scoot Henderson, and what is a considered a deep top-10 in the draft behind them.
Do you want to tie up your money long-term on a team that most likely will not have the incentive to win? You'll know by Christmas whether this bet is live or not. Because if they're low on wins by Christmas, they're definitely tanking.
But if they're even a little bit behind schedule for the over, they likely pivot to chase lottery standings.
Pacers Win Total bet
I lean a little over, but not enough to play it. For what it's worth, Caesars has the Pacers listed at 22.5 wins at the time of this writing.
Teams with a win total less than 30 who finished the season with an offensive rating of 15th or better are 5-1 to the over. This team has enough weapons with Haliburton to finish with a top-15 offense.
If you're that good in one area of the game, you're likely to go over vs. a low number. The Pacers may wind up punting on the season, though, and that simply puts this into the territory of not being worth a bet.
How would you rate this article?
This site contains commercial content. We may be compensated for the links provided on this page. The content on this page is for informational purposes only. Action Network makes no representation or warranty as to the accuracy of the information given or the outcome of any game or event.