Moore: James Harden's Historic Season Likely Won't Win Him the MVP (Again)
Credit:
Tim Warner/Getty Images. Pictured: James Harden (13) of the Houston Rockets.
James Harden, despite his potentially historic season, is becoming the Rodney Dangerfield of the NBA.
He's currently behind Giannis Antetokounmpo (-145) and Luka Doncic (+350) at the FanDuel Sportsbook in terms of his MVP odds (+460).
Matt Moore discusses why betting Harden to win MVP this season is becoming an increasingly futile effort.
James Harden is averaging the fourth-most points per game in NBA history through 38 games, more than Michael Jordan ever did in any season in his career.
That sentence, if taken without context by someone who is not a sports fan, is unremarkable if read as a trivial fact. They're just words on a page about numbers in a database. After all, these numbers only really hold the meaning we grant them.
But if you know anything about the NBA, if you care even a little about the sport, it should stop you in your tracks. It should stun you into reconsidering what you think about Harden.
You can hate his foul-baiting, 3-point hoisting, air-deflating-with-his-dribble farcical, mockery-of-the-game style, and still you have to stand a little bit in awe of what he's doing.
(NOTE: I do not feel that way about his game, but after long trying to defend the media from accusations of bias against Harden by Rockets fans, I've had to admit there's a lot more conversational whining about "not liking his game" than there needs to be.)
And yet, I can't stop there. For reasons that baffle me, the fact that Harden is averaging 7.5 assists per game (ninth-best in the league, by the way) in addition to scoring 37.8 points per game as of this writing never gets mentioned.
---
Odds via FanDuel, where Action Network users get a risk-free bet up to $500.
---
People will often speak of Kobe Bryant's 2006 campaign in which he did not win MVP as some sort of absolute crime against basketball humanity.
So just to completely crystallize this:
Kobe Bryant 2005-06: 35.4 points | 5.3 rebounds | 4.5 assists on 45-34-85 shooting splits for a 45-37 seventh-seeded Lakers team that finished third in their division
James Harden 2019-20: 37.8 points | 6.2 rebounds | 7.5 assists on 45-38-86 shooting splits for a team currently on pace for 56 wins
It is, quite honestly, insulting to Harden to compare those seasons. Harden is scoring more, making more plays for others, rebounding more and shooting better for a considerably better team than that squad.
Now, look, you can make a lot of really substantive arguments about NBA stats being inflated in the current era. I agree with most of them. The 3-point shot is absolutely being utilized and maximized in a way that makes cross-era comparisons difficult.
(Though I would say that any of the other great scorers in NBA history were free to figure out that three points are worth more than two. Understanding the basic principles of numeric value doesn't require the backing of IBM or a degree in applied mathematics.)
Even if we grant all that, what Harden is doing is simply incredible. You can find all the ways to diminish it because you dislike his game or want to hold up the idols of your youth, but that's one of the great things about the stats. They don't care about your caveats.
Harden is averaging the fourth-most points per game in NBA history behind only three Wilt Chamberlain seasons from the 1960s, while also averaging nearly eight assists for a team on pace to win 56 games.
That's incredible. Slice it, dice it, critique it, dismiss it, it doesn't matter.
Talk about how he'll probably run out of gas in the playoffs again, which is probably true. It still doesn't matter. It's incredible.
And yet, he's not going to win MVP this season.
To be clear, I'm not even necessarily disagreeing with what seems to be the inevitable conclusion that Giannis Antetokounmpo will win his second-consecutive MVP.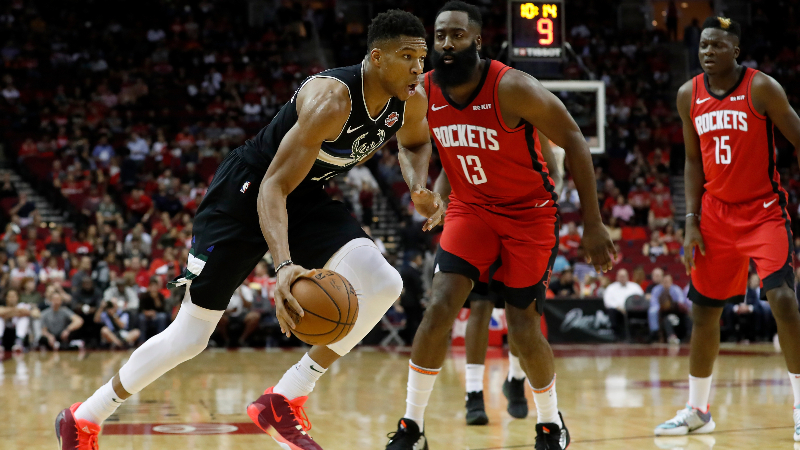 Antetokounmpo is averaging 29.8 points, 12.8 rebounds, 5.5 assists, shooting better from 2-point range (63%) than Shaquille O'Neal ever did, while leading in Defensive Win Shares and Defensive Rating for a team on pace for … that's right, 70 wins.
The Bucks are better, Giannis is better defensively and his offense is as overwhelming and dominating as it was last season. He's even better from 3-point range, shooting 33% so far.
A vote for Antetokounmpo, if all players stay healthy and the numbers remain where they are now, isn't wrong.
It does, however, beg the question … what more does Harden have to do to win MVP this season?
---
What (or Who) Is Harden Fighting Against?
I have previously defended the NBA's MVP voting bloc against accusations of bias. And to be sure, there will be voters who are able to admit their biases and understand the need to move past them.
There are also circumstances in which those biases don't actually matter. In 2018, Harden finally won MVP, because it was obvious that he should and there was no one else for whom you could really make an argument. It was Harden; that was it.
If Harden continues at his current pace, there will likely be voters this year who decide to look beyond those critiques and vote for him anyway.
But the stigma around Harden's game is real. And it does, at the very least, damage the ability to give him the benefit of the doubt. Harden's consistent exaggeration (read: flopping) of contact is considered an eyesore. Never mind that Luka Doncic is showing all the signs of being an elite flopper at 20 years old and is a media darling, because of the second factor in play: voter fatigue.
Fans and, by extension, voters, appear to be tired of the Harden conversation. The flopping, the 3-point volume, the heavy isolation style, the playoff failures, the way the Rockets as an organization shamelessly campaign for him. These things genuinely turn fans and, by extension, voters, off from appreciating him.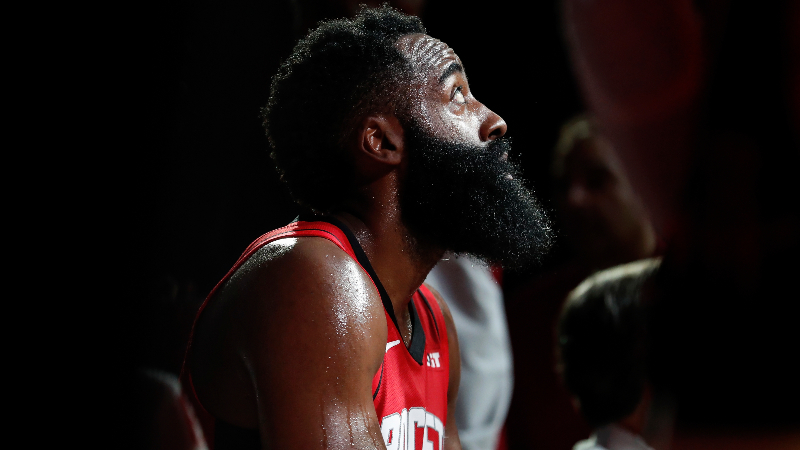 Very little of what Harden does feels organic; it all feels contrived. I'm someone who has dedicated a significant amount of time in my life to watching all his possessions this season, analyzing the volume and impact of his stats, his defensive shortcomings (and underrated strengths), and even I find myself wondering what exactly it is that Adidas pays him in bonus money if he wins MVP.
The Harden Rockets with their hyper-efficient focus and head coach Mike D'Antoni's offensive constructs are the NBA equivalent of McDonalds. They figured out how to maximize output and efficiency in a way that bends the constraints of authenticity. Time and scrutiny, however, eventually brought negative perceptions of that brand. In related news, McDonalds' earnings fell short last quarter.
There is an irony to all this. Aside from the flopping, a major reason fans dislike Harden's game is because of the isolation-centric approach he's taken. He dribbles constantly. The Rockets' isolation numbers blow away every other team's in recorded NBA history (which isn't that long in terms of how long we've had access to such numbers) out of the water. They pound the air out of the ball.
What's funny is that that style was specifically implemented back in 2018 by D'Antoni to combat the Warriors. Golden State's defensive brilliance was predicated on its ability to switch constantly and put elite bigger defenders on wing players, and its offense thrived in up-tempo, chaotic environments.
So the Rockets declined screening at all to prevent switches and had Harden attack one-on-one, forcing help to come, while slowing the pace of the game down.
This season? The Rockets rank No. 2 in pace — ironically enough behind the Bucks.
As for that isolation rate? Bear in mind that most pick-and-roll possessions become one-on-one plays anyway, either against a switch or a dropping big man in two-player coverage.
Harden spends 73.9% of his time on the floor offensively in either isolation or pick-and-roll possessions, including passes. Doncic, again, media darling, averages 70.2% of his time on the floor in such situations. Both players average only 0.7 plays per game on cuts where a shot is attempted or they turn the ball over.
I understand the perception that Doncic plays a more team-friendly game. It's just not accurate. Regardless, that perception matters.
There's real fatigue with Harden after so many blatant campaigns. That fatigue is only heightened by the Rockets' consistent playoff failures. It presents an interesting counterfactual in wondering what the perception of Harden is if Chris Paul doesn't suffer his hamstring injury in Game 6 of the 2018 Western Conference Finals.
Harden's also lacking this season in signature games to make his MVP case. The Rockets opened the season by having reigning MVP Giannis shove the ball down their throat at home.
The Rockets are 2-1 vs. the Clippers … but the only game people remember is the nationally televised matchup where Lou Williams led a comeback.
Harden's prolific 50-point triple-doubles are coming vs. the dregs of the league on League Pass. He needs some defining moments like his games against the Warriors in the past.
So, to wrap up, Harden is viewed, even by some voters, as a statistically-inflated, ball-hogging, no-defense fraud who spends too much time trying to win the very award we're talking about rather than winning a title, which by the way is not supposed to impact this award in any way, shape or form.
Oh, and the guy who just won last season is still killing it. That's the other issue.
If Harden were doing this and Antetokounmpo were simply having a good season, he'd still be fending off Doncic because of how much people like Doncic. (Wait a few seasons until the narrative around Doncic shifts the way it does for every star.) He'd still be in the lead, though.
But Giannis is also producing numbers that were only ever put up by Wilt Chamberlain in the 1960s. He's also not only a better defender than Harden, but a legitimate top-three defender in the NBA and a serious Defensive Player of the Year candidate.
And the Bucks are on pace for about 14 more wins and one of the best records in NBA history with an outside shot of being in the mid-70s if they go on a long winning streak.
It also has to be said that Giannis plays considerably fewer minutes per game than Harden. Per 36 minutes, Harden averages 36.6 points, 6.0 rebounds and 7.2 assists; Giannis averages 35.2-15.0-6.4. How does the best player with those stats on a 70-win team not win MVP?
---
Harden's MVP Formula
That brings us back to the original question. What is Harden's path to winning his elusive second MVP?
First off, Antetokounmpo would have to cool down, or (God Forbid) suffer an injury. If the Bucks inexplicably went on a long losing streak and fell back down under 60 wins, that puts the contest in play. It's a lot easier to award a guy MVP for a 56-win season against a 60-win season than a 56-win season vs. a 70-win season.
So let's say that happened. What would Harden have to do beyond that? I decided to crowdsource it.
Poll: It's nearly midseason, and James Harden is averaging 38.4 points (!!!), 7.6 assists, 6 boards, shooting 46-39-86 for the 24-11 (on pace for 56 wins) Rockets as a top-three seed with wins over Denver, the Clippers, Philly and Toronto.

What does he have to do to win MVP?

— Hardwood Paroxysm (@HPbasketball) January 6, 2020
I put in a subsequent tweet to reply if there was nothing he could do, and received a substantial number of votes in that direction based on Giannis' season.
But the results mostly backed up my thought, in that 49% of respondents felt if he either led the Rockets to the top seed in the West or averaged 40 points per game, he could win.
This is notable in that 40 points per game would not be the most in NBA history thanks to Wilt averaging 50.3 points per game in 1962. (Let's all pause to laugh out loud.)
Also, the Lakers are on pace for 66 wins, but let's assume they tail off a bit so Houston can catch them. Would a 63-win No. 1 seed with Harden at 38-6-8 be better than 30-13-6 for a 70-win team if Giannis continued on his path?
There has to be a point where Harden's production simply outweighs all his baggage, but at 38-6-8, I don't know what that is.
The only way I can see Harden surpassing Antetokounmpo (without, God Forbid, injury) is if all of the following happen:
The Bucks slow to a 62-63 win pace
The Rockets reach the No. 1 seed in the West with 60-plus wins
Harden averages 38-plus, with the same assist figures
Harden rattles off a series of signature performances
Some of these things are at least possible, if not realistic.
All of them combined? Less so.
And that would also have to mean Doncic or LeBron James don't steal it simply based on the way they tug at voters' heartstrings.
Harden's not going to win MVP this season, barring some very unforeseeable events involving the Bucks. That does not mean, however, we should fail to appreciate what Harden is doing: transcending NBA history, on his path to his fifth top-two finish in the last six years.
How would you rate this article?