Moore: Why I'm Betting the Over in Jazz vs. Nuggets Game 7
Credit:
Nathaniel S. Butler/NBAE via Getty Images. Pictured: Jamal Murray
Game 7s are tight. That's how it's always been. Both teams are exhausted. Both teams hate playing one another. Both teams know the other one's moves, rotations, etc. It's tense, it's tight, it's fraught.
Since 2003, the under is 28-19 (59.6%) in Game 7s per Bet Labs. It's 10-6 since 2015, when the Warriors and Rockets started to revolutionize the league towards 3-point shooting, and it's hit in the last five Game 7s in a row.
The sharps are clearly playing the trend in Nuggets-Jazz. Seventy-one percent of the tickets are on the over in Game 7, but 85% of the money is on the under. That disparity has never occurred since data became available in 2003 — not just for Game 7s, but for any playoff game at all. There hasn't been a single instance of more than a 28 percentage-point differential between the tickets and money.
So the sharp play is very plainly the under. It opened 220.5 and has moved to 218 in the two days since.
So naturally I'm climbing into the big square box and going the other way.
I do not think we can compare what we're seeing in the NBA bubble to historical trends. I wrote about it when I looked at the weird home/road splits; the offensive production is just plainly juiced in this no-fans, no-travel environment.
For a comparison, last year in the playoffs, half-court offenses averaged 109.8 points per 100 possessions, via Cleaning The Glass. This year they are averaging 112.8, the highest mark since at least 2004 when data became available.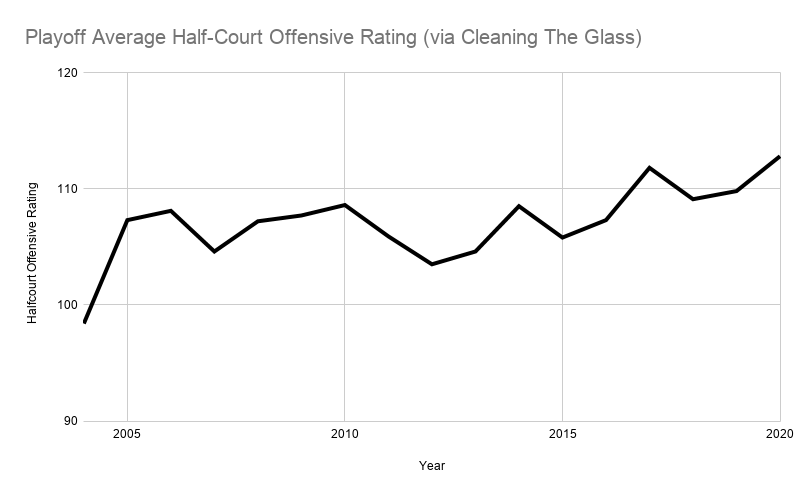 The league has been pretty stable in terms of generating half-court offense in the playoffs over the last 16 seasons. That notch in 2017 was largely due to the Cavaliers and Warriors who both held 120 half-court offensive ratings in an extreme outlier.
But this is something uniquely different based on the circumstances.
Pull-up shooting is through the roof. Spot-up shooting is through the roof. Players have referenced different sight lines and depth perception in the absence of thousands of rows of fans and a smaller arena.
This also isn't a series where the two teams have taken turns putting up a big number and holding the opponent down. The Nuggets gave one of the most pitiful efforts in playoff history in Game 3 and netted a 93.6 offensive rating. The Jazz couldn't find the bottom of the bucket in Game 5 and put up a 112.6 offensive rating.
The Jazz have a 125.4 offensive rating entering Game 7, the Nuggets are at 120.8. The winner in each game has posted at least a 121 offensive rating (Nuggets, Game 5). The winner has averaged 130 points per 100 possessions.
Even if the game slows down to a crawl and goes to 90 possessions (and the series has been slow, to be sure, at 93 possessions per game), a 125 offensive rating gets you to 112 points. That allows for a five-point win for the over.
Then there's how close these games have been. Game 1 went to overtime. Game 4 was a 2-point game. The two teams went to double overtime in their last regular-season meeting, and Denver won the other two by three and six points, respectively.
These two teams are evenly matched; that's why they're in a Game 7, and if the game's close, that means free throws to extend the game at the end and the possibility of overtime.
Finally, the reason Game 7s are often close is both teams have figured out the adjustments and it just becomes about making shots. But these two teams haven't figured out anything about one another. Donovan Mitchell "cooled off" in Game 6 with 44 points and five assists. There have been four 50-point performances in the same series!
It's easy to point to this and bank on regression, but that would require the tactics and execution to be sound. These two teams can't hang with one another. They have too many weapons and are too vulnerable on the edge.
Finally, if one team does go cold and their shooting plummets back to earth faster than light, those will still mostly be jump shots, and that means long rebounds and more transition opportunities. The Nuggets in particular are vulnerable to this.
The likely outcomes for Game 7 are that the Nuggets win a close game in a shootout, the Nuggets blow out the Jazz with 120-plus points or the Jazz blow out Denver with 120-plus points. Either one would very easily get to the over.
If this weren't in a bubble on neutral court, I wouldn't bet the over. If these two teams showed anything in terms of defense, I'd take the under. If anything about this one set of circumstances in this one game in this one series were different, I'd bet the under.
But there's nothing normal about 2020, there's nothing normal about this NBA season, and there's nothing normal about Jazz-Nuggets Game 7.
I'm betting the over.
How would you rate this article?