How Kawhi Leonard's Decision Will Shift Lakers, Clippers, Raptors NBA Title Odds
Credit:
Sergio Estrada-USA TODAY Sports. Pictured: Kawhi Leonard
Kawhi Leonard is the best remaining available NBA free agent.
According to wide-spread reports, Leonard will likely sign with one of the three following franchises: Toronto Raptors, Los Angeles Lakers or Los Angeles Clippers.
Darren Rovell caught up with Jeff Sherman from the Westgate to break down how Kawhi's decision will shift the 2020 title odds for all three teams.
We saw an unprecedented Day 1 of NBA free agency with some of the league's biggest stars — Kevin Durant, Kyrie Irving, Kemba Walker, Al Horford, Jimmy Butler, D'Angelo Russell, Tobias Harris — all choosing to play for new teams.
But there's one franchise-altering talent still left on the board: the Board Man himself, Kawhi Leonard.
Three teams are believed to have a chance at signing Leonard — the Toronto Raptors, Los Angeles Lakers and Los Angeles Clippers.
No matter who he chooses, the league and the odds will change forever … again. We caught up with Jeff Sherman, VP of Risk Management for the Westgate Las Vegas SuperBook, to see how Kawhi picking (or not picking) each of the three teams would shake up their 2020 NBA title odds.
Note on the odds below: A $100 bet at +600 would profit $600, while a $200 bet at -200 would profit $100.
---
Toronto Raptors
Current title odds: +1000
Title odds with Kawhi: +600
Title odds without Kawhi: +3000
The Raptors getting Kawhi would make them the clear favorites in the East, but their title odds (+600) would still be slightly behind the Lakers, per Sherman.
Without Kawhi, a core of Kyle Lowry, Marc Gasol, Serge Ibaka and Pascal Siakam would fall to a second-tier team, with odds of 30-1. For comparison, that's where the Westgate currently has the Thunder and Trail Blazers slotted.
---
Los Angeles Lakers
Current title odds: +175
Title odds with Kawhi: -200
Title odds without Kawhi: +500
This goes without say, but we'll say it anyway: With Kawhi, the Lakers would massive favorites to win the title. The -200 odds Sherman equate to a 66.7% chance. It would mark the fourth consecutive year we've had an odds-on favorite entering the NBA season.
PointsBet in New Jersey has the Lakers as +250 favorites currently. If they land Kawhi? It would go to -150, says Matt Chaprales, the book's head of content. It would be +400 if they don't get Leonard.
"If the Lakers get Kawhi, LeBron might as well dust off his 'not 1 not 2 not 3…' speech," Chaprales said.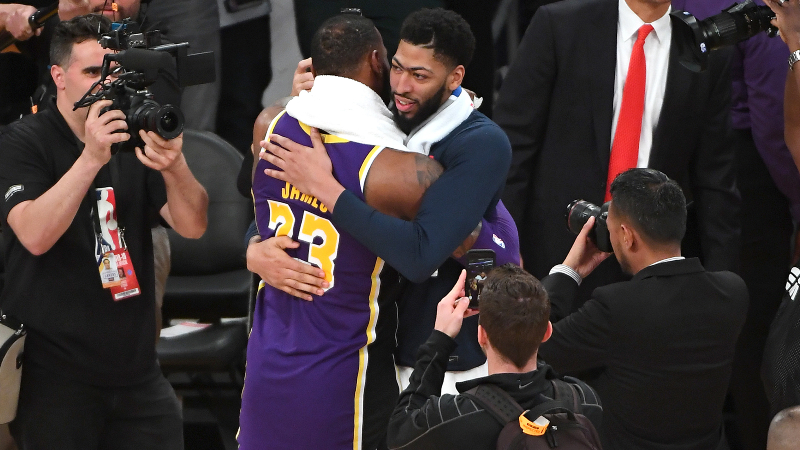 DraftKings wouldn't be quite as aggressive to move off its current odds of +250. DK oddsmaker Johnny Avello said it would shift the Lakers to +120 with Kawhi and +350 without.
If Leonard shuns LeBron James, Anthony Davis & Co, there's a chance the Lakers are still favorites to win it all. Sherman estimates their odds would fall to 5-1, though they may be a bit longer depending on how the hold percentage shakes out.
Regardless of the exact number, the Lakers would be in line with the Bucks and the Raptors/Clippers (whichever actually lands Leonard) under this scenario.
---
Los Angeles Clippers
Current title odds: +1000
Title odds with Kawhi: +600
Title odds without Kawhi: +5000
Here's the biggest swing. The Clippers with Kawhi would be the second favorite at Westgate to their Staples Center neighbors.
If they strike out and fail in their pursuit of the reigning NBA Finals MVP, they'd plummet all the way down to +5000, in line with the likes of the Spurs and Mavericks.
How would you rate this article?