You Can Bet on Whether Kevin Durant Will Leave Golden State This Offseason
Credit:
Troy Taormina-USA TODAY Sports. Pictured: Kevin Durant
The Highlights
One sportsbook posted -700 odds that Kevin Durant will remain with the Warriors despite reports he'll opt out of his contract this summer.
For those who think otherwise, odds are +400 for him to sign with another team.
---
We're halfway through what appears to be another title for Golden State and earlier today, and one sportsbook posted odds on whether or not Kevin Durant will stay with Golden State for the upcoming season.
What team will Kevin Durant play for game 1 of the 2018-19 season?
Golden State Warriors: -700
Field: +400
For some of you, this may be a no-brainer. Of course KD is sticking in Oakland … it's the easiest way to win a title!
Some of you may not have known there was a possibility of Durant leaving. Well, let me go ahead and break down that scenario for you:
Kevin Durant has a player option for the 2018-19 season in which he's due to make $26.2 million. At the end of the regular season, however, reports indicated that he will be turning that down and opting out of his contract, becoming a free agent this summer.
HOWEVER, this is likely so he can restructure his deal with Golden State and make a bit more coin. According to CBS Sports' report, "Durant is only opting out so he can re-sign with the Warriors on another deal. The chances of him leaving Golden State are as close to zero as it gets."
The CBS folk must not be biting at the +400 odds for him to leave, which represent a 20% chance he heads for the hills this summer.
There will surely be some drama this offseason, as there seemingly always is in the NBA. LeBron James also has a player option that he'll be almost certainly opting out of, but his next location is one of great uncertainty. Paul George and DeMarcus Cousins will also be hitting the market. Adding Durant to the free agent mix would turn NBA Twitter upside down, but it doesn't look like that scenario is worth betting.
A note to the Heat if it does happen: Don't bring Kelly Olynyk to the meeting. The Celtics found out the hard way that Olynyk's hair and tie-dye shirt aren't exactly the strongest selling points.
Tom Brady: Yes. Kelly Olynyk: No.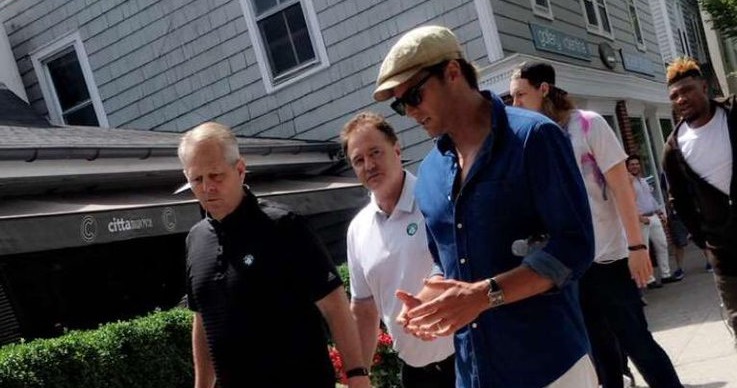 ---
More Coverage of Game 3