Kevin Durant Lights up Key Arena in Return to Seattle
Credit:
Joe Nicholson-USA TODAY Sports
Kevin Durant returned to Seattle on Friday night, and he pulled out all of the stops in his first time playing in Key Arena in 10 years.
Durant came out in a Sean Kemp Sonics uniform during player introductions and proceeded to put up 26 points, six rebounds and seven assists in 25 minutes.
Feels like yesterday, doesn't it?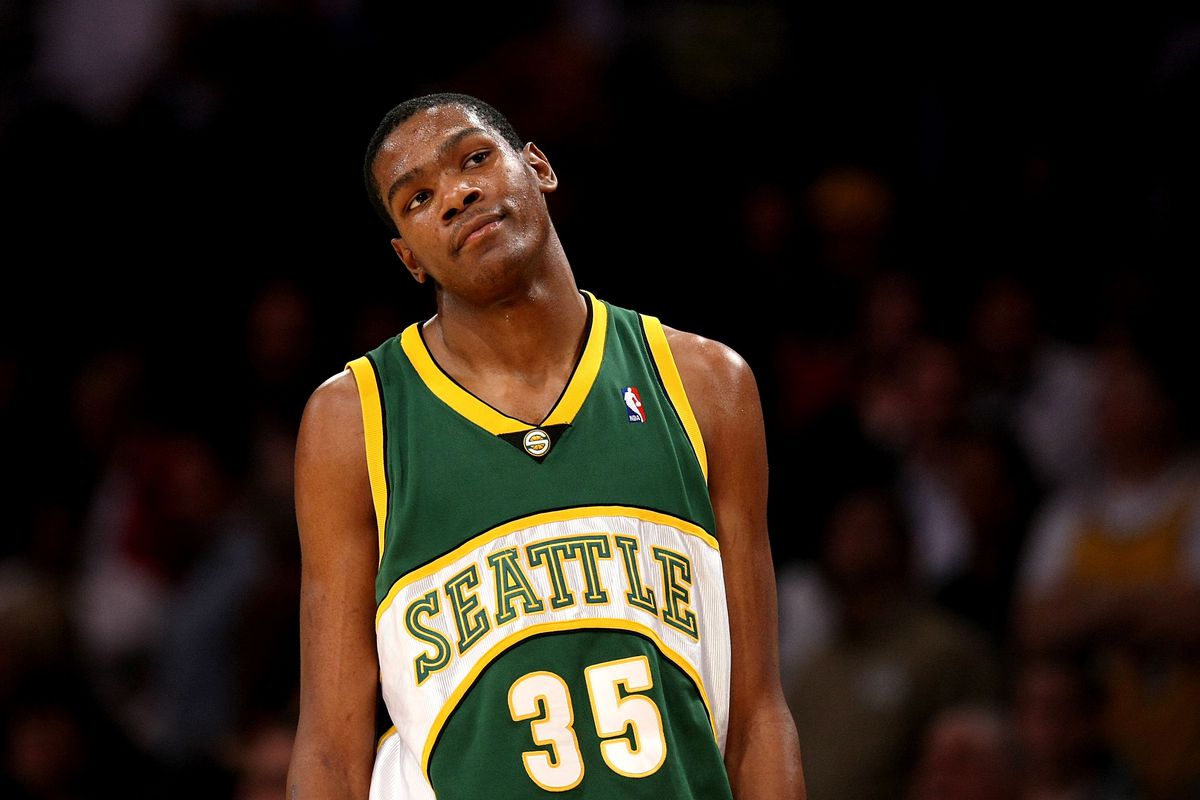 No, it most certainly does not.
It has been a little more than 10 years since Kevin Durant sported the glorious green and yellow of the Seattle Supersonics, and it feels like an anthology has occurred in his career since then.
As you know by now, the Sonics moved to Oklahoma City and became the Thunder, leaving the Northwest basketball hotbed without an NBA team to this day.
On Friday night, Durant returned to his first professional home for the Warriors' preseason game vs. the Sacramento Kings.
You could smell the nostalgia through the screen as the teams warmed up.  The basketball-thirsty fans boomed "SUPER" …. "SONICS!!!" throughout Key Arena. It was truly a sight to be seen.
Then it was time for player introductions, and you knew Durant was going to get a massive ovation regardless. But he brought out ALL the stops, repping the Shawn Kemp 40 and then speaking to the fans, noting how he hopes an NBA team returns to the city soon.
Russell Wilson, Pete Carroll, Sue Bird, Breanna Stewart, Bill Russell, Lenny Wilkens and many others were all in attendance for the moment … WHEW.
It has been a LONG TIME since Durant has heard a crowd cheer for him like that, other than at Oracle Arena, since he ghosted the Thunder.
Sonics fans know he didn't choose to leave Seattle for Oklahoma City; that was Clay Bennett's fault. When he burned OKC, Seattle fans probably fell even more in love with him for torching the city that stole their prom date.
This really is a match made in heaven.
Eventually, there was a game to be played — and KD came out and did what KD does best: get buckets in mass quantities.
That 26/6/7, by the way, was in 25 minutes of game time and didn't include…
"1: making Klay Thompson raise the roof in the box score."
There is a reason why Kevin Durant is still one of the favorites to win the 2018-19 regular-season MVP Award, despite playing on a team with arguably five hall-of-famers on it at the same time — he's just that damn good.
After what we witnessed Friday night, the No. 1 way for Durant to vindicate himself and repair the public perception of his image is to sign with the Sonics the second they get an expansion team — right?
If LeBron was able to do it after "The Decision," there's got to be a way for KD to, as well.
I will say this: Russell Westbrook's Thunder having to play opening night in Seattle against Durant's expansion Sonics, regardless if everyone goes back to liking him or not, would be a top-five arena atmosphere game of all time.
One day, Seattle. Hang in there….
How would you rate this article?