Wob: LeBron and the Lakers Should Have All Eyes on Summer 2019
Credit:
Orlando Ramirez-USA TODAY Sports. Pictured: LeBron James
The Lakers signed LeBron James ... and then their offseason got a little weird.
What's left is a team that will be hard-pressed to contend in a stacked Western Conference.
They're better off focusing on the mega-stars available in the 2019 free-agent class than making a desperation deadline deal.
LeBron knew it at the Eastern Conference trophy ceremony, before the Finals even started.
Hell, we all did.
The Cavs were going to get their doors blown off by the Golden State Warriors, and there was absolutely nothing anyone — not even the best basketball player on Earth — could do to stop it.
As soon as the JR moment happened at the end of Game 1, talk immediately shifted to LeBron's future.
Fast forward to October, and here we are: LeBron is a Los Angeles Laker — and even before he put on a jersey for a photo shoot, his arrival was met with controversy among the Laker faithful.
Knowing how viciously passionate Kobe Bryant loyalists are, an act like this comes as no surprise — whether the perpetrator is one or not.
But what WAS surprising about the whole process was that LeBron decided to sign without any sort of transactional ultimatum.
You would have figured if he was going to leave Cleveland and agree to join a roster of nothing but futures options, he would have demanded "go get me Kawhi no matter what it costs" or "only if Paul George signs first."
But none of that happened.
Instead, the Lakers surrounded basketball Thanos with arguably the funniest collection of characters in the game's history — adding his arch nemesis and the immortal meme himself Lance Stephenson, outspoken rival Rajon Rondo, JaVale McGee AND Michael Beasley to a roster with the Ball family's never-ending-drama already in place.
It begs the question: What are the Lakers doing?
If the experiment fails, the good news here is that all the names mentioned above are on one-year contracts and have no guarantee to be a part of the organization's long-term future.
Also, they actually found a way to get rid of Luol Deng!
After making almost $18 million for playing 13 minutes in one game…
…Deng and the Lakers came to terms on a buyout that permits the franchise to stretch Luol's remaining salary cap hold over three years.
All of a sudden, a team with LeBron James, Brandon Ingram, Lonzo Ball, Kyle Kuzma, Josh Hart and Mo Wagner on the roster has $35.7 million in cap space headed into free agency 2019 — a summer that will likely have more "if this guy is on your team you are instantly a title contender" superstars available than ever before.
That's actually a really good business strategy. We can all agree on that.
But here's the thing: It won't matter until we get there. Jokes, memes, talk radio and the internet wait for nobody. And if we look at LA's opening week schedule, it's not completely out-of-the-question that they could come out of the gates 1-6 before we even get to Halloween.
Look at this schedule: at Portland, vs. Houston, vs. San Antonio, at Phoenix, vs. Denver, at San Antonio, at Minnesota.
If this happens to any other team in the league, nobody cares. It's still football season for a majority of sports fans anyway.
But if it happens to LeBron … after ALL of the drama and ALL the hype this summer … the civil war that will develop among those religious anti-LeBron Kobe supporters, desperate Laker nation and LeBron diehards worldwide could have immediate repercussions IF — and only if — James and the Lakers let it.
IF LeBron gets into one of his moods (ARTHUR) and wants some help this year, does Magic Johnson ditch the franchise's "Punt for Summer 2019" plan and bring on some salary now?
IF the Lakers don't want to waste one of LeBron's remaining prime years, do they act without his permission?
These are questions we won't know until we approach the trade deadline in February, but let's not forget there is some precedent here.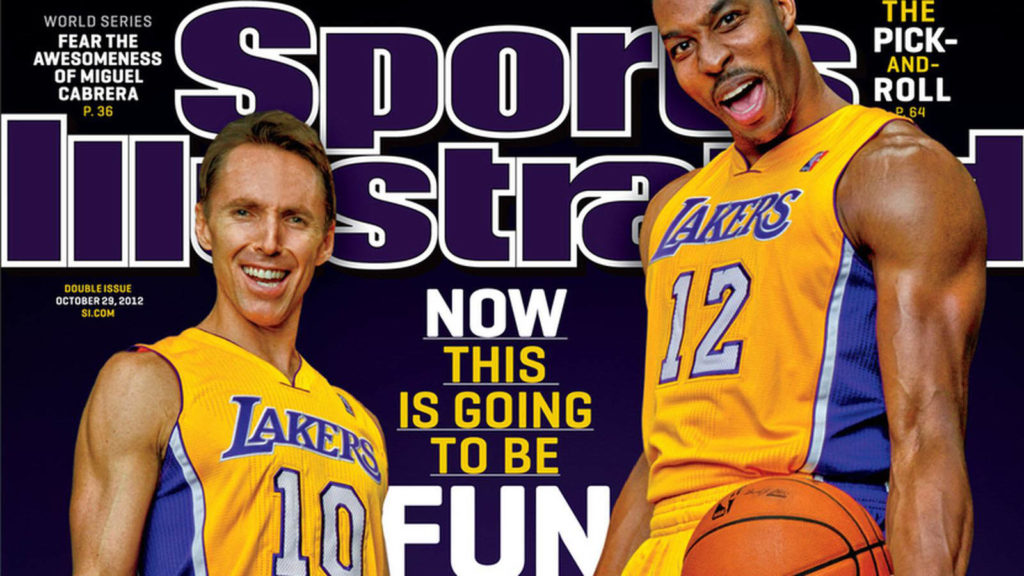 That 2012 team with four Hall of Famers and more hype than Showtime was the joke of the league for months, barely made the playoffs and subsequently got swept out of the postseason on its home floor.
Whether it's deserved or not, the same spotlight intensity will be on the LeBron-era Lakers once again, starting RIGHT NOW.
Honestly the solution to all of this is pretty simple: just win.
Winning was, is and forever will be the most effective shield against media pressure.
But in a Western Conference so stacked that you might need to win 50 games just to get in to the playoffs, the Warriors dynasty reigning like basketball's version of the Roman Empire and LeBron having to face this gauntlet in YEAR 16 OF HIS CAREER … do you kinda see what I'm getting at?
Usually, something would have to bend to keep everything from breaking.
Not here.
MAJOR help that could catapult LA to championship legitimacy overnight is going to be available; however, it's going to require the Lakers to not only be patient, but sit silent through the roast THEY created and laugh at themselves until the summer of 2019, which has ultimately been the goal the entire time.
How would you rate this article?