Wob: Luka Doncic for MVP? Here's How He Can Win
I've always had a weird fascination for being one of the first people to love a TV show before it becomes popular. Hopefully you can relate.
I'll never forget the date, mainly because you can search it on Google in two seconds: June 23, 2011. This was the day "Suits" premiered on USA Network — a fast-moving, over-the-top fiction drama that unintentionally became a parody of "Law & Order."
It had everything you ever need in a mindless linear television program: back-stabbing, corny high-brow analogies, clichés, lots of folders emphatically being dropped on desks, sexual tension and Meghan Markle.
I was hooked from Day 1, and as the show's popularity hockey-sticked seemingly overnight, I felt like I was part of the team. I would blindly support the program throughout the years, despite its many flaws, mainly because I wanted my emotional investment to pay dividends both internally and amongst my fellow wannabe TV critic friends by the time it was over.
The only reason why this story had to be told was to illustrate the hive mindset rampant in 2019. Politics, religion, awesomely stupid TV shows … it doesn't matter — social media has unlocked a psychological echo chamber where it's almost impossible to be wrong if you look hard enough and interpret information completely out of context.
That's why I'm here today to tell you your "Luka Doncic is the NBA MVP" takes are legit. Many of you with @DoncicSZN and @LukaBetterThanMJ handles who are in the Twitter mentions screaming "MVP" every time someone posts a Doncic highlight have been here since Day 1.
I'm talking since April 2015 when he debuted for Real Madrid as a 16-year-old. You knew he was the chosen one. Now that he's in the conversation of being the next generational superstar, you're all in. Nothing will change your mind, nor will I try.
So let's figure this out. How does Luka actually do it? How does he beat out LeBron James, Giannis Antetokounmpo and James Harden to be named the league's Most Valuable Player? Look at those damn names.
The MVP award is so fascinating because it is as much subjective as it is literal. "Most Valuable Player" is voted on by a democracy of NBA media, and their interpretation of "Most Valuable Player" can range from 'the best individual basketball player in the league' to 'the player worth the most despite their box score statistics' and everything in between.
Because narratives play as much of a role in the selection process as on-court performance, this is Luka Doncic's MVP application — a checklist in which every category must be fulfilled to achieve the prize so many desire.
Must Sweep Milwaukee
A poll of the national voting proletariat taken by ESPN's Tim Bontemps tells us Giannis Antetokounmpo is likely to repeat as the NBA's MVP winner. For Luka to gain ground on him, it is an absolute necessity that he and the Mavericks win both games against the Bucks this season.
Think of it the same way as College Football Playoff voters deciding who should get in if the two teams in question played each other head-to-head. Winning the game(s) doesn't necessarily guarantee admission, but it sure as hell helps.
To continue these obscure sports analogies, think of a 1-1 win split as a draw on the boxing scorecards — it's an admirable accomplishment for any challenger, but the champion doesn't lose their belt.
Viral Moment Punking Giannis 
Something that lives on the internet forever.
For example: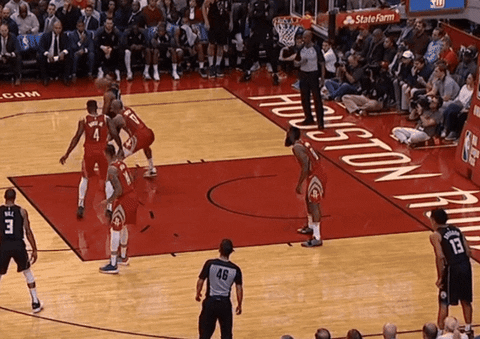 Giannis dethroning Harden wasn't REAL real until this. When it happened, anytime somebody posted a pro-Harden MVP argument on the internet it was drowned out in minutes by hundreds of comments with this GIF plaguing their facts like the eleventh biblical plague of Egypt.
It doesn't have to be an off-the-heezy … an ankle-breaker, a taunt, a postgame quote, a tweet, a game-winner in his face (i.e. the stepback clapback of LeBron in Staples Center), a poster dunk … something obnoxious we can use to drown out any sort of reason.
Average a Triple-Double
A couple of years ago, this would sound absurd. An impossible goal.
Well, guess what?
Russell Westbrook ruined it for everybody. It's not only doable, but triple-doubles have suddenly become the "how many rings?" of MVP arguments. If you don't have a ring, you automatically lose any "who was a better player" debate, and this same prerequisite is quickly beginning to apply here.
Here's the thing, though: Luka is already doing it. He just did it for the month of November and has his season averages up to…
30.7 points per game
9.4 assists per game
10.3 rebounds per game
Maybe if a certain 7'3" center who does nothing but stand at the top of the key and brick Luka's dime passes decided to make one, the assist numbers would better reflect Doncic's ability to create shots for his teammates.
Pass The Eye Test With Such High Marks That Everyone Forgets Kristaps Porzingis Spent An Entire Summer Getting Swole For Nothing
Well, I kind of spoiled this one in the lede, didn't I?
TWO "Holy S*** That's The MVP" Moments
The most essential qualification of winning the award.
For the past two decades, all MVPs have one thing in common — a "holy s***, that's the MVP" moment. A moment that, when it happens, has you frozen in time. You naturally know when it happens — a screenshot of when and where you were is uploaded straight to your anatomical iCloud.
It is the highlight that runs on loop when the player is included in any future montages and will be engraved in the MVP shrine at the Basketball Hall of Fame in Springfield.
A couple of examples:
Can't forget about the notorious double BANG!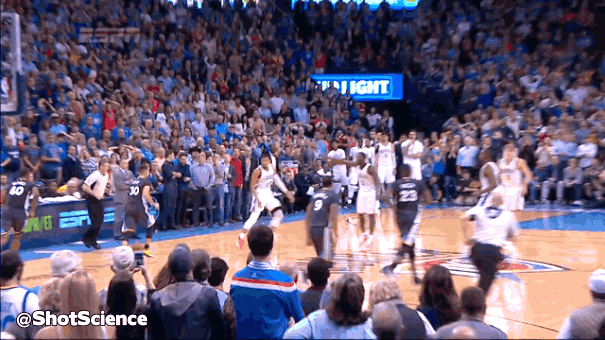 You get the point.
A Nickname That Sticks
Greek Freak. Beard. Brodie. Splash Brother(s). Slim Reaper. King. Mamba. Pooh. Big Ticket. Big Fundamental. Mailman. His Airness.
You can't win the NBA MVP without a world-renowned nickname, and it might be the only part of Luka's game that is currently missing. Are we really rolling with "Wonderboy"? If so, somebody should tell Planet Earth. Fix this immediately.
Mavericks Finish Top-4 In The West
Doncic's biggest competition is Antetokounmpo and James. Pending any catastrophic injuries or suspensions, the Lakers and Bucks are headed for the No. 1 seeds in their respective conferences.
That means Giannis and LeBron will be the best players on the league's two best regular-season teams — a sentence which, standing alone, is a sufficient argument to vote Antetokounmpo/James over Doncic blindly without any further context. We see it all the time.
Now, it helps that Doncic's Mavericks team does not have expectations to finish the season with the league's best record. Hell, I'm sure there are plenty of voters out there who predicted Dallas to miss the playoffs altogether. Thus, where the Mavs end up in the standings is almost house money for Luka's MVP campaign.
A playoff appearance alone would be seen as a successful season. But if he were able to get this roster to a No. 4 seed or better, it would be the equivalent of LeBron and Giannis carrying their Death Star squads to No. 1. He would wash out the narrative and any sort of blind bias towards the precedented mindset.
Set the PER Record. Literally Break The Statistic.
Make the NBA's primary tool for measuring player production and efficiency irrelevant. Send analytics twitter into shambles. Currently, Giannis and Luka hold Player Efficiency Ratings (PER) of 33.85 and 33.09, respectively.
The all-time record is Wilt Chamberlain's 31.82 during the 1962-1963 campaign. The time when a basketball imperial walker patrolled the paint against a bunch of Ewoks.
Luka has a chance of dethroning a man who decided he was going to ruin the record book for future generations of kids and hook up with every single one of their moms.
If you do anything to eclipse Wilt, on or off the court, you are immediately promoted to legendary status without debate.
Play A Minimum Of 75 Games
Speaking of Wilt, he had absolutely no problems with load management. Neither will Giannis, Harden or LeBron this season.
With Kawhi Leonard and many of the league's other All Stars adopting this resting strategy to manage injuries, the only way Luka can separate himself from the field and/or keep pace with the MVP thoroughbreds is by playing in every single game he can.
With TV ratings tanking, ticket-buyers ready to revolt because superstars don't feel like playing sometimes and a mainstream sports fan perception that "the NBA regular season doesn't matter," you better believe voters are going to reward dudes who bust their ass every night.
——
Now that I look back at how everything played out, I probably should have bought Meghan that drink.
How would you rate this article?