Perez: A Tribute to Manu Ginobili, the NBA's Most Memorable Improv Act
Manu Ginobili, who retired from the NBA on Aug. 27, injected some life into the league with his patented Euro-step.
His game was a performance, a walking, breathing lottery of moves.
Ginobili will forever be one of the best shooting guards to play the game.
"Who can defend Ginobili?"
It's what Boca Juniors assistant Néstor García asked of his team while getting torched by Manu during a Liga Nacional de Básquet game in 1997.
One brave soul, Sebastián Festa, raised his hand.
You have to appreciate the gallantry, but the truth of the matter is García could have gone around to every basketball gym on Earth and landed in the same place — nobody could defend Ginobili.
It wasn't because he was some supernatural physical specimen incapable of being checked by unworthy mortals; it was Manu's unprecedented ability to use the basketball as a microphone and improv old jokes to a crowd that thought it had seen it all.
Sarunas Marciulionis may have invented the Euro-step in 1989, but Ginobili made it sexy.
In an era when every half-court possession felt like a pickup game at the YMCA or the ballroom dance scene from Caddyshack, Manu busted through the doors like Rodney Dangerfield and injected his basketball tango straight into the veins of the NBA's culture — courting his opponents to dance with him to the left, to the right and ultimately stand there and gaze as he pirouetted by.
In a conversation with Sean Elliott, Steve Kerr had the best quote to illustrate Ginobili's unorthodox style:
"He looks like a squirrel running through traffic trying to dodge cars."
With Ginobili making a mockery of defenses on the world's biggest stage, night after night, it was only a matter of time until every player adopted this finishing move …
… and to this day, it has evolved into a basketball touchdown dance, intended to pay homage to the unequivocal clowning that just occurred on the court.
The Euro-step doesn't become a trend unless the trend-setter has powers of dissemination. Manu Ginobili wasn't just some foreign Rico Suave with handles who played the game differently; he was an artist.
Whether it was regularly nutmegging defenders in ways so inexplicable it contributed to Raja Bell declaring he was tougher to guard than Kobe Bryant …
… or attempting (and often times making) shots so absurd, he regularly had to explain himself to the media …
"He was like a wild colt out there, just doing crazy s—. Some of it made sense, and some of it didn't." — Spurs GM R.C. Buford to ESPN's Zach Lowe, on his first impressions of Manu Ginobili
… or scaling mountains that had never been summited …
… or even controlling the local bat population …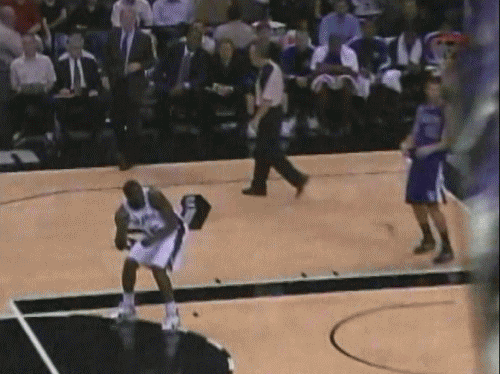 … Manu's game was a performance. You never knew what was going to transpire when this man was on the floor — but it was always worth the price of admission.
But for all the talk of being a walking, breathing lottery of moves, Ginobili was a teammate first.
Usually, this is an empty hypothesis. I mean, isn't every NBA player a teammate of somebody?
Sorta …
Think about the other great NBA two-guards of Ginobili's era: Michael Jordan, Bryant and Dwyane Wade.
We've read the stories of how MJ would often emasculate colleagues and get into altercations during practice, how Bryant would eviscerate anyone on the roster, or how Wade handled things behind closed doors in ways that weren't always appreciated by fellow co-stars. And there's nothing wrong with what they did. Tough love works and can inspire when correctly enforced. They are Hall of Famers because of this.
But Manu never needed to be the alpha.
Hell, you could even argue the Spurs never needed to be the alpha.
Despite having arguably the greatest power forward of all time on the roster for almost two decades, San Antonio never killed the opposition with star power — the Spurs did it with paper cuts.
They had a style of play built around teamwork and ball movement that could at times be deemed basketball pornography …
… yet they still somehow carried the burden of being "boring."
The "boring" stigma had nothing to do with Manu's style — it originated from the workman-like mindset of every player on the roster who bought into the Spurs' "team-first" philosophy.
Whether you were Ginobili, Tony Parker or Cherokee Parks — you were a part of a system that superseded the talent of any individual. You stayed out of the gossip column. You flew under-the-radar in every aspect of being a professional basketball player.
Other than Parker's divorce of Eva Longoria/alleged affair with teammate Brent Barry's wife and the Kawhi Leonard injury saga of 2017-18, Manu and the Spurs never gave us the delicious NBA off-the-court storylines we became accustomed to consuming.
Among their competitors, they received a level of respect similar to when the patriarch or matriarch of the family tells you to sit down and listen to their advice . "Yes, sir" or "yes, ma'am," no questions asked every single time. The Spurs never changed the way they did things; they didn't need to and they didn't want to. The Spurs were boring and that was OK.
For nearly two decades, Ginobili dazzled us with his ingenuity — but if you asked him, I'd bet he's more proud of being one of many pillars supporting the dynasty's foundation.
After being selected 57th in the 1999 draft, he played in 1,057 regular-season and 218 playoff games with the Spurs. He scored 14,043 points, dropped 4,001 dimes and racked up 1,392 steals.
In 2004, he hit arguably the most memorable shot in Olympic basketball history to defeat Serbia & Montenegro and advance to the next round:
He then followed that moment up by slaying Goliath — mighty Team USA — in the semifinals en route to the country's first basketball gold medal.
He is a:
4-time NBA Champion
2-time NBA All-Star
NBA Sixth Man of the Year
Euroleague Champion and Finals MVP
He came off the bench more times than he started and was happy to do it.
He will forever be one of the best shooting guards to play the game, and the reason why we will remember him won't be the rings and trophies, but because he was Manu …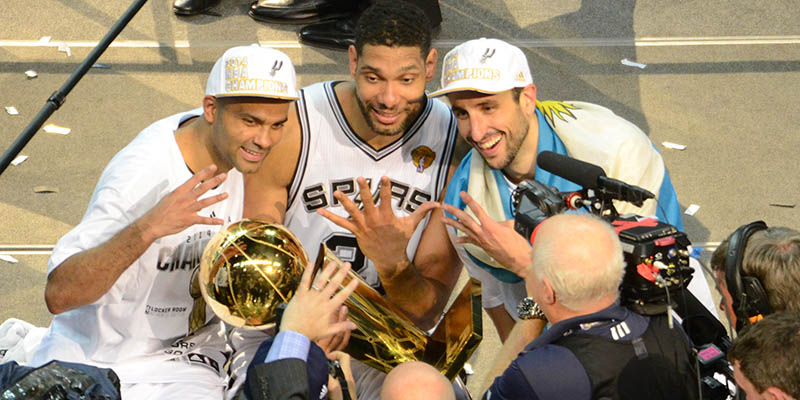 … from his first day until his last.
How would you rate this article?