NBA Win Total Odds & Pick: Will Reigning Champion Milwaukee Bucks Coast?
Credit:
Jesse D. Garrabrant/NBAE via Getty Images. Pictured: Giannis Antetokounmpo #34 of the Milwaukee Bucks.
The Milwaukee Bucks have the second-highest win total entering the season an over/under of 53.5 wins.
Matt Moore analyzes their win total odds below.
Check out this post for updated season win totals and this post for my other 29 season win total picks.
Milwaukee Bucks Win Total Odds
The Case for the Over
The Bucks have cruised past this number in two of Mike Budenholzer's three seasons as coach. Last season they slid backward; if there's one season you can forgive a sliding performance, it has to be last season with all the disruptions (and it still resulted in a title).
Milwaukee was uncharacteristic on multiple levels last season. Their performance vs. teams under .500 slid slightly. Late in the year, after March 15, the Bucks were 6-6 vs. middle-10 teams in point differential.
The Bucks have been a regular-season juggernaut under Budenholzer. The things I look for in building a robust regular-season win profile are performance vs. teams under .500 and performance vs. division teams. Milwaukee has gone a berserk 38-4 vs. division teams and an absolutely guano 98-22 vs. teams under .500 in the Budenholzer era.
You want consistent teams for your over bets, and there isn't a more consistent team than the Bucks.
Their schedule is middle of the road in terms of rest advantage and disadvantage, and on the weaker side in terms of opponent expected win percentage.
They have a two-time MVP who is the reigning Finals MVP in his absolute prime. They understand more about who they are now with this core and bring that championship experience and pedigree to the regular season.
The reality is that 85% of the teams in the league are simply not in the Bucks' class.
They have proven consistently they don't screw up vs. teams they should beat, and they match up great with every other top team. They went 6-4 vs. the Nets in the regular season and playoffs, even if the Nets were never fully healthy.
Milwaukee lost the season series to four teams last year: the Suns, Jazz, Hornets, and Celtics.
Trust Bud in the regular season.
The Case for the Under
What does this team have left to prove?
It will have been 91 days between the Bucks' Game 6 victory over the Suns and the start of the season; it was just 69 days between their title clinch and the start of training camp. They had less than two months off before needing to get ready for the regular season.
This team has been great for bettors in how prepared and serious they've been for the regular season. They don't screw around. But there is a natural fall-off that occurs for teams' attention span after they win the title.
Those games bore you after you've been there, and you know what's waiting for you in the spring. The Bucks don't have to be good to hit this over, and they don't have to be great; they have to be elite. Why bother?
This team is very different after the Jrue Holiday trade. The Bucks (wisely) chose top-level talent and matchup advantage vs. depth. The Bucks fell from a +2.2 bench Net Rating to a +1.1.
That doesn't sound like a lot, but it's significant. A key to out-pacing teams is maintaining or widening leads when the second unit comes in. Milwaukee's ability to do so was compromised by gearing the roster for the playoffs.
Holiday and Khris Middleton played in the bubble in 2020, were off two months, played in last season's truncated schedule, the playoffs and Finals, then went to Tokyo for Team USA.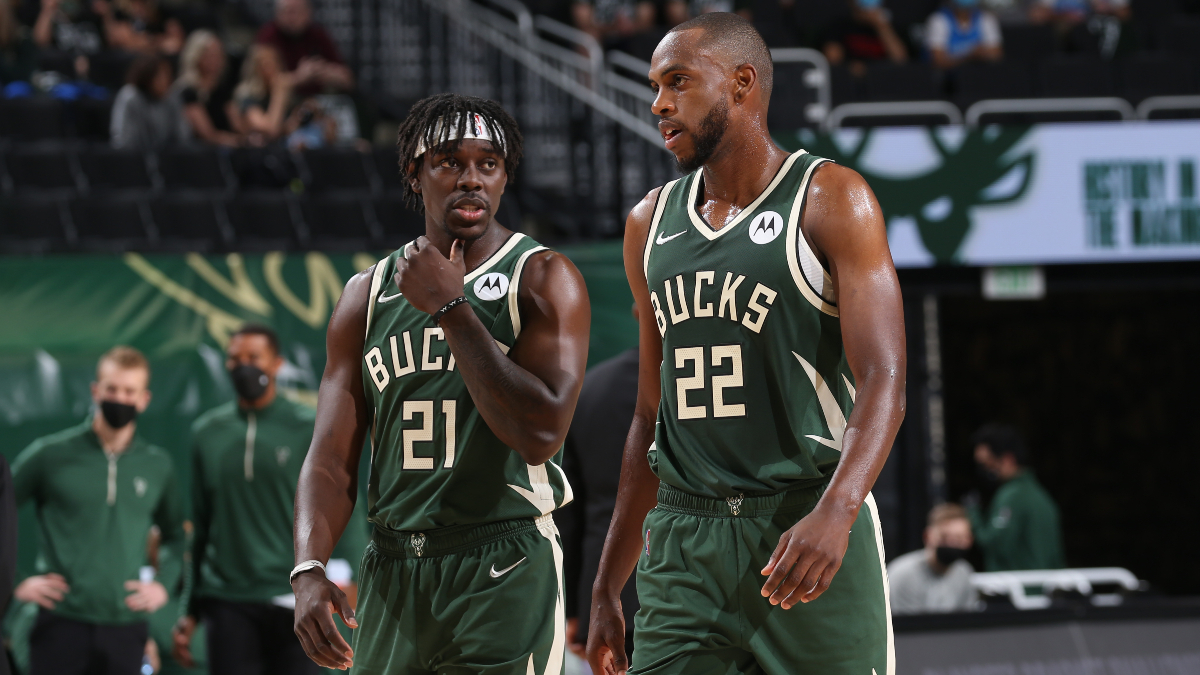 You have a more shallow rotation with two of their top guys coming off extended, brutal schedules. They will need time off, or there will be injuries or both.
They lost PJ Tucker, but that's not a huge loss. He had a negative Net Rating on-court last season. He's vital for specific matchups and moments in the playoffs; he's not a regular-season boon. They added Rodney Hood, Grayson Allen, and George Hill.
None of those players really project to make much impact vs. their previous iterations. It's not that these guys make them worse. If anything, they're a little more experienced on the bench than they would otherwise be.
But Hood's injury issues, Allen's inconsistency, and Hill's general level of discomfort with basketball (for very understandable reasons) the last few years are all things to raise an eyebrow at.
The Bucks are probably better than last year but not as good as the two seasons before when they just rolled everything in the regular season. That puts them in range of the under to the point this is too close.
Bucks Win Total Bet
The Bucks could hit this over by five games if they put the pedal down.
They have absolutely no incentive to do so. If they start slow, will they get uncomfortable and really buckle down? Probably not. They know they'll be there in April. There's no scenario except significant injury where the Bucks finish lower than third, and they don't need a top-two seed.
This has to be a pass. You can't look at a team that destroys bad teams and division opponents, with arguably the best player in basketball and a championship roster, and take the under.
You can't take a team with less than two months off from the championship hangover, with nothing else to prove in the regular season, with less consistent depth, and play over 55 games.
I'll say this: If you like the over, don't take the over. Bet Giannis Antetokounmpo for MVP at +800 instead. If they get the No. 1 seed, Giannis is almost definitely winning his third MVP, or has a chance significantly higher than the implied probability.
How would you rate this article?
This site contains commercial content. We may be compensated for the links provided on this page. The content on this page is for informational purposes only. Action Network makes no representation or warranty as to the accuracy of the information given or the outcome of any game or event.