Moore: The Aaron Gordon Trade Is Right On Time For the Denver Nuggets
Credit:
Garrett Ellwood/NBAE via Getty Images. Pictured: Aaron Gordon #50 of the Denver Nuggets.
The Denver Nuggets had waited and waited. They stayed disciplined. Never gave up too many assets as to hurt your long-term prospects. Never skipped steps. Kept their eye on the long-term.
They watched other teams add stars in free agency and in trades. They were close to adding Jrue Holiday, really pushing for the New Orleans star guard. But when the Milwaukee Bucks offered five first-rounders for Holiday, they had to watch the pitch sail by again.
Equally as devastating, the one move they had made to try and sneak an upgrade into their system went disastrously wrong. They added Jerami Grant and helped him raise his profile with a prolific playoff run. They thought Grant had every intention of returning, as they intended to make him their starting power forward going forward.
The Nuggets started off the year in a hole, struggling with new additions to the roster trying to get acclimated, injuries, a short layoff from their Western Conference Finals appearance, and difficulty in integrating Michael Porter Jr. They lost to the Kings thrice.
They had pulled themselves out of it, all the way to the fifth spot in the West. If they had to finish the season with this group, they were prepared to do so. But the front office recognized the kind of season Nikola Jokic was having and what the team had accomplished in the playoffs.
So Denver pursued Aaron Gordon.
The Nuggets had been in talks with the Magic for weeks about Gordon, but as of Monday, were still behind the Boston Celtics. There was a growing sense that Boston, desperate to realign its season, would finally give up the assets it needed to add a major upgrade.
The Nuggets remained cautiously optimistic, however, given both Boston's history in trade negotiations, the way deals can so often times be fluid, and Orlando's interest in the various assets the Nuggets had to offer.
For Denver, Gordon represented a chance to replace what they lost with Grant, and in some ways, upgrade from what he brought. Gordon hasn't been the scorer with Orlando that Grant has been with Detroit but has shot 40% from 3 this season, and he is a better defender, rebounder and passer.
The Nuggets' confidence in a deal grew over the course of the week, as Boston's offers moved back, not forward. Talks stalled over the inclusion of R.J. Hampton, who Denver considered as valuable as a first-round pick in their estimation, given that they traded a future first-rounder at the draft to acquire him.
Ultimately, Denver recognized that this was the moment to move forward, finally breaking up the core of Nikola Jokic, Jamal Murray, Will Barton and Gary Harris that had been in place for five years.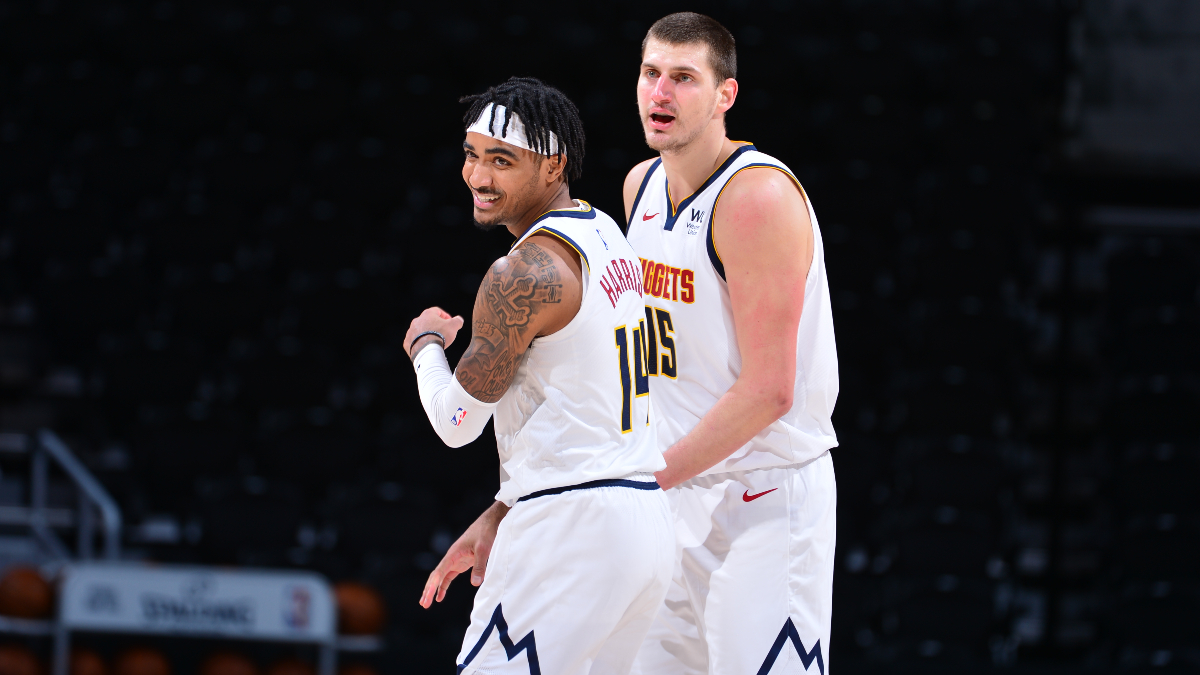 Still, they got good value. Harris was more valuable to the organization than he was league-wide, due to his poor shooting numbers and repeated injury issues the past three seasons. It should be noted that Harris hasn't suffered with knee, back, or foot issues, the common career-derailers, but instead repeated core injuries which have been a bizarre trend in Denver.
Hampton was a late first-round pick for a reason. He has dazzling explosiveness, and in time there's reason to believe he might be the steal of this trade, but for now, he's incomplete and inconsistent. The pick is top-five protected for 2025. If Denver conveys the sixth pick in 2025, things have already gone horribly, horribly wrong.
There's a reason Gordon was available for this price.
There's plenty of blame to share between Gordon and the Magic for why he hasn't lived up to his No. 4 selection in the draft. Orlando has never had an offensive centerpiece to open the floor and enable him, as good as Nikola Vucevic has been. Gordon has too often believed he is an on-ball creator.
For example, Gordon is 13th percentile as a scorer in pick and roll with the ball, per Synergy Sports, shooting just 33% from the field. He's 7-of-20 this season in isolation situations, after 11-of-46 last season. He's struggled this season in the post, shooting 12-of-35, but there's reason to think that adjusts back to his career levels in Denver.
Gordon did not fetch a premium price because he hasn't been a premium player. However, everything that's easy for him, he excels at. He makes things that are difficult for others look easy with his athleticism, and that's going to be optimized in Denver.
Denver presents the perfect opportunity for him to maximize what he can do. He's shooting 37% from 3 this season, but 44% on catch-and-shoot 3's. He's got a smoother stroke than you'd think as well:
He can punish mismatches if presented with a guard defender, overwhelming them in the post.
Gordon is also the most effortless athlete Denver will have. They discovered last season with Grant and Porter Jr. that having long athletes on the floor is a boon to Jokic because of the combination of his passing and their own speed. Gordon is absolutely springy. He just glides on dunks like this one off a cut:
However, Gordon has to accept that role. He's no longer the first option (Jokic) or the second option (Murray), or even third (MPJ). He's the fourth option. Ball-stopping on Denver? Kind of an issue. Gordon's a good passer, and he must embrace that.
Additionally, Denver made the move with a year and a half left on Gordon's deal, as he will be a free agent in the summer of 2022. If the fit isn't right, the Nuggets may face the same problem they faced with both Andre Iguodala and Grant, sinking assets into a player who spurns them in free agency.
But Gordon solves a ton on the defensive end for Denver. He's able to contain and contest on the perimeter. The Nuggets have no perimeter contain to speak of currently. They need someone, anyone just to guard the LeBron James and Kawhi Leonard in the playoffs without getting totally annihilated.
Denver plays a scheme in pick and roll with both defenders at the level of the screen. But in the playoffs, you need more versatility. Gordon allows the ability to switch in certain situations. They haven't had that ability since Grant left.
Does this put them over the Lakers  or Clippers? Probably not. But it makes a team that has proven more dangerous than expected the past two seasons even more so.
Now it's time to see if Denver's patience has paid off, and if they chose the right moment to finally go in.
How would you rate this article?