NBA Predictions, Picks & Betting Odds (Friday, Feb. 7): Fade Injured Heat on the Road?
Credit:
Photo credit: Issac Baldizon/NBAE via Getty Images. Pictured: Bam Adebayo
This NBA season, I'm trying something new. I'm going to write a daily piece that highlights everything bettors and DFS players need to know for that night's slate. For more on what to expect, read the inaugural piece.
Yesterday I finished 2-1 for +0.1 units. While I don't want to get sucked into the past, I think it's worth reviewing things each day.
The best way to do that is to look at closing line value (CLV), which is just measuring whether the line you bet moved for or against you by closing.
I bet Pelicans (1Q) -1.5 and it closed at Pels -2 (won)
I bet 76ers-Bucks under (2H) 112 and it closed at 112 (won)
I bet Magic -3.5 and it closed at Magic -3.5 (lost)
We nailed the Pelicans first quarter angle, but unfortunately missed on the Magic, which I didn't write about in my manifesto. I ended up taking it after the news that Marcus Morris was traded. He was their most valuable player arguably, and I didn't expect them to play so well without him. Oh well.
Anyway, let's dive into today's slate and find some angles.
YTD Record:
Overall: 214-185-2
Spreads: 83-79-2
Totals: 82-75
Moneylines: 20-9
Props: 29-22
Jump To: Odds & Analysis | Projected Starting Lineups & Injury News | Player Props | DFS Values & Strategy | My Bets
---
Odds as of Friday afternoon and via FanDuel, where Action Network users get a risk-free bet up to $500.
---
Betting Odds and Analysis
7 p.m. ET: Memphis Grizzlies at Philadelphia 76ers (-5), 222.5
7 p.m. ET: Dallas Mavericks (-2) at Washington Wizards, 234
7:30 p.m. ET: Atlanta Hawks at Boston Celtics (-9.5), 231.5
8 p.m. ET: Toronto Raptors (-1) at Indiana Pacers, 218.5
8 p.m. ET: Detroit Pistons at OKC Thunder (-12.5), 215
9 p.m. ET: Houston Rockets (-2.5) at Phoenix Suns, 234.5
10 p.m. ET: Miami Heat at Sacramento Kings (-1), 219.5
10:30 p.m. ET: Portland Trail Blazers at Utah Jazz (-9.5), 226.5
Heat at Kings
This is an interesting matchup given how shorthanded Miami will be. The Heat will be missing Jimmy Butler, Tyler Herro and Meyers Leonard due to injuries, they obviously traded away a couple players, and Jae Crowder, Solomon Hill and Andre Iguodala are unlikely to make their debuts tonight.
That brings them down to just six-ish regular rotation players available, which obviously isn't ideal.
Further, they're on the road, where they've struggled this season…
Heat at home: +11.4 Net Rating (3rd) | 117.3 ORtg (2nd) | 105.9 (8th)
Heat away: -2.9 Net Rating (13th) | 109.2 ORtg (15th) | 112.1 (DRtg)
And finally, the data this season shows that Butler is incredibly important. With him on the floor, the Heat have been 8.7 points per 100 possessions better than with him off — the highest mark on the team.
They still have talent, no doubt, but given the shortened rotation on the road and without their best player, the Kings offer some value here.
That said, the Kings have been a bit all over the place lately. De'Aaron Fox has been great; the rest of the team … not so much. In the last couple of weeks, they've beat the struggling Wolves twice and beat the Clips on the road but also had rough blowouts to the Lakers and Thunder.
One problem over the last month has been their incredibly slow starts. It's been really bad: In that time frame, they're dead last in the NBA with a -19.3 Net Rating in the first quarter. They're actually third in that span with a +9.6 Net Rating in the second, so they tend to rebound fairly quickly.
What I'm saying is there might be some live betting value in this one, too. The Heat will be rested and have their best players on the floor to start. From the second quarter on, however, that shortened rotation will hurt them more, and that's when the Kings shine. You could bet them pre-game in the second quarter or just wait and see if they fall behind and become dogs early.
Hawks at Celtics
The Celtics are good covering the spread this season — at home, on the road, as favorites and as dogs. They're just good.
But they're missing Jaylen Brown and Gordon Hayward today, and they're still laying nearly double digits against the Hawks.
I think that's underrating Atlanta a bit. The old starting lineup — Trae Young, Cam Reddish, Kevin Huerter, De'Andre Hunter and John Collins — actually had good metrics, posting a +9.9 Net Rating together. Reddish is out in this one, but I'm not sure he was really bringing much to that lineup; the shooting has been awful this season, down at 34.9% overall.
Clint Capela is unlikely to make his debut tonight given a nagging injury, but Dewayne Dedmon — another trade acquisition — could. He's an upgrade over Alex Len and should help on both ends of the floor as a smart player. If he's out, it could mean more minutes for Collins at center, which I think bodes well for their offense given his skillset alongside Young.
The data with the Celtics is less clear: They've actually been 4.8 points/100 worse with Jaylen playing than with him on the floor; they've been a mediocre 3.3/100 better with Hayward. But losing two wings at the same time hurts — the multiplication effect — and now guys like Romeo Langford (rookie) and Semi Ojeleye will have to play significant minutes.
Now, look, I get it: The Celtics have covered five straight, including eight of their last 10. The Hawks are 9-18 ATS on the road this season. Those are all poor signs pointing toward the Celtics.
But I think that's pushing this line a bit too high, and there's sharp money on the Hawks, who are getting 30% of the bets but close to 50% of the money wagered. Maybe I'll look like a fool fading the Celtics, but anything 9.5 or higher — especially if it goes back to double digits thanks to public money — I think is just a bit too high.
Projected Starting Lineups and Injury News
Note: Info as of 3 p.m. ET. For up-to-the-minute lineups and news, see FantasyLabs' matchups page.
Projected Lineups
Atlanta Hawks: Trae Young – Kevin Huerter – De'Andre Hunter – John Collins – Damian Jones
Boston Celtics: Kemba Walker – Marcus Smart – Semi Ojeleye – Jayson Tatum – Enes Kanter
Dallas Mavericks: Jalen Brunson – Tim Hardaway Jr. – Dorian Finney-Smith – Maxi Kleber – Kristaps Porzingis
Detroit Pistons: Reggie Jackson – Bruce Brown – Tony Snell – Sekou Doumbouya – Thon Maker
Houston Rockets: James Harden – Eric Gordon – Robert Covington – Danuel House – PJ Tucker
Indiana Pacers: Malcolm Brogdon – Jeremy Lamb – TJ Warren – Domantas Sabonis – Myles Turner
Memphis Grizzlies: Ja Morant – Dillon Brooks – Kyle Anderson – Jaren Jackson Jr. – Jonas Valanciunas
Miami Heat: Kendrick Nunn – Duncan Robinson – Derrick Jones Jr. – Bam Adebayo – Kelly Olynyk
OKC Thunder: Chris Paul – Shai Gilgeous-Alexander – Luguentz Dort – Danilo Gallinari – Steven Adams
Philadelphia 76ers: Ben Simmons – Josh Richardson – Tobias Harris – Al Horford – Joel Embiid
Phoenix Suns: Ricky Rubio – Devin Booker – Kelly Oubre – Mikal Bridges – Deandre Ayton
Portland Trail Blazers: Damian Lillard – CJ McCollum – Trevor Ariza – Carmelo Anthony – Hassan Whiteside
Sacramento Kings: De'Aaron Fox – Bogdan Bogdanovic – Harrison Barnes – Nemanja Bjelica – Richaun Holmes
Toronto Raptors: Kyle Lowry – Fred VanVleet – OG Anunoby – Pascal Siakam – Serge Ibaka
Utah Jazz: Mike Conley – Donovan Mitchell – Joe Ingles – Bojan Bogdanovic – Rudy Gobert
Washington Wizards: Ish Smith – Gary Payton II – Bradley Beal – Rui Hachimura – Ian Mahinmi
Injury News
Atlanta Hawks: Cam Reddish (concussion) and DeAndre Bembry (hand) are out. Bruno Fernando (calf) is doubtful. Trae Young (ankle) is probable. Jeff Teague (knee), De'Andre Hunter (ankle) and Kevin Huerter (adductor) are not on the injury report.
Boston Celtics: Daniel Theis (ankle), Jaylen Brown (ankle) and Gordon Hayward (foot) are out. Brad Wanamaker (ankle) is not on the injury report. Marcus Smart (quad) and Kemba Walker (knee) will play.
Dallas Mavericks: Kristaps Porzingis (nose), JJ Barea (ankle) and Seth Curry (knee) are questionable.
Detroit Pistons: Derrick Rose (adductor), Markieff Morris (illness) and Svi Mykhailiuk (hip) are out.
Houston Rockets: Russell Westbrook (rest) is out.
Indiana Pacers: TJ Warren (concussion) and Victor Oladipo (rest) are questionable.
Memphis Grizzlies: Jonas Valanciunas (ankle) is questionable. Justise Winslow (back) remains out.
Miami Heat: Tyler Herro (ankle), Jimmy Butler (shoulder) and Meyers Leonard (ankle) are out. Andre Iguodala, Jae Crowder and Solomon Hill are unlikely to make their debuts.
OKC Thunder: Nothing new.
Philadelphia 76ers: Glenn Robinson III and Alec Burks will not make their debuts. Josh Richardson (hamstring) is questionable.
Phoenix Suns: Tyler Johnson (knee) and Dario Saric (ankle) are out. Ty Jerome (calf) and Cam Johnson (quad) are doubtful.
Portland Trail Blazers: Nassir Little (ankle) is out. Hassan Whiteside (leg) is questionable.
Sacramento Kings: Richaun Holmes (shoulder) is questionable.
Toronto Raptors: Marc Gasol (hamstring) is out.
Utah Jazz: Nothing new.
Washington Wizards: Thomas Bryant (foot) remains out.
Player Props
To bet props, I use our FantasyLabs player props tool. Follow me in the Action Network app to see my bets (or go to the bottom of the article), but the more important thing is the tool, which measures our projections for every player vs. current odds in the market and highlights the biggest edges for you.
Player props are an inefficient market, which allows casual bettors (limits are low, so pro bettors aren't incentivized to prioritize them) to grab very +EV bets.
That said, the lines move quickly. Our props tool is set up so you can always see whether there's an edge even at the updated numbers throughout the day.
It's one of my favorite tools we offer and should be one of your bookmarked pages if you like making a few extra bucks. Here's a screenshot of what it looks like:

My usual recommendation: Bet unders.
Last season, 10-rated props in our tool hit at a 60.31% rate. But overs hit at a 57.08% rate vs. 66.47% for unders. For 9-rated props, 55.96% of overs were successful bets vs. 62.60% for unders.
As I have noted in the past, unders have more outs: A blowout, an injury, a poor shooting night all will likely make the under hit. But also, props are less efficient as a market given the low limits, so they're less likely to adjust for things like opponent and pace.
One under I think is intriguing is Robert Covington's 14.5-point total.
Covington had to take a super early flight, scramble to get with his new team in the Houston Rockets and then played 30 minutes in a high-pressure game last night against the Los Angeles Lakers.
He played well, shooting 4-of-7 from beyond the arc and made some winning plays down the stretch. Despite all that he scored just 14 points — below this mark — and tonight he'll be on the second leg of a back-to-back on the road in Phoenix. I'll take the under given those reasons.
DFS Values and Strategy
There are three players at $10,000 or above on DraftKings tonight: Bradley Beal, Trae Young and James Harden.
Harden is obviously quite expensive, but he's still popping as the best value of the studs. He'll be without Russell Westbrook, who is out resting tonight, and is facing a beatable defense in the Suns. He struggled last night, scoring just 14 points and 36.25 DK points, but that was mostly because Westbrook dominated usage. That won't be an issue tonight.
There's also a ton of value in that next tier of players. Kristaps Porzingis is questionable, but if he plays he's an awesome value at just $8,800, especially without Luka Doncic (he's dominated in that spot this year) and against the Wizards, who play super fast and have just an atrocious defense.
Also in that tier are Deandre Ayton, Joel Embiid, Jayson Tatum and Devin Booker. Harden is always a tough fade when Westbrook is out, but today there's definitely a reason to given the massive value in this range. If you wanted to build a more balanced lineup, that's a very viable strategy today.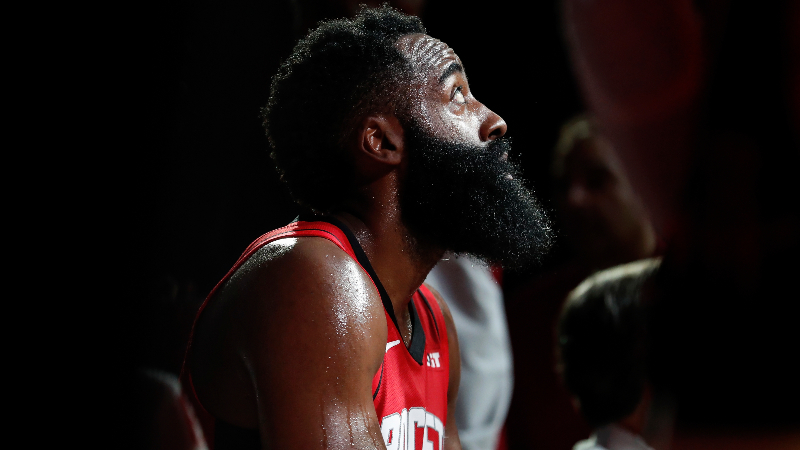 But if you wanted to get up to Harden, there's sufficient lower-tier value. Enes Kanter is popping as the slate's best with a +17.3 Projected Plus/Minus given all of the Boston injuries. Other values include Kendrick Nunn, Thon Maker (playing bigger minutes without Andre Drummond), Kelly Olynyk (given all of Miami's injuries), Goran Dragic and Christian Wood.
There are also several key injuries to monitor leading up to lock: Kristaps, Hassan Whiteside, Josh Richardson, Richaun Holmes, Jonas Valanciunas, TJ Warren and Victor Oladipo are all questionable.
You know the drill: Follow the news and make sure to subscribe to our models to see up-to-the-minute projection updates.
For more DFS analysis and value plays, check out the FantasyLabs NBA models.
My Bets Currently
[In New Jersey, Pennsylvania, Indiana or West Virginia? Bet now at FanDuel]
Follow me in our free app if you want an alert on bets I make.
How would you rate this article?