NBA Predictions, Picks & Betting Odds (Friday, Jan. 10): Can the Magic Overcome Injuries?
Credit:
Harry Aaron/Getty Images. Pictured: Aaron Gordon (00) of the Orlando Magic.
The New Orleans Pelicans (13-25) are 4.5-point favorites on the road and will face the shorthanded New York Knicks (10-28) at Madison Square Garden with the over/under at 227.
Bryan Mears analyzes the matchup and others along with his favorite player props and DFS plays in his daily NBA manifesto.
This NBA season, I'm trying something new. I'm going to write a daily piece that highlights everything bettors and DFS players need to know for that night's slate. For more on what to expect, read the inaugural piece.
Let's dive into today's slate and find some angles.
YTD Record:
Overall: 162-130-2
Spreads: 62-54-2
Totals: 51-48
Moneylines: 14-6
Props: 29-22
Jump To: Odds & Analysis | Projected Starting Lineups & Injury News | Player Props | DFS Values & Strategy | My Bets
---
Odds as of Friday afternoon and via FanDuel, where Action Network users get a risk-free bet up to $500.
---
Betting Odds and Analysis
7 p.m. ET: Atlanta Hawks (-1.5) at Washington Wizards, 238.5
7:15 p.m. ET: New Orleans Pelicans (-4.5) at New York Knicks, 227.5
7:30 p.m. ET: Miami Heat (-3.5) at Brooklyn Nets, 217.5
8 p.m. ET: San Antonio Spurs at Memphis Grizzlies (-0.5), 230.5
8 p.m. ET: Indiana Pacers (-2.5) at Chicago Bulls, 213.5
9 p.m. ET: Orlando Magic at Phoenix Suns (-3.5), 216.5
9 p.m. ET: Charlotte Hornets at Utah Jazz (-12), 209.5
9:45 p.m. ET: LA Lakers at Dallas Mavericks (-2.5), 223.5
10 p.m. ET: Milwaukee Bucks (-9.5) at Sacramento Kings, 223.5
10:30 p.m. ET: Golden State Warriors at LA Clippers (-14), 220.5
Let's run through a couple angles I'm eyeing.
Pelicans at Knicks
Over the past two weeks, the fourth-best team in the entire NBA in terms of Net Rating has been … the New Orleans Pelicans?
You're darn right. They've won six of their past eight, including victories over the Rockets, Pacers, Nuggets and Blazers. Their only two losses in that stretch have come against the Jazz and Lakers on the road — and those were close, respectable Ls.
In the last two weeks, they're scoring a ridiculous 120.1 points per 100 possessions — third-best in the NBA. Including the Christmas Day game, they're doing a ton of things right on offense; this isn't just hot shooting. They're fifth in eFG%, sure, but they're also eighth in turnover rate and third in offensive rebound rate. They're taking the most corner-3s, the fourth-most 3s overall and rank 12th in shots at the rim.
Again, they rank fifth in eFG% after a tough start, but they're sixth in this recent stretch in expected eFG%. This isn't luck — it's legitimately improved play.
---
Check out PointsBet, where Action Network users can take advantage of tonight's "Make it Rain" promo for Pels-Knicks. Place a $100 spread bet in this game and get $3 in bonus for every 3-pointer your team makes.
---
It's hard to pinpoint exactly why they've improved so much, but it's likely a combination of the team finally getting healthier (which makes Zion Williamson's impending return even more exciting), Brandon Ingram continuing to improve and Lonzo Ball finally playing NBA-level basketball as opposed to whatever was going on with him earlier in the season.
All in all, this team is much better than its 13-25 record currently indicates, and I think they're being undervalued in the betting market as a result.
That's especially true against a Knicks team that's quite thin tonight. Julius Randle and Dennis Smith Jr. have already been ruled out, and Marcus Morris is doubtful to suit up with a neck injury. They'll likely roll out a starting unit of Elfrid Payton, RJ Barrett, Reggie Bullock, Bobby Portis and Taj Gibson.
That unit, for whatever its worth, has played just 20 possessions together ever. In that time they've scored 85.0 points/100 and allowed 135.0 points/100. That's a Net Rating of -50.0 for those counting at home. Small sample size, blah blah blah — but not a good initial sign.
I grabbed this at Pels -4.5, which is where it still sits currently. I would bet it to Pels -5. I think this team is definitely at least 6-7 points better than this Knicks unit on a neutral floor.
Magic at Suns
It's tough days for the Magic, who have been ravaged by injuries.
They've had to ask for injury exceptions for both Jonathan Isaac and Al-Farouq Aminu, confirming they're likely out for the rest of the season. Michael Carter-Williams is without a timetable to return with a AC joint injury.
DJ Augustin is out tonight with a knee contusion. Aaron Gordon is questionable with a tight right calf. Ouch.
From the Labs NBA Insiders page:
"The Magic will likely lean a bit more on Markelle Fultz and Terrence Ross in his absence, with Josh Magette possibly getting into the rotation as the primary backup behind Fultz."
Not to be confused with Corey Maggette, Josh is a 30-year-old point guard who went undrafted a decade ago out of Alabama-Huntsville and has played overseas or in the G League since. No offense to Magette, but if he's in the rotation, things aren't looking too rosy.
They're not without talent admittedly. Over the last two weeks, they rank ninth in the league with a +5.7 point differential. Nikola Vucevic and Gordon are very solid players, and guys like Markelle Fultz have really stepped up this season. But their recent games haven't exactly been tough, with two vs. the Wizards, home against the Hawks and one against the reeling Nets.
Vuc has been their best player metrics-wise: The team has been 9.7 points/100 better with him on the floor vs. off. The majority of that has predictably been on offense, as the team has posted an eFG% 3.8% higher with him on vs. off.
Gordon doesn't have awesome on/off differential splits, although I think that's underestimating his value to this team — especially one so thin. The team has gotten better shots with him, including getting out in transition more frequently, especially off live rebounds. Without him they could get hot — the NBA is way more random than we want to admit — but things will certainly be more tough for Orlando.
Of course, the Suns are not exactly a fun team to back lately. After a hot start to the year, they've really regressed. Over the last two weeks, they've posted a Net Rating of -3.7. The defense has especially been atrocious.
But they're getting healthier, and that's potentially a huge advantage tonight if Gordon isn't able to go. If that's the case, I like the Suns -3 at home and wouldn't mind a taste of the over, either.
Lakers at Mavs
These teams just played on Dec. 29 and the Lakers, at home, closed as a five-point favorite. Let's say home court is worth 2.5 points. That closing spread suggests the Lakers were 2.5 points better on a neutral court at the time, assuming the market is efficient.
Tonight the Mavs are two-point favorites at home, and if we use the same math it puts the Lakers at a half-point on a neutral court. What's the difference for tonight's game, and why the two-point swing?
Let's start with the injuries. Kristaps Porzingis played in that Dec. 29 game, and he's out tonight with a knee injury. This season, the Mavs have been largely neutral with or without Porzingis on the court — they've been 3.9 points/100 worse on offense but 2.7/100 better on defense. But that's potentially underselling Porzingis' value.
On the Lakers' side, Anthony Davis (glute) and Avery Bradley (fever) are questionable to suit up, while LeBron James is probable after being limited in practice yesterday with flu-like symptoms … Ah! There's the reason the Mavs are currently favored and why the line is different by a couple points.
The question is, though, where this line should be depending on who plays and who sits. I think Davis is worth more than just two points to the Lakers, especially in a high-level game (value isn't in a vacuum, it absolutely changes based on opponent quality). That means this line is likely hedging based on his status, which books have often done over the past few years.
That means if Davis is confirmed to be playing, this line will move more towards a pick'em, although it may not fully get there. But if he's out, then the Mavs will likely move a bit further, though I think less than if Davis is active.
Books like to hedge to minimize the risk and having a line move 4-5 points, but it also isn't a perfect system. If you're quick, there's going to be value on either side once Davis' status is announced.
These teams have already played three times this season, with the Lakers taking two of them. LA's defense was excellent in those two, and they were able to withstand severe rebounding disadvantages in all three games. One consistent thing is the Lakers have been able to dominate attacking the rim, and Porzingis' absence likely won't help in that regard.
I'll be watching the Davis news, and I think the best bet is the Lakers if he's confirmed in.
Projected Starting Lineups and Injury News
Note: Info as of noon ET. For up-to-the-minute lineups and news, see FantasyLabs' matchups page.
Projected Lineups
Atlanta Hawks: Trae Young – Kevin Huerter – Cam Reddish – De'Andre Hunter – John Collins
Brooklyn Nets: Spencer Dinwiddie – Joe Harris – Rodions Kurucs – Taurean Prince – Jarrett Allen
Charlotte Hornets: Devonte' Graham – Terry Rozier – Miles Bridges – PJ Washington – Bismack Biyombo
Chicago Bulls: Kris Dunn – Tomas Satoransky – Zach LaVine – Thaddeus Young – Lauri Markkanen
Dallas Mavericks: Luka Doncic – Tim Hardaway Jr. – Dorian Finney-Smith – Maxi Kleber – Dwight Powell
Golden State Warriors: Ky Bowman – Damion Lee – Glenn Robinson III – Draymond Green – Willie Cauley-Stein
Indiana Pacers: Malcolm Brogdon – Jeremy Lamb – TJ Warren – Domantas Sabonis – Myles Turner
LA Clippers: Patrick Beverley – Landry Shamet – Maurice Harkless – Kawhi Leonard – Ivica Zubac
LA Lakers: LeBron James – Avery Bradley – Danny Green – Anthony Davis – JaVale McGee
Memphis Grizzlies: Ja Morant – Dillon Brooks – Jae Crowder – Jaren Jackson Jr. – Jonas Valanciunas
Miami Heat: Kendrick Nunn – Jimmy Butler – Duncan Robinson – Bam Adebayo – Meyers Leonard
Milwaukee Bucks: Eric Bledsoe – Wes Matthews – Khris Middleton – Giannis Antetokounmpo – Brook Lopez
New Orleans Pelicans: Lonzo Ball – JJ Redick – Josh Hart – Brandon Ingram – Derrick Favors
New York Knicks: Elfrid Payton – RJ Barrett – Reggie Bullock – Bobby Portis – Taj Gibson
Orlando Magic: Markelle Fultz – Evan Fournier – Aaron Gordon – Khem Birch – Nikola Vucevic
Phoenix Suns: Ricky Rubio – Devin Booker – Kelly Oubre – Dario Saric – Deandre Ayton
Sacramento Kings: De'Aaron Fox – Buddy Hield – Harrison Barnes – Nemanja Bjelica – Harry Giles
San Antonio Spurs: Dejounte Murray – Bryn Forbes – DeMar DeRozan – Trey Lyles – LaMarcus Aldridge
Utah Jazz: Donovan Mitchell – Joe Ingles – Bojan Bogdanovic – Royce O'Neale – Rudy Gobert
Washington Wizards: Isaiah Thomas – Gary Payton II – Bradley Beal – Davis Bertans – Ian Mahinmi
Injury News
Atlanta Hawks: Jabari Parker (shoulder) is out at least 2 weeks. Bruno Fernando (personal) is out.
Brooklyn Nets: Wilson Chandler (hamstring) and Garrett Temple (knee) are questionable.
Charlotte Hornets: Marvin Williams (nose) is questionable.
Chicago Bulls: Wendell Carter Jr. (ankle) is likely to miss a couple weeks. Lauri Markkanen (ankle) will start.
Dallas Mavericks: Kristaps Porzingis (knee) remains out. JJ Barea (illness) is probable.
Golden State Warriors: D'Angelo Russell (shoulder) is out. Draymond Green (ankle) is not on the injury report. Ky Bowman will play.
Indiana Pacers: Malcolm Brogdon (back) and Domantas Sabonis (knee) are questionable.
LA Clippers: Paul George (hamstring) is out.
LA Lakers: Anthony Davis (gluteus maximus) and Avery Bradley (fever) are questionable. LeBron James (illness) is probable.
Memphis Grizzlies: Nothing new.
Miami Heat: Derrick Jones Jr. (thigh) will play. Justise Winslow (back) is out.
Milwaukee Bucks: Ersan Ilyasova (knee) is questionable. Giannis Antetokounmpo (back) is probable. George Hill (illness) is not on the injury report.
New Orleans Pelicans: Kenrich Williams (back) and Jrue Holiday (elbow) are out.
New York Knicks: Julius Randle (personal) and Dennis Smith Jr. (oblique) are out. Marcus Morris (neck) is doubtful. Mitchell Robinson (toe) is not on the injury report.
Orlando Magic: Aaron Gordon (calf) is questionable. DJ Augustin (knee) is doubtful.
Phoenix Suns: Nothing new.
Sacramento Kings: Richaun Holmes (shoulder) and Bogdan Bogdanovic (ankle) are out. Marvin Bagley (foot) is questionable. Cory Joseph (illness) and Nemanja Bjelica (ankle) are not on the injury report.
San Antonio Spurs: Nothing new.
Utah Jazz: Nothing new.
Washington Wizards: Garrison Mathews (ankle) is without a timetable to return. Bradley Beal (leg) is questionable. Davis Bertans (quad) is available to play.
---
Player Props
To bet props, I use our FantasyLabs player props tool. Follow me in the Action Network app to see my bets (or go to the bottom of the article), but the more important thing is the tool, which measures our projections for every player vs. current odds in the market and highlights the biggest edges for you.
Player props are an inefficient market, which allows casual bettors (limits are low, so pro bettors aren't incentivized to prioritize them) to grab very +EV bets. That said, the lines move quickly. Our props tool is set up so you can always see whether there's an edge even at the updated numbers throughout the day.
It's one of my favorite tools we offer and should be one of your bookmarked pages if you like making a few extra bucks. Here's a screenshot of what it looks like:

My usual recommendation: Bet unders.
Last season, 10-rated props in our tool hit at a 60.31% rate. But overs hit at a 57.08% rate vs. 66.47% for unders. For 9-rated props, 55.96% of overs were successful bets vs. 62.60% for unders.
As I have noted in the past, unders have more outs: A blowout, an injury, a poor shooting night — all will likely make the under hit. But also, props are less efficient as a market given the low limits, so they're less likely to adjust for things like opponent and pace.
One under I think is intriguing is De'Andre Hunter's 12.5-point total.
Hunter's recent usage rates:
vs. Rockets: 14.5%
vs. Nuggets: 16.6%
vs. Pacers: 7.5%
at Celtics: 14.2%
The Hawks have had a tough schedule of late, and Hunter has gone under this 12.5 mark more often than not recently (and all season, to be fair), but the most important metric is how many possessions he's using.
Hunter will hopefully develop as a shooter and offensive player, but for now he's a low-usage defensive stopper. That's fine, but it does mean that he has to be incredibly efficient to hit the over here, and I'm not going to be on a field goal percentage way over his average.
DFS Values and Strategy
What a day of injuries.
Among important players, currently questionable guys include Anthony Davis, Bradley Beal, Domantas Sabonis, Malcolm Brogdon, Aaron Gordon and Marvin Bagley. D'Angelo Russell was ruled out.
That's a tough of usage that could be potentially missing from lineups, which will really shift the value landscape closer to lineup lock. If Davis is out, LeBron would obviously become an intriguing stud to build around, even in a tough matchup against the Dallas Mavericks.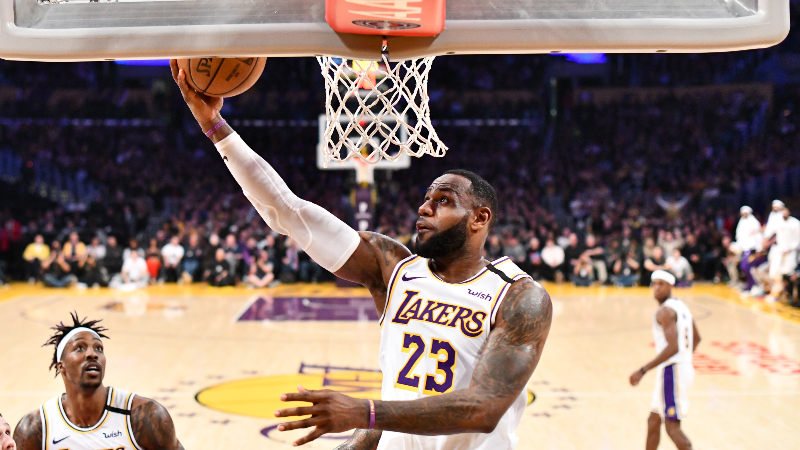 It's a super intriguing slate, though, as there are many different ways to pivot. Luka Doncic and Giannis Antetokounmpo are both standing out as big values tonight, Kawhi Leonard is without Paul George, Trae Young gets the Wizards, etc. Even down a bit in salary, Jimmy Butler and Bam Adebayo are against the terrible Nets; Beal would be an awesome play against the Hawks if he's able to go.
There's also already a lot of pretty easy low-tier values, especially with the Knicks. Julius Randle and Dennis Smith Jr. are already out, while Marcus Morris is doubtful to suit up. That means Bobby Portis and Reggie Bullock will likely get spot starts tonight against the fast-paced Pelicans; they're both under $5,000, making it pretty easy to fit in multiple studs.
I won't spend too many more words on the slate, as there's just too much uncertainty right now given the injury situations. You get the drill: Follow the news and make sure to subscribe to our models to see up-to-the-minute projection updates.
For more DFS analysis and value plays, check out the FantasyLabs NBA models.
My Bets Currently
[In New Jersey, Pennsylvania, Indiana or West Virginia? Bet now at FanDuel]
Follow me in our free app if you want an alert on bets I make.
How would you rate this article?