NBA Predictions, Picks & Betting Odds (Friday, Jan. 17): Value on Thunder as Short Home Favorite?
Credit:
Photo credit: Zach Beeker/NBAE via Getty Images. Pictured: Chris Paul
This NBA season, I'm trying something new. I'm going to write a daily piece that highlights everything bettors and DFS players need to know for that night's slate. For more on what to expect, read the inaugural piece.
Yesterday I finished 1-1 for -0.1 units. While I don't want to get sucked into the past, I think it's worth reviewing things each day.
The best way to do that is to look at closing line value (CLV), which is just measuring whether the line you bet moved for or against you by closing.
I bet Nuggets-Warriors under 212 and it closed at 213 (lost)
I bet Nuggets (2H) -6.5 and it closed at Nuggets -7 (won)
I did like that Nuggets-Warriors under given how these teams have played lately, although it seems like I was on the wrong side given the negative line value: I lost a full point by closing.
That said, it was definitely in play all game and lost thanks to a 68-point fourth quarter from these teams, 40 of which came from the Nuggets in an explosion. That pushed the game into overtime and the game finished at 265. Thankfully I was able to hit on the Nuggets in the second half, as I thought that line was way too low: They were down by 17 at half and clearly the more talented squad.
Anyway, let's dive into today's slate and find some angles.
Note: For updates, see the chat at the bottom of this post.
YTD Record:
Overall: 170-141-2
Spreads: 66-59-2
Totals: 59-53
Moneylines: 16-7
Props: 29-22
Jump To: Odds & Analysis | Projected Starting Lineups & Injury News | Player Props | DFS Values & Strategy | My Bets
---
Odds as of Friday afternoon and via FanDuel, where Action Network users get a risk-free bet up to $500.
---
Betting Odds and Analysis
7 p.m. ET: Chicago Bulls at Philadelphia 76ers (-7), 215
7 p.m. ET: Washington Wizards at Toronto Raptors (-10.5), 230
7 p.m. ET: Minnesota Timberwolves at Indiana Pacers (-8), 216.5
8 p.m. ET: Cleveland Cavaliers at Memphis Grizzlies (-8), 229.5
8 p.m. ET: Miami Heat at OKC Thunder (-1.5), 216
8:30 p.m. ET: Atlanta Hawks at San Antonio Spurs (-8.5), 230.5
9:30 p.m. ET: Portland Trail Blazers at Dallas Mavericks (-7.5), 228.5
Let's run through a couple angles I'm eyeing.
Heat at Thunder
It's been a while since we've talked about the Heat, so let's just get a reminder on how weird they are.
On the season, they're 28-12; that's a great record. But they have just a +3.7 point differential, which would equate to only around 24 wins. They've outperformed their record based on point differential at the second-highest rate in the league this year, behind just the Denver Nuggets (and that's only because they've played one more game).
On offense, because of their shot profile, they're just 16th in expected eFG%. But in reality, they've posted the second-best mark at 55.0%. On defense, they give up a ton of 3-pointers (the second-most, in fact) and a bunch specifically from the corners, which means they should rank 22nd in eFG% allowed based on that data. In reality, they're ninth.
On the season, they're below-average in wide-open shots generated, but they're top-five on eFG% on those attempts. The same is true for open shots.
And take a look at their shooters from outside:
Meyers Leonard: 44.6% 3P% this season, 39.2% career
Duncan Robinson: 43.1% 3P% this season, 41.5% career
Kelly Olynyk: 41.2% 3P% this season, 37.0% career
Goran Dragic: 40.7% 3P% this season, 36.6% career
Tyler Herro: 38.5% 3P% this season, rookie
Kendrick Nunn: 34.6% 3P% this season, rookie
I mean, this is a team of largely good shooters, but these are incredible numbers. The possible explanations: 1) they've really tapped into "the sum of their parts" thing, 2) Erik Spoelstra is a wizard, or 3) they've been unlucky. Of course, not just one thing solely has to be true. It could be a combination.
Since Dec. 30, they've also been pretty darn weird. They've lost to the Wizards, Magic, Nets and Knicks. But they've also beat the Raptors, Blazers, Pacers and Spurs. They've had some of the season's worst offensive performances in that stretch and some of the season's best. Honestly, it really comes down to their shooting.
And maybe I just need to fully update my priors. Although they seem lucky based on the data and their career numbers, maybe this team just really is this good shooting the ball.
Still, I think it will continue to regress a bit, and I think today's matchup could be tough for them. The Thunder are sixth in 3-point rate allowed, including fifth specifically from the valuable corner spots. They're top-10 in limiting shots at the rim, too. They've really funneled opponents to mid-rangers, and Miami has done the majority of its damage outside of that area.
But the Heat have also really benefited from getting to the line this season at the league's highest rate, and the Thunder have been the third-best team at limiting those opportunities.
On top of all of that, Tyler Herro, an important shooter for the Heat, is questionable to suit up with a bruised knee.
Maybe I'll just go broke betting against the Heat, but I like the Thunder tonight as a short home favorite; I think this line should be more like -3 or so, giving some value at -1 or -1.5 depending on the book. I also think there's some potential live betting value: As I wrote about the other day, the Thunder have tended to start games off slowly. The Heat, meanwhile, do better with their starters as opposed to the bench, so you could potentially grab the Thunder as a live dog early on.
Update: I bet this before the Steven Adams news (he's questionable). If he's out I would not bet this game, so perhaps wait on that news.
Click below to bet now.
Bulls at 76ers
Since Joel Embiid went out four games ago, the 76ers are 3-1 to the under, which may be a bit surprising given the center's defensive value this season. On the season, the Sixers have been a whopping 8.9 points per 100 possessions worse defensively without their anchor down low.
They've given up an eFG% 2.7% higher without him, and they've really struggled to secure defensive rebounds. Within the actual defense, they've given up 7.8% more shots at the rim without Embiid, which is the most stark split in the entire league among centers.
That's going to be an important part of this game tonight, as the Bulls are second in the league in frequency of shots at the rim, taking them there on 40.1% of their possessions. But Chicago has sucked on those attempts, hitting just 58.7% of them — second-worst in the league behind only Portland.
Back to the Sixers, though. They did go over the total on Wednesday against the Nets, putting up 117 points and a 118.2 Offensive Rating. After rough offensive outings against the Magic and Dallas, it was a very good performance.
That said, I'm unsure it's really sustainable. They didn't have a great shot profile in that game, but they hit 57.1% of their mid-rangers, which is in the 97th percentile of games this year. They didn't really do much in transition, instead posting an outstanding 106.3 Offensive Rating in the halfcourt. Tobias Harris was on fire, going 14-of-20 from the field, hitting tough shots.
You can probably guess that I'm leaning toward the under here, although it's definitely scary considering the Bulls have been very up-and-down defensively all year and especially late. They continue to have poor splits without Wendell Carter Jr., who remains out with an injury.
That said, both of these teams have played slowly of late, ranking in the bottom-10 in pace since the start of the year. They're also bottom-10 in true shooting rate in that span.
I think the over/under was a bit inflated at open given recency bias on the Sixers' last outing plus not adjusting enough for the pace drop for these teams, but alas it's down to 214.5 — a two-point drop from opening. If it moves back up, however — 59% of the bets are on the over (although just 20% of the money) — then I would lean toward the under.
Click below to bet now.
Projected Starting Lineups and Injury News
Note: Info as of 2 p.m. ET. For up-to-the-minute lineups and news, see FantasyLabs' matchups page.
Projected Lineups
Atlanta Hawks: Trae Young – Kevin Huerter – Cam Reddish – De'Andre Hunter – John Collins
Chicago Bulls: Kris Dunn – Tomas Satoransky – Zach LaVine – Lauri Markkanen – Luke Kornet
Cleveland Cavaliers: Darius Garland – Collin Sexton – Cedi Osman – Kevin Love – Tristan Thompson
Dallas Mavericks: Luka Doncic – Tim Hardaway Jr. – Dorian Finney-Smith – Maxi Kleber – Dwight Powell
Indiana Pacers: Malcolm Brogdon – Jeremy Lamb – TJ Warren – Domantas Sabonis – Myles Turner
Memphis Grizzlies: Ja Morant – Dillon Brooks – Jae Crowder – Jaren Jackson Jr. – Jonas Valanciunas
Miami Heat: Kendrick Nunn – Jimmy Butler – Duncan Robinson – Bam Adebayo – Meyers Leonard
Minnesota Timberwolves: Shabazz Napier – Jarrett Culver – Andrew Wiggins – Robert Covington – Karl-Anthony Towns
OKC Thunder: Chris Paul – Shai Gilgeous-Alexander – Terrance Ferguson – Danilo Gallinari – Steven Adams
Philadelphia 76ers: Ben Simmons – Josh Richardson – Matisse Thybulle – Tobias Harris – Al Horford
Portland Trail Blazers: Damian Lillard – CJ McCollum – Kent Bazemore – Carmelo Anthony – Hassan Whiteside
San Antonio Spurs: Dejounte Murray – Bryn Forbes – DeMar DeRozan – Trey Lyles – LaMarcus Aldridge
Toronto Raptors: Kyle Lowry – Fred VanVleet – OG Anunoby – Pascal Siakam – Marc Gasol
Washington Wizards: Isaiah Thomas – Gary Payton II – Bradley Beal – Thomas Bryant – Ian Mahinmi
Injury News
Atlanta Hawks: Alex Len (back) is out. Bruno Fernando (personal) is not on the injury report. Chandler Parsons is in the concussion protocol.
Chicago Bulls: Wendell Carter Jr. (ankle) and Daniel Gafford (thumb) are out. Chandler Hutchison (shoulder) is questionable. Lauri Markkanen (ankle), Tomas Satoransky (ankle), Luke Kornet (thumb) and Ryan Arcidiacono (elbow) are probable.
Cleveland Cavaliers: Brandon Knight (knee) and Ante Zizic (illness) are out. Kevin Love (rest) is not on the injury report.
Dallas Mavericks: Kristaps Porzingis (knee) is out.
Indiana Pacers: Nothing new.
Memphis Grizzlies: Jae Crowder (hip) is questionable.
Miami Heat: Justise Winslow (back) is out indefinitely. Tyler Herro (knee) is questionable.
Minnesota Timberwolves: Karl-Anthony Towns (knee, illness) is questionable.
OKC Thunder: Abdel Nader (ankle) remains out. Nerlens Noel (ankle) is questionable. Steven Adams (knee) is questionable.
Philadelphia 76ers: Joel Embiid (hand) remains out.
Portland Trail Blazers: Mario Hezonja (back) is probable.
San Antonio Spurs: Rudy Gay (undisclosed) is out.
Toronto Raptors: Fred VanVleet (hamstring) is questionable.
Washington Wizards: Nothing new.
---
Player Props
To bet props, I use our FantasyLabs player props tool. Follow me in the Action Network app to see my bets (or go to the bottom of the article), but the more important thing is the tool, which measures our projections for every player vs. current odds in the market and highlights the biggest edges for you.
Player props are an inefficient market, which allows casual bettors (limits are low, so pro bettors aren't incentivized to prioritize them) to grab very +EV bets. That said, the lines move quickly. Our props tool is set up so you can always see whether there's an edge even at the updated numbers throughout the day.
It's one of my favorite tools we offer and should be one of your bookmarked pages if you like making a few extra bucks. Here's a screenshot of what it looks like:

My usual recommendation: Bet unders.
Last season, 10-rated props in our tool hit at a 60.31% rate. But overs hit at a 57.08% rate vs. 66.47% for unders. For 9-rated props, 55.96% of overs were successful bets vs. 62.60% for unders.
As I have noted in the past, unders have more outs: A blowout, an injury, a poor shooting night — all will likely make the under hit. But also, props are less efficient as a market given the low limits, so they're less likely to adjust for things like opponent and pace.
One under I think is intriguing is Isaiah Thomas' 11.5-point total.
I wrote about this one a bit ago, and I think there's still some value. Thomas went for 12 points last game on 50% shooting and went 3-of-4 from the foul line, but prior he had been below 12 in seven of his last eight.
He just hasn't been seeing the same minutes he was getting a bit earlier in the year, and his usage has dropped way down, too. Today we're projecting him for just 20 minutes, and he's been below a 20% usage rate in two straight games. I don't think this line is fully accounting for his current role, and he also has a tough matchup against a healthy Raptors team in Toronto.
DFS Values and Strategy
The stud tier is pretty thin today. Luka Doncic is easily the highest-priced option, followed by only two guys above $10,000: Karl-Anthony Towns, who is questionable and hasn't played since mid-December, and Trae Young, who is on the road against the Spurs.
As a result, Luka could be a popular player given his ceiling, and especially against an uninspiring Portland team that ranks 27th defensively this year. Luka exploded last game for 70-plus DK points after struggling to hit value in four straight thanks to tough matchups and blowouts. He'll continue to be without Kristaps Porzingis, which is a boon for his fantasy stock, but really he's intriguing because no one can come close to his ceiling outcome.
If you want to fade Luka, it seems like a great day to build a balanced lineup. That mid-tier is where the best plays are currently, including Tobias Harris, Al Horford and Josh Richardson from the Sixers, who will again be without Joel Embiid and face a bad Chicago defense.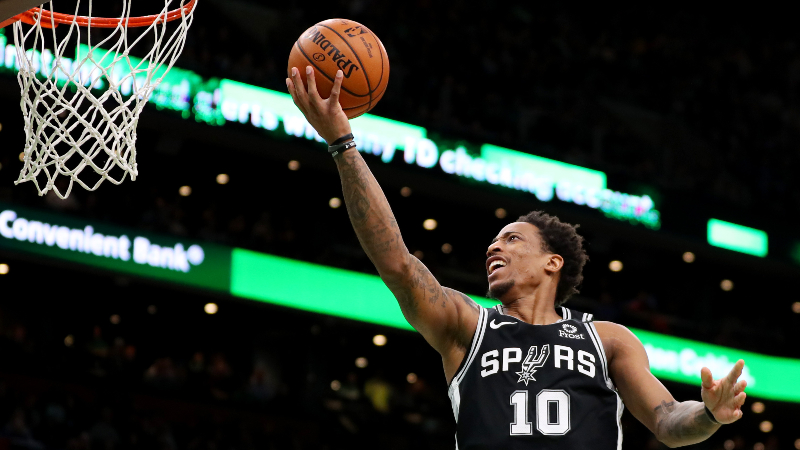 Other values include the Spurs, specifically LaMarcus Aldridge, DeMar DeRozan and Dejounte Murray. They'll be without Rudy Gay, which opens up a bit of minutes and usage, but really it's because they're against the Hawks, who have played at a top-five pace since the start of the year and definitely have a beatable defense.
Honestly, on FanDuel you can roster a bunch of those guys and still get to Luka given the soft pricing there. DraftKings is a different story, and you'll likely have to take some risks on cheaper options like Derrick White or Josh Okogie.
Of course, there are still injuries lingering, including Karl-Anthony Towns, Fred VanVleet, Steven Adams and Tyler Herro, which could open up some value.
You know the drill: Follow the news and make sure to subscribe to our models to see up-to-the-minute projection updates.
For more DFS analysis and value plays, check out the FantasyLabs NBA models.
My Bets Currently
[In New Jersey, Pennsylvania, Indiana or West Virginia? Bet now at FanDuel]
Follow me in our free app if you want an alert on bets I make.
How would you rate this article?