NBA Predictions, Picks & Betting Odds (Friday, Jan. 31): How to Bet Mavs-Rockets Without Luka Doncic
Credit:
Photo credit: Glenn James/NBAE via Getty Images. Pictured: Kristaps Porzingis and Luka Doncic
This NBA season, I'm trying something new. I'm going to write a daily piece that highlights everything bettors and DFS players need to know for that night's slate. For more on what to expect, read the inaugural piece.
Yesterday I finished 1-2 for -0.1 units. While I don't want to get sucked into the past, I think it's worth reviewing things each day.
The best way to do that is to look at closing line value (CLV), which is just measuring whether the line you bet moved for or against you by closing.
I bet Jazz +1.5 and it closed at Jazz -3 (lost)
I bet Kings-Clippers under 226 and it closed at 224 (lost)
I bet Kings +13.5 live (won)
The NBA is so fun! I bet the Kings-Clippers under assuming Kawhi Leonard, one of the world's best defenders, would play. For reasons undetermined, he just … didn't. It wasn't announced — we didn't know until halftime he was out. It was a frustrating situation for bettors, but especially for DFS players.
With the Jazz game, this is another example of really crushing the market to the closing number but still losing the bet. Again, there's only two ways to look at situations like these: Either it was unlucky or the market is inefficient. Given the liquidity involved, I'm hesitant to say it was the latter. Sports are random.
All in all, though, I was able to get back those two losing bets thanks to a live bet on the Kings after we thought Kawhi wouldn't be playing. The only regret I have from last night in hindsight was not taking a piece of the moneyline in that position.
Anyway, let's dive into today's slate and find some angles.
YTD Record:
Overall: 198-170-2
Spreads: 77-71-2
Totals: 74-68
Moneylines: 18-9
Props: 29-22
Jump To: Odds & Analysis | Projected Starting Lineups & Injury News | Player Props | DFS Values & Strategy | My Bets
---
Odds as of Friday afternoon and via FanDuel, where Action Network users get a risk-free bet up to $500.
---
Betting Odds and Analysis
7 p.m. ET: Toronto Raptors (-4.5) at Detroit Pistons, 223
7:30 p.m. ET: Chicago Bulls at Brooklyn Nets (-5.5), 222.5
7:30 p.m. ET: Dallas Mavericks at Houston Rockets (-9.5), 235
8 p.m. ET: Memphis Grizzlies at New Orleans Pelicans (-6.5), 241
9 p.m. ET: OKC Thunder (-1) at Phoenix Suns, 222
9 p.m. ET: Denver Nuggets at Milwaukee Bucks (-11.5), 226
10:30 p.m. ET: Portland Trail Blazers at LA Lakers (-13), 229.5
Grizzlies at Pelicans
The Grizzlies have been awesome and super fun over the past month. In that time frame, they've gone 11-3 with a +5.1 Net Rating. They're right on the line for a top-10 offense and defense. So why are they such big dogs against the Pelicans, who are only 8-6 in that stretch?
The reason is because the Grizz are missing a few key contributors today, notably Jaren Jackson Jr. and De'Anthony Melton.
Ja Morant has been the superstar in the media and rightfully so; he's been incredible as a rookie. But both Jackson and Melton deserve a ton of credit for the Grizzlies' recent play.
Melton actually owns the highest on/off differential on the team: The Grizzlies have been a ridiculous 12.2 points per 100 possessions better with him on the floor vs. off. For reference, Solomon Hill is second on the team with only a +3.6 mark.
Now, that's pretty noisy: Melton started to get run when the team really took off, which is why his individual numbers are so high. Those data points really overrate him — but he's likely still underrated by the public.
But I think Jackson is the key here. This dude has future MVP potential; that's how good he is. And he's really important to how this team plays. Morant is a weapon attacking the rim, but he's able to do that because of the space provided by Jackson, who is already one of the best shooting bigs in the league and a dynamite roll threat.
Jackson showed off a 3-point threat in college, but that wasn't really a weapon last season in his rookie campaign. That's changed this year, however, as Jackson is making more than 2.5 threes per game at a stupid 40.5% clip. Most importantly, he's taking 6.5 per game. With him on the floor, the Grizzlies increase their 3-point rate by 6.3% — one of the highest marks in the league.
The team shoots miles better both at the rim and behind the arc with Jackson out there. They also get out in transition with much more frequency. And that's just offense; Jackson oozes potential on the other side of the floor and has the ceiling of a DPOY at some point in his career.
On the other side, the Pelicans have already been improving since a slow start to the year, and that's just been accelerated since the return of Zion Williamson. In the now 207 possessions with him on the floor, the Pelicans have posted an absurd +11.1 Net Rating. And last game, Zion got up to 30 minutes as the Pels have expanded his on-court work.
I bet the Pelicans at -5.5 and also grabbed a bit on the ML. It's already moved to where the value is limited, but I think there might be some meat on the bone on the under, which I'll likely grab at some point. The public is on the over, but I think in the 240 range is too high here.
Mavericks at Rockets
The big injury news of the day is that Luka Doncic is out with an ankle injury.
There's no denying his impact on the floor: The Mavericks have been a stupid 8.1 points per 100 possessions better offensively with him on vs. off. They've posted an eFG% 5.1% higher with him playing, which is one of the highest marks in the league. They shoot 6.8% more 3s. They get some of the most corner-3s in the league with him operating the offense.
He's without a doubt an MVP candidate and already one of the best player's in the world.
The question, though, is how much he's worth to the spread.
I think quite a bit, although it really depends how this game is played. The Mavericks are on the road facing the Rockets, who have been all over the place of late. They're just 17th in the league over the past month with a +0.3 Net Rating, ranking 17th on offense and 11th on defense.
The issue has been the play of James Harden, who just doesn't seem completely healthy right now. Look at his splits by month this year, starting in November (October was just four games):
November: 39.5 PPG, 65.1% true shooting, 124 Offensive Rating
December: 37.3 PPG, 64.7% true shooting, 127 Offensive Rating
January: 28.0 PPG, 52.9% true shooting, 105 Offensive Rating
The Rockets are completely built around Harden and his skillset. If he's not right and operating a peak capacity, the Rockets just aren't designed to succeed. A lot of their complementary players are ceiling-raisers as opposed to floor-raisers; they excel in roles around a superstar. And Harden hasn't played like one.
Again, it seems to be injury-related, but it's hard to determine when that will turn around. He came back last game after a two-game break, but scored just 18 points on 27.8% shooting in a terrible loss to the Blazers. If he's not healthy, I'm not sure I can predict accurately when that will turn around.
So perhaps the Rockets are actually overvalued tonight as nine-point favorites, even with Luka out.
I think the more intriguing aspect of this game is the over/under, though. The Rockets have played incredibly fast this season, and they like to get out in transition or semi-transition. The Mavericks, meanwhile, slow things down and let Luka cook in the pick-and-roll. That's so much of what they do.
So what will happen tonight? Will the Mavs try to increase the pace with Jalen Brunson under center? Or will they continue to run their sets, playing in the halfcourt largely without their halfcourt wizard?
If that's the case, I think I'll look to live bet the under here. The over is getting the majority of bets, as most overs do. But I don't think this offense will be nearly as potent without Luka, especially on the road; role-players typically perform and shoot better at home. But if they try to push the pace without Luka, I'll likely either bet the over or just stay away from this one.
Projected Starting Lineups and Injury News
Note: Info as of 3 p.m. ET. For up-to-the-minute lineups and news, see FantasyLabs' matchups page.
Projected Lineups
Brooklyn Nets: Kyrie Irving – Garrett Temple – Joe Harris – Taurean Prince – Jarrett Allen
Chicago Bulls: Kris Dunn – Tomas Satoransky – Zach LaVine – Thad Young – Luke Kornet
Dallas Mavericks: Jalen Brunson – Seth Curry – Tim Hardaway Jr. – Dorian Finney-Smith – Kristaps Porzingis
Denver Nuggets: Monte Morris – Torrey Craig – Will Barton – Jerami Grant – Nikola Jokic
Detroit Pistons: Derrick Rose – Bruce Brown – Tony Snell – Sekou Doumbouya – Andre Drummond
Houston Rockets: Russell Westbrook – James Harden – Eric Gordon – PJ Tucker – Isaiah Hartenstein
LA Lakers: LeBron James – Avery Bradley – Danny Green – Anthony Davis – JaVale McGee
Memphis Grizzlies: Ja Morant – Dillon Brooks – Jae Crowder – Kyle Anderson – Jonas Valanciunas
Milwaukee Bucks: Eric Bledsoe – Wes Matthews – Khris Middleton – Giannis Antetokounmpo – Brook Lopez
New Orleans Pelicans: Lonzo Ball – Jrue Holiday – Brandon Ingram – Zion Williamson – Derrick Favors
OKC Thunder: Chris Paul – Shai Gilgeous-Alexander – Luguentz Dort – Danilo Gallinari – Steven Adams
Phoenix Suns: Ricky Rubio – Devin Booker – Kelly Oubre – Dario Saric – Deandre Ayton
Portland Trail Blazers: Damian Lillard – CJ McCollum – Trevor Ariza – Caleb Swanigan – Hassan Whiteside
Toronto Raptors: Kyle Lowry – Fred VanVleet – OG Anunoby – Pascal Siakam – Serge Ibaka
Injury News
Brooklyn Nets: Nothing new.
Chicago Bulls: Daniel Gafford (thumb) is doubtful. Luke Kornet (ankle), Ryan Arcidiacono (elbow), Chandler Hutchison (shoulder, hip), Kris Dunn (quad), Tomas Satoransky (ankle) and Denzel Valentine (hip) are probable.
Dallas Mavericks: Luka Doncic (ankle) could miss around 2 weeks. Tim Hardaway Jr. (back) is probable.
Denver Nuggets: Gary Harris (personal) is TBD. Jamal Murray (ankle), Paul Millsap (knee) and Mason Plumlee (cuboid) remain out.
Detroit Pistons: Markieff Morris (illness) is questionable.
Houston Rockets: Clint Capela (heel) is out.
LA Lakers: Anthony Davis (glute) and JaVale McGee (illness) are available to play. Alex Caruso (neck) is questionable.
Memphis Grizzlies: Jaren Jackson Jr. (suspended) and Marko Guduric (suspended) are out. De'Anthony Melton (hand) is doubtful. Grayson Allen (hip) remains out indefinitely. Brandon Clarke (hip) is doubtful.
Milwaukee Bucks: George Hill (hamstring) is out. Giannis Antetokounmpo (shoulder) will play. Donte DiVincenzo (ankle) is questionable.
New Orleans Pelicans: E'Twaun Moore (neck) is not on the injury report.
OKC Thunder: Terrance Ferguson (personal) is out.
Phoenix Suns: Nothing new.
Portland Trail Blazers: Carmelo Anthony (personal) is out.
Toronto Raptors: Rondae Hollis-Jefferson (ankle) and Marc Gasol (hamstring) are out.
Player Props
To bet props, I use our FantasyLabs player props tool. Follow me in the Action Network app to see my bets (or go to the bottom of the article), but the more important thing is the tool, which measures our projections for every player vs. current odds in the market and highlights the biggest edges for you.
Player props are an inefficient market, which allows casual bettors (limits are low, so pro bettors aren't incentivized to prioritize them) to grab very +EV bets.
That said, the lines move quickly. Our props tool is set up so you can always see whether there's an edge even at the updated numbers throughout the day.
It's one of my favorite tools we offer and should be one of your bookmarked pages if you like making a few extra bucks. Here's a screenshot of what it looks like:

My usual recommendation: Bet unders.
Last season, 10-rated props in our tool hit at a 60.31% rate. But overs hit at a 57.08% rate vs. 66.47% for unders. For 9-rated props, 55.96% of overs were successful bets vs. 62.60% for unders.
As I have noted in the past, unders have more outs: A blowout, an injury, a poor shooting night all will likely make the under hit. But also, props are less efficient as a market given the low limits, so they're less likely to adjust for things like opponent and pace.
One under I think is intriguing is Dorian Finney-Smith's 10.5-point total.
In four games without Luka Doncic this season, Finney-Smith has averaged 13.1 points per game. But that's come on just unsustainable hot shooting, as he went 52.9% from behind the arc in those games.
His usage rate in that sample was a minuscule 12.6%, and the Mavs' Offensive Rating dropped off a cliff without Luka to operate the offense. Everyone gotten much tougher shots, but Finney-Smith just happened to hit his. It happens. But I'm not going to bet on that continuing, especially on the road.
DFS Values and Strategy
Luka Doncic is out of tonight's player pool with an injury, but we still have a ton of studs, including six on FanDuel at $10,000 or higher: Damian Lillard, James Harden, Anthony Davis, Russell Westbrook, LeBron James and Giannis Antetokounmpo.
I've written my thoughts at large on Harden above, so go read that above. He has a massive ceiling, but I think it's more likely he'll continue to struggle given that his issues seem to be stemming from an injury.
The Lakers guys and Giannis seem to be in the best spots of the day among the studs given their matchups. LeBron and AD get a Blazers team that has ranked 28th in Defensive Rating over the last month. It's hard to predict tonight given the emotions involved, but the Lakers guys on court are in an excellent spot.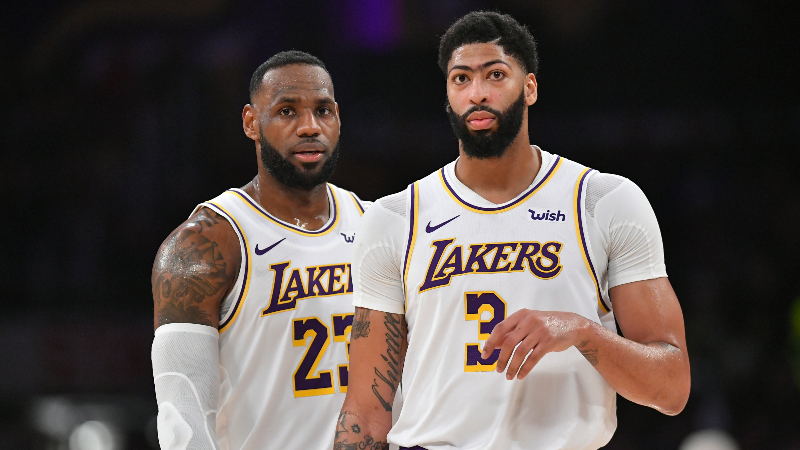 Interestingly, their negative correlation together has largely evened out over the season. It's probably not super +EV in a vacuum to use them together, but it's probably not a nonstarter anymore, either.
It's also really easy to get up to the studs today given the injuries around the league. Jonas Valanciunas has the highest Projected Plus/Minus on DraftKings right now, as he'll really have to man the middle for the Grizzlies with Jaren Jackson Jr. out tonight with a suspension.
There are even cheaper options, too. Jalen Brunson is essentially an auto-play at his $3,800 price tag as he fills in for Luka at point guard. Malik Beasley continues to be a value with the Nuggets' injuries. Kyle Anderson and some of the other Grizzlies guys should pop, especially as we get more news on Brandon Clarke and De'Anthony Melton.
At least for now, we don't have too many injuries still hanging out there. It looks like a stars and scrubs type of night for cash games and tournaments given the available value, although that could always change in an instant.
You know the drill: Follow the news and make sure to subscribe to our models to see up-to-the-minute projection updates.
For more DFS analysis and value plays, check out the FantasyLabs NBA models.
My Bets Currently
Pelicans -5.5
Pelicans -230
[In New Jersey, Pennsylvania, Indiana or West Virginia? Bet now at FanDuel]
Follow me in our free app if you want an alert on bets I make.
How would you rate this article?