NBA Betting Odds & Picks (March 6): Pace Is the Name of the Game on Friday
Credit:
Photo credit: Rocky Widner/NBAE via Getty Images. Pictured: San Antonio Spurs
Looking for betting value on the NBA's 10-game schedule? Try the games that aren't in the spotlight.
Bryan Mears makes picks on the Spurs vs. Nets and Jazz vs. Celtics plus injury news, lineups, DFS strategy and more.
Check out his breakdown of Friday's NBA slate below.
This NBA season, I'm trying something new. I'm going to write a daily piece that highlights everything bettors and DFS players need to know for that night's slate. For more on what to expect, read the inaugural piece.
Yesterday I finished 1-1 for -0.1 units. While I don't want to get sucked into the past, I think it's worth reviewing things each day.
The best way to do that is to look at closing line value (CLV), which is just measuring whether the line you bet moved for or against you by closing.
I bet Raptors-Warriors over 225.5 and it closed at 228.5 (won)
I bet Kings -5 and it closed at Kings -5.5 (lost)
I beat the closing number on both games, but I made a mistake on not betting more on the Raptors-Warriors, where I thought I had a bigger edge. To be fair, I didn't think I'd get three points of CLV, but I definitely expected it to move more than the Kings. It was a mistake not to leveraged that.
Anyway, let's dive into today's slate and find some angles.
YTD Record:
Overall: 244-230-3
Spreads: 95-94-3
Totals: 94-104
Moneylines: 24-11
Parlays: 3-0
Props: 29-22
NBA Betting Odds and Analysis
Jump To: Odds & Analysis | Projected Starting Lineups & Injury News | Player Props | DFS Values & Strategy | My Bets
---
Odds as of Friday and via FanDuel. Get up to a $500 risk-free bet at FanDuel today or see more offers and reviews for the best online sportsbooks.
---
7 p.m. ET: Atlanta Hawks at Washington Wizards (-2.5), 247
7:30 p.m. ET: OKC Thunder (-7) at New York Knicks, 219
7:30 p.m. ET: San Antonio Spurs at Brooklyn Nets (-3.5), 223.5
8 p.m. ET: Indiana Pacers (-3) at Chicago Bulls, 211
8 p.m. ET: Orlando Magic (-2) at Minnesota Timberwolves, 234
8 p.m. ET: Miami Heat at New Orleans Pelicans (-1.5), 233
8 p.m. ET: Utah Jazz at Boston Celtics (-2.5), 221
8:30 p.m. ET: Memphis Grizzlies at Dallas Mavericks (-6.5), 226.5
9 p.m. ET: Portland Trail Blazers (-3.5) at Phoenix Suns, 231
10:30 p.m. ET: Milwaukee Bucks at LA Lakers (-1), 228
Spurs at Nets
On a night featuring some great games, this one doesn't exactly stand out. But I think there's some awesome betting value to be found.
The Spurs are dealing with some injuries: LaMarcus Aldridge, Jakob Poeltl and Marco Belinelli are all out. As a result of those frontcourt injuries, they'll be starting Drew Eubanks at center, who went undrafted out of Oregon State in 2018 and has been with the Spurs' G-League team since.
I think a normal public reaction is to look at top players being out and immediately trend towards the under: We're seeing that in this game, as the under is getting 69% of the bets. Aldridge, Poeltl and Belinelli are all good offensive players; the under has to be the side, right?
A lot of casual bettors (I'm musing here) miss the most important thing about a player's on/off value: pace. Take the Warriors last night as an example. As I wrote, Steph obviously helps the offensive efficiency, but he's also perhaps the most important player in the league in terms of his team's pace. They play so much faster with him on the floor vs. off.
And Aldridge is probably up on that list, too. Per Cleaning the Glass, the Spurs have gotten out in transition 4% more often with him off the floor, as he likes to slow things down and operate on the block in the halfcourt. With Poeltl also out, the Spurs will be quite guard-heavy, which will lead to faster possessions — and thus more overall possessions in the game.
Speaking of Poeltl, I think he's an underrated defender for this team. When he's on the floor, opponents have shot 7.3% worse at the rim, which is one of the best marks in the entire league.
So we have the Spurs playing fast — and against an already-fast Nets team — and likely playing worse defensively without Poeltl. That, in my opinion, is far more important than a perceived slight offensive efficiency dip without those guys on the floor.
Sharps like this side as well, as it's been bet up a full point despite the majority of bets coming in on the under. I'll be in the minority here, no problem.
Jazz at Celtics
This … doesn't seem great. (For reference: orange is good, blue is bad.)

Now look at those defensive numbers. For a team that has Rudy Gobert and has historically relied on defense, this is incredibly concerning.
Since Feb. 1, the Jazz have been 26th in the league in defensive efficiency, allowing a putrid 116.9 points/100. Let's dive a little deeper and see if we can identify what's going on here.
One glaring problem is that they don't generate turnovers … like at all. They've been the worst team in the league by far in that regard, which just makes things tough. Opponents are at least getting shots up on almost every possession, which makes shot defense so critical.
And they've been bad there, allowing a 55.3% eFG%. On wide-open field goals, they haven't been particularly lucky or unlucky; they're middle of the pack. Looking at opponent shooting on open field goals — a defender 4-6 feet away — the Jazz are allowing a 56.6% eFG%, the third-highest mark in the league since the start of February.
Will that efficiency regress? Probably. But let's look at the whole story: Since Feb. 1, the Jazz are giving up the most open shots in the entire league. Betting on regression on shots going in is one thing; it'll probably happen — but the bigger issue is the type of shots they're allowing.
To be fair, a lot of those shots have been in the mid-range, which isn't a bad place to funnel offenses. They actually have the second-best expected eFG% allowed as a result of their opponent's shot profiles. Opponents have actually ranked 20th, which is a big discrepancy. Again, that will normalize, but the data also shows it may not quite as much for a normal team in this circumstance given how many open shots the Jazz are letting up.
It's also concerning given their opponent today, the Celtics, are one of the best shooting teams in the league. Since Feb. 1, they rank third in the league in efficiency on shots beyond the arc.
To be fair, they will be missing Gordon Hayward and Jaylen Brown again. Kemba Walker is a question mark after missing last game. I'll likely wait on the Kemba news, but if he plays and gives Jayson Tatum some help, I'm just not sure the Jazz are really going to turn things around here, especially on the road.
The over has been profitable for the Jazz overall this season, and part of that is probably just because of their reputation. But this just isn't the same team; we have enough data this season to conclude that now. If Kemba plays, I'll bet the over and might take a taste of the Celtics ML, too.
Final Quick Hits
Luka Doncic and Trae Young are both questionable tonight. They're among the most important players on their team, so make sure to turn on alerts to get their statuses immediately. There will be value on the other side and the unders if they're out.
Projected Starting Lineups and Injury News
Note: Info as of 12:45 p.m. ET. For up-to-the-minute lineups and news, see our live lineups page.
Projected Lineups
Atlanta Hawks: Trae Young – Kevin Huerter – De'Andre Hunter – John Collins – Dewayne Dedmon
Boston Celtics: Kemba Walker – Marcus Smart – Jayson Tatum – Grant Williams – Daniel Theis
Brooklyn Nets: Spencer Dinwiddie – Caris LeVert – Joe Harris – Taurean Prince – Jarrett Allen
Chicago Bulls: Tomas Satoransky – Denzel Valentine – Shaq Harrison – Lauri Markkanen – Wendell Carter Jr.
Dallas Mavericks: Luka Doncic – Tim Hardaway Jr. – Dorian Finney-Smith – Kristaps Porzingis – Maxi Kleber
Indiana Pacers: TJ McConnell – Victor Oladipo – TJ Warren – Domantas Sabonis – Myles Turner
LA Lakers: LeBron James – Avery Bradley – Danny Green – Anthony Davis – JaVale McGee
Memphis Grizzlies: Ja Morant – De'Anthony Melton – Dillon Brooks – Kyle Anderson – Jonas Valanciunas
Miami Heat: Kendrick Nunn – Jimmy Butler – Duncan Robinson – Derrick Jones Jr. – Bam Adebayo
Milwaukee Bucks: Eric Bledsoe – Wes Matthews – Khris Middleton – Giannis Antetokounmpo – Brook Lopez
Minnesota Timberwolves: D'Angelo Russell – Malik Beasley – Josh Okogie – Juancho Hernangomez – Naz Reid
New Orleans Pelicans: Lonzo Ball – Jrue Holiday – Brandon Ingram – Zion Williamson – Derrick Favors
New York Knicks: Elfrid Payton – RJ Barrett – Moe Harkless – Julius Randle – Taj Gibson
OKC Thunder: Chris Paul – Shai Gilgeous-Alexander – Luguentz Dort – Danilo Gallinari – Steven Adams
Orlando Magic: Markelle Fultz – Wes Iwundu – James Ennis – Aaron Gordon – Nikola Vucevic
Phoenix Suns: Ricky Rubio – Devin Booker – Mikal Bridges – Dario Saric – Aron Baynes
Portland Trail Blazers: Damian Lillard – CJ McCollum – Trevor Ariza – Carmelo Anthony – Hassan Whiteside
San Antonio Spurs: Dejounte Murray – Bryn Forbes – DeMar DeRozan – Trey Lyles – Drew Eubanks
Utah Jazz: Mike Conley – Donovan Mitchell – Bojan Bogdanovic – Royce O'Neale – Rudy Gobert
Washington Wizards: Shabazz Napier – Bradley Beal – Jerome Robinson – Rui Hachimura – Thomas Bryant
Injury News
Atlanta Hawks: Bruno Fernando (shin) and Dewayne Dedmon (elbow) are available to play. Cam Reddish (back) is probable. DeAndre Bembry (abdominal) and Trae Young (illness) are questionable.
Boston Celtics: Gordon Hayward (knee) and Jaylen Brown (hamstring) are out. Kemba Walker (knee) is TBD. Romeo Langford (illness) is not on the injury report.
Brooklyn Nets: Garrett Temple (ankle) is out.
Chicago Bulls: Nothing new.
Dallas Mavericks: Luka Doncic (illness), JJ Barea (ankle), Dorian Finney-Smith (hip) and Tim Hardaway Jr. (shoulder) are questionable.
Indiana Pacers: Malcolm Brogdon (hip) is doubtful. Victor Oladipo (knee), TJ Warren (leg), Doug McDermott (toe) and JaKarr Sampson (hip) are questionable.
LA Lakers: Alex Caruso (hamstring) and Anthony Davis (knee) are probable.
Memphis Grizzlies: Brandon Clarke (quad) and Jaren Jackson Jr. (knee) remain out.
Miami Heat: Nothing new.
Milwaukee Bucks: George Hill (groin) is questionable. Kyle Korver (back) is not on the injury report.
Minnesota Timberwolves: There's no new update on Karl-Anthony Towns.
New Orleans Pelicans: Kenrich Williams (back) is probable.
New York Knicks: Dennis Smith Jr. (concussion) remains out. Mitchell Robinson (hamstring) is questionable. Kevin Knox (leg) is probable.
OKC Thunder: Nothing new.
Orlando Magic: Evan Fournier (elbow) is out.
Phoenix Suns: Deandre Ayton (ankle) and Cam Johnson (illness) are out.
Portland Trail Blazers: Nothing new.
San Antonio Spurs: LaMarcus Aldridge (shoulder), Jakob Poeltl (knee) and Marco Belinelli (illness) are out.
Utah Jazz: Nothing new.
Washington Wizards: Ish Smith (hamstring) is out.
Player Props
To bet props, I use our FantasyLabs player props tool. Follow me in the Action Network app to see my bets (or go to the bottom of the article), but the more important thing is the tool, which measures our projections for every player vs. current odds in the market and highlights the biggest edges for you.
Player props are an inefficient market, which allows casual bettors (limits are low, so pro bettors aren't incentivized to prioritize them) to grab very +EV bets.
That said, the lines move quickly. Our props tool is set up so you can always see whether there's an edge even at the updated numbers throughout the day.
It's one of my favorite tools we offer and should be one of your bookmarked pages if you like making a few extra bucks. Here's a screenshot of what it looks like:

My usual recommendation: Bet unders.
Last season, 10-rated props in our tool hit at a 60.31% rate. But overs hit at a 57.08% rate vs. 66.47% for unders. For 9-rated props, 55.96% of overs were successful bets vs. 62.60% for unders.
As I have noted in the past, unders have more outs: A blowout, an injury, a poor shooting night all will likely make the under hit. But also, props are less efficient as a market given the low limits, so they're less likely to adjust for things like opponent and pace.
One example is Daniel Theis' 6.5-rebound prop.
I just spent a section above knocking the Jazz, and now I'm going to make the case for a Boston under against them.
Theis got just 18 minutes last game against the Cavs, and it wasn't due to foul trouble. The Celtics were pretty thin, too. We have him projected for 23 minutes tonight, and while that's about right, last game does show that there's some downside there; 23 is a median projection.
But more importantly, for all the issues the Jazz have had lately, rebounding continues to be a strength. On the season, they rank fourth in total rebound rate. Theis has been great this year, but he's undersized against Rudy Gobert, who will be his main focus to box out and let the other players grab rebounds.
He has just five total rebounds across his past two games, and I wouldn't be surprised to see a similar low outing against Gobert & Co.
DFS Values and Strategy
There are five players tonight priced at $10,000 or higher on FanDuel: Bradley Beal, LeBron James, Anthony Davis, Luka Doncic and Giannis Antetokounmpo.
Beal might be the surprise name on that list full of studs, but he might be the best play of the bunch. The dude is just absolutely scorching right now, averaging a ridiculous +8.02 Plus/Minus over his past 10 games. He's one of the highest-usage players in the league right now, and tonight he'll get the lowly, fast-paced Hawks in the night's highest total game. So yeah, he's expensive now, but yeah, he's still worth it.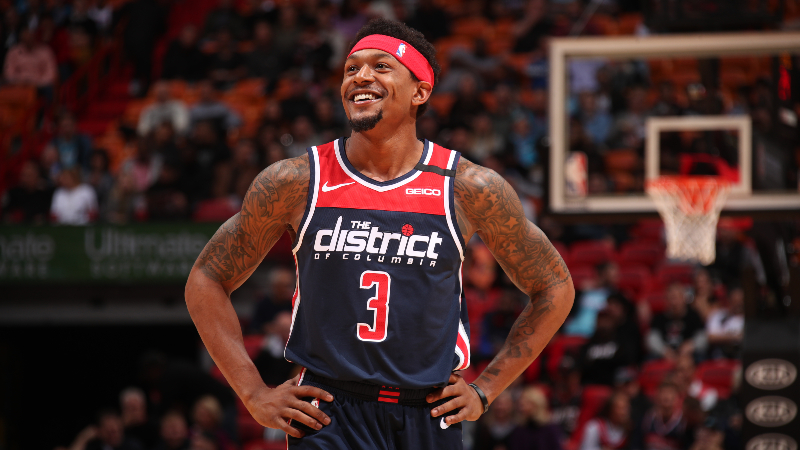 Among the others, Luka is questionable with an illness, so he probably deserves a bit of a downgrade. He'll likely be the lowest-owned player of the bunch, would could be intriguing in tournaments. The other three all play each other and are popping as solid values given the likely close game — not something either of these teams always get.
The best values might be in the $8-9k range, though. Guys popping in our models include Nikola Vucevic, Domantas Sabonis, Devin Booker and Jayson Tatum, all due to a combination of great recent play and notable injuries on their squads.
Sabonis, for example, could be missing both Malcolm Brogdon and Victor Oladipo, opening up value. Tatum will continue to be without Jaylen Brown and Gordon Hayward; Kemba Walker's status is up the in air.
Choosing between those guys (add Beal in here, too) will be the tough question of the night. You can definitely get in a couple, which is nice, as there's some excellent low-tier value available, including TJ McConnell (Indy could be very shorthanded at point), Cheick Diallo, Jerome Robinson, Kendrick Nunn and others.
And make sure to monitor injury news: Luka Doncic, Trae Young, Mitchell Robinson, Dorian Finney-Smith and Victor Oladipo are all questionable. Malcolm Brogdon is doubtful.
You know the drill: Follow the news and make sure to subscribe to our models to see up-to-the-minute projection updates.
For more DFS analysis and value plays, check out the FantasyLabs NBA models.
My Bets Currently
[In New Jersey, Pennsylvania, Indiana or West Virginia? Bet now at FanDuel]
Follow me in our free app if you want an alert on bets I make.
How would you rate this article?