Friday NBA Odds & Picks (Nov. 15): Betting Analysis, DFS Strategies, Injury News, More
Credit:
Mark J. Rebilas-USA TODAY Sports. Pictured: Los Angeles Lakers forward LeBron James (23) and teammate Anthony Davis (3).
Bryan Mears breaks down tonight's eight-game NBA slate, offering betting advice, DFS strategies and injury news to help you find an edge.
This NBA season, I'm trying something new. I'm going to write a daily piece that highlights everything bettors and DFS players need to know for that night's slate. For more on what to expect, read the inaugural piece.
Yesterday I finished 1-1 for -0.6 units. While I don't want to get sucked into the past, I think it's worth reviewing things each day.
The best way to do that is to look at closing line value (CLV), which is just measuring whether the line you bet moved for or against you by closing.
I bet Mavericks-Knicks under 215 and it closed at 214.5 (won)
I bet Clippers-Pelicans under 233.5 and it closed at 233 (lost)
I got a half-point of value on both games but unfortunately didn't get the victory on the Clippers-Pels under. I bet that after the Brandon Ingram news that he was out, and while I wrote about the uncertainty surrounding his metrics this year, I thought both teams were thin and were missing some key offensive weapons.
The pace wasn't the issue: Both teams were below their expectations pushing the ball in transition. It was just a hot shooting night: Both teams shot over 50% from the 3-point line, including over that mark from non-corner 3s — the toughest shots on the court. Rodney McGruder went 5-of-7 from beyond the arc, while E'Twaun Moore and Frank Jackson combined for 7-of-13 shooting from 3. It happens.
Anyway, let's get to today's eight-game slate and find some angles. This is a long post, so use the jump links below to skip ahead to whatever you're looking for.
Note: For updates, see the chat at the bottom of this post.
YTD Record:
Overall: 70-53-1
Spreads: 21-22-1
Totals: 15-11
Moneylines: 5-0
Props: 28-20
Jump To: Odds & Analysis | Projected Starting Lineups & Injury News | Player Props | DFS Values & Strategy | My Bets | Live Chat
---
Betting Odds and Analysis
7 p.m. ET: Detroit Pistons (-3.5) at Charlotte Hornets, 220
7 p.m. ET: San Antonio Spurs at Orlando Magic (-3), 210.5
8 p.m. ET: Washington Wizards at Minnesota Timberwolves (-7), 242
8 p.m. ET: Philadelphia 76ers (-3.5) at OKC Thunder, 214
8 p.m. ET: Utah Jazz (-7.5) at Memphis Grizzlies, 214.5
8 p.m. ET: Indiana Pacers at Houston Rockets (-5.5), 224.5
10:30 p.m. ET: Sacramento Kings at LA Lakers (-10.5), 214.5
10:30 p.m. ET: Boston Celtics (-7.5) at Golden State Warriors, 222.5
---
Odds as of Friday afternoon and via PointsBet, where Action Network users can access an exclusive promotion to get a 200% deposit match (deposit $50, bet with $150). No strings attached. No rollover required.
---
Let's run through a couple situations for today.
Pistons at Hornets
Alas, the Pistons are finally getting fully healthy. Blake Griffin made his season debut earlier this week, and for the first time the main guys all got some action together. The Pistons lost that game to the Wolves, but Griffin looked pretty good.
He and Derrick Rose, the two most important players on the team, were limited to just 23 and 19 minutes, respectively. But they both sat out Tuesday's game against the Heat — the second leg of that back-to-back — and are both set to play tonight on four days rest. We're projecting them tonight to both surpass the 25-minute mark, which is a big deal.
Griffin is obviously an excellent offensive player: Last year the team was 4.2 points per 100 possessions better offensively with him playing — the 84th percentile of players. They had noticeable splits in Monday's game, too, albeit in just a few minutes.
Rose, meanwhile, has even starker splits:
Pistons with Rose on: 104.3 pace | 115.4 Offensive Rating | 115.4 Defensive Rating
Pistons with Rose off: 96.4 pace | 107.6 Offensive Rating | 112.9 Defensive Rating
With Rose on the floor, the Pistons have been much more efficient offensively, getting to the rim more frequently, and they've also pushed in transition more.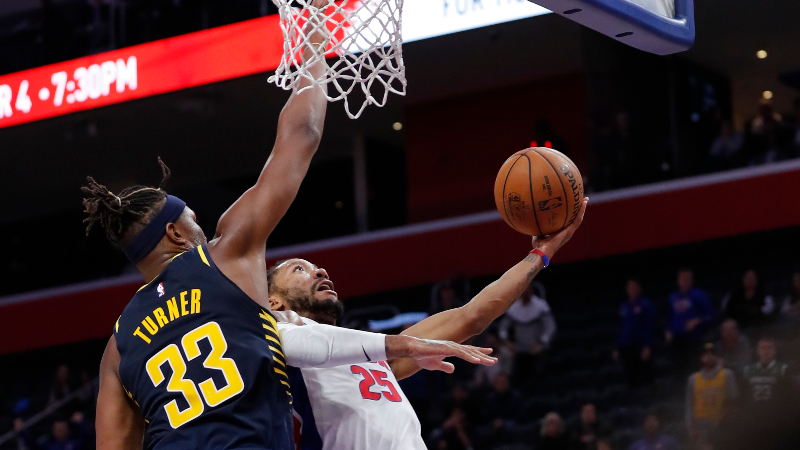 The Pistons have been using Bruce Brown and Luke Kennard as point guards lately due to losing all of their playmakers, so getting back Rose and Griffin to initiate offense and create shots is huge, even if they remain somewhat limited.
To be transparent: I do think there is a little uncertainty in the Rose pace numbers given his injury situation. But … 1) I don't think players really change their games that often, and Rose has pushed and attacked the rim his entire career and 2) the splits are very strong.
There are multiple ways this can go over as well: The Hornets are league-average in pace, but they actually push very fast off missed shots. If the Pistons play the way I expect with their players back, I think the over has value. But even if they're more inefficient than expected, the game could still push in pace a bit.
I like the over here, and I will likely make a play on the Pistons if I can get it at -3 or better at some point today.
Kings at Lakers
No De'Aaron Fox or Marvin Bagley … no problem apparently?
The Kings surprised on Tuesday, beating the Blazers at home in the first game after Fox went down with a multi-week injury. The market moved against them in that one, opening at Kings -2 and dipping to +1.5 by game time, but they were able to get the outright win.
I'm skeptical that game is very representative of what we should expect moving forward, however. They rarely got to the rim and didn't take many 3-pointers; most of their success on offense came on hitting enough mid-rangers, along with dominating the Blazers in transition.
On the year, the Kings for whatever reason have not pushed like they did last year with the athletic Fox at the helm. They currently rank just 27th in pace, averaging 101.3 possessions per game. Notably, they have been pretty slow off opponent missed shots, which anecdotally I think is indicative of how the coaching staff wants them to play.
The Kings also survived in that game thanks to outlier performances from Nemanja Bjelica and Bogdan Bogdanovic; it wasn't Buddy Hield or Harrison Barnes stepping up as the new leaders without Fox.
And despite all of that, the Kings still put up just 107 points — their team total currently sits around 102.
That'll be a hard mark to hit against a Lakers team that currently ranks second in defensive efficiency and fourth in eFG% allowed. It is a bit concerning that the Lakers have allowed a high percentage of transition opportunities, but I'm skeptical that will be a long-term trend, especially since the main culprit data-wise has been Danny Green, who is an incredible transition defender.
Overall, though, the Lakers have played at a bottom-five pace this season off opponent missed shots, which I'm expecting to happen quite a bit tonight.
I think the game under has some value here, but I like the Kings team total a bit better given the Lakers' potent offense. I also think there's some live betting value once we see whether Sacramento's newfound pace is real or whether it was just a single-game blip in the first affair without Fox.
Spurs at Magic
The Spurs have been pretty un-Spurs-like of late:
Lost 129-114 in Minnesota, did not cover +1.5
Lost 113-109 at home vs. Memphis, did not cover -10.5
Lost 135-115 at home vs. Boston, did not cover -1.5
Won 121-112 at home vs. OKC, covered -5
Lost 108-100 in Atlanta, did not cover +5.5
They're losing to some bad teams outright — let alone covering against them. They're now just 2-9 against the spread on the season, including 1-3 on the road and 0-3 as a dog, as they are tonight.
Bet Labs suggests this could be a time to buy low on the Spurs:
Road dogs that didn't cover the previous game playing against an opponent that did cover its last game have historically been undervalued, covering by 1.06 points on average and giving bettors a 6.6% ROI. Those teams are 7-2 ATS this season.
That's a positive sign, but I don't like blindly betting a game due to a historical system; let's dive a bit deeper into the Spurs to see what's going on.
The issue has largely been the starting lineup, which has posted a poor -5.5 Net Rating in 259 possessions together so far. It hasn't been very good offensively, posting a 101.9 Net Rating, but the defense is also very concerning.
That lineup has smart players and a great defender in Dejounte Murray, but they just aren't protecting the rim at all with LaMarcus Aldridge as the rim protector alongside Trey Lyles.
Here's how opponents have shot at the rim over their last five games:
at Minnesota: 68.8% (70th percentile)
vs. Memphis: 64.3% (55th percentile)
vs. Boston: 78.6% (95th percentile)
vs. OKC: 83.3% (97th percentile)
at Atlanta: 66.7% (63rd percentile)
Those are awful marks, and it's not surprising to see the Spurs have a first quarter Net Rating of -7.4.
Still, it's hard to write off the Spurs, especially with Gregg Popovich at the helm. I'd like to see the Spurs make a lineup change and play Jakob Poeltl more minutes: With him on the floor, opponents have shot 10.5% worse at the rim than with him off.
Who knows when or if that will happen, but the Spurs are clearly better than they've shown thus far. A lot of it defensively has been been effort, which is frustrating but also correctable.
They're likely undervalued at +3.5 or better in this spot, and I don't mind grabbing a little moneyline at +140 or better. The Magic haven't exactly been world-beaters on offense, and while the outside shooting will get better, I'm not sure their bottom-10 mark at the rim is set for major regression.
Or if you feel more comfortable live betting (that may be how I play it personally), there will likely be some opportunities if the Spurs don't change their lineups. They typically fall behind early and catch up later, which could allow you to grab an even better spread early in the first quarter.
[In New Jersey? Bet now at PointsBet]
Projected Starting Lineups and Injury News
Note: Info as of 1 p.m. ET. For up-to-the-minute lineups and news, see FantasyLabs' matchups page.
Projected Lineups
Boston Celtics: Kemba Walker – Marcus Smart – Jaylen Brown – Jayson Tatum – Daniel Theis
Charlotte Hornets: Devonte' Graham – Terry Rozier – Miles Bridges – PJ Washington – Cody Zeller
Detroit Pistons: Derrick Rose – Luke Kennard – Tony Snell – Blake Griffin – Andre Drummond
Golden State Warriors: D'Angelo Russell – Jordan Poole – Glenn Robinson III – Draymond Green – Willie Cauley-Stein
Houston Rockets: Russell Westbrook – James Harden – Ben McLemore – PJ Tucker – Tyson Chandler
Indiana Pacers: Malcolm Brogdon – Aaron Holiday – TJ Warren – JaKarr Sampson – Domantas Sabonis
LA Lakers: LeBron James – Avery Bradley – Danny Green – Anthony Davis – JaVale McGee
Memphis Grizzlies: Ja Morant – Dillon Brooks – Jae Crowder – Jaren Jackson Jr. – Jonas Valanciunas
Minnesota Timberwolves: Jeff Teague – Andrew Wiggins – Treveon Graham – Robert Covington – Karl-Anthony Towns
OKC Thunder: Chris Paul – Shai Gilgeous-Alexander – Terrance Ferguson – Danilo Gallinari – Steven Adams
Orlando Magic: Markelle Fultz – Evan Fournier – Aaron Gordon – Jonathan Isaac – Nikola Vucevic
Philadelphia 76ers: Ben Simmons – Josh Richardson – Tobias Harris – Al Horford – Joel Embiid
Sacramento Kings: Cory Joseph – Buddy Hield – Harrison Barnes – Nemanja Bjelica – Richaun Holmes
San Antonio Spurs: Dejounte Murray – Bryn Forbes – DeMar DeRozan – Trey Lyles – LaMarcus Aldridge
Utah Jazz: Mike Conley – Donovan Mitchell – Bojan Bogdanovic – Royce O'Neale – Rudy Gobert
Washington Wizards: Isaiah Thomas – Bradley Beal – Troy Brown Jr. – Rui Hachimura – Thomas Bryant
Injury News
Boston Celtics: Robert Williams (ankle) and Daniel Theis (finger) are questionable.
Charlotte Hornets: Dwayne Bacon (knee) is probable.
Detroit Pistons: Tony Snell (hip) is probable.
Golden State Warriors: Nothing new.
Houston Rockets: Clint Capela (head) is out. Danuel House (back) is doubtful.
Indiana Pacers: Myles Turner (ankle) and Jeremy Lamb (ankle) remain out. Goga Bitadze (concussion) is expected to play.
LA Lakers: Kentavious Caldwell-Pope (ankle) is questionable. Anthony Davis (shoulder) is probable. Avery Bradley (leg) is out 1-2 weeks.
Memphis Grizzlies: Grayson Allen (ankle) is out.
Minnesota Timberwolves: Shabazz Napier (hamstring) is doubtful. Jordan Bell (shoulder) is questionable. Jeff Teague (illness) is probable.
OKC Thunder: Andre Roberson (knee) is out. Hamidou Diallo (knee) is questionable. Terrance Ferguson (personal) is not on the injury report.
Orlando Magic: Nothing new.
Philadelphia 76ers: Nothing new.
Sacramento Kings: Trevor Ariza (groin) is questionable. Dewayne Dedmon (knee) is expected to play.
San Antonio Spurs: Nothing new.
Utah Jazz: Dante Exum (knee) is probable.
Washington Wizards: Nothing new.
---
Player Props
To bet props, I use our FantasyLabs player props tool. Follow me in the Action Network app to see my bets (or go to the bottom of the article), but the more important thing is the tool, which measures our projections for every player vs. current odds in the market and highlights the biggest edges for you.
Player props are an inefficient market, which allows casual bettors (limits are low, so pro bettors aren't incentivized to prioritize them) to grab very +EV bets. That said, the lines move quickly. Our props tool is set up so you can always see whether there's an edge even at the updated numbers throughout the day.
It's one of my favorite tools we offer and should be one of your bookmarked pages if you like making a few extra bucks. Here's a screenshot of what it looks like:

My usual recommendation: Bet unders.
Last season, 10-rated props in our tool hit at a 60.31% rate. But overs hit at a 57.08% rate vs. 66.47% for unders. For 9-rated props, 55.96% of overs were successful bets vs. 62.60% for unders.
As I have noted in the past, unders have more outs: A blowout, an injury, a poor shooting night — all will likely make the under hit. But also, props are less efficient as a market given the low limits, so they're less likely to adjust for things like opponent and pace.
One under I think is intriguing is Markieff Morris' 11-point total.
Kieff has gone over this mark quite often this season, including last game when he put up 13 points on 4-of-9 shooting. But, as mentioned above, both Derrick Rose and Blake Griffin are back and should continue to ramp up minutes over the coming games.
In the first game with them, Morris posted a 15.4% usage rate, which was easily a season-low for him. He hit both of his 3s to get to 10 points, but that's under this total and shows the expected lower role for him as this team gets healthier. The matchup is good against a bad Hornets team, so there is some risk, but I don't think his prop has fully accounted for his new role.
DFS Values and Strategy
Karl-Anthony Towns' minutes have been lower the last two games at around 30, but the most recent one was a blowout win. We're projecting him around 32/33 right now, which is definitely enough time to do damage, especially given his high usage rate. Really, though, the matchup is pristine against a Washington team that's in the top-10 in pace and second-to-last in defensive efficiency. Fading KAT in a game with a 242 total is a scary idea.
As a rule, centers are pretty undervalued on DraftKings. KAT is valued at $10K, and Joel Embiid ($9,200), Andre Drummond ($8,600) and Domantas Sabonis ($8,700) are all standing out at their price points. Embiid is coming off a dominant game and gets a OKC team that ranks in the bottom-10 in rebound rate, Andre Drummond gets the Hornets (also bad at rebounding) and Sabonis has been dominating without Myles Turner in the lineup.
Pricing is tougher on FanDuel, although the centers are still good values. In general, it's tougher today to pay up on FanDuel than on DraftKings.
Further complicating things is the lack of true punt plays as of now. There aren't many big injuries to provide value outside of Clint Capela, but his replacement is Tyson Chandler, who is about as low-usage of a player as you'll find. He hit value last game with a 5-9 line, but that's not exactly earth-shattering. He's a "value" today given his minute projection, but there's downside since he can only dunk and rebound.
Most of the value is in the mid-to-high tier with someone like D'Angelo Russell, who will look to rebound after missing value last game. The usage was still there — he's been above 30% in each of his last five games and above 40% in three of them — but ran into a tough Lakers defense. Boston is not bad, but he's back and home and should continue to get up shots.
His teammate, Draymond Green, is an interesting buy low candidate at just $5,300, as is Thunder guard Shai Gilgeous-Alexander. That's the name of the game today: Value is tough to come by, so you'll likely have to take chances on struggling players who have seen resulting price drops. That makes a projection system even more helpful, so make sure to check out our models.
For more DFS analysis and value plays, check out the FantasyLabs NBA models.
My Bets Currently
Pistons/Hornets over 220.5 (I wouldn't bet past 221)
Kings/Lakers under 214.5 (I wouldn't bet past the number)
Kings team total under 102 (I wouldn't bet past the number)
[In New Jersey? Bet now at PointsBet]
Follow me in our free app if you want an alert on bets I make. I'll also make updates in the chat below.
---
Updates and Live Chat
I will put updated thoughts below, whether they're about line movement, injury news, etc. You can also ask questions, which I'll answer as quickly as I can.
How would you rate this article?