NBA Predictions, Picks & Betting Odds (Monday, Feb. 10): What to Make of the Weird Center Battle in Kings vs. Bucks
Credit:
Photo credit: Christian Petersen/Getty Images. Pictured: Nemanja Bjelica
This NBA season, I'm trying something new. I'm going to write a daily piece that highlights everything bettors and DFS players need to know for that night's slate. For more on what to expect, read the inaugural piece.
Friday I finished 2-1 for +0.4 units. While I don't want to get sucked into the past, I think it's worth reviewing things each day.
The best way to do that is to look at closing line value (CLV), which is just measuring whether the line you bet moved for or against you by closing.
I bet Kings -120 and it closed at Kings -105 (won)
I bet Hawks +9.5 and it closed at Hawks +12.5 (won)
I bet Mavs -2 and it closed at Mavs -3 (lost)
It was a weird night. The one game I actually got CLV on was the one I lost with the Mavs. I liked that Kings bet despite it moving against me, and I'll admit I got lucky on the Hawks spread. It closed in double digits because Trae Young was a surprising scratch, but the Hawks were still able to battle back and beat not only the closing number but also my bad one.
Anyway, let's dive into today's slate and find some angles.
YTD Record:
Overall: 217-193-2
Spreads: 84-81-2
Totals: 82-80
Moneylines: 22-10
Props: 29-22
Jump To: Odds & Analysis | Projected Starting Lineups & Injury News | Player Props | DFS Values & Strategy | My Bets
---
Odds as of Monday afternoon and via FanDuel, where Action Network users get a risk-free bet up to $500.
---
Betting Odds and Analysis
7 p.m. ET: Charlotte Hornets at Detroit Pistons (-2), 208.5
7 p.m. ET: Brooklyn Nets at Indiana Pacers (-7), 218
7 p.m. ET: Atlanta Hawks at Orlando Magic (-6), 222
7:30 p.m. ET: Minnesota Timberwolves at Toronto Raptors (-9), 228
8 p.m. ET: Sacramento Kings at Milwaukee Bucks (-11.5), 226
8:30 p.m. ET: Utah Jazz (-1) at Dallas Mavericks, 219.5
9 p.m. ET: San Antonio Spurs at Denver Nuggets (-7.5), 220
10:30 p.m. ET: Phoenix Suns at Los Angeles Lakers (-13), 228
10:30 p.m. ET: Miami Heat (-6) at Golden State Warriors, 219.5
Kings at Bucks
The Kings have sort of faded into the background this year, which is a shame: For as bad as they've often been, De'Aaron Fox still looks like a future stud. I've written about them quite a bit recently, and my hypothesis is that the poor play is mostly due to the coaching.
Luke Walton doesn't have a great track record other than his time with the Warriors — perhaps the most talented team in the history of basketball. He just doesn't seem to understand what made the Kings so exciting and frisky as a young roster last season.
They really thrived in transition and using Fox's quickness and athleticism to blitz teams. This season, though, they're bottom-10 in transition opportunities.
But they've been very interesting in the last week, during which they've won their last three games against the Spurs, Heat and Wolves. Granted, those were all at home, and the Heat were missing Jimmy Butler, Tyler Herro, Meyers Leonard and a bunch of other crucial players.
Still, there have been positive signs. We'll see how much they recognize those, however.
The most interesting angle for this game — outside of Giannis Antetokounmpo's questionable status — is the Kings' lack of size. Richaun Holmes is out tonight, and they just traded away Dewayne Dedmon. Harry Giles is their only real center on the roster, and over the past few games they've been running a bunch of lineups with Nemanja Bjelica at center.
And they've been killing teams in those smallball Bjelica minutes. Per Cleaning the Glass, in 466 possessions with Bjelica at center, the Kings have posted an incredible +15.0 Net Rating, mostly on account of a 121.9 Offensive Rating. In 597 possessions with Giles at center, they've been at an opposite -15.1 Net Rating and 103.7 Offensive Rating.
It's probably not surprising, but in the Bjelica-at-center minutes, the Kings have had a better shot profile, really taking advantage of spacing and getting up a bunch of 3-pointers. They've hit a bunch of those, too, which makes sense given five-out basketball generally produces more open looks.
But what will they do tonight? And in this specific matchup?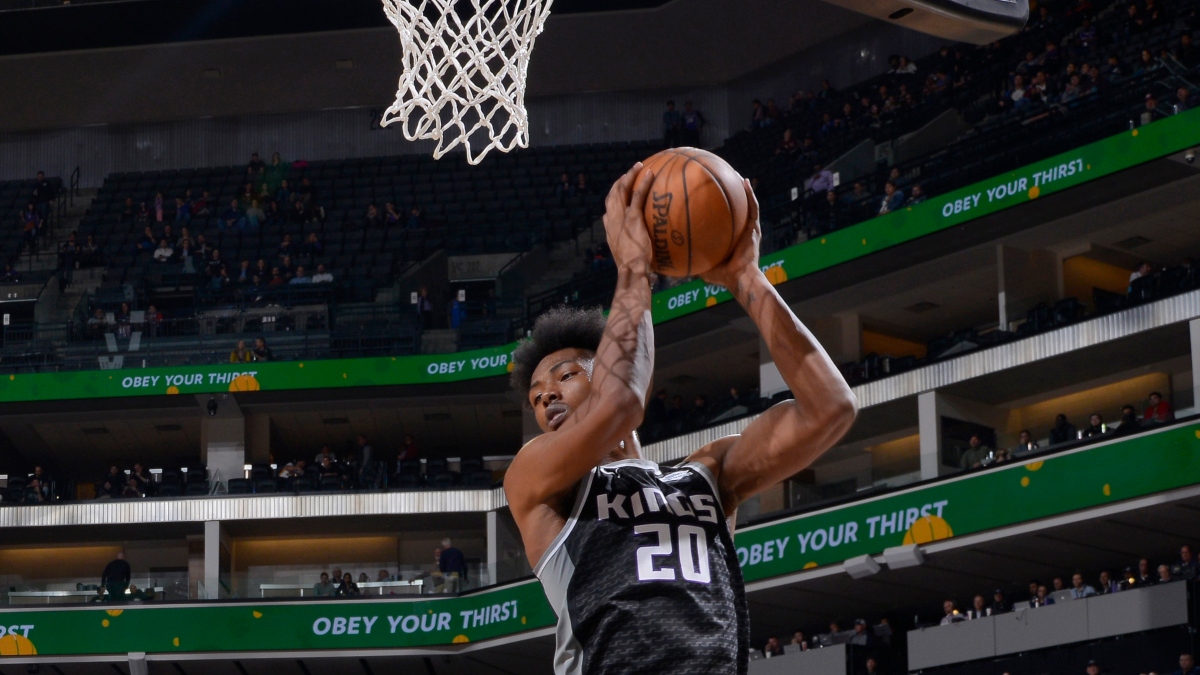 Giles is really their only rim protector right now, and the Bucks get to the rim a ton and are third with a 66.8% field goal percentage there. If Giannis plays, will they have to try to keep Giles — who had been playing in the teens but got up to nearly 30 minutes last game — out there for defense? And will that even work considering he's just 21 years old and still learning NBA basketball?
That situation could lead to the Kings struggling offensively. The Bucks have a pretty extreme defensive scheme in which they completely drop their bigs in pick-and-rolls to protect the paint. It essentially forces the big to either pop or be in the way — and Giles is not an outside threat. He's taken six 3-pointers in his entire NBA career and has yet to make one.
Now, if Bjelica or Harrison Barnes are those pick-and-pop guys, that changes the calculus on that side of the floor. But it also hurts them defensively given the Bucks' size and ability to attack the basket.
There's a couple ways to take this information and use it for betting:
To bet on the Bucks in the times Giles plays, which is mostly in the first and third quarters — and potentially in the fourth. And that's also when the Kings struggle: They've been a bit better of late, but since Jan. 1 they are dead last in the league with a -19.3 Net Rating in the first quarter. The Bucks, on the other hand, are fourth with a +12.6 mark in that same time frame.
You could also look for live betting value. If the Kings look to maximize smallball, there's likely some value on the over given they'll perform better offensively and likely struggle to protect the rim. If Giles does indeed look like he's pacing for 30 minutes, the under is likely the better play.
But, of course, look for Giannis' status before making any bets.
Hornets at Pistons
This over/under might seem really low already, and unders have been pretty terrible bets this season and especially lately:
This NBA season…

Overs: 411-374-6 (+2.1% ROI)
Unders: 374-411-6 (-6.8% ROI)

Since Jan. 1…

Overs: 164-122-2 (+11.7% ROI)
Unders: 122-164-2 (-16.4% ROI)

— Bryan Mears (@bryan_mears) February 10, 2020
But these teams have just played so slow lately.
Since Jan. 1, the Hornets are dead last in the league with a 94.3 pace, which is an incredibly low number. The Pistons are third-slowest, averaging 97.3 possessions per 48 minutes. And in the past two weeks, Detroit has been even slower, dipping down to 95.7.
That said, neither of these teams have been good under bets in that time frame. The Pistons are just 7-14 to the under; the Hornets are 7-9. That said, the Pistons have gone under in four of their last six, which I think is attributed to the new roster they're working with now.
They have been much better and faster offensively this season with Derrick Rose, who is doubtful to suit up. He hasn't played in the last four, three of which went under. They will have Reggie Jackson, but they've played more in the halfcourt with him than with Rose.
Further, it doesn't seem like Andre Drummond's absence this season has really hurt the defense. The data this year suggests that Christian Wood has actually been a superior defender down low: The team has dropped opponent FG% at the rim by 2.3% with Wood on vs. off. Opponents have also taken fewer shots at the rim with Wood, whereas they took more with Drummond on.
The Pistons in these new minutes have actually done a good job funneling people to mid-rangers, not giving up shots in the paint or behind the arc. And tonight they'll face a Hornets team that ranks dead last this season in field goal percentage in that area. There's definitely a foreseeable path to a good Detroit defensive performance here.
And again, these teams are just so slow. Look at these recent Pistons games: Against the Knicks, they used 87 possessions; against the Thunder the game before, 88. This is like 1990s Pistons basketball we're seeing lately.
Further, it seems like sharp money is on the under here, as we've tracked two steam moves already on that side:

As a result, this line has dropped three points from opening despite 57% of the bets coming in on the over. I think there's obviously less value now, but I will wait to see if this line comes up due to public money.
If it gets back at 207 or higher, I'll grab the under here.
Projected Starting Lineups and Injury News
Note: Info as of 12:15 p.m. ET. For up-to-the-minute lineups and news, see FantasyLabs' matchups page.
Projected Lineups
Atlanta Hawks: Trae Young – Kevin Huerter – De'Andre Hunter – John Collins – Damian Jones
Brooklyn Nets: Spencer Dinwiddie – Caris LeVert – Joe Harris – Taurean Prince – Jarrett Allen
Charlotte Hornets: Devonte' Graham – Terry Rozier – Miles Bridges – PJ Washington – Cody Zeller
Dallas Mavericks: Jalen Brunson – Tim Hardaway Jr. – Dorian Finney-Smith – Maxi Kleber – Kristaps Porzingis
Denver Nuggets: Jamal Murray – Gary Harris – Torrey Craig – Jerami Grant – Nikola Jokic
Detroit Pistons: Reggie Jackson – Bruce Brown – Tony Snell – Christian Wood – Thon Maker
Golden State Warriors: Ky Bowman – Damion Lee – Andrew Wiggins – Draymond Green – Marquese Chriss
Indiana Pacers: Malcolm Brogdon – Jeremy Lamb – TJ Warren – Domantas Sabonis – Myles Turner
LA Lakers: LeBron James – Avery Bradley – Danny Green – Anthony Davis – JaVale McGee
Miami Heat: Kendrick Nunn – Duncan Robinson – Jimmy Butler – Bam Adebayo – Kelly Olynyk
Milwaukee Bucks: Eric Bledsoe – Wes Matthews – Khris Middleton – Giannis Antetokounmpo – Brook Lopez
Minnesota Timberwolves: D'Angelo Russell – Malik Beasley – Josh Okogie – Juancho Hernangomez – Karl-Anthony Towns
Orlando Magic: Markelle Fultz – Evan Fournier – Aaron Gordon – Khem Birch – Nikola Vucevic
Phoenix Suns: Ricky Rubio – Devin Booker – Kelly Oubre – Mikal Bridges – Deandre Ayton
Sacramento Kings: De'Aaron Fox – Bogdan Bogdanovic – Harrison Barnes – Nemanja Bjelica – Harry Giles
San Antonio Spurs: Dejounte Murray – Bryn Forbes – DeMar DeRozan – Trey Lyles – LaMarcus Aldridge
Toronto Raptors: Kyle Lowry – Fred VanVleet – OG Anunoby – Pascal Siakam – Serge Ibaka
Utah Jazz: Mike Conley – Donovan Mitchell – Joe Ingles – Bojan Bogdanovic – Rudy Gobert
Injury News
Atlanta Hawks: Cam Reddish (concussion) and DeAndre Bembry (hand) are TBD.
Brooklyn Nets: Kyrie Irving (knee) likely remains out.
Charlotte Hornets: Cody Martin (nose, concussion) is out.
Dallas Mavericks: Luka Doncic (ankle) remains out.
Denver Nuggets: Michael Porter Jr. (ankle), Will Barton (knee) and Mason Plumlee (foot) remain out.
Detroit Pistons: Svi Mykhailiuk (hip) is out. Derrick Rose (adductor) is doubtful. Brandon Knight (knee) is questionable. Markieff Morris (illness) is probable.
Golden State Warriors: Draymond Green (back) is not on the injury report.
Indiana Pacers: Nothing new.
LA Lakers: Anthony Davis (finger) is probable.
Miami Heat: Jimmy Butler (shoulder) and Tyler Herro (ankle) are TBD.
Milwaukee Bucks: George Hill (hamstring) is out. Giannis Antetokounmpo (personal) is questionable.
Minnesota Timberwolves: D'Angelo Russell (quad) is questionable.
Orlando Magic: Nothing new.
Phoenix Suns: Dario Saric (ankle) is out. Deandre Ayton (ankle) is questionable.
Sacramento Kings: Richaun Holmes (shoulder) is out. Jabari Parker (shoulder) is questionable.
San Antonio Spurs: Nothing new.
Toronto Raptors: Marc Gasol (hamstring) is out. Kyle Lowry (whiplash) is questionable.
Utah Jazz: Nothing new.
Player Props
To bet props, I use our FantasyLabs player props tool. Follow me in the Action Network app to see my bets (or go to the bottom of the article), but the more important thing is the tool, which measures our projections for every player vs. current odds in the market and highlights the biggest edges for you.
Player props are an inefficient market, which allows casual bettors (limits are low, so pro bettors aren't incentivized to prioritize them) to grab very +EV bets.
That said, the lines move quickly. Our props tool is set up so you can always see whether there's an edge even at the updated numbers throughout the day.
It's one of my favorite tools we offer and should be one of your bookmarked pages if you like making a few extra bucks. Here's a screenshot of what it looks like:

My usual recommendation: Bet unders.
Last season, 10-rated props in our tool hit at a 60.31% rate. But overs hit at a 57.08% rate vs. 66.47% for unders. For 9-rated props, 55.96% of overs were successful bets vs. 62.60% for unders.
As I have noted in the past, unders have more outs: A blowout, an injury, a poor shooting night all will likely make the under hit. But also, props are less efficient as a market given the low limits, so they're less likely to adjust for things like opponent and pace.
But you can also take advantage sometimes of overs in the right situation. One example tonight is Nemanja Bjelica's 6.5-rebound prop.
I wrote my extensive thoughts on this game above, and it's why I like this prop. The Kings really have no centers on the roster other than Harry Giles, who may get run of the floor do to his non-shooting or perhaps get in foul trouble against the Bucks, who really attack the rim.
That means Bjelica, a wing/forward combo, might legitimately might have to play a majority of his minutes at the center, with I guess Harrison Barnes taking a few as well if things get dire.
Again, see my thoughts on that situation above, but I do think it would increase his rebounding upside. He's been at 6.3 per game on the year, and getting big minutes as the de facto center, I think there's upside for seven or more.
DFS Values and Strategy
There are a whopping six players priced at $10,000 or higher on DraftKings tonight: Trae Young, Nikola Jokic, Anthony Davis, Karl-Anthony Towns, LeBron James and Giannis Antetokounmpo.
Giannis is the most-expensive guy, but he's still popping within our models. He's questionable tonight, so monitor his status, but he's been absolutely dominating lately, putting up near 30-20s over his last five games. And I guess this is the theme of this article (see my bet analysis section and props above for more on this game), but Giannis might have 30-plus minutes against a Kings team primarily playing Nemanja Bjelica at center.
Seems like a matchup he can win, especially at the rim.
Giannis has definitely been the best of this bunch lately, although all of these guys obviously have huge ceilings. Jokic has really come on lately, and he'll continue to operate with a bunch of injuries to Denver (though the Nuggets are getting healthier). One interesting guy is Young, who has played excellent ball lately but is coming off a double-OT game last yesterday in which he had to play nearly 50 minutes. He's been an awesome tournament play over the last month, but it might be worth fading him given the potential fatigue.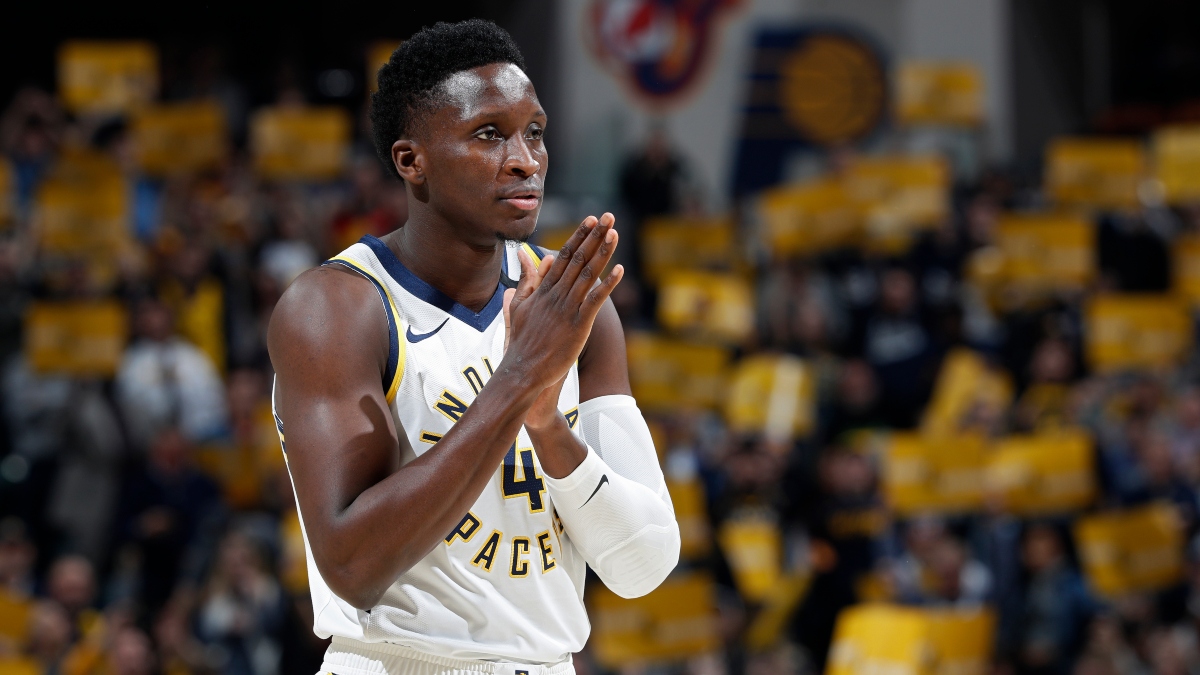 Value-wise, there are quite a few worthy options today. Victor Oladipo has continued to ramp up his minutes — we have him projected for 28 tonight — and while he's struggled to hit value since debuting from an injury absence, it's mostly been due to cold shooting, which will turn around for him. There's some risk there, but it's minimal given his $4,200 salary.
Other values include Jae Crowder, Serge Ibaka, John Henson, Bam Adebayo, Kristaps Porzingis, Jarrett Allen, Ky Bowman, Bruce Brown and more.
And of course, monitor injuries. Some notable situations right now: Derrick Rose is doubtful. Giannis, D'Angelo Russell, Kyle Lowry and Deandre Ayton are all questionable to play. Anthony Davis is probable. Those are all huge names who will absolutely shift value if they're not able to go.
You know the drill: Follow the news and make sure to subscribe to our models to see up-to-the-minute projection updates.
For more DFS analysis and value plays, check out the FantasyLabs NBA models.
My Bets Currently
Nothing yet
[In New Jersey, Pennsylvania, Indiana or West Virginia? Bet now at FanDuel]
Follow me in our free app if you want an alert on bets I make.
How would you rate this article?