NBA Predictions, Picks & Betting Odds (Monday, Feb. 3): Time to Buy Pacers With Oladipo Back?
Credit:
Photo credit: Joe Robbins/Getty Images. Pictured: Victor Oladipo
This NBA season, I'm trying something new. I'm going to write a daily piece that highlights everything bettors and DFS players need to know for that night's slate. For more on what to expect, read the inaugural piece.
Friday I finished 2-2 for +0.1 units. While I don't want to get sucked into the past, I think it's worth reviewing things each day.
The best way to do that is to look at closing line value (CLV), which is just measuring whether the line you bet moved for or against you by closing.
I bet Pelicans -5.5 and it closed at Pelicans -7.5 (won)
I bet Pelicans -230 ML and it closed at Pels -340 (won)
I bet Bucks -12.5 and it closed at Bucks -13 (lost)
I bet Nuggets under 106.5 and it closed at 107 (lost)
It was a fairly neutral day, but I was pleased with the positive CLV. The Pelicans obviously rolled, and I got significant value on that one. I missed on that Bucks game, and perhaps I overrated the situation. I bet it because the Nuggets had a significant travel disadvantage, but obviously that didn't work out.
Anyway, let's dive into today's slate and find some angles.
YTD Record:
Overall: 203-179-2
Spreads: 79-74-2
Totals: 76-74
Moneylines: 19-9
Props: 29-22
Jump To: Odds & Analysis | Projected Starting Lineups & Injury News | Player Props | DFS Values & Strategy | My Bets
---
Odds as of Monday afternoon and via FanDuel, where Action Network users get a risk-free bet up to $500.
---
Betting Odds and Analysis
7 p.m. ET: Dallas Mavericks at Indiana Pacers (-5.5), 213.5
7 p.m. ET: New York Knicks at Cleveland Cavaliers (-2), 215.5
7 p.m. ET: Orlando Magic (-4.5) at Charlotte Hornets, 202.5
7 p.m. ET: Golden State Warriors at Washington Wizards (-5.5), 235.5
7:30 p.m. ET: Philadelphia 76ers at Miami Heat (-2.5), 212
7:30 p.m. ET: Phoenix Suns at Brooklyn Nets (-2.5), 224
7:30 p.m. ET: Boston Celtics (-7) at Atlanta Hawks, 223.5
8 p.m. ET: Detroit Pistons at Memphis Grizzlies (-8.5), 225.5
10 p.m. ET: Minnesota Timberwolves at Sacramento Kings (-1.5), 226.5
10:30 p.m. ET: San Antonio Spurs at LA Clippers (-9), 228
Mavericks at Pacers
These two teams are coming off drastically different games over the weekend. The Mavericks, without Luka Doncic, Kristaps Porzingis and Dwight Powell, absolutely steamrolled the Hawks, winning by 23. The Pacers, on the other hand, lost at home to the Knicks, putting up just 85 points. And now, the Pacers are five-point favorites or more.
In the NBA, it's important to not get caught up too much in recency bias. Sure, the Pacers were terrible. But they also got pretty unlucky, posting a miserable 34.4% eFG% on wide-open shots. Victor Oladipo especially struggled, shooting 2-of-14 from the field, but the dude just came back from a long absence. He was great in his first game and regressed in this one. It happens.
Meanwhile, the Mavs just got stupid hot, going 77.8% at the rim and 51.3% from beyond the arc, including 48.4% on non-corner 3s.
They've been surprisingly solid this year without Luka, going 3-3 in games without him. They've even beat some solid teams in the Bucks at 76ers in that span.
But the long-term data is more important, and that's more mediocre. In 1,152 possessions without Luka and Powell, they've posted a +3.2 Net Rating, which isn't bad, but also remember most of those minutes have come against bench units. That won't be the case tonight, and even their bench units will have to go up against Oladipo, who I think will rebound in this one.
Perhaps I'm just underrating the Mavs here without their star, but I'm always a little hesitant when an offensive scheme is built around that player. They rely so much on Luka's gravity and passing to generate open shots, and while Brunson is still a very solid player, it's more of a downgrade than they've shown so far in this small six-game sample.
And I think it's time to buy the Pacers, who last year were very good when Dipo was out there. They've upgraded at numerous positions since then with guys like TJ Warren and Malcolm Brogdon, too.
So far today, there have been three steam moves on this spread — all three on the Pacers at -4.5 and -5 twice. I grabbed at -5 and think there's value at there or even -5.5.
76ers at Heat
There are a few interesting angles in this game.
For one, if you're a believer in narratives, there's this…
Sixers will now spend Sunday night, in Miami, during the Super Bowl. Can't wait to see the energy level Monday night vs Heat.

— Jon Johnson (@jonjohnsonwip) February 2, 2020
The Miami Hangover Effect. Will it come into play?
I'm usually more hesitant than others to factor those things into handicapping — travel issues can be a different story — but it does mesh with another important angle, which is that the 76ers just suck on the road this year.
76ers at home: +11.9 Net Rating (2nd), 113.5 ORtg (11th), 101.6 DRtg (1st)
76ers away: -4.1 Net Rating (21st), 106.0 ORtg (25th), 110.1 DRtg (7th)
They're coming off a road beatdown against the Boston Celtics, who were missing Kemba Walker on the weekend. They put up just 95 points.
That's obviously translated to the betting market: On the year, they're 13-9-2 ATS at home (+14.9% ROI) but just 8-17-1 on the road (-36.0% ROI). Against teams above .500 on the road, they're 4-10-1 ATS (-40.8% ROI).
Meanwhile, the Heat have extreme splits of their own. They're just 11-12-1 ATS on the road (-6.3% ROI) but 16-7-1 at home (+35.1% ROI).
As you can see by the Sixers' splits, the issue has really been the offense, which has been a bottom-10 unit on the road. I think that makes some sense: Defense travels, as the adage goes, and role players tend to struggle more on the road vs. at home.
The Sixers are unique in that the majority of their shooting — a necessity given Joel Embiid's and Ben Simmons' games — are from role players. It's no surprise then that the under is 15-11 in Sixers road games. Against above .500 teams, that goes to 10-5, showing how much they struggle offensively in this spot.
Given all of those factors, I like the Heat here, along with the under.
Projected Starting Lineups and Injury News
Note: Info as of 3 p.m. ET. For up-to-the-minute lineups and news, see FantasyLabs' matchups page.
Projected Lineups
Atlanta Hawks: Trae Young – Kevin Huerter – Treveon Graham – John Collins – Damian Jones
Boston Celtics: Brad Wanamaker – Jaylen Brown – Jayson Tatum – Gordon Hayward – Daniel Theis
Brooklyn Nets: Spencer Dinwiddie – Garrett Temple – Joe Harris – Taurean Prince – Jarrett Allen
Charlotte Hornets: Devonte' Graham – Terry Rozier – Miles Bridges – Marvin Williams – Cody Zeller
Cleveland Cavaliers: Darius Garland – Collin Sexton – Cedi Osman – Kevin Love – Tristan Thompson
Dallas Mavericks: Jalen Brunson – Tim Hardaway Jr. – Dorian Finney-Smith – Maxi Kleber – Kristaps Porzingis
Detroit Pistons: Reggie Jackson – Svi Mykhailiuk – Tony Snell – Sekou Doumbouya – Andre Drummond
Golden State Warriors: D'Angelo Russell – Damion Lee – Glenn Robinson III – Draymond Green – Marquese Chriss
Indiana Pacers: Malcolm Brogdon – Jeremy Lamb – Justin Holiday – Domantas Sabonis – Myles Turner
LA Clippers: Patrick Beverley – Kawhi Leonard – Paul George – Maurice Harkless – Ivica Zubac
Memphis Grizzlies: Ja Morant – Dillon Brooks – Jae Crowder – Jaren Jackson Jr. – Jonas Valanciunas
Miami Heat: Jimmy Butler – Kendrick Nunn – Duncan Robinson – Bam Adebayo – Meyers Leonard
Minnesota Timberwolves: Shabazz Napier – Jarrett Culver – Andrew Wiggins – Robert Covington – Karl-Anthony Towns
New York Knicks: Elfrid Payton – Reggie Bullock – Marcus Morris – Julius Randle – Taj Gibson
Orlando Magic: Markelle Fultz – Evan Fournier – Aaron Gordon – Khem Birch – Nikola Vucevic
Philadelphia 76ers: Ben Simmons – Shake Milton – Tobias Harris – Al Horford – Joel Embiid
Phoenix Suns: Ricky Rubio – Devin Booker – Kelly Oubre – Mikal Bridges – Deandre Ayton
Sacramento Kings: De'Aaron Fox – Bogdan Bogdanovic – Harrison Barnes – Nemanja Bjelica – Dewayne Dedmon
San Antonio Spurs: Dejounte Murray – Bryn Forbes – DeMar DeRozan – Trey Lyles – LaMarcus Aldridge
Washington Wizards: Isaiah Thomas – Gary Payton II – Bradley Beal – Isaac Bonga – Ian Mahinmi
Injury News
Atlanta Hawks: Cam Reddish (concussion) is out. Trae Young (ankle) is probable. De'Andre Hunter (ankle), Bruno Fernando (calf) and DeAndre Bembry (hand) are doubtful.
Boston Celtics: Kemba Walker (knee) and Marcus Smart (thigh) are out. Enes Kanter (hip) is available to play.
Brooklyn Nets: Kyrie Irving (knee) is out at least 1 week.
Charlotte Hornets: PJ Washington (ankle) is questionable.
Cleveland Cavaliers: Brandon Knight (knee) is questionable.
Dallas Mavericks: Luka Doncic (ankle) and Seth Curry (knee) are out.
Detroit Pistons: Markieff Morris (hip) and Reggie Jackson (back) are questionable. Derrick Rose (adductor) is out.
Golden State Warriors: D'Angelo Russell (quad) is questionable. Ky Bowman (G League) is out.
Indiana Pacers: TJ Warren (concussion) is out.
LA Clippers: Nothing new.
Memphis Grizzlies: Brandon Clarke (hip) is not on the injury report.
Miami Heat: Nothing new.
Minnesota Timberwolves: Allen Crabbe (patella) is doubtful.
New York Knicks: Julius Randle (quad) and Frank Ntilikina (groin) are probable. Marcus Morris (illness) is questionable. Mitchell Robinson (hamstring) is probable.
Orlando Magic: Evan Fournier (back) is questionable.
Philadelphia 76ers: Nothing new.
Phoenix Suns: Ricky Rubio (ankle) is probable. Dario Saric (ankle), Ty Jerome (calf) and Tyler Johnson (knee) are out.
Sacramento Kings: Richaun Holmes (shoulder) is doubtful. Dewayne Dedmon (illness) is not on the injury report.
San Antonio Spurs: Nothing new.
Washington Wizards: Jordan McRae (ankle) is out. Moe Wagner (ankle) and Rui Hachimura (groin) are not on the injury report. Davis Bertans (neck) is a game-time decision.
Player Props
To bet props, I use our FantasyLabs player props tool. Follow me in the Action Network app to see my bets (or go to the bottom of the article), but the more important thing is the tool, which measures our projections for every player vs. current odds in the market and highlights the biggest edges for you.
Player props are an inefficient market, which allows casual bettors (limits are low, so pro bettors aren't incentivized to prioritize them) to grab very +EV bets.
That said, the lines move quickly. Our props tool is set up so you can always see whether there's an edge even at the updated numbers throughout the day.
It's one of my favorite tools we offer and should be one of your bookmarked pages if you like making a few extra bucks. Here's a screenshot of what it looks like:

My usual recommendation: Bet unders.
Last season, 10-rated props in our tool hit at a 60.31% rate. But overs hit at a 57.08% rate vs. 66.47% for unders. For 9-rated props, 55.96% of overs were successful bets vs. 62.60% for unders.
As I have noted in the past, unders have more outs: A blowout, an injury, a poor shooting night all will likely make the under hit. But also, props are less efficient as a market given the low limits, so they're less likely to adjust for things like opponent and pace.
One under I think is intriguing is Paul George's 20.5-point total.
This may seem like a low number for the Clippers superstar considering he's averaged 22.8 per game this season, but note that PG is currently limited to around 20 minutes as L.A. monitors his minutes.
He was able to hit this number last game, scoring 21 points, but that was on hot shooting against the Minnesota Timberwolves, who have been around the worst team in the league lately. Today he'll face a much slower-paced San Antonio squad, and unless he just gets hot shooting, I think the under should hit here and is worth a bet.
DFS Values and Strategy
Given how the slate is shaping up, it looks like a day to build a more balanced lineup. The stud options include Trae Young (questionable), Bradley Beal, Kawhi Leonard and Karl-Anthony Towns, all of whom have obviously high ceilings but aren't rating particularly well within our models.
But dip down just a little bit and there's value galore. Deandre Ayton and Kristaps Porzingis stand out as some of the best pure values of the day, the latter due to injuries to Luka Doncic and Dwight Powell and the former due to an expanded role.
Ayton played just about 30 minutes last game, but that was a blowout loss to the Bucks, which seemingly happens every game. Prior to that, however, he played about 40 minutes. He's been approaching that consistently over the last couple weeks as he seems to be getting fully healthy finally.
Other great options in that mid-tier range include Spencer Dinwiddie (Kyrie Irving is out again), Malcolm Brogdon, Jayson Tatum (Kemba Walker and Marcus Smart are out), Devin Booker (same deal as Ayton) and De'Aaron Fox (has looked good lately and gets the Timberwolves).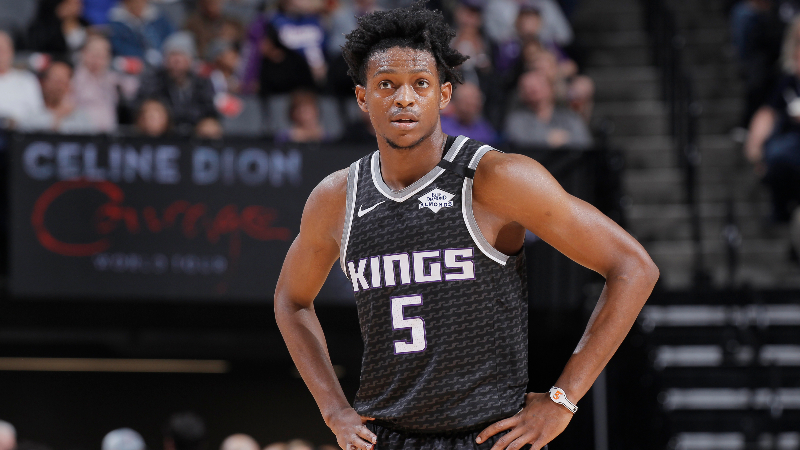 There are other solid values in the low-tier range, including Reggie Jackson (questionable) and Bruce Brown — Derrick Rose is out in this one, along with a ton of other Detroit guys — Sekou Doumbouya for the same reason, John Henson, Caris LeVert and others.
That means you can definitely build a stars-and-scrubs lineup, which might be the best way to go about things in tournaments given those mid-tier guys will all be highly-owned. Also make sure to monitor each site: Gordon Hayward and Jaylen Brown are better values on FanDuel whereas Tatum is the superior option on DraftKings.
There are also a ton of injuries still to be reported, including D'Angelo Russell, Marcus Morris, Evan Fournier, PJ Washington and Reggie Jackson.
You know the drill: Follow the news and make sure to subscribe to our models to see up-to-the-minute projection updates.
For more DFS analysis and value plays, check out the FantasyLabs NBA models.
My Bets Currently
Pacers -5
Heat -2.5
Sixers-Heat under 212
Pistons-Grizzlies under 224.5
Pistons under 107.5
[In New Jersey, Pennsylvania, Indiana or West Virginia? Bet now at FanDuel]
Follow me in our free app if you want an alert on bets I make.
How would you rate this article?