NBA Odds & Picks for Pacers vs. Clippers: Bet Indiana On the Road
Credit:
Gary Dineen/NBAE via Getty Images. Pictured: Myles Turner.
The Indiana Pacers travel west on Sunday night to take on the Los Angeles Clippers in the Staples Center.
The Pacers have impressed this season behind Domantas Sabonis and Malcolm Brogdon, making them a live dog against the Clips.
Check out Austin Wang's full betting analysis and pick for the Pacers-Clippers game below.
Pacers vs. Clippers Odds
On Sunday evening, the hot-shooting Los Angeles Clippers host the overachieving Indiana Pacers in an exciting cross-conference matchup.
The Pacers have continued their strong start to season with an 8-4 record and are on the last game of a road trip to the west coast. This game was originally a second leg of a back-to-back; however, their game against the Phoenix Suns on Saturday night was canceled due to COVID protocol, giving the Pacers an extra day of rest.
The Clippers are second place in the Western Conference at 9-4, have won three straight games and are shooting lights-out from behind the arc. They have opened up as 6-point favorites in Sunday's matchup and, while the Clippers haven't seemed to miss a shot the previous few games, this line is way too generous. I see value in backing the underrated underdogs.
Indiana Pacers
After getting swept in the first round by the Miami Heat last season, the Indiana Pacers upgraded "Nates" and replaced Nate McMillan with first-time head coach, Nate Bjorkgren. The Pacers have responded well and they look like a totally new and improved team.
One change they recently made was trading guard Victor Oladipo as part of the four-team blockbuster deal that centered around trading James Harden from the Houston Rockets to the Brooklyn Nets.
The Pacers lost Oladipo, who is a skilled, two-way player, but rumor has it that he turned down a lucrative contract extension and was unhappy with his time in Indiana. In return, they received Caris LeVert, a young, versatile swingman. Unfortunately, it was revealed during his physical that he has a mass on his kidney and will be out indefinitely. The Pacers, who already have T.J. Warren missing some time, will be shorthanded against the Clippers' potent offense.
Despite all the injuries, the Pacers have proven to be quite resilient. Their success has revolved around efficient point guard Malcolm Brogdon, skilled big man Domantas Sabonis and defensive anchor Myles Turner, who is averaging over four blocks per game.
Per our Bet Labs database, the Pacers are 8-4 against the spread this season and they are 4-1 ATS on the road and 4-1 ATS as underdogs. They are efficient on both sides of the floor, ranking sixth in Defensive Rating (106.4) and ninth in Offensive Rating (112.9) through Friday's games, per NBA.com Advanced Stats. They are fourth in Assist-to-Turnover Ratio and ranked first in the league in Points in the Paint.
In their previous two games, the Pacers have held the Portland Trail Blazers and Golden State Warriors to below 100 points. Their defense has been rock solid with Turner protecting the paint, and they should  be able to contain the Clippers offense.
When underdogs that are playing in their third consecutive road game before returning home for their next game and won their previous game as an underdog, they've gone 41-22-2 ATS (65.1%) since the 2016 season, per the Sports Data Query Language database.
This is active on the Pacers. I believe the market overvalues the impact of a long road trip to the spread. Also, with the team winning their previous game outright as an underdog, that seems to give them confidence to finish the road trip strong before heading home.
---
Los Angeles Clippers
The Clippers are looking to build off a three-game winning streak as they begin with their first of a four-game homestand. Their offense is clicking on all cylinders and coming into Saturday's games, they are second in Offensive Rating (117.0) and first in 3-point percentage (43.6%), per NBA.com Advanced Stats.
Their starting lineup that consists of Patrick Beverley, Kawhi Leonard, Paul George, Nicolas Batum and Serge Ibaka ranks second in Net Rating (22.7) and first in Defensive Rating (97.1) for five-man lineups that have played over 100 minutes together.
Perhaps the most telling statistic is that out of the 13 games this season, superstars George and Leonard have only had three DNPs combined. At this rate, they will greatly surpass the number of games they played the previous year with so many days off due to "load management" and managing their injuries. This reportedly caused riffs in the locker room and was a morale killer for the other players claiming that the two stars were receiving preferential treatment.
Paul George, fresh off a maximum contract extension, is looking to shake off the negative "Playoff P" perception. He has been excellent and is shooting 51.5% from behind the 3-point line off 8.3 attempts per game. He finally seems to healthy and is thriving under new head coach Tyronn Lue.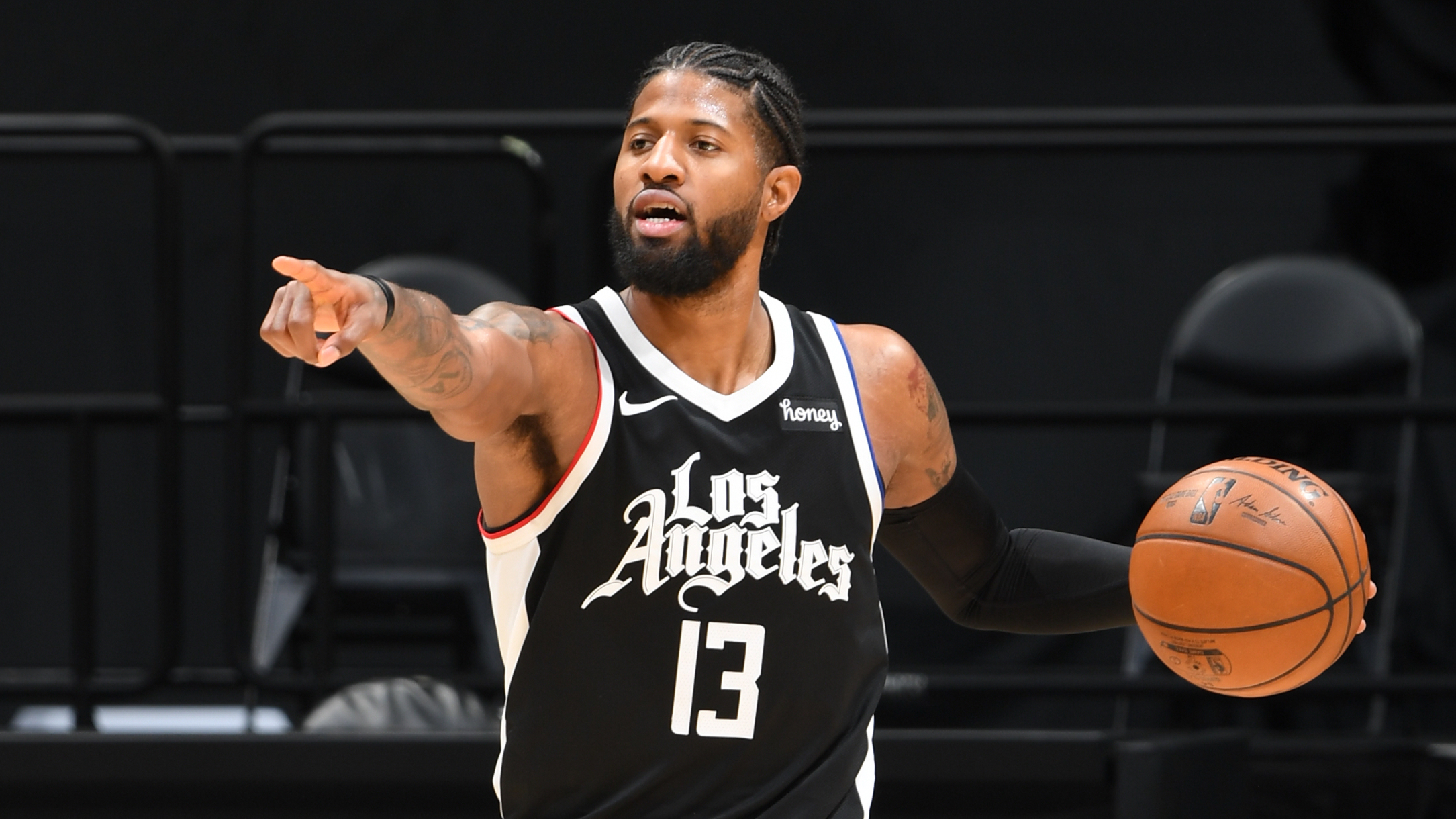 The Clippers have been playing well, but their schedule has been rather easy. Their previous six games have been against teams below .500. The Pacers are a step up in competition and I don't imagine the Clippers having as much success as they have had on their three-game win streak.
Since 2018, fading a home team off a win where multiple players hit four or more 3-pointers has been profitable, going 148-105-10 (58.5%) ATS, per the SDQL database. This is active on the Clippers. These teams tend to over-rely on the 3-pointer the following game, usually to their detriment. This trend has gone 14-5 (73.7%) ATS in the 2020-21 season alone.
Pacers-Clippers Pick
The Clippers are getting some extra love for their recent success, albeit against some below-average teams. The Pacers continue to be underrated and the current price in the market is driven by an overreaction to the long road trip, the Oladipo trade and the LeVert news.
If Brogdon, Sabonis and Turner continue with their high level of play, this should be a competitive game with the Pacers being a live dog in this matchup. I make the fair line on this game Clippers -3, so I believe there is plenty of value at the current price of 6.
Pick:  Pacers +6 (Play down to +4.5)
How would you rate this article?