NBA Predictions, Picks & Betting Odds (Thursday, Feb. 6): Taking Stock of Pelicans With Zion Williamson
Credit:
Sean Gardner/Getty Images. Pictured: Zion Williamson
This NBA season, I'm trying something new. I'm going to write a daily piece that highlights everything bettors and DFS players need to know for that night's slate. For more on what to expect, read the inaugural piece.
Yesterday I finished 6-2 for +0.9 units. While I don't want to get sucked into the past, I think it's worth reviewing things each day.
The best way to do that is to look at closing line value (CLV), which is just measuring whether the line you bet moved for or against you by closing.
I bet Nets -6.5 and it closed at Nets -6.5 (won)
I bet Hawks +5 and it closed at Hawks +4.5 (won)
I bet Hawks +170 ML and it closed at Hawks +160 (won)
I bet Hawks-Wolves over 239 and it closed at 239.5 (won)
I bet Jazz -9 and it closed at Jazz -10 (lost)
I bet Nuggets-Jazz under 215 and it closed at 215 (won)
I bet Nuggets under 103 and it closed at 102.5 (won)
Well, I would've swept the evening if it hadn't been for yet another embarrassing Jazz collapse. They were cruising but put up just 38 total points in the second half to lose outright as double-digit favorites at close. Against a tired Denver team that had just seven players active, that's about as bad of a loss as they come. Thanks, Jazz.
Anyway, let's dive into today's slate and find some angles.
YTD Record:
Overall: 212-184-2
Spreads: 82-78-2
Totals: 81-75
Moneylines: 20-9
Props: 29-22
Jump To: Odds & Analysis | Projected Starting Lineups & Injury News | Player Props | DFS Values & Strategy | My Bets
---
Odds as of Thursday afternoon and via FanDuel, where Action Network users get a risk-free bet up to $500.
---
Betting Odds and Analysis
7:30 p.m. ET: Orlando Magic (-2.5) at New York Knicks, 205.5
8 p.m. ET: Philadelphia 76ers at Milwaukee Bucks (-8.5), 227
8 p.m. ET: New Orleans Pelicans (-4.5) at Chicago Bulls, 231
10 p.m. ET: San Antonio Spurs at Portland Trail Blazers, 231
10:30 p.m. ET: Houston Rockets at LA Lakers (-7.5), 235.5
Pelicans at Bulls
Small sample size … yeah, yeah, yeah.
It's growing though, and the data continues to suggest that the Pelicans with Zion Williamson playing are pretty darn good. Across the seven games now that he's played, the Pels have been 11.4 points per 100 possessions better than with him off.
In those 412 possessions, the Pels have posted an outstanding +9.5 Net Rating, the main starting unit has been up at +15.3. The biggest change has been the defense, which has allowed just 96.8 points/100. Opponents are shooting just 50.8% at the rim, showing the upside of that unit with Zion and Derrick Favors out on the floor together.
Let's dive a little deeper. Here's how he's been playing since his minutes were increased closer to 30 and he joined the starting unit:

As you can see, Zion is starting and playing the first half of that first quarter. Since that time he really ramped things up — against the Celtics a couple weeks ago — here's how the Pels have performed by quarter:
1st quarter: +20.5 Net Rating
2nd quarter: +1.5 Net Rating
3rd quarter: +1.7 Net Rating
4th quarter: +0.9 Net Rating
Those numbers are a little noisy because of blowouts, but one thing is clear: The Pels come out firing with the starters playing together and fully rested. That Net Rating is ridiculous, and over that span they've gone 4-0-1 against the spread in the first quarter.
Meanwhile, the Bulls on the season have posted a -0.5 Net Rating in the first quarter. And since Jan. 1, they've been all the way down at -11.4 in that stretch.
I like the Pels tonight, but we are seeing quite a bit of action on the Bulls (per Sports Insight's live odds page):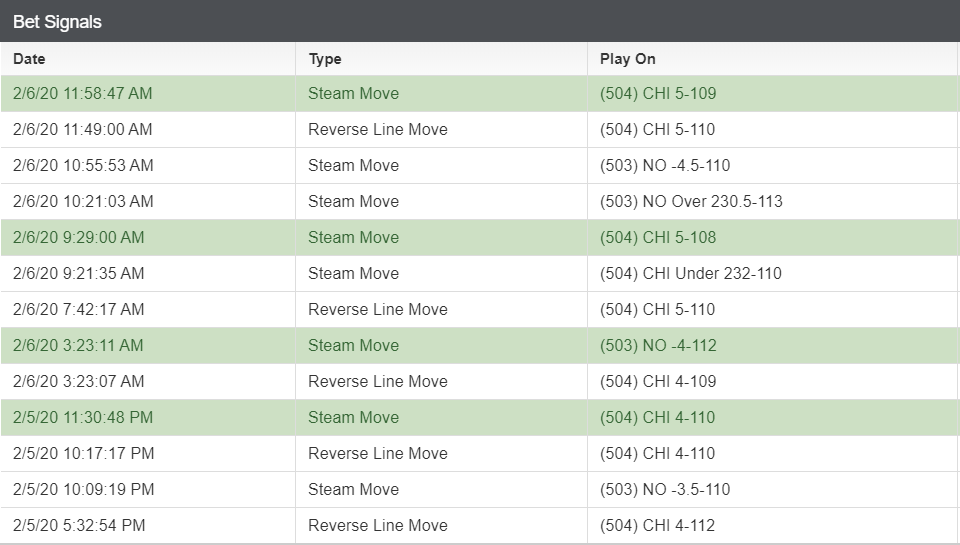 Further, my colleague, John Ewing, wrote about how well-rested teams can be undervalued later in the season. The Bulls have had four days of rest.
That's definitely a factor worth considering, as is the sharp money on the Bulls. But I think if fatigue were to matter here, it would be later in the game.
Given the Pels' success in the first quarter, the Bulls' struggles there and the overall play with Zion, my favorite bet in this one is the Pels -1 in the first quarter. If you like this angle, it also inherently means that there could be some live betting value on the Bulls if they fall behind early.
That's my favorite bet of the night, but I'll add to this if I add anything.
Projected Starting Lineups and Injury News
Note: Info as of 3 p.m. ET. For up-to-the-minute lineups and news, see FantasyLabs' matchups page.
Projected Lineups
Chicago Bulls: Tomas Satoransky – Zach LaVine – Chandler Hutchison – Thad Young – Luke Kornet
Houston Rockets: Russell Westbrook – James Harden – Eric Gordon – Robert Covington – PJ Tucker
LA Lakers: LeBron James – Avery Bradley – Danny Green – Anthony Davis – JaVale McGee
Milwaukee Bucks: Eric Bledsoe – Wes Matthews – Khris Middleton – Giannis Antetokounmpo – Brook Lopez
New Orleans Pelicans: Lonzo Ball – Jrue Holiday – Brandon Ingram – Zion Williamson – Derrick Favors
New York Knicks: Elfrid Payton – RJ Barrett – Marcus Morris – Julius Randle – Taj Gibson
Orlando Magic: Markelle Fultz – Evan Fournier – Wes Iwundu – Aaron Gordon – Nikola Vucevic
Philadelphia 76ers: Ben Simmons – Shake Milton – Tobias Harris – Al Horford – Joel Embiid
Portland Trail Blazers: Damian Lillard – CJ McCollum – Trevor Ariza – Carmelo Anthony – Hassan Whiteside
San Antonio Spurs: Dejounte Murray – Bryn Forbes – DeMar DeRozan – Trey Lyles – LaMarcus Aldridge
Injury News
Chicago Bulls: Denzel Valentine (hamstring) and Daniel Gafford (ankle) are doubtful. Tomas Satoransky (ankle), Chandler Hutchison (shoulder) and Ryan Arcidiacono (elbow) are probable.
Houston Rockets: Russell Westbrook (thumb) is questionable. Robert Covington and Jordan Bell are TBD to make their debuts.
LA Lakers: Anthony Davis (shoulder) is available to play. Alex Caruso (neck) is not on the injury report.
Milwaukee Bucks: George Hill (hamstring) is not on the injury report.
New Orleans Pelicans: Kenrich Williams (back) remains out. Zion Williamson (toe) is available to play. Nickeil Alexander-Walker (illness) is not on the injury report.
New York Knicks: RJ Barrett (ankle) is questionable. Damyean Dotson (illness) is out. Mitchell Robinson (illness) and Reggie Bullock (illness) are probable. Marcus Morris has been traded.
Orlando Magic: Nothing new.
Philadelphia 76ers: Nothing new.
Portland Trail Blazers: Nassir Little (ankle) is out.
San Antonio Spurs: Nothing new.
Player Props
To bet props, I use our FantasyLabs player props tool. Follow me in the Action Network app to see my bets (or go to the bottom of the article), but the more important thing is the tool, which measures our projections for every player vs. current odds in the market and highlights the biggest edges for you.
Player props are an inefficient market, which allows casual bettors (limits are low, so pro bettors aren't incentivized to prioritize them) to grab very +EV bets.
That said, the lines move quickly. Our props tool is set up so you can always see whether there's an edge even at the updated numbers throughout the day.
It's one of my favorite tools we offer and should be one of your bookmarked pages if you like making a few extra bucks. Here's a screenshot of what it looks like:

My usual recommendation: Bet unders.
Last season, 10-rated props in our tool hit at a 60.31% rate. But overs hit at a 57.08% rate vs. 66.47% for unders. For 9-rated props, 55.96% of overs were successful bets vs. 62.60% for unders.
As I have noted in the past, unders have more outs: A blowout, an injury, a poor shooting night all will likely make the under hit. But also, props are less efficient as a market given the low limits, so they're less likely to adjust for things like opponent and pace.
One under I think is intriguing is Shake Milton's 10.5/11-point total.
Milton has filled in well for the injured Josh Richardson in Philly, and he has matched or hit this total in four straight games. That said, those were against some pretty good matchups, including the Hawks and Warriors, and tonight he'll have to face the Bucks, who boast the league's best defense.
Milton has shot very well so far in his recent surge, but a lot of that actually hasn't come from beyond the arc, which is where the Bucks can be exploited; he's a below-average shooter in his short career. I'll fade the recency bias here and take the under against the Bucks defense.
DFS Values and Strategy
Five players tonight are priced at $10,000 or higher on DraftKings, although one of those players (Russell Westbrook) is questionable. That's obviously an important situation, as it will definitely affect how much users are interested in James Harden, who seems overpriced now in a tough matchup against the Lakers but would have massive usage without Westbrook.
Among the other studs, the Lakers stars are fine plays against the Rockets, although they somewhat cannibalize each other's production. Giannis Antetokounmpo has a tough matchup against the Sixers, although we all know his ceiling — especially in games that could be closer and thus increase his minutes. And then we have Damian Lillard, who is projected for nearly 40 minutes and has been one of the hottest players in basketball.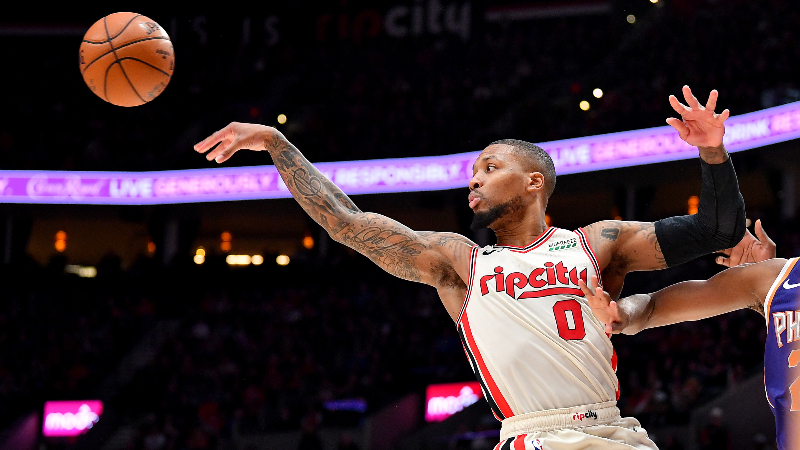 He's exceeded his salary-based expectations in nine of his last 10; the one he didn't was a poor shooting night earlier this week on the road in Denver. Against the Spurs, though, he definitely could go off again and is reasonably-priced on both sites. He actually leads the entire slate on DraftKings with a large +9.59 Projected Plus/Minus.
There aren't a ton of awesome low-tier values today; if that doesn't change, you'll likely have to take some chances on cheap guys in good game environments. One example is the Bulls, who are at home against the fast-paced Pelicans. Ryan Arcidiacono and Chandler Hutchison are popping as cheap values, as are Luke Kornet and Coby White.
And interestingly, there's not a ton of injury news still to come. Anthony Davis has already been confirmed in, and the only other big name still left is RJ Barrett, who is questionable tonight. Marcus Morris was just traded, which might make some Knicks interesting. In general, some of these late trades could open up some value.
You know the drill: Follow the news and make sure to subscribe to our models to see up-to-the-minute projection updates.
For more DFS analysis and value plays, check out the FantasyLabs NBA models.
My Bets Currently
Nothing yet (waiting for trade deadline to finish)
[In New Jersey, Pennsylvania, Indiana or West Virginia? Bet now at FanDuel]
Follow me in our free app if you want an alert on bets I make.
How would you rate this article?