Thursday NBA Predictions, Picks & Betting Odds (Nov. 21): The Best Way to Bet on Pelicans vs. Suns
The updated betting odds for the Milwaukee Bucks' game against the Portland Trail Blazers make Giannis & Co. huge favorites (spread: Bucks -13), with the over/under set at 227.5.
The Trail Blazers will have a host of injuries to deal with, including to Damian Lillard and Hassan Whiteside, which is part of the reason for the large spread
How should you be betting Blazers vs. Bucks and the late game (Pelicans at Suns; odds: Suns -4)? Our betting expert Bryan Mears analyzes the angles to know and lays out his favorite betting picks of the night.
This NBA season, I'm trying something new. I'm going to write a daily piece that highlights everything bettors and DFS players need to know for that night's slate. For more on what to expect, read the inaugural piece.
Yesterday I finished 3-3 for +0.1 units. While I don't want to get sucked into the past, I think it's worth reviewing things each day.
The best way to do that is to look at closing line value (CLV), which is just measuring whether the line you bet moved for or against you by closing.
I bet Rockets +1 and it closed at Rockets +1 (lost)
I bet Warriors-Mavericks under 217/216.5 and it closed at 216 (lost)
I bet Mavericks -14.5 and it closed at Mavericks -14.5 (won)
I bet Warriors team total under 101 and it closed at u101.5 (won)
I bet Raptors (2H) +1 (-105) and it closed at +1.5 -110 (won)
It wasn't a big day either way for CLV, in large part because I grabbed several of these lines very near to closing. The Rockets disappointed, scoring just 95 points, and the "Math Problem" I thought would exist ended up not mattering given Houston's poor shooting. It's a make-or-miss league indeed.
I bet the Warriors-Mavericks under earlier in the day then grabbed a bit more of it, along with Mavs -14.5, once it was announced that Draymond Green was out and the Dubs would have just eight players. The under didn't hit after a 68-point garbage time fourth quarter, but I was able to get some upside betting the Warriors team total. They had just 16 and 22 points in the first and second quarters, respectively.
And finally, perhaps the easiest bet of the night was the Raptors to cover a point in the second half. It was announced that Nikola Vucevic and Aaron Gordon would be out for the second half, and because halftime is so short and it's a smaller market, the line was just a bad one and didn't really budge.
That's the value of following news throughout the day and night — you can often find immense second-half and live value when players leave due to injuries. Honestly I should've bet heavier on that one given the projected edge.
Anyway, let's get to today's small two-game slate and find some angles. This is a long post, so use the jump links below to skip ahead to whatever you're looking for.
Note: For updates, see the chat at the bottom of this post.
YTD Record:
Overall: 87-65-1
Spreads: 31-26-1
Totals: 21-16
Moneylines: 5-2
Props: 28-20
Jump To: Odds & Analysis | Projected Starting Lineups & Injury News | Player Props | DFS Values & Strategy | My Bets | Live Chat
---
Betting Odds and Analysis
8 p.m. ET: Portland Trail Blazers at Milwaukee Bucks (-13), 227.5
10:30 p.m. ET: New Orleans Pelicans at Phoenix Suns (-4), 234.5
Let's run through each of today's games.
Blazers at Bucks
I was able to grab the Bucks at -12 and the under at 230.5 shortly after it opened. I just didn't think those were great lines with the injury situation in this one, particularly with Damian Lillard out.
I discussed this the other night when I bet the Pels against the Blazers without Lillard, but I'll lay it out again.
Here are the on/off differentials (how the team has performed with them on the court vs. off) for the Portland guys with at least 100 minutes (a negative number for defense is good):
CJ McCollum: +16.5 overall | +10.5 offense | -6.0 defense
Damian Lillard: +12.3 overall | +14.5 offense | +2.2 defense
Nassir Little: +6.1 overall | +9.9 offense | +3.7 defense
Skal Labissiere: +5.8 overall | -1.0 offense | -6.8 defense
Mario Hezonja: +4.1 overall | -3.0 offense | -7.0 defense
Hassan Whiteside: +2.0 overall | +4.1 offense | +2.1 defense
Rodney Hood: -2.5 overall | -0.7 offense | +1.8 defense
Kent Bazemore: -9.0 overall | -6.2 offense | +2.7 defense
Anfernee Simons: -9.5 overall | -5.7 offense | +3.8 defense
Anthony Tolliver: -16.1 overall | -12.4 offense | +3.8 defense
Oh yeah, and they included a guy named Carmelo Anthony to the rotation last game. His on/off differential (which is adjusted per 100 possessions) after 24 minutes? -63.5.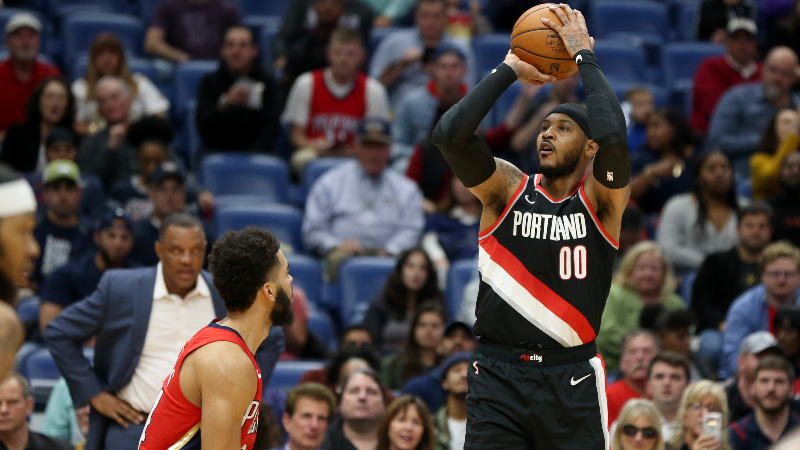 The Blazers posted a 103.0 Offensive Rating Tuesday against a bad Pelicans defense, and honestly it should've been worse. They went 16-of-28 (57.1%) from 3-point land, including 12-of-23 (52.2%) on non-corner shots — the hardest ones.
They turned it over a bunch, didn't really grab any rebounds and were in the fourth percentile in free throw rate. There's little reason to believe they'll be better tonight, especially against a top-five Bucks defense.
The only potential issue is a backdoor cover or the Bucks deciding to rest or play it easy with Giannis Antetokounmpo and their other starters. Still, this is a pretty sizable mismatch in Milwaukee, and I'm not sure the Blazers have any potential answers. If they're signing Carmelo and playing him sizable minutes over Nassir Little, the battle is already lost.
Unfortunately, the lines on this game have already significantly moved since opening; the spread is now at Bucks -13, and the total is way down to 227.5. There's likely not much value left there unless we get news that Hassan Whiteside and Anfernee Simons (both questionable) are going to be out.
Pelicans-Suns
The Suns are likely to be missing two key pieces tonight in Aron Baynes (already out) and Ricky Rubio (doubtful). The Suns have been 6.1 and 7.6 points per 100 possessions better with those guys on the court vs. off.
In particular, those are two of the better defenders on the team. The stats are a bit mixed on that dynamic so far this season, but I don't think that's very representative of the defense.
Opposing teams have shot worse overall with Frank Kaminsky on the floor vs. Baynes, for example, but that's because of a large 3-point disparity, which 1) will regress and 2) isn't due to Kaminsky.
Further, the Suns have gotten out in transition themselves more and have allowed opponents to push the pace with Baynes off the floor. And in halfcourt settings, the Suns have been a massive 13.8 points/100 plays worse without Baynes on offense and 4.0/100 worse on defense.
So what does that mean for tonight's odds? I think the Pels are probably offering a little value, especially at +4.5. We tracked an early steam move at Sports Insights at Suns -4 but then on the Pels at +4.5 twice.

The Pels have some injuries of their own: Derrick Favors and Josh Hart are already out, and Jahlil Okafor is questionable. Lonzo Ball is going to play, but he will come off the bench and could have a minutes limit.
The Pels aren't a great team, but did play well Tuesday — albeit against a bad Blazers team without Lillard. The Suns are rightfully favored here, but I'd have this closer to a pick'em on a neutral court (around -3 in Phoenix like tonight) given the injury situation.
The better value if you want to wager on this game might be the over, which has seen one steam move so far on the over at 233. Baynes was an important part of the offense, particularly with his shooting, but Kaminsky and Saric can provide facsimiles of that, and they're not inspiring defensively. Further, if they play faster — New Orleans ranks third in pace this year — then this line might be a tad low.
[In New Jersey? Bet now at PointsBet]
Projected Starting Lineups and Injury News
Note: Info as of 2 p.m. ET. For up-to-the-minute lineups and news, see FantasyLabs' matchups page.
Projected Lineups
Milwaukee Bucks: Eric Bledsoe – Donte DiVincenzo – Wesley Matthews – Giannis Antetokounmpo – Brook Lopez
New Orleans Pelicans: Jrue Holiday – JJ Redick – Brandon Ingram – Kenrich Williams – Jahlil Okafor
Phoenix Suns: Jevon Carter – Devin Booker – Kelly Oubre – Dario Saric – Frank Kaminsky
Portland Trail Blazers: Anfernee Simons – CJ McCollum – Rodney Hood – Carmelo Anthony – Hassan Whiteside
Injury News
Milwaukee Bucks: Nothing new.
New Orleans Pelicans: Derrick Favors (back) and Josh Hart (ankle) are out. Jahlil Okafor (ankle) is questionable. Lonzo Ball (adductor) will play off the bench.
Phoenix Suns: Aron Baynes (hip) is out. Ricky Rubio (back) is doubtful. Dario Saric (knee), Frank Kaminsky (hip) and Cam Johnson (knee) are probable.
Portland Trail Blazers: Damian Lillard (back) is out. Hassan Whiteside (hip) and Anfernee Simons (ankle) are questionable.
---
Player Props
To bet props, I use our FantasyLabs player props tool. Follow me in the Action Network app to see my bets (or go to the bottom of the article), but the more important thing is the tool, which measures our projections for every player vs. current odds in the market and highlights the biggest edges for you.
Player props are an inefficient market, which allows casual bettors (limits are low, so pro bettors aren't incentivized to prioritize them) to grab very +EV bets. That said, the lines move quickly. Our props tool is set up so you can always see whether there's an edge even at the updated numbers throughout the day.
It's one of my favorite tools we offer and should be one of your bookmarked pages if you like making a few extra bucks. Here's a screenshot of what it looks like:

My usual recommendation: Bet unders.
Last season, 10-rated props in our tool hit at a 60.31% rate. But overs hit at a 57.08% rate vs. 66.47% for unders. For 9-rated props, 55.96% of overs were successful bets vs. 62.60% for unders.
As I have noted in the past, unders have more outs: A blowout, an injury, a poor shooting night — all will likely make the under hit. But also, props are less efficient as a market given the low limits, so they're less likely to adjust for things like opponent and pace.
One under I think is intriguing is Frank Kaminsky's 7.5-rebound total.
Kaminsky has never been a great rebounder, and while he should see more minutes tonight with Baynes out, it may not be as big as a bump as some are expecting. We're currently projecting him for around 25 minutes, with Cheick Diallo getting a sizable boost as the backup.
Kaminsky can be a fine role-player, especially off the bench, but given his limitations, especially on defense, I'd be surprised if the Suns gave him true starting run at 30-plus minutes. Given his low rebounding rate anyway, today's line might be a bit inflated for the role.
DFS Values and Strategy
Well, if you're on DraftKings, you don't have to think about which stud you want to roster on this tiny two-game slate. Giannis Antetokounmpo is somehow just $10,600 — an absurdly low number for his overall production and definitely too low for his value on this small slate.
He'll have an easy matchup tonight against an awful Blazers team and obviously has massive triple-double upside. The only potential issue for Giannis is a blowout, but even if that's the case he's likely a good reason for the blowout and has produced. He's unavoidable in cash games and honestly a scary fade in GPPs, too, although in a huge tournament I guess you'll have to try to differentiate somewhere.
The guys below him — no one is really close in salary, which is a unique dynamic to this slate — should be fairly popular as well, especially McCollum without Lillard and Brandon Ingram at just $7,000. Perhaps the play in tournaments is to pay more for Devin Booker or Jrue Holiday in the $8k range.
Value-wise, there's no shortage of options. Dario Saric is a super chalky option given the injuries to Ricky Rubio and Aron Baynes. Anfernee Simons and Hassan Whiteside will be popular if they end up playing; both are questionable. Jevon Carter should get the start if Rubio (doubtful) isn't able to go.
It's going to be a tough cash-game day, not because of the lack of viable options but because everything is obvious. There will be a ton of duplicate lineups, which means you're just losing rake to the sites. It's definitely a day to play in tournaments and take some chances on punt plays.
For more DFS analysis and value plays, check out the FantasyLabs NBA models.
My Bets Currently
Bucks -12 (I wouldn't bet past Bucks -13)
Blazers-Bucks under 230.5 (I wouldn't bet past the current number)
[In New Jersey? Bet now at PointsBet]
Follow me in our free app if you want an alert on bets I make. I'll also make updates in the chat below.
---
Updates and Live Chat
I will put updated thoughts below, whether they're about line movement, injury news, etc. You can also ask questions, which I'll answer as quickly as I can.
How would you rate this article?