NBA Betting Odds & Picks (March 11): Big-Name Injuries Providing Betting Value
Credit:
Photo credit: Alex Goodlett/Getty Images. Pictured: Rudy Gobert
This NBA season, I'm trying something new. I'm going to write a daily piece that highlights everything bettors and DFS players need to know for that night's slate. For more on what to expect, read the inaugural piece.
Monday I finished 4-4 for +2.7 units. While I don't want to get sucked into the past, I think it's worth reviewing things each day.
The best way to do that is to look at closing line value (CLV), which is just measuring whether the line you bet moved for or against you by closing.
I bet Nuggets -225 and it closed at Nuggets -300 (won)
I bet Nuggets -5.5 and it closed at Nuggets -7 (won)
I bet Nuggets-Bucks under 221 and it closed at 221 (won)
I bet Bucks under 107.5 and it closed at 107.5 (won)
I bet Hornets-Hawks under 222.5/223 and it closed at 222 (lost)
I bet Hornets-Hawks live under 231.5 (lost)
I bet Hornets-Hawks (1H) under 114.5 and it closed at 114.5 (lost)
In the eight bets I made Monday, I hit on only two games. I completely nailed one — Bucks-Nuggets — and completely whiffed on Hornets-Hawks. Thankfully, I was able to leverage my edge on the former game to still win 2.7 units on the evening.
The only regret was that I didn't leverage myself more; I didn't just because of timing. When the Bucks announced their starting lineup — which didn't include Khris Middleton and Brook Lopez — I thought there was a good chance those guys wouldn't play at all. Unfortunately, it was so close to game time that I wasn't able to keep hammering it before the lines dropped off the board.
Anyway, let's dive into today's slate and find some angles.
YTD Record:
Overall: 255-237-3
Spreads: 97-94-3
Totals: 101-110
Moneylines: 25-11
Parlays: 3-0
Props: 29-22
NBA Betting Odds and Analysis
Jump To: Odds & Analysis | Projected Starting Lineups & Injury News | Player Props | DFS Values & Strategy | My Bets
---
Odds as of Wednesday and via FanDuel. Get up to a $500 risk-free bet at FanDuel today or see more offers and reviews for the best online sportsbooks.
---
7 p.m. ET: Detroit Pistons at Philadelphia 76ers (-11), 211.5
7:30 p.m. ET: Charlotte Hornets at Miami Heat (-10), 210.5
7:30 p.m. ET: New York Knicks at Atlanta Hawks (-5), 232.5
8 p.m. ET: Utah Jazz at OKC Thunder (-2), 217.5
8 p.m. ET: Denver Nuggets (-2.5) at Dallas Mavericks, 218
10:30 p.m. ET: New Orleans Pelicans (-1.5) at Sacramento Kings, 232.5
Pistons at 76ers
The Sixers have been sliding of late, although it's really hard to blame them given they've been missing their three best players — Ben Simmons, Joel Embiid and Josh Richardson. And not just their best, but supremely important given their skillsets. Those three are among the best defenders and really the only ones who can generate good offense on their own.
Simmons likely remains out, but they could get back the other two. Richardson is already confirmed playing, while Embiid is questionable to suit up.
Those would be massive additions: Embiid and Richardson have two of the highest three on/off differential marks on the team. Embiid is obviously one of the most impactful players in the league defensively, but he also really helps the offense. He's a force inside, and the Sixers get to the line 9.1% more often with him on the floor.
And Richardson will give them another ball-handler, something they've been sorely missing. Tobias Harris is a good player, but he's better used as a secondary option or someone who can get his shot for himself … not necessarily others. Trade acquisitions Glenn Robinson III and Alec Burks are also solid, but they are best used off the bench against secondary units.
Let's also remember the Sixers' home/road splits…
Sixers at home: +11.8 Net Rating (2nd) | 114.3 ORtg (8th) | 102.5 DRtg (2nd)
Sixers away: -5.6 Net Rating (24th) | 107.2 ORtg (24th) | 112.8 DRtg (20th)
You would struggle to find more extreme splits in the history of the league. After a long West Coast road trip, the Sixers return home tonight.
And the 76ers will get a Pistons team that remains injured — Derrick Rose is still out — and has been predictably awful lately, ranking 28th in Net Rating over the past two weeks.
And it could be even uglier: Bruce Brown, who has acted as their de facto point guard after all of these injuries, is questionable with a sprained ankle. This team just lacks high end talent, and the Sixers are getting back their best.
Yes the 76ers have sucked lately, but this is a completely different situation. Is the 11-point spread warranted? If Embiid plays, it is — in fact, it's probably low. If he suits up (and if Brown doesn't go, although that's just a bonus), I'll likely grab the Sixers spread and the Pistons under team total.
Jazz at Thunder
The Thunder have been the most undervalued team in the betting market this season, going an impressive 40-24 ATS. And they're hot right now, winning eight of their last 10 games straight-up.
They just got a really nice road win over the Celtics on Sunday, and now they've had three days to rest up for a home affair against the Utah Jazz, who have been solid of late overall but have gone just 2-7-1 ATS over their last 10 in the betting market. They've been a bit overvalued of late.
The Jazz have gone 8-5 ATS as underdogs this season, but things could be quite different today, as Rudy Gobert is questionable with an illness.
His data paints a very clear picture: He's the most important player on this team. With him on the floor vs. off, the Jazz have been a whopping 11.0 points per 100 possessions better; that's one of the strongest marks in the league. A good chunk of that is on defense, of course, and that's the side of the ball I'm most worried about with him off.
The Jazz have slid back defensively this year, which makes sense given the personnel they've lost. In particular, Derrick Favors is with the Pelicans, and while the difference between the Jazz this season vs. last overstates his individual importance, the fact that the Jazz played two bigs most of the time really helped the defense.
If Gobert is unable to go, this game changes in a big way. That's especially true against a Thunder team that ranks in the top-seven in field goal percentage at the rim this season. They've actually done most of their damage in the mid-range with Chris Paul, Shai Gilgeous-Alexander and Danilo Gallinari, and if Gobert is missing, they'll use their craft to get even more efficient looks.
This line suggests the teams are about even on a neutral floor, and while that's more true with Gobert, it's definitely not without him. Make sure to watch his status, and if he's ruled out, jump on this line quickly.
Given that he didn't participate in shootaround, I don't mind grabbing a little even before his status is announced. There's definitely upside here.
Projected Starting Lineups and Injury News
Note: Info as of 1 p.m. ET. For up-to-the-minute lineups and news, see our live lineups page.
Projected Lineups
Atlanta Hawks: Trae Young – Kevin Huerter – De'Andre Hunter – John Collins – Dewayne Dedmon
Charlotte Hornets: Devonte' Graham – Terry Rozier – Miles Bridges – PJ Washington – Cody Zeller
Dallas Mavericks: Luka Doncic – Courtney Lee – Tim Hardaway Jr. – Dorian Finney-Smith – Kristaps Porzingis
Denver Nuggets: Jamal Murray – Gary Harris – Will Barton – Paul Millsap – Nikola Jokic
Detroit Pistons: Bruce Brown – Svi Mykhailiuk – Tony Snell – Christian Wood – Thon Maker
Miami Heat: Kendrick Nunn – Jimmy Butler – Duncan Robinson – Derrick Jones Jr. – Bam Adebayo
New Orleans Pelicans: Lonzo Ball – Jrue Holiday – Brandon Ingram – Zion Williamson – Derrick Favors
New York Knicks: Elfrid Payton – RJ Barrett – Moe Harkless – Julius Randle – Taj Gibson
OKC Thunder: Chris Paul – Shai Gilgeous-Alexander – Luguentz Dort – Danilo Gallinari – Steven Adams
Philadelphia 76ers: Shake Milton – Josh Richardson – Tobias Harris – Al Horford – Joel Embiid
Sacramento Kings: De'Aaron Fox – Bogdan Bogdanovic – Harrison Barnes – Nemanja Bjelica – Harry Giles
Utah Jazz: Mike Conley – Donovan Mitchell – Bojan Bogdanovic – Royce O'Neale – Rudy Gobert
Injury News
Atlanta Hawks: DeAndre Bembry (abdominal pain) is out. Treveon Graham (personal), Kevin Huerter (groin) and John Collins (ankle) are available to play.
Charlotte Hornets: Nothing new.
Dallas Mavericks: Seth Curry (ankle), Willie Cauley-Stein (illness) and Michael Kidd-Gilchrist (illness) are TBD.
Denver Nuggets: Nothing new.
Detroit Pistons: Derrick Rose (ankle) and John Henson (ankle) are out. Bruce Brown (ankle) is questionable. Brandon Knight (hamstring) will play.
Miami Heat: Jimmy Butler (toe), Kendrick Nunn (illness) and Tyler Herro (ankle) are questionable. Jae Crowder (concussion) is probable.
New Orleans Pelicans: Nickeil Alexander-Walker (wrist) is out.
New York Knicks: Nothing new.
OKC Thunder: Shai Gilgeous-Alexander (hip) is expected to play.
Philadelphia 76ers: Ben Simmons (back) remains out. Joel Embiid (shoulder) is questionable. Josh Richardson (concussion) will play.
Sacramento Kings: Nothing new.
Utah Jazz: Rudy Gobert (illness) is questionable.
Player Props
To bet props, I use our FantasyLabs player props tool. Follow me in the Action Network app to see my bets (or go to the bottom of the article), but the more important thing is the tool, which measures our projections for every player vs. current odds in the market and highlights the biggest edges for you.
Player props are an inefficient market, which allows casual bettors (limits are low, so pro bettors aren't incentivized to prioritize them) to grab very +EV bets.
That said, the lines move quickly. Our props tool is set up so you can always see whether there's an edge even at the updated numbers throughout the day.
It's one of my favorite tools we offer and should be one of your bookmarked pages if you like making a few extra bucks. Here's a screenshot of what it looks like:

My usual recommendation: Bet unders.
Last season, 10-rated props in our tool hit at a 60.31% rate. But overs hit at a 57.08% rate vs. 66.47% for unders. For 9-rated props, 55.96% of overs were successful bets vs. 62.60% for unders.
As I have noted in the past, unders have more outs: A blowout, an injury, a poor shooting night all will likely make the under hit. But also, props are less efficient as a market given the low limits, so they're less likely to adjust for things like opponent and pace.
One example is Svi Mykhailiuk's 10.5-point prop.
Svi is a pretty low-usage player: He's been at 16-17% usage in his last two games. That's resulted in just 12 combined points, which is obviously barely above his prop for just today's game.
But more importantly than that recent trend, he'll be on the road tonight in Philadelphia, and the 76ers are getting healthier right now. Josh Richardson is playing, and Joel Embiid is questionable after missing the past few weeks.
As mentioned above in my writeup, the Sixers are juggernauts at home, especially defensively. Adding Richardson and Embiid back into the mix just multiplies that, and I'll try to find some Detroit unders as a result.
DFS Values and Strategy
There are three players priced at $10,000 or higher on DraftKings today: Trae Young, Joel Embiid and Luka Doncic. The NBA is in an awesome place with all of these young studs.
Embiid is questionable tonight, so make sure to monitor his status. He has a good matchup at home against the Pistons, but there will definitely be some uncertainty surrounding his workload in his first game back if he's able to go. He'll be impactful — I wrote my thoughts on that game above — but he may just not get enough minutes to pay off a $10k price tag.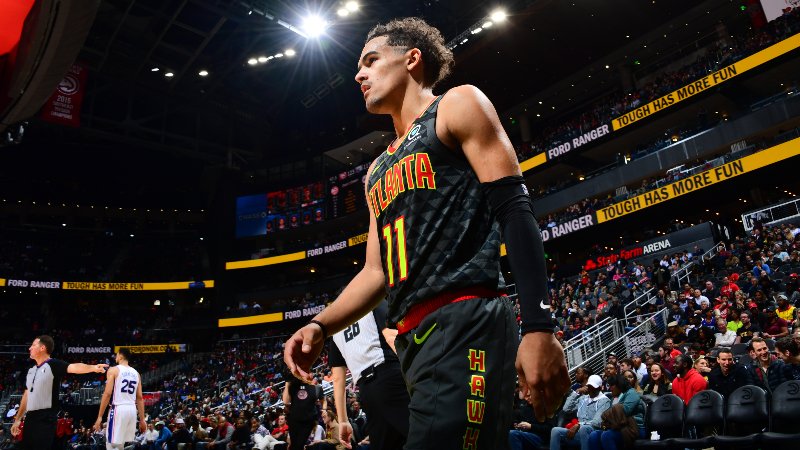 Doncic and Young have very similar Projected Plus/Minus marks, so the choice between the two will likely depend on roster construction and ownership. I would guess Trae will be the more popular option, if only due to the matchup against the Knicks. That's an easier battle than Luka's vs. the Nuggets.
It's definitely feasible to get up to the studs today, as there's excellent value near the minimum salary range. Those include Thon Maker, Bobby Portis, Tyler Herro and Nerlens Noel, among others. There are also underpriced guys in the $5k range like Danilo Gallinari, Bogdan Bogdanovic, Steven Adams, Harrison Barnes, Josh Richardson and more.
It definitely seems like a slate to pay up for Luka and/or Trae: The $8-9k range is pretty uninspiring right now.
Again, make sure to monitor injury news. There are some big ones: Jimmy Butler, Joel Embiid, Rudy Gobert, Kendrick Nunn, Bruce Brown and Seth Curry are all questionable. Those could change the slate in a huge way.
You know the drill: Follow the news and make sure to subscribe to our models to see up-to-the-minute projection updates.
For more DFS analysis and value plays, check out the FantasyLabs NBA models.
My Bets Currently
Thunder -3
Thunder -160 ML
[In New Jersey, Pennsylvania, Indiana or West Virginia? Bet now at FanDuel]
Follow me in our free app if you want an alert on bets I make.
How would you rate this article?