NBA Wednesday Betting Picks & Angles (Nov. 20): Will James Harden Continue Dominating the Nuggets?
Credit:
Troy Taormina-USA TODAY Sports. Pictured: Houston Rockets guard James Harden (13), Denver Nuggets guard Gary Harris (14).
Two angles for Wednesday's games based on matchups and trends…
THE ANGLE: Houston absolutely owns Denver
This is one of those lines that is so off it makes you pause. Like there's this perfect looking cupcake just sitting on a clean counter, unclaimed, no note around. It sure seems like you could just take it and eat it… but you hesitate like a wild animal when it senses a predator watching it.
It can't be this easy, can it?
The Rockets are two-point dogs against the Nuggets Wednesday night in Denver. The Rockets are 10-1 in their last 11 meetings dating back to 2016-17 against the Nuggets, including 4-1 ATS in Denver. The one loss was last season when Clint Capela was out and Malik Beasley and Torrey Craig combined for 57 points — and, no, that's not a typo.
I cannot stress enough how bad this matchup is. The Nuggets know it, the Nuggets coaches know it, the Nuggets front office knows it, the Nuggets fans and media know it.
Let me put it this way. Last season the Nuggets intentionally lost a game to Portland late in the season (sitting multiple starters) simply to increase the chances that the Rockets would fall to the fourth seed and thereby out of their playoff bracket until a prospective Western Conference Finals matchup that of course never happened.
That's how much they need to stay out of Houston's way. It's not that Houston's actually that much more of a contender. It's a matchup problem.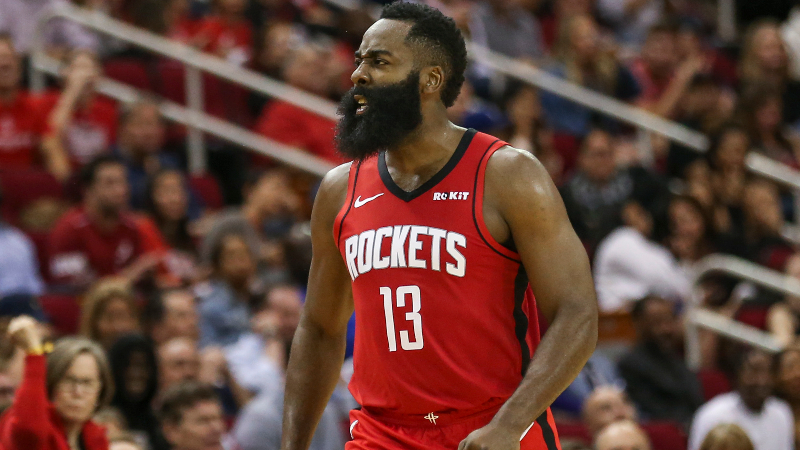 For starters, the Nuggets backcourt is small, so they don't have any real chance vs. James Harden's stepback or strength on the drive. That means when they put a wing on him, the smaller guards are defending taller shooters, or, in this case, Russell Westbrook. (That last part is actually OK; Gary Harris does a decent job on him.)
Now, no one can guard Harden — the man is averaging 39.5 points per game this season — but the Nuggets in particular struggle with him. Additionally, if you can't guard a guy, sometimes the best thing to do is to try and shut down everyone else… but the Nuggets go to pieces on that vs. the Rockets as well.
Clint Capela is the key here. Nikola Jokic isn't exactly a jump-out-of-the-gym guy, and he struggles with pogo-stick lob dunkers like Capela. Guys who are big and athletic who just throw down the lob give Jokic trouble in containment.
This means the Nuggets then have to bring down help to try and contain the lob… which leaves the corner-3 open, which is kind of a problem vs. the Rockets, who are entirely built on that sequence.
The Nuggets' defense has been top-notch this year, but their offense has had real issues. They broke out vs. Memphis but are still struggling to hit open shots.
It's possible Denver's bench could make a real push and help corral this game, but the starters are going to be in the negative — that I feel confident in. And just ask the Spurs how hard it is to win a game when you start and end the game in a deficit.
If you just bet the moneyline on the Rockets since 2016-17 vs. Denver, at $100 per bet you would have made $578 for a 52.5% ROI.
Oh, and Denver is 2-4 ATS at home this season.
This may be bait. I don't care. I'm grabbing the plus odds.
THE PLAY: Rockets moneyline (+110)  [In New Jersey? Bet now at PointsBet]
THE ANGLE: Keep fading the Spurs
Worst ATS team this season? The Spurs at 3-11.
As a road team? 2-4.
As a favorite? 2-7.
The Spurs haven't covered against a top-15 offense this season.
In related news, the Washington Wizards have the third-best offense in the NBA. Yes, it's true.
Scott Brooks, knowing this team has no real shot, has pretty much let it all hang out. He's running pick-and-rolls with Davis Bertans and Mo Wagner. Bradley Beal is running all sorts of complex actions. They just put up points.
The first game between these two teams was opening night, and we thought it was a blip when the Wizards almost beat the Spurs… in San Antonio, 122-120.
The reality is that the Spurs have the fourth-worst defense in the NBA. Now, the Wizards have the second-worst. Don't get me wrong, they both suck at defense, which is why the total is 239.5. I can't in good conscience take the under with how badly these teams play defense.
But I don't like the over either, given that the Spurs continue to trot out an archaic offense that doesn't shoot 3s. They score efficiently every possession, but they can be outpaced by the 3 rapidly.
I'm getting points with a Wizards team while the Spurs still seem lost. Maybe this is the game where San Antonio turns it around, but I have to stress this…
The Spurs starters are total garbage this year, collectively, as a group. The Spurs have been outscored in 11 of 14 games during the time LaMarcus Aldridge, their best player, has been on the floor, and in nine of 14 when DeMar DeRozan, their second-best player, has been on the floor.
Until the Spurs show me they've found some sort of combination that fixes the starting unit, I'm going to continue to fade them, especially vs. a great offensive team in Washington.
THE PLAY: Wizards moneyline +110  [In New Jersey? Bet now at PointsBet]
How would you rate this article?