NBA Fantasy Waiver Pickups & Schedule (Week 5): Cole Anthony's Rise, How to Pivot Off Injury to Michael Porter Jr., More
Credit:
Steven Ryan/Getty Images. Pictured: Cole Anthony #50 of the Orlando Magic.
Whether you're looking for potential NBA fantasy scheduling edges, waiver pick ups or players who are rising up the ranks, our crew has you covered.
See which players our experts are targeting on the Week 5 fantasy basketball waiver wire and how they are pivoting off injuries below.
Editor's note: Evan Mobley is expected to miss at least 2-4 weeks with a sprained elbow.
---
This NBA season is proving to be quite unpredictable in more ways than one. Rookies are taking advantage of early opportunities, star players have been muted and, of course, injuries are changing the landscape.
Joe Dellera and Dan Titus break down their top injury pivots, players who are rising or falling and note how to benefit on worthwhile player prop angles fantasy trends and scheduling quicks for Week 5.
Read below to see where they are finding small edges this week.
Fantasy Basketball Schedule — Week 5
Schedule Notes
Top-3 Fantasy Friendly Teams in Week 5
Indiana Pacers (@NYK, @DET, @CHA, NOR)
Los Angeles Clippers (SAS, @MEM, @NOR, DAL)
Minnesota Timberwolves (PHX, SAC, SAS, MEM)
Waiver Wire Adds
Shallow leagues (8-10 team leagues)
Guards: Grayson Allen, Jalen Brunson, Alex Caruso, Kevin Huerter
Forwards: Nic Batum, Jae'Sean Tate
Centers: Daniel Gafford
Deep Leagues (12+ team leagues)
Guards: Bones Hyland, Gary Payton II, Killian Hayes, Eric Bledsoe
Forwards: Josh Hart, Royce O'Neale, Jae Crowder, Matisse Thybulle, Nassir
Little, Nemanja Bjelica
Centers: Isaiah Hartenstein, LaMarcus Aldridge
Players to Watch
Injury Pivots
Michael Porter Jr. / Bones Hyland, Denver Nuggets
Michael Porter Jr. will miss the foreseeable future with his back injury. While we discussed PJ Dozier last week, another player to watch is the rookie Hyland. He's seen his minutes and usage increase in the past three games and is sitting at roughly 26.7% during this stretch.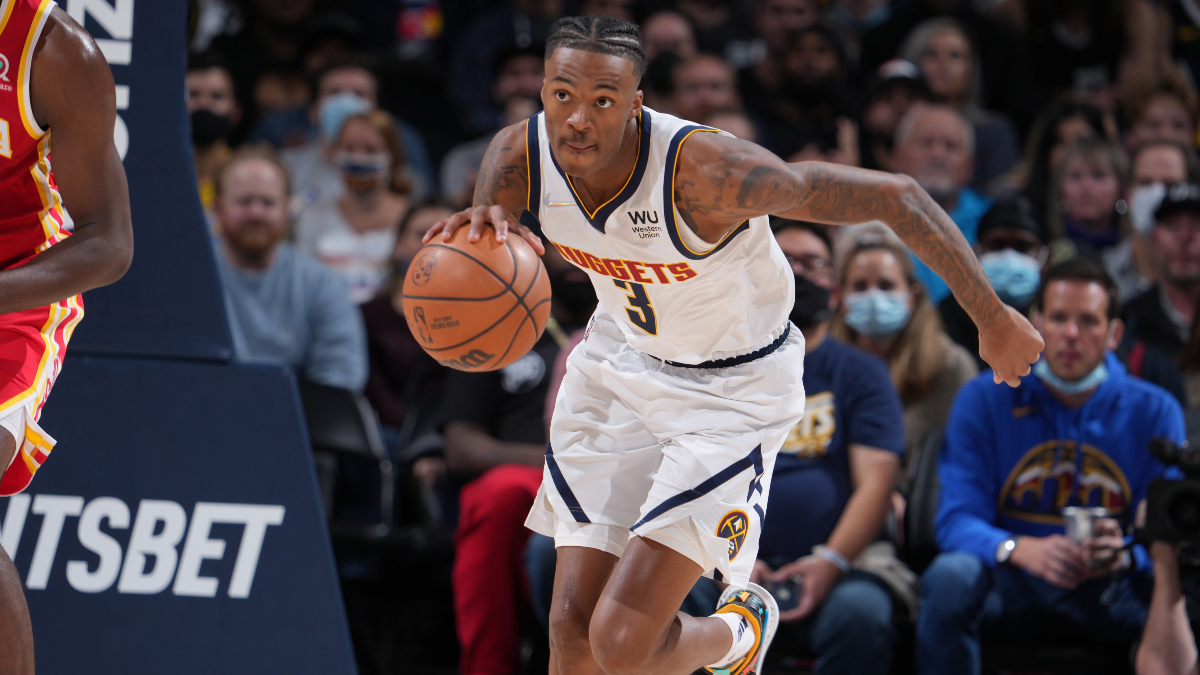 Bones is a legitimate scoring threat off the bench and we saw him successfully score in college as well as he averaged 19.5 points per game for VCU last season. In his expanded run over the past three games he's cleared double digits in all three while securing both rebounds and assists.
He's played 21-plus minutes in his last three and his rapport with Nikola Jokic will keep him as a mainstay of Denver's rotation. The Nuggets should be incentivized to develop their talented rookie as he tries to carve out a consistent role in the rotation.
Collin Sexton / Ricky Rubio, Cleveland Cavaliers
Sexton is expected to miss an extended period of time after being diagnosed with a torn meniscus in his left knee. In his absence, we will see more Darius Garland but the veteran, Ricky Rubio, has been incredible already this season with Sexton.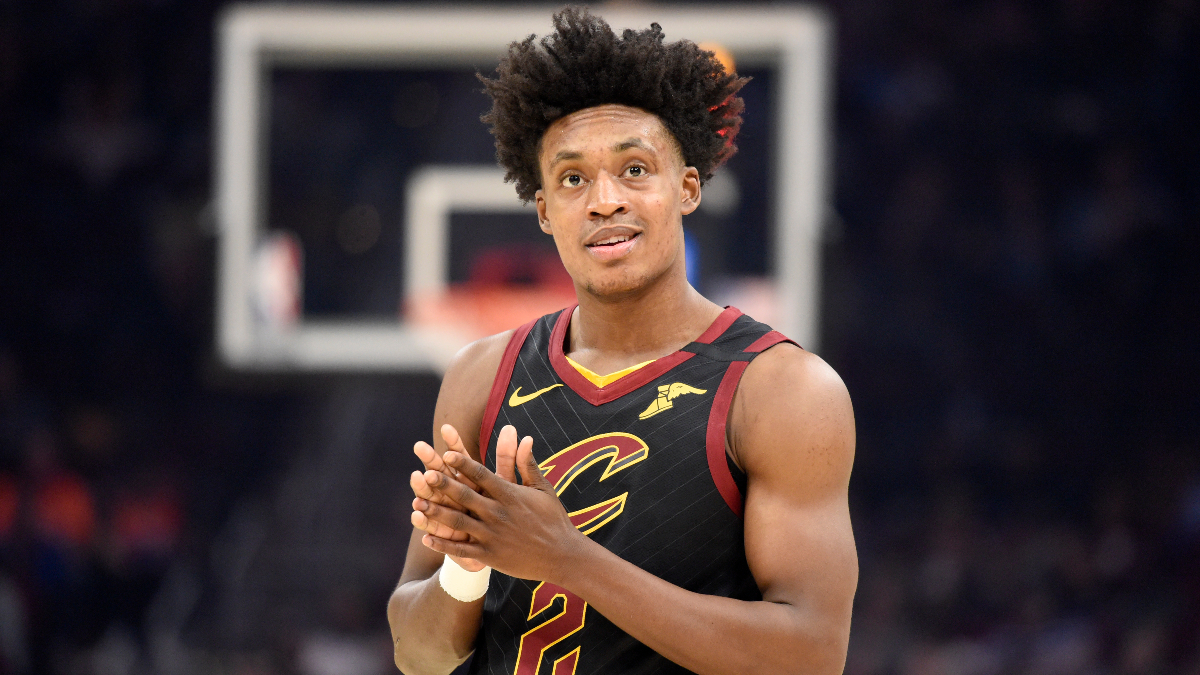 Over the past four games, Rubio has seen usage rates of 33.6%, 25.8%, 37.3%, and 35.8% — all monster performances. Not only is he scoring, he is dropping dimes left and right. Since Sexton's injury, he's totaled 7, 9, 5, and 9 assists compared to his season average of 6.8 heading into these four games.
This Cavaliers team is much more competitive than most initially thought going into this season, and Rubio will play a major part in their offense for the foreseeable future.
DeAndre Hunter / Kevin Huerter, Atlanta Hawks
Hunter will undergo surgery on his right wrist to fix a tendon injury that will cause him to miss approximately two months. This is a significant blow for the Atlanta Hawks. Hunter has played valuable minutes this season and is +4.7 points per 100 possessions when he's been on the floor. Who will replace him during his absence?
In the two games Hunter missed this season, Huerter slid into the starting lineup so we would expect this to continue. He's having a solid season totaling 8.3 points, 3.3 rebounds, and 2.1 assists in 22.9 minutes per game. Those numbers increased dramatically in those two starts.
He averaged 21 points, 2 rebounds, and 3.5 assists in 33.3 minutes. While this is significantly above average for him relative to his career, if he averages 12.2 points, 3.7 boards, and 3.6 assists over 31.9 minutes he will be much more useful for fantasy managers and those looking to play his props out of the gate.
---
Check out our free NBA odds page, which automatically surfaces the best line for every game. 
---
Risers
Cole Anthony, Orlando Magic
Cole Anthony finished 245th overall in his rookie season last year, leaving him undrafted in most leagues this offseason. Congratulations if you scooped him off waivers because he's been a completely different player in year two.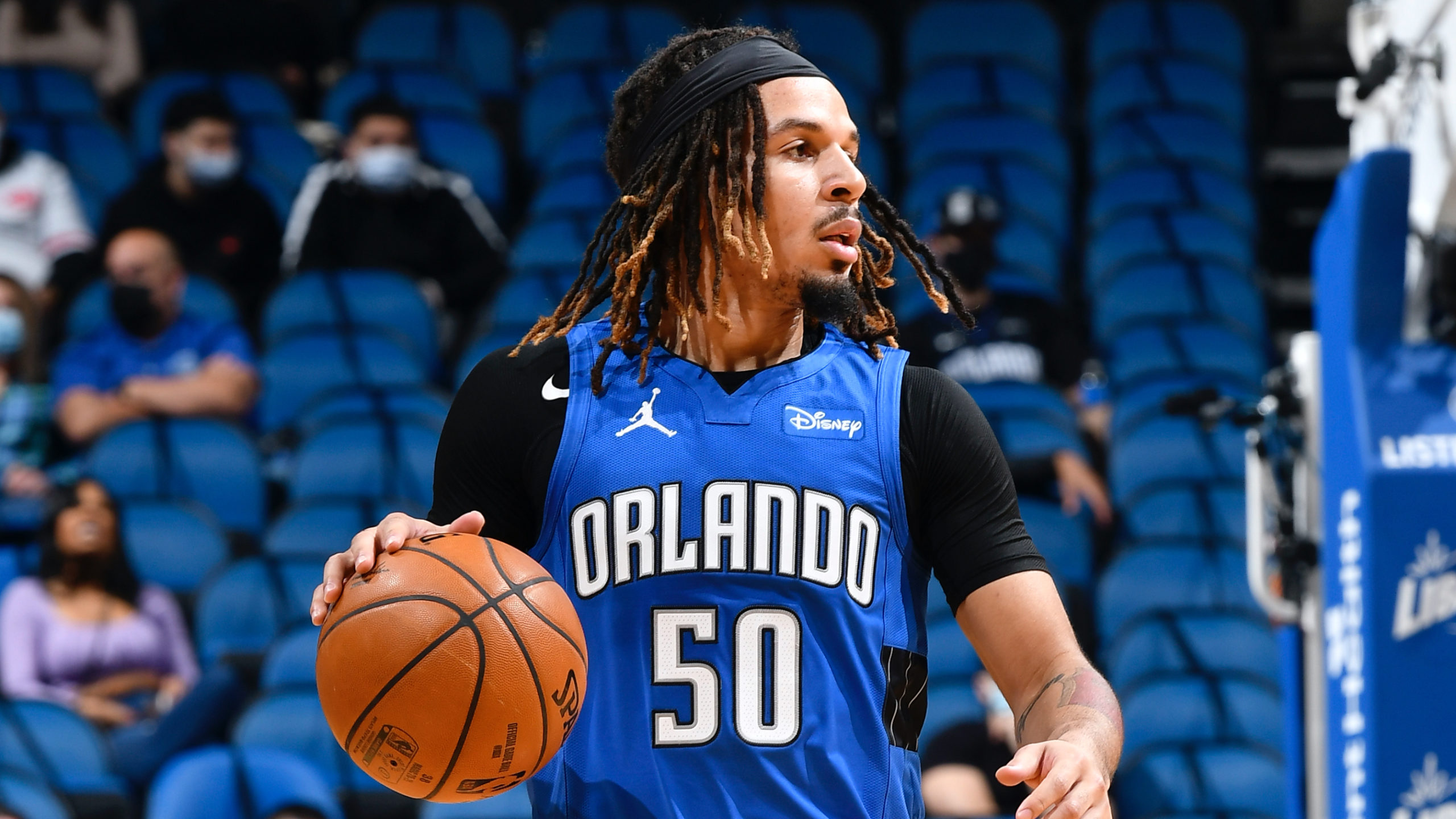 Anthony is easily putting up career-highs in points (19.2), rebounds (6.9), assists (5.2), steals (1.2), FG% (43%) FT% (87%), and 3-pointers made per game (3.0). His field-goal shooting (while improved) is not that appealing, but he's providing more than enough counting stats that he's for real, and should be considered one of the best young guards in fantasy.
Fantasy Impact: He currently ranks 33 in Yahoo 9-category Head-to-Head formats — better than Damian Lillard, Bradley Beal, Shai Gilgeous-Alexander, Devin Booker to name a few. Try to buy low if he has a few off games but news of Jalen Suggs' injury plus the unreliability of Markelle Fultz gives Anthony a lot of job security and opportunity to flourish with the tanking Magic.
Evan Mobley, Cleveland Cavaliers
The No. 3 overall pick in the 2021 NBA Draft has taken the lead in the race for Rookie of the Year. Mobley looks like a veteran — displaying a polished and developed offensive skill set that gives him the versatility to blow by slow-footed defenders, exploit mismatches in the post, or pull up from the foul line extended areas.
But it's not just his offense. He's a two-way player who runs the floor like a gazelle, disrupting shot takers while protecting the rim. He passes the eye test but he's delivering for fantasy managers as well.
He finished Week 4 as the 25th ranked player in Yahoo 9-category H2H formats with averages of 18.0 points, 7.7 rebounds 1.3 assists 1.3 steals, 2.3 blocks and 1.3 3s, on 55% shooting from the field. He ranks 36th overall this season and alongside Rubio and Garland, the Cavaliers are out to a 9-5 record in the Eastern Conference.
Fantasy Impact: Buy him everywhere you can because you're looking at the next Chris Bosh.
Fallers
Damian Lillard, Portland Trail Blazers
Lillard has started this season off slow — and that's being kind. His usage numbers are still impressive, but his Points Per Shot Attempt is abysmal. His PSA is just 97.4. He has never had a year with a PSA below 110 and that was as a rookie!
So what's going on here?
Dame is struggling mightily from 3-point range. He's only converting on 26.8% of those shots compared to his career mark of 37.3%. The attempts are there, but he is struggling to convert on those opportunities.
While we should expect Lillard to rebound from this start with career lows in scoring, but he is still racking up assists. Lillard is averaging 8.1 assists (8.0 is his median total as well) and 4.3 rebounds per game.
Fantasy Impact: Even though he's struggling to score the basketball, he is contributing in other areas. Lillard is currently dealing with an abdominal injury as well and presents an interesting buy-low opportunity if it lingers.
Cade Cunningham, Detroit Pistons
What's going on with Cunningham's shot? He's scoring just 83.3 Points per 100 Shot Attempts and he's taking nearly 50% of his shots from 3-point range while making just 23% of them, per Cleaning the Glass. That is a dramatic decline from his college number of 40% from 3, and his roughly 50% shooting percentage during the Summer League.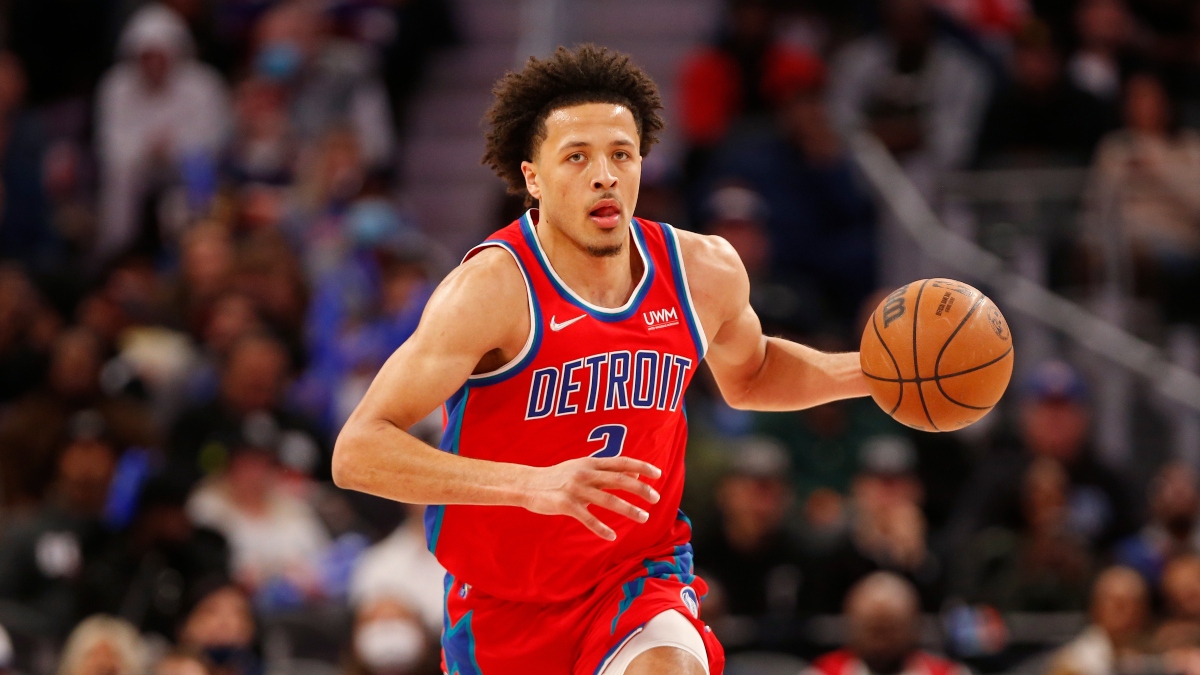 Maybe it's the pressure of returning from injury with all the pressure of being the No. 1 pick. Maybe it's the shot selection. Cunningham is taking 97.8% of his 3-point attempts with the closest defender at least four feet away — these would be categorized as Open or Wide Open, per NBA Advanced Stats. He just is not hitting them at a significant clip.
Props Impact: The books are often setting his 3-pointers made line at 1.5, currently, his median total is 1.0 per game, but I'm expecting positive regression. He's taken fewer than seven 3-point attempts in just two of his seven games and given his pedigree, that should normalize.
De'Anthony Melton, Memphis Grizzlies
Melton enjoyed a semi-breakout through the first four weeks of the season, averaging 11.5 points, 4.1 rebounds, 2.4 assists with 2.1 3s, 1.5 steals, and 0.8 blocks across 27.5 minutes per game. He started 12 of the first 13 games, but that looks to be coming to a close with the return of Dillon Brooks.
Brooks missed the first 10 games of the season with a hand injury, but he's back in the rotation, starting in two of the Grizzlies past three games. Brooks hasn't missed a beat, as he's averaged 21.5 points on 17.5 shot attempts in his first two outings this season. Brooks is a bucket getter, and it looks like his role in the Grizzlies offense will directly impact Melton's.
Without Brooks in the lineup, Melton saw a 19.5% usage rate, but his usage rate has dropped to 14.4 thus far since Brooks has been active. While this is a small sample size, all signs point to Melton being sent to the bench with less involvement in the offense.
Fantasy Impact: Melton can be dropped in shallow formats but should remain on 12-plus team rosters for his success in limited minutes. He still carries solid per-36 averages of 13.3 points, 5.8 rebounds, 5.0 assists, 2.3 steals, and 0.9 blocks per game in his fourth NBA season.
How would you rate this article?
This site contains commercial content. We may be compensated for the links provided on this page. The content on this page is for informational purposes only. Action Network makes no representation or warranty as to the accuracy of the information given or the outcome of any game or event.