NBA Finals Betting Trends: How to Bet LeBron James Teams in Championship Games
Credit:
Nathaniel S. Butler/NBAE via Getty Images. Pictured: LeBron James #23 of the Los Angeles Lakers.
LeBron James will play in the 10th NBA Finals of his career, which means we have a solid sample size for how to bet on him and his teams.
Joe Dellera looks at the betting history of James-led teams in the Finals and how his individual performances could translate in the props market.
LeBron James' storied history in the NBA Finals is more notable than many entire franchises and puts him in a category reserved for some of the league's greatest competitors.
This series will come with numerous milestones for James. He is just the fourth player to ever make 10 NBA Finals appearances and the first former Finals MVP to play against the team he earned the award with. Ultimately, those accomplishments all will pale in comparison to a fourth ring.
With such a large sample size of games played, what trends can we point to regarding The King? And what can we expect besides greatness? I've compiled some notes on James' past performances and his teams' odds history below.
LeBron James as a Series Favorite
This is just the third time in James' NBA Finals career that he will be a listed favorite in both the series and in Game 1.
The Lakers' series odds fall between -400 and -350, which is the most a LeBron James team has been favored in the Finals in his career. Here are the prior listed odds, per Sports Odds History:
NBA Finals Series Odds — LeBron James Teams & Opponents
| Year | Favorite | Underdog |
| --- | --- | --- |
| 2018 | Warriors -1075 | Cavaliers +688 |
| 2017 | Warriors -300 | Cavaliers +250 |
| 2016 | Warriors -220 | Cavaliers +180 * |
| 2015 | Warriors -220 | Cavaliers +190 |
| 2014 | Spurs -155 | Heat +135 |
| 2013 | Heat -220 * | Spurs +180 |
| 2012 | Thunder -175 | Heat +155 * |
| 2011 | Heat -175 | Mavericks +155 |
| 2007 | Spurs -450 | Cavaliers +360 |
* – Denotes James team win
This also shows just how big of a favorite the Lakers are in this matchup against the Heat. While the detractors will point to the 3-6 record in the NBA Finals, the team's James has lead to the Finals were often over-performing just to get there and he is 1-1 in the Finals as a favorite.
The last time a favorite of -300 of greater in the Finals lost was the 2004 Lakers who were -700(!) against the Detroit Pistons. Per Sports Odds History, that is the only instance of a -300 favorite losing in the Finals. (No odds listed for 1983, 1974, 1971, and 1968). Series favorites in the NBA Finals are 33-14 since 1968 and since 2000, favorites are 13-6 on the series.
LeBron James Individual Stats
James has played 49 games in the NBA Finals. Per StatMuse, he averages 28.2 points, 10.0 Rebounds, and 7.7 assists in 42.9 minutes per game.
James has been required to shoulder the burden more and more as his career has progressed. But one thing that has been fairly consistent is his usage rate. Outside of the 2011 Finals against the Mavericks, James has averaged a usage rate over 30% in the NBA Finals, per Cleaning the Glass.
One thing that has changed is the role he's played in the Finals. When LeBron left Miami to return to Cleveland, he took on a much greater burden and increased his averages in points, rebounds, and assists.
In his past four Finals series with the Cavaliers, he averaged 33.0 points, 11.5 rebounds. and 9.3 assists in 43.5 minutes per game, per Statmuse. This was an increase of nearly eight minutes, seven points, four rebounds and one assist per game.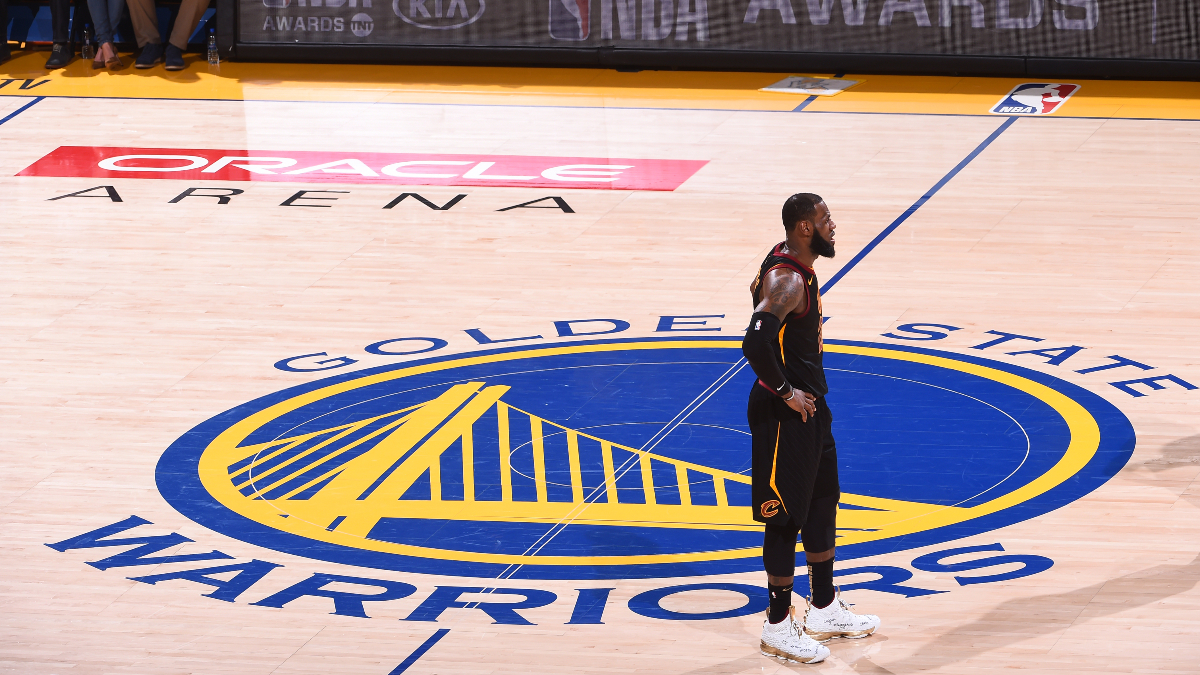 That version of James — or something similar — is what we can expect from him moving forward. His usage rate is actually a bit lower than his regular season usage rate, but he has increased his points per game from 25.3 to 26.7, his rebounds from 7.8 to 10.3, but his assists have dropped from 10.2 to 8.9.
This is something to watch in the player prop markets. James becomes much more ball dominant in the postseason, particularly the Finals, as he defers a bit less to his teammates in search of his own shot.
For reference, his prop totals for Game 1 are listed at 28.5 points, 9.5 rebounds, 8.5 assists on BetMGM at the time of this writing.
---
Check out our free NBA odds page, which automatically surfaces the best line for every game. Subscribe to our new NBA Insiders tool at FantasyLabs to beat the market with our cutting edge player projections, injury news and betting thresholds.
---
LeBron James Against the Spread
Everyone is excited to get their bets in for Game 1 of this year's Finals, but how has James actually performed against the spread in Game 1 of the NBA Finals? Per Bet Labs, he is just 2-7 ATS in Game 1, with his two ATS wins coming in 2018 as 13 point dogs to the Warriors, and in 2011 as 4.5-point favorites against the Mavericks. Additionally, James is 1-1 as a favorite in Game 1 of the Finals.
Over his 49 Finals Games he is just 20-28-1 ATS failing to cover by 2.44 points on average. However, as a favorite, James is 9-8-0 ATS, returning a $100 bettor, $58 over those 17 games.
This aligns with a trend for Game 1 favorites: Since 2005, Favorites are 13-2 ATS in Game 1 of the NBA Finals. The two spread losses? Both involved James.
In 2018, his Cavaliers covered against the Warriors and in 2014, the Spurs won outright over the Heat. More Game 1 data: teams favored by four-to-six points in Game 1 are 8-1 ATS covering by a margin of 5.72 points.
How would you rate this article?