NBA Injury Report: Betting, DFS Impact of Wendell Carter Jr. & Raptors Injuries
Credit:
Kelvin Kuo-USA TODAY Sports. Pictured: Wendell Carter Jr.
The NBA Injury Report details the slate's key injuries and their betting and DFS impact.
This piece will look at the impact of Bulls C Wendell Carter Jr.'s absence and more.
There are six games on Thursday with several injuries and questionable players. We'll analyze the following two games in this article: The Phoenix Suns at Toronto Raptors and Chicago Bulls at Denver Nuggets.
Note: The information below is as of 5:45 p.m. ET. Check out our live news feed and follow us on Twitter for up-to-the-minute news and analysis.
Toronto Raptors
Update at 5:45 p.m. ET: Kyle Lowry will now play.
Injuries: Kawhi Leonard (rest), OG Anunoby (personal) and Jonas Valanciunas (thumb) are out. CJ Miles (hip) is questionable. Kyle Lowry will play.
Injury background: Leonard and Lowry are resting. Leonard has rested one leg of every back-to-back set this season. Lowry has looked physically limited in the past five games since missing time following injections in his back and has displayed a gingerly gait, indicating he's compromised.
Anunoby wasn't with the team for personal reasons Wednesday, and he won't rejoin them on Thursday night.
Miles has been dealing with a sore hip over the past week, and he's been out of the rotation since Norman Powell was cleared to play last month.
Thursday's impact: The Raptors haven't played meaningful minutes without Leonard, Lowry, Valanciunas and Anunoby this season — 127 possessions total.
Discard the Raptors' 7-1 record, league-best +13.6 Net Rating and elite 101.9 Defensive Rating on zero days rest and start from scratch.
When Leonard, Lowry, Valanciunas and Anunoby have been off the court this year, Serge Ibaka has led the team with a 32.5% usage rate in 49 total minutes and compiled 1.16 DraftKings points per minute, per our On/Off tool. Ibaka has averaged 32.32 DraftKings points per game, per our Trends tool, on zero days rest this season — almost all of which have come sans Leonard.
Fred VanVleet has led the Raptors with a +5.3% usage rate differential, a 42% assist rate and averaged 1.09 DraftKings points per minute when Lowry, Leonard and Valanciunas have been off the court — which includes minutes with Anunoby for the sake of sample size.
VanVleet and Ibaka should be the primary targets in cash games due to their expected role increase.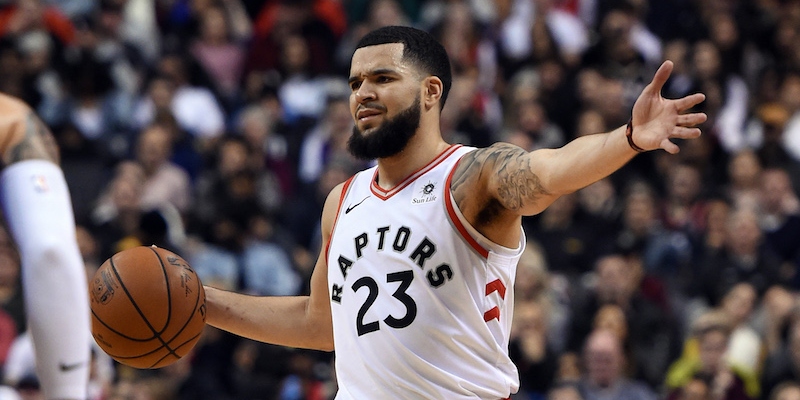 VanVleet has usually started when Leonard hasn't played. The same has transpired without Lowry. With Leonard, Lowry and Anunoby out, Powell could start and become a quality value play on the slate at less than $4,000 on DraftKings and FanDuel.
Miles (if cleared to play), Patrick McCaw (who has yet to play since signing with the Raptors) and Malachi Richardson (who has played 97 minutes all season and hasn't been recalled from the G-League yet) are Powell's main competitors for minutes.
The Raptors' pace downshifts to around 99 possessions per game in minutes without Lowry, Leonard and Valanciunas, and their Offensive Rating declines to 103.7 with VanVleet on the court. When VanVleet rests on Thursday night, expect the offense to nosedive, which belies their current implied total of 115.25, per our NBA Vegas dashboard.
The Raptors have yet to play a game without Leonard, Lowry and Valanciunas this season. In the game Leonard, Valanciunas and Ibaka missed, the Raptors lost to the Sixers by 25 points.
In the first game against the Suns this season — which was in October and included all four unavailable Raptors, Trevor Ariza and Isaiah Canaan — the Raptors escaped with a nine-point victory.
The Raptors are favored by 8 points as of writing (see live odds here). The line opened at 11.5 and has moved significantly.
---
Bulls C Wendell Carter Jr. Is Out
Injury background: Carter Jr. reportedly bent his left thumb during the first half of Tuesday's loss, and he's been diagnosed with a sprained thumb. Although original reports feared a lengthy absence, the Bulls are labeling Carter Jr. day-to-day as he's also dealing with a left knee ailment.
He's officially listed doubtful by the team, but he will be re-evaluated Friday for a clearer prognosis.
Thursday's impact: Carter Jr. has started every game this season, and his understudy has fluctuated.
Under coach Jim Boylen, Carter Jr.'s minutes and production have waned, and Robin Lopez was recently excised from the rotation in favor of Jabari Parker. Boylen's rotations are dynamic and, occasionally, confusing.
Bobby Portis was the backup center on Tuesday, and Parker was the primary reserve power forward for the second straight game after being outside the rotation since mid-December. Lopez or Portis project as the starting center in Carter Jr.'s absence. The wildcard is Cristiano Felicio, who has played in garbage time only under Boylen.
When asked about who worked with the first team during Wednesday's practice, Boylen shared very little:
"Why would I tip my hand on that? We had a couple of guys work with the first group today. We've got Rolo (Robin Lopez). We've got Bobby (Portis). We could go small, we could go big. We looked at a couple of different combinations today in practice. We'll see were it goes. It can be a game time decision."
Following Tuesday's loss, Boylen was asked about potential changes to the starting lineup. He said the staff will consider it, but that was before Carter Jr.'s prognosis. If Ryan Arcidiacono replaces Kris Dunn in the starting lineup, be simultaneously bewildered and prepared.
Portis was on a restriction of 28 minutes on Tuesday, but he played so poorly that Boylen ran Portis for only 17 minutes. Portis missed a game recently due to a sprained right elbow, and that could have impacted his 1-of-11 shooting performance.
Prior to the dud, Portis comfortably produced more than 22 DraftKings points in three straight games on 30.8% usage — second to Zach LaVine at 31.1%. The case for Lopez starting ahead of Portis rests on splitting Portis and LaVine up for offensive purposes. However, the addition of Parker to the rotation could require the presence of Lopez in the second unit to salvage the defense. Be sure to track projected and confirmed lineups on the NBA Matchups page.
Since Boylen replaced Fred Hoiberg, the Bulls have ranked in the bottom-three in Offensive Rating (100.9), effective field goal (49.8%), three-point attempt rate (25.6%), and Net Rating (-10.0), per Cleaning the Glass. They have notched an Offensive Rating above 108.0 just three times over that span, and they've ranked 27th with a 96.92 pace factor, per NBA.com.
In a related note, only four rotation players have averaged a positive Plus/Minus on DraftKings since Boylen took over, led by Dunn at +1.27.
Dunn has led all Bulls with 1.2 DraftKings points per minute when Carter Jr. and Justin Holiday (traded) have been off the court since the beginning of Boylen's reign. It's a 95-minute sample in which the team's pace has ground to 92.31 possessions per 48 minutes. Portis is right behind Dunn at 1.19, and he'll likely be a highly-owned at $4,600 on DraftKings while Parker should be a primary target on DraftKings at $3,600.
If you're looking for a reason to bang the over on the Nuggets' implied total of 113.5, look no further than the 118.1 Defensive Rating — highest on the team — when Portis has been on the court since Hoiberg was fired.
Conversely, the Bulls' Defensive Rating when Lopez has been on the court under Boylen has been a team-best 101.9. How Boylen selects his starting center and appropriates minutes could ultimately determine how to approach the total.
The Nuggets have ranked near the bottom in pace (97.57) over the past 15 games and have averaged 111.4 points per game over that stretch. Their 115.0 Offensive Rating over the same span is the fifth-highest mark in the NBA, but it highlights their inability to reach 100 possessions in games, and that should be amplified against the Bulls.