NBA MVP Odds, Early Picks & Analysis: Is Now the Time to Buy LeBron?
Credit:
Kelvin Kuo-USA TODAY Sports. Pictured: LeBron James
I'm going to try very hard to not write 2,600 words on the MVP conversation less than a month in. I'm not going to do film clips or anything. We're going to keep this brief despite my strong desire not to. I can do this. I can do this.
Here's where we are with the NBA MVP race before it's officially a race because it's too early to call it a race.
Small sample size, yadda yadda yadda.
I'm not going in any particular order because there can't be a ranking this early. This is a discussion of who's in the conversation.
---
Giannis Antetokounmpo, F, Milwaukee Bucks
30 points, 14 rebounds, 6.5 assists, 1.4 steals, 1.5 blocks per game
Shooting: 58-32-63, 61.6% eFG
On-court net rating +11.8, off-court +2.2, net +9.6
No. 1 in PER, Win Shares (tied), Win Shares Per 48 Minutes, Box Plus-Minus, VORP
Giannis is shooting better from 3 than Kawhi Leonard, Luka Doncic and LeBron James. The Bucks rank eighth in offensive rating, third in defense, second in net rating and lead the Eastern Conference overall again.
Antetokounmpo had the best 2-point shooting season in history for a player with a usage rate over 30% last season and he's shooting even better this season, making 66% of his shots inside the arc.
And he's still dominant defensively, the best defensive player of the early leaders.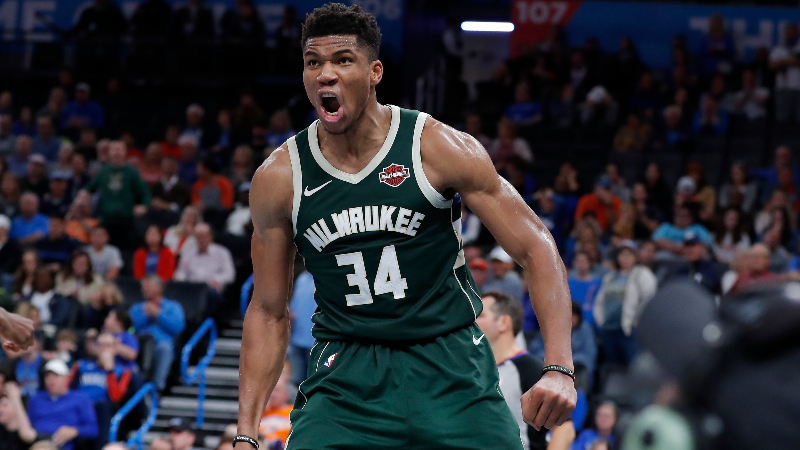 He's lacking a real narrative; the on-going conversation surrounding Giannis has nothing to do with the MVP. Instead, it centers around how the Bucks screwed up not re-signing Malcolm Brogdon and why puts them at a risk of being able to re-up Giannis, because this is how it works in the NBA when you're a team from a city like Milwaukee.
"What's that? Oh, you've won seven of your past eight, you are the most dominant player by the eye test, and you're playing great? Yeah, no, we don't care, what about this player your team didn't re-sign, when are you leaving for the Warriors/Lakers/Knicks, just kidding, not the Knicks?"
But there's also not a compelling narrative for any of the players in the race (yet), outside of the feel-good comeback Lakers story for LeBron. In the absence of a compelling narrative, Giannis' chances improve and his case is already strong.
Odds: +160
I don't think this is the last time you'll be able to get him at plus-money. The best value on him last year was December/January when Harden went on a run. But if you don't think Harden can do what he's doing the whole year, this isn't a bad number to get in at.
---
James Harden, G, Houston Rockets
39.5 points, 5.6 rebounds, 7.8 assists, 1.6 steals per game
Shooting: 42-33-63, 51.0% eFG
On-court net rating +8.3, off-court -9.1, net +17.4
No. 2 in PER, No. 4 in Win Shares (tied), No. 4 in Win Shares Per 48 Minutes, No. 4 in Box Plus-Minus, 3 in VORP
He's averaging 39.5 points per game. Hold on, let me hit the ol' command-b. He's averaging almost 40 points per game.
Look, I break down plus-minus and film. I have done hours and hours on Harden's horrendous off-ball defense. I talk to players and coaches and metrics guys and front-office officials.
But, I have to be honest, you score 40 per game and I'm kind of like "OK, you're the MVP right now, that's it." I mean, it's 40 points. Per game. And doing that for five games is nuts. Doing it for 13? That's straight up kooky dukes. It takes an insanely high bar for a per-game number to get me to think it's a decider, but 40 points per game reaches the bar.
Oh, and he's averaging 7.8 assists, along with more steals than Giannis or LeBron.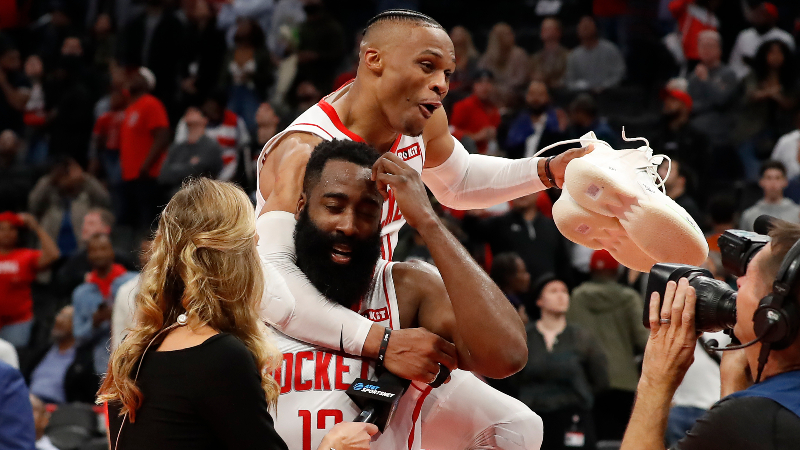 Now, look, the usage has to be mentioned here. Harden's usage rate is 41.4, which is just behind Russell Westbrook in 2017 for the all-time leader since it was able to be tracked. He's shooting 14.6 three-pointers per game, which is five more than the second-closest player (Buddy Hield). He's averaging 37 minutes per game.
His efficiency isn't good … but you expect usage to suffer under insane usage loads.
Now, do I think this is good for his career instead of prioritizing the postseason? No. Do I desperately want to know what his Adidas bonus for winning MVP is? Absolutely. Is there a little bit of showmanship here, in terms of trying to rig the thing to put up the numbers to win the award? Yeah, a touch.
But Harden is also defending better than he did last season. He's been engaged and impactful on that end. There have been very few give-ups from him. That matters a lot given his usage rate. The last five games Houston has the No. 1 defense in the NBA and for the season, Harden's defensive rate is 104.5. Anything below 105 and he gets a passing grade there, given his deflection rate.
Odds: +250
This might be a buy-low opportunity. Harden typically plays his best basketball between Dec. 15 and the All-Star break before a late-season cool down off exhaustion and getting banged up. I may not think 40 points per game is sustainable, but the fact I even have to think about it matters. Houston's also looking very probable for a top-three seed and 50-plus wins which gets him into the conversation strong.
---
LeBron James, G/F, Los Angeles Lakers
24.3 points, 7.7 rebounds, 11.1 assists, 1.3 steals per game
Shooting: 42-33-88, 52.0 eFG%
5th in PER, No. 1 in Win Shares (tied), 2nd in Win Shares per 48, No. 3 in Box Plus-Minus, No. 2 in PER
Net rating: +14.5 on-court, -5.6 off-court, +20.1 net
He's back.
Look, I'm not backing off of the criticism I've lobbed at James the past few years. I have watched and covered and analyzed LeBron game by game from his ascendence in Cleveland through his prime in Miami to a very weird Cavs era through last year's disaster.
He has shifted into gas-economy mode the last few years, especially on defense. He put up insane offensive performances in the playoffs to lift pretty mediocre Cavs teams to the Finals because he's one of the greatest of all time (and very arguably the GOAT). That doesn't mean he played to his full capability.
His performance this year doesn't invalidate that criticism. No one said he couldn't do get to that same level again. It was that he wasn't.
Now he is. He's re-engaged, and … It. Is. Terrifying.
He's leading the league in assists for the best team in the league (record wise, and net-rating wise). He's back to staying home on defense (give Frank Vogel credit for getting him to trust teammates and not over-pursue) and attacking.
He's 95th percentile in half-court offense including assists via Synergy Sports.
The Lakers have the best defensive rating in the league, the best net rating in the league, and not only is James' on-court net rating the best of the candidates, but his on-off differential is, as well. The Lakers are 20 points better per 100 possessions with him on the court than with him off.
The eye test matches all of it, too. He's ferocious, that lion he used to be, tearing down the floor and jumping on the poor gazelle he's decided to make lunch. He's two steps ahead of opponents and if not, he's going right through them.
Sustainability with James at age 35 is a real question, and there's always a chance he makes his point, gets to December and puts it on cruise control until after the All-Star break. But this is his best chance at MVP since his last win in 2013.
Odds: +500
I'd wait. He's 35, he knows he has to save his body. The schedule toughens up so much for the Lakers between now and January that some caution is warranted. The Lakers may slide a bit in December and you could get this number even longer, and you might find out more about how often he'll rest of how sustainable this is for him.
There's a chance this is the best number you'll get, but regardless of how the next few months play out, you should still be able to get him at plus-money by the midseason.
---
Luka Doncic, G/F, Dallas Mavericks
28.5 points, 10.7 rebounds, 9.1 assists, 1.3 steals per game
Shooting: 47-31-83, 54% eFG
4th in PER, 5th in Win Shares, 7th in Win Shares per 48 minutes, 2nd in Box Plus-Minus, 4th in VORP
Net rating: +0.7 on-court, +8.4 off-court, -7.7 net
Doncic's 29-11-9 line is really good at first glance. You dive a little deeper and it gets shakier. He gets 45% of his shots from 3 and he's only shooting 31% on them. But he's also shooting 61% on 2-point shots, including 73% (!!!) at the rim on non-post-ups via Synergy Sports.
Now… the bad news. Along with the 31% from 3, he's also got a 110 defensive rating, which is 8 points per 100 possessions worse than the Mavs without him, and that matches the eye test.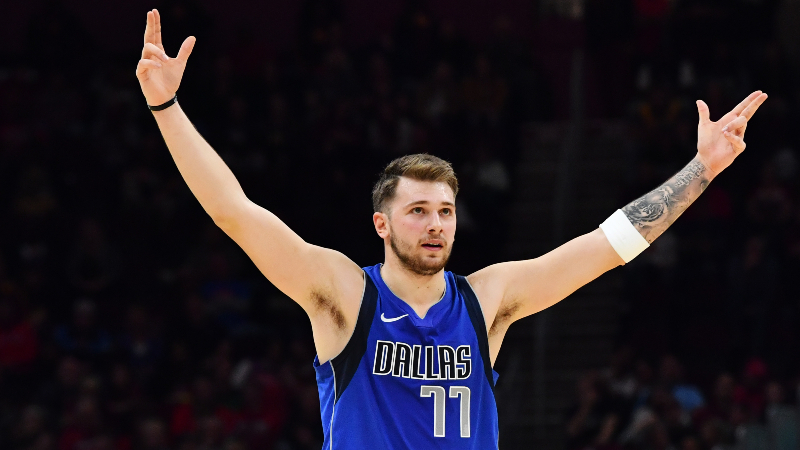 The Mavericks are also sliding. It is very unlikely they wind up being good enough to warrant Doncic winning. He's not going to put up enough numbers to get into the conversation at 45 wins. But if they can hit a soft spot and rack up wins again, or if the defense goes back to the early-season performance, there might be a chance.
He's been phenomenal, but the resume doesn't stack up with those above him.
Odds: +1000
Yeah, no, you want to see if Dallas can pull out of their slight tailspin and course correct, plus see if Doncic can keep this up or if his efficiency issues drag things down. He's awesome, but team success matters a lot here.
On the list but I'm holding back
Kawhi Leonard (+1400): The Clippers had the flashiest opening, but it has kind of gotten more dull as the season has gone on. He's load managed three games already; that's a bad sign for his chances. What's more, he's shooting 29% from 3 and less than 50 percent from 2-point range (the only candidate on this list to do so). The defense is still a steel trap and his on-off splits are wild. The defense is 13 points better with him on-court.
If the Clippers go on a run with Paul George back and Leonard improving his stats, Kawhi will be the frontrunner. He's acknowledged as the best player in the game, but his resume doesn't fit it right now.
Side note: PG's numbers have been great in his two games back, but it's just too early to tell.
Can't go near it with his rest profile.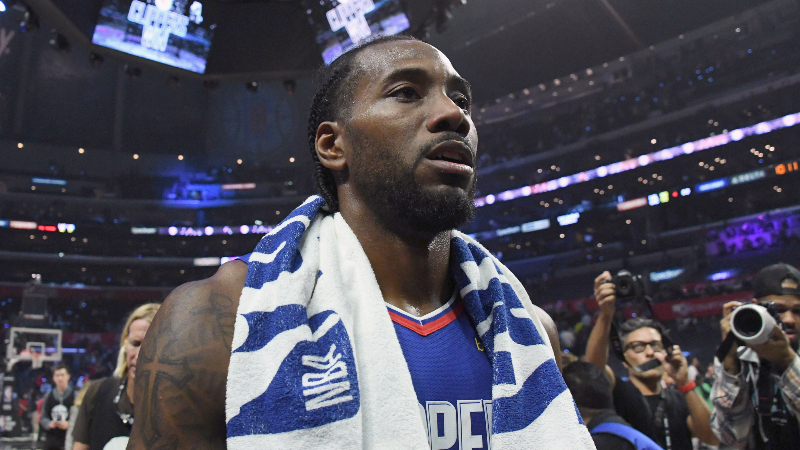 Pascal Siakam (+8000): I'm being conservative not putting him on the full list. The Raptors have a +9.3 net rating with him on-court and 22.1 points better in net rating than when he's on the bench. You'll notice that's better than LeBron.
The per-game numbers (26-9-4, 35% from 3) aren't as flashy but they're still phenomenal. Most importantly, the Raptors are currently on pace for 54 wins. If Siakam is doing this for a full season for the "Oh, it's nice they got a title but now they're irrelevant" Raptors, then he has to be in the conversation. He just does.
At 80-1 odds, this is exceptional value for what Siakam has shown — he really has made the leap and I think the Raptors actually are that good and their schedule is vulnerable enough for them to hit 50 wins.
The big question: Do you think the Raptors can finish with more wins than Milwaukee? If the answer is no, then how does he win over Giannis?
Anthony Davis (+1200): Hasn't been the best player on his own team, shooting under 50% for a big man and 25% from 3-point range, and his assists, rebounds, and scoring are all down. Plus he's already had multiple small injuries including a nagging shoulder injury. Total no, especially at this price.
Damian Lillard (+6000): The Blazers are too much of a mess. He's playing awesome, career-highs in points and assists. But Portland was just desperate enough to sign Melo.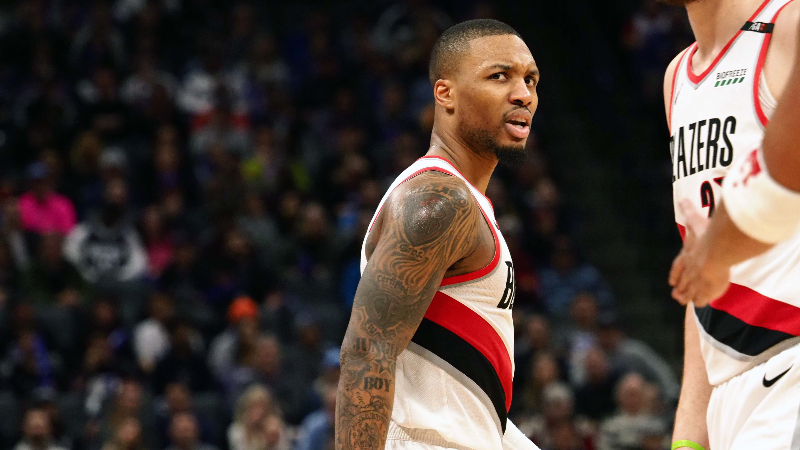 Donovan Mitchell (+6000): I like him here as a longshot but not enough to get in yet. Utah keeps stubbing its toe at inopportune times. Mitchell's line of 25-6-4 on 48-37 is really good. If he bumps the production a little bit and the Jazz win 50, this is going to be a huge bet-regret situation.
Nikola Jokic/Joel Embiid (both +3000): Both have started the year off pretty terribly for their standards. It's definitely a buy-low situation, but you have to have a lot of faith in an incredible leap over the next two months to get them into the conversation.
Karl-Anthony Towns (+6000): The suspension really slowed him down. The Wolves got hit with an injury bug that has sapped their availability and in turn, decimated their defense. While KAT's narrative arc — the up-and-coming star breaking through — is maybe the strongest of any player on this list outside of Damian Lillard and LeBron, it's also hard to see the Wolves getting to 50 wins, which he'd need. Wait another month but keep an eye on this one for a longshot.
How would you rate this article?