Moore: Analyzing Potential NBA Playoffs Series Prices & Matchups
Credit:
Bart Young/NBAE via Getty Images. Pictured: Chris Paul (left) of the Oklahoma City Thunder and Torrey Craig of the Denver Nuggets.
So we wait. We wait for the sports to return, the lines to pop back up on our apps, for our lives to return to any semblance of normal. But while we wait, we can dream. And I, for one, am dreaming of the NBA prospective playoff series. There is still a great deal to figure out regarding how the NBA season will finish if it finishes at all.
There appear to be two emerging thoughts about what will happen should the league find itself in a place to conduct the remainder of the 2019-20 season:
The players will need a conditioning warm-up period of a week or more, that won't require preseason games.
There is very little appetite for the end of the regular season.
That last point is sure to be one of contention. If you're the Blazers or Pelicans, chasing the Grizzlies by a handful of games in the loss column, you surely want the chance to get back in.
There's also been discussion of a wider-net tournament, featuring as many as 30 teams. This doesn't seem realistic given the amount of personnel, and the resulting higher risk of infection, even in a closed campus environment.
Westgate Las Vegas this week published odds for prospective playoff series should the NBA take its current playoff teams to the postseason.
IF the NBA returns and goes right to regular playoff format, here is what @SuperBookUSA would have 1st Round series prices

Orl +4000
Mil -20000

Bkn +500
Tor -700

Phi -110
Bos -110

Ind +180
Mia -220

Mem +2500
LAL -15000

Dal +550
LAC -800

Hou +105
Den -125

OKC +140
Uta -160

— Jeff Sherman (@golfodds) March 29, 2020
Magic (+4000) vs. Bucks (-2000):
There won't be value here except game by game. The way to surprise the Bucks is with shooting; they play off shooters to collapse the paint. DJ Augustin and Evan Fournier might get hot and win some quarters, but Nikola Vucevic would have a miserable series vs. Brook Lopez and the help defenders, and the Magic's defense would have to choose between Eric Bledsoe layups and open shots on the perimeter before even dealing with Giannis Antetokounmpo.
This one is a total mismatch.
Nets (+500) vs. Raptors (-700)
The question here, of course, is the health of Kevin Durant and Kyrie Irving. It's entirely possible that at least Irving could be back for this series depending on how long the suspension lasts. It would be just about a year of recovery for Durant based on the June estimates for a resumption. But jumping right back into playoff intensity is not smart for his longterm health.
Even with Irving, I'm not grabbing the +500, though. I definitely want the over on games won for Nets, say, at 1.5. The Raptors are absolutely 100% losing Game 1 as it has been written in the stars since before time began.
So from there you just need the Nets to win one of the two games at Barclays, which is definitely doable with their roster. They have the guards to cause problems. Toronto will be a team I will have to resist betting against; they are 19th in halfcourt offense, but they'll win this series.
Sixers (-110) vs. Celtics (-110)
Oh man, this is the one to bet. I don't know how, I just know it's the one to bet.
The Celtics have had giant, glaring, flashing-red-light issues with the Sixers since Al Horford jumped ship. There are three truly great defenders of Joel Embiid in the NBA: Aron Baynes (gone to the Suns), Al Horford (gone to the Sixers), and Marc Gasol (still on the Raptors).
But the Sixers have just been so … ughhhhhhhhh. They have terrible chemistry, no real faith in each other, no cohesive strategy, no leadership, and neither Josh Richardson nor Tobias Harris have the assertiveness offensively that they need.
The Sixers swarm you defensively and pressure you into making tough shots. Enter: Jayson Tatum, Kemba Walker, Gordon Hayward, and Jaylen Brown. They have the systemic defense and enough individual offense to create looks vs. that Sixers defense.
So the question is whether the Celtics can come up with a defensive plan over the course of seven games to solve Embiid, and if Embiid is durable and engaged enough to take over this series. I have questions on both, and I like Brad Stevens' chances of finding answers by the end of a long and grueling series.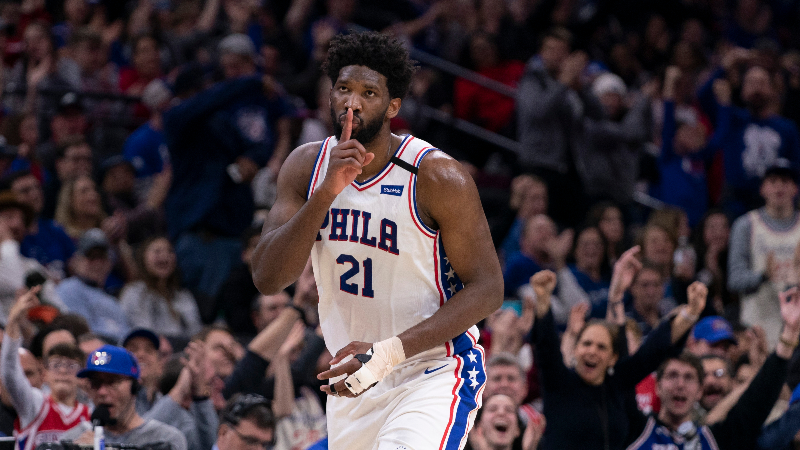 Boston would probably be down at some point in the series. And while I think Enes Kanter is an overall unsustainable player who will eventually always be a liability, he can be used to win certain matchups, especially when all he has to do is play in the post.
If the Sixers run pick-and-pop, he can just drop in coverage; Embiid takes the fifth-most mid-range shots per game because for some reason he doesn't like to take the best shots he should.
This is even for a reason despite Boston having been better all year. Brad Stevens' playoff resume is not nearly as good as his win-loss would indicate. But Brett Brown has yet to make adjustments that impress either. There's value on Boston, despite the mismatch with Embiid, which says a lot about the Sixers, Embiid, and Brown.
Pacers (+180) vs. Heat (-220)
I kind of think there's some value on the Pacers at this number, but I'd be shopping for +200. The Heat's big advantage is shooting and Bam Adebayo. But the Pacers bring defense, athleticism, and two great big men in Myles Turner and Domantas Sabonis.
The thing that gives me pause is the math problem. The Pacers simply don't take enough 3s to keep up with how much the Heat bomb from deep between Duncan Robinson, Tyler Herro, and others. Jimmy Butler as an alpha is a problem; he'll take the match-up with TJ Warren personally.
But the thing about shooting is its prone to variance. The Heat's defense hasn't been consistently good since the first month of the season. Indiana's defense is consistently high quality. And another two months of rest and recovery for Victor Oladipo could go a long way in getting him to look more like the player he was before the injury.
The Heat should be favored, and I like their chances against some of the teams they'll be dogs against later. But I also think Indiana is sneaky good and has a better match-up case here than it appears on the surface. Public betting probably moves this to +200 or more at some books, and at that point, I want to grab the underdog.
Grizzlies (+2500) vs. Lakers (-15000)
Definitely want to bet game by game, but the series price has no value. The Grizzlies aren't winning this, the Lakers aren't losing this and you never want to lay that kind of number. Game by game, though, I like it. The public will hammer the Lakers and the Grizz have the ability to surprise them.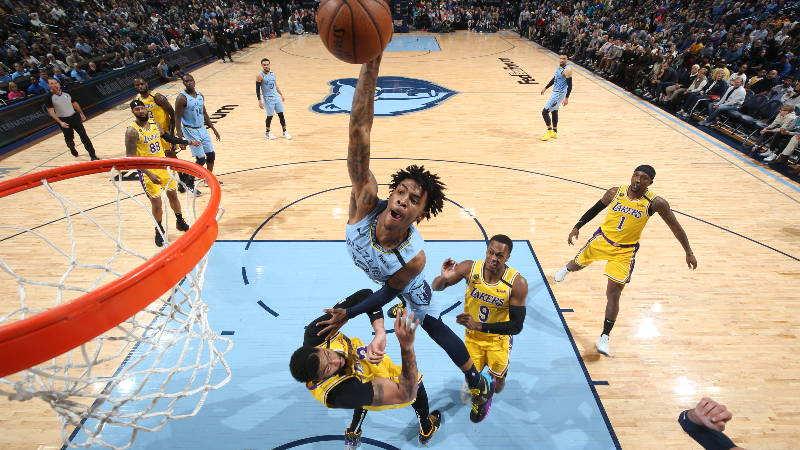 I like taking teams that are young and have nothing to lose; there's no pressure on the young cubs. The Lakers have the size advantage, which is significant, but they also won't get the Lakers' fastball. Memphis has some shooters like Dillon Brooks who can get hot for a series and Jonas Valanciunas is going to frustrate Lakers fans with more success than they'll think he can earn.
The Lakers will eventually handle the situation and get the win, but Memphis likely makes them earn it. The over/under for wins for Memphis is likely 1 and I'll take the over. I don't trust the Lakers to take the Grizzlies seriously.
Mavericks (+550) vs. Clippers (-800)
Love this matchup for the Clippers. The Mavericks are high variance; I'd likely take them straight up in a matchup vs. Denver because of their shooting advantage. But the Clippers can absolutely win a shootout with Dallas.
Luka Doncic is amazing, but he struggles with the blitz in pick-and-roll. The Clippers will start putting two on-ball, hedging with Ivica Zubac and pressuring him with Kawhi Leonard, Paul George, or Patrick Beverley. That forces a reset and allows them to get the ball out of Doncic's hands and then dog him to deny it. Then the clock gets late and you're relying on Kristaps Porzingis, Tim Hardaway Jr. and Jaylen Brunson to make up the difference.
I like Dallas as an upset game by game and straight-up vs. almost every other matchup in the West, including the Lakers. But this is not a good combination for them. If you're willing to lay 800, feel free, if not, betting them game by game against the spread would be a good strategy and taking the under on Dallas wins/the over on win differential for Clippers.
Rockets (+105) vs. Nuggets (-125)
I'm not surprised Denver is favored, for a host of reasons. The Nuggets are analytic-positive and the sharps lean towards them. They are the higher seed with altitude at homecourt.
A year ago, I would have absolutely taken the Rockets here, and pounded it. Now, the play is to wait until the public drives up the Rockets and drives down the Nuggets (possibly to even money) and play Denver. It would be a severe test of the books' resilience in not adjusting to the public because they are going to grab Houston all over here.
Denver is a team everyone thinks is fraudulent and made for the regular season despite reaching a second-round Game 7 last year. Houston having both the star power and market advantage would exacerbate things.
The sharps are likely to want to back Denver. They're the kind of team they tend to gravitate towards.
The key here is that with the small-ball Rockets approach, you need a center who is not only capable of scoring consistently in the post, but can pass if they send help, and is willing to exploit that mismatch. Nikola Jokic is definitely that player. He has the mentality to attack the switch over and over again and as good as James Harden is in the post, Jokic doesn't need to get right under the rim to score.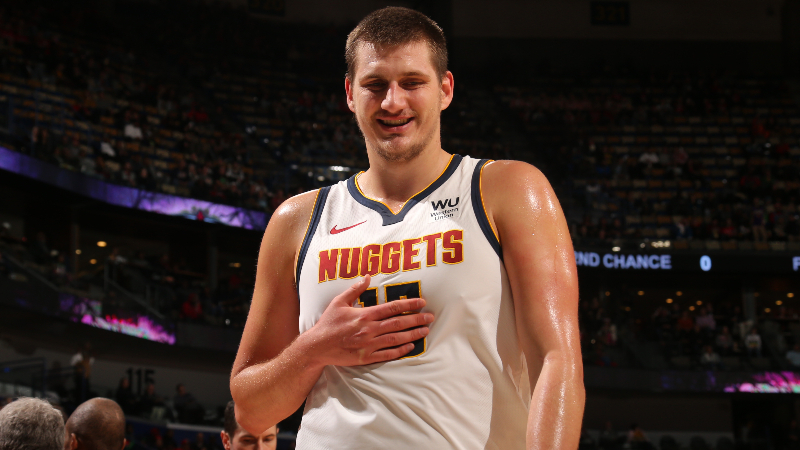 Now, on pass-outs, it becomes a problem; the Nuggets can't hit water if they fell out of a boat. But Gary Harris was shooting over 50% from 3 since All-Star break and the hiatus allows Harris, Will Barton, and Paul Millsap to get back to full health.
Torrey Craig legitimately bothers Russell Westbrook. Whenever Westbrook faces a challenging matchup, he doesn't solve it like a puzzle, he tries to ram through it, and that makes matters worse. The more the ball is in Westbrook's hands careening toward the rim and not in Harden's, the better for Denver.
I think the series goes deep, I'd take the over on Rockets wins. But with this number probably pretty close to even by the tip of Game 1, I really think Denver does well in this matchup.
Thunder (+140) vs. Jazz (-160)
The Jazz upset the Westbrook-Paul George Thunder two years ago. Why would the Thunder win now with a worse team?
Well, for starters, they actually don't really have a worse team. Since Dec. 1, the Thunder are 33-13, the Jazz are 29-16. That's more than three months of play where Oklahoma City has been better.
From there, you have the inconsistency of of the Jazz, and the toughness of OKC. The big problem is that the Jazz are one of the best shooting teams in the league, No. 1 since Dec. 1. But it never feels like the Jazz are a team full of threats. They don't stun you with shooting, and yet, that's a challenge for the Thunder. But OKC ranks eighth in effective field goal percentage.
The Thunder also have a big advantage vs. Rudy Gobert. Steven Adams can comfortably and ably drop in coverage to contain him. Meanwhile, the Jazz drop themselves, which is great vs. Adams, but means it's Chris Paul, shooting the lights out this year, and Shai Gilgeous-Alexander, nailing pull-up dribble over and over.
Throw in Danilo Gallinari and the rock fight these two defenses would produce, and you have an edge for OKC. I'd like OKC at anything with a plus number, to get revenge for 2018.
How would you rate this article?