NBA Summer League Saturday Betting Odds, Notes and Player News to Watch
Credit:
Photo credit: Jesse Johnson-USA TODAY Sports. Pictured: Josh Okogie
NBA Summer League action in Las Vegas continues Saturday at 4 p.m. ET.
Below are spreads, totals, betting notes and player news to watch for in all eight games today.
The NBA Summer League playoff tournament begins today; there are eight teams, with the Boston Celtics getting the top seed. Four of the games today are part of that tournament, while the others are consolation game.
Below I'll go through each game, hitting on the spread and total, as well as player news to keep your eye on.
Charlotte Hornets vs. Utah Jazz: 4 p.m. ET
Spread: Hornets -2
Total: 174
What's at stake: Consolation game
Players to watch for: The Hornets in their last game on Wednesday somewhat surprisingly gave more run to their main guys in Miles Bridges, Devonte' Graham and Dwayne Bacon. It's unclear whether they'll let them go in this consolation game, as those guys will be part of the Hornets' rotation this season. The Jazz don't have a ton of high-end prospects, but they did play their former first-round pick Tony Bradley on Thursday, and you'll recognize another NBA name in Willie Reed. If the Hornets guys play, they should definitely have a talent advantage.
---
Memphis Grizzlies vs. Boston Celtics: 4:30 p.m. ET
Spread: Celtics -5.5
Total: 177.5
What's at stake: Playoff game
Players to watch for: These teams just played on Thursday, with the Celtics putting up 113 points and winning by 26. They'll rematch for the playoffs, although it's possible a lot of the Celtics guys won't go. Robert Williams dealt with nagging injuries last year, and it's possible Boston is careful with him. Carsen Edwards played well enough to get a deal, but now that he's a part of the team, the Celtics could be cautious. Tremont Waters' father tragically died Thursday, so he may be absent from the team. The Grizzlies played their main guys, Brandon Clarke, Ivan Rabb and Bruno Caboclo; it's unclear whether they'll go. If so, there could be some value on the Grizzlies.
---
New York Knicks vs. Washington Wizards: 6 p.m. ET
Spread: Knicks -5.5
Total: 175.5
What's at stake: Consolation game
Players to watch for: This Knicks team disappointed in Vegas and didn't make the playoffs, but they finished strong by scoring 117 points in a route of the Lakers on Wednesday. They're loaded with NBA talent, including RJ Barrett, Mitchell Robinson, Kevin Knox, Ignas Brazdeikis, Kadeem Allen and more. The Wizards have been solid, though, and they've continued to play Rui Hachimura, Isaac Bonga, Anzejs Pasecniks and others. If there's any word on a team resting the main guys, there will be a ton of value on this line.
---
Miami Heat vs. New Orleans Pelicans: 6:30 p.m. ET
Spread: Heat -1
Total: 176
What's at stake: Playoff game
Players to watch for: The Heat have been awesome this summer, and that's despite not having a stocked roster of draft picks. Tyler Herro, their first-rounder this season, has been very good, but the rest of the crew is largely G-Leaguers and fringe NBA players. Still, they've found a way to compete and make it to the playoffs. The question in this game is whether the Pelicans guys go. They have solid NBA guys in Kenrich Williams, Jaxson Hayes and Nickeil Alexander-Walker. I would expect everyone to go for the tournament, but if not there will be value on the Heat. As of now, there's probably a point or two of value on the Pels as dogs.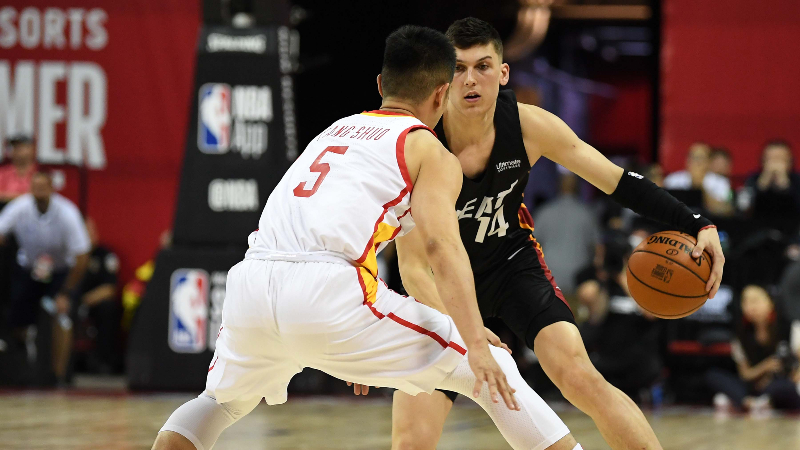 ---
Orlando Magic vs. Chicago Bulls: 8 p.m. ET
Spread: Bulls -2.5
Total: 170.5
What's at stake: Consolation game
Players to watch for: This Magic roster is essentially Mo Bamba and G-Leaguers, and it doesn't look like Bamba will play. Veteran guys like Amile Jefferson have played well, but there's not any high-end prospects here. The Bulls have continued to play top-10 draft pick Coby White, as well as Chandler Hutchison and Daniel Gafford. This is the ultimate young high-end prospects vs. older veteran journeymen game.
---
Brooklyn Nets vs. Detroit Pistons: 8:30 p.m. ET
Spread: Pistons -2.5
Total: 176.5
What's at stake: Playoff game
Players to watch for: The Nets suprisingly played Jarrett Allen, Rodions Kurucs, Dzanan Musa and Nic Claxton last game, and I haven't seen word on whether those prospects will go in the playoffs. It's not a consolation game, so maybe they do; it's hard to say. The Pistons have some NBA guys in Svi Mykhailiuk, Khyri Thomas and Bruce Brown, but the Nets definitely have the talent edge if everyone goes. It's a little surprising the Pistons are decent favorites here, which makes me think there might be rumblings about the Nets guys not going.
Denver Nuggets vs. Houston Rockets: 10 p.m. ET
Spread: Rockets -3.5
Total: 173
What's at stake: Consolation game
Players to watch for: The Nuggets have a second-round pick from 2018 in Jarred Vanderbilt, but the rest of the roster is packed with fringe talent and journeymen. It's not a great roster by any means. The Rockets don't have any future stars on their roster, but they do have more NBA talent in guys like Deng Adel and Gary Clark, and their undrafted players — Chris Clemons and Shamorie Ponds — are certainly intriguing given their college production.
---
Dallas Mavericks vs. Minnesota Timberwolves: 10:30 p.m. ET
Spread: Mavs -2.5
Total: 177.5
What's at stake: Playoff game
Players to watch for: The question here is whether Cam Payne is going to go for the Mavs in this playoff game. He didn't play, and the Mavs barely won against a Croatian national team without any NBA talent. The Wolves have guys already with NBA experience in Josh Okogie and Keita Bates-Diop. If Payne doesn't go, this line should absolutely not be Mavs -2.5.
How would you rate this article?