NBA Trade Rumors: Brooklyn Nets Active Ahead of Deadline, Victor Oladipo's Status, More
Credit:
Michelle Farsi/NBAE via Getty Images. Pictured: General Manager Sean Marks of the Brooklyn Nets.
With 10 days to go until the NBA trade deadline, here's an update on the latest buzz from around the league and which teams could be active over the next week.
Brooklyn Stays Cooking
As the NBA trade deadline draws nearer, there is consensus among NBA personnel that the Nets are not done making moves.
Brooklyn remains a slight favorite to gain the services of Andre Drummond, should the Cavaliers fail to find a trade partner for the big man.
But the Nets aren't just trying to find pick-ups around the edges. They are shopping Spencer Dinwiddie to try and find another addition. Marc Spears of ESPN talked about this on the jump a few weeks back. Dinwiddie is likely out for the rest of the season after suffering a torn ACL last fall.
League sources believe Miami, Toronto, and Houston are three teams who have had more substantive talks for Dinwiddie.
"If you call about a wing asset, odds are you're bidding against both Miami and Toronto," one executive told Action Network.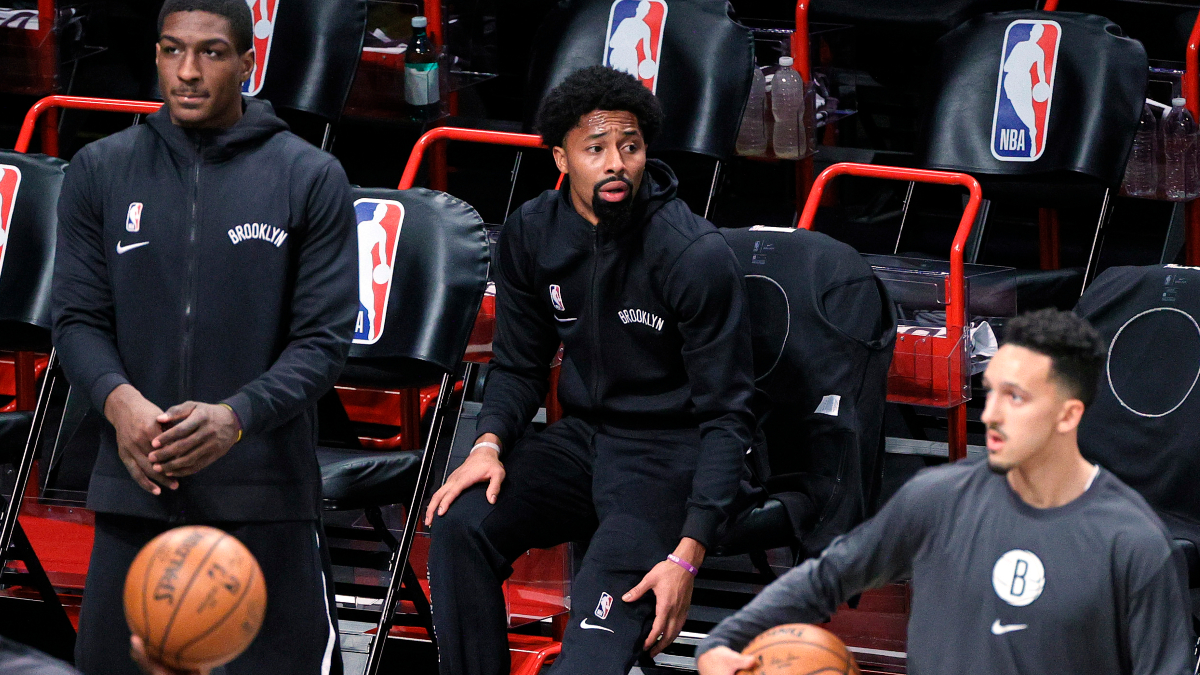 PJ Tucker and Houston have mutually agreed for him to sit out while they find a deal for him. Dinwiddie for Tucker gets you within the salary range. Houston would have to add more salary, but there's also a sense that the Nets would have to include a sweetener.
The Nets would benefit from a fourth small-ball center option alongside Kevin Durant, Jeff Green, and Blake Griffin. Tucker's defense fills an obvious need and Tucker's spacing makes him a natural fit in their offensive scheme.
---
… Speaking of Houston
The Rockets and Victor Oladipo are mutually interested in finding a new home for the former All-Star even if he's still playing with the team, but the market has significantly dried up.
There's a sense from sources close to several teams that Oladipo comes not only with injury concerns after his devastating leg injury two years ago, but that you need the right culture fit to accommodate him. Oladipo is shooting just 40% from the field this season.
There's now a feeling that Houston is more likely to hold on to Oladipo, even if that means losing him in free agency this summer.
There was also talk that John Wall was available if you called with the right offer, but in recent weeks, there's been a sense that the Rockets have been so impressed with Wall's attitude and leadership in a tough situation that the price has become high enough to limit a deal.
There remains a consensus among several executives that the Rockets' biggest priority is continuing to cut salary, short and long-term, but one talented player Houston has continuously been linked to is Aaron Gordon.
The sense is that if you're looking for one of the Rockets' assets and don't have what they're looking for, trying to include Orlando in a three-way deal is a good approach.
---
Heat Check
The Heat have corrected course, going 11-4 in their last 15 games. That hasn't diminished the sense that they are continuing to look at options to improve their roster.
The Heat are short on draft stock, missing their 2021 and 2023 first-rounders, and having at least conditional deals on their next six second-rounders.
If Jimmy Butler and Bam Adebayo are off the table (they are), the Heat would have to consider the prospect of including Tyler Herro in a deal. That's only happening for a major, All-Star upgrade, and no such deal is available at the moment.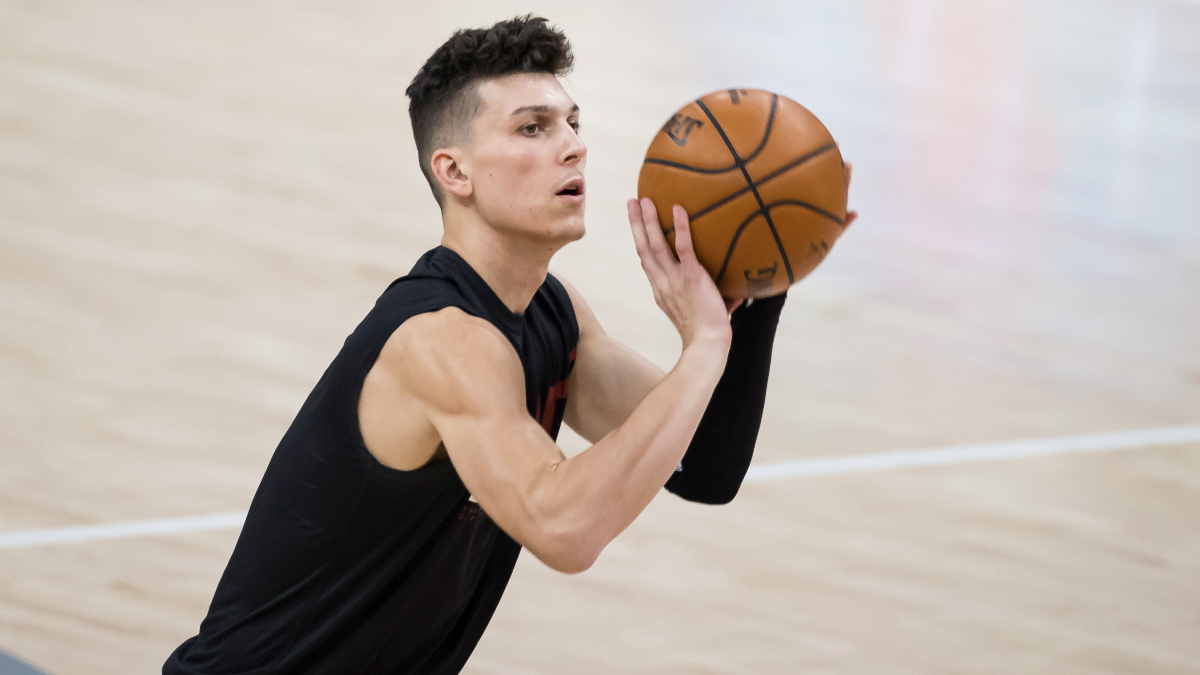 The Heat used Justise Winslow to add Jae Crowder, Solomon Hill, and Andre Iguodala, but Crowder and Hill departed in free agency. Kelly Olynyk and Mo Harkless are expiring contracts, while Goran Dragic and Andre Iguodala have team options for next season.
If you're a small-market team looking to shed salary after the brutal economic impact of the pandemic, these are useful options.
Still, the cupboard is pretty bare. At the risk of incurring the wrath of Pat Riley by comparing him to Danny Ainge, the Heat have very few assets outside of the players that they are too high on to trade.
---
Low(ry) Ball
The Raptors  may be the team the league is keeping the second-closest eye on. Things started to get back on track before the All-Star break, until a health and safety protocols situation to hit, knocking out Pascal Siakam and Fred VanVleet.
The Raptors have subsequently lost their past five, falling to 11th in the East. The Raptors can climb back out of the hole; they are only four games back in the loss column from home court in the first round.
Norman Powell is the name most commonly attached as a potential asset.The question is where Masai Ujiri — whose future remains of some question in Toronto at least theoretically — wants to go. The cupboard seems bare beyond the remnants of the 2019 title.
Do the Raptors look to restock the cupboard? Will they make a move to compete through the end of Kyle Lowry's career?
There was increasing talk over the past few weeks about Lowry being dealt to Philadelphia among other potential destinations. Those talks ended with the Raptors taking Lowry off the table, as longtime Raptors scribe Michael Grange recently reported.
But the Raptors can't keep Lowry and tank.
If the Raptors make a move at the deadline, it will be for an upgrade that improves them over the next 2-3 seasons.
---
That Magic Moment
And then there's the Magic.
On Monday, Bleacher Report wrote on the Magic's position and the assets they have. The Athletic reported on potential talks for Aaron Gordon with the Timberwolves.
Here's the catch: the Magic are still asking a high-level price. Both Gordon and Nikola Vucevic are available if you call, but it's going to take multiple first-rounders, as of right now.
"Are they going to hold to that price? That's what no one knows. They aren't talking as if they're incentivized to make a deal happen," one exec said.
Orlando's reticence to relent on their price, coupled with a "you call us" attitude has frustrated executives, but one source made the case for Orlando's approach.
"All the other teams with assets don't want salary back. (Orlando) actually wants pieces they can win with in the future. If you're one of these teams trying to compete, the only things you can really part with all come with salary. So why not take this position?" the source said. "But then, you run the risk of talking yourself into this team being close to good, which they've done over and over."
---
More from Around the League
Two sources said they felt like the Dallas Mavericks were the most likely landing spot for Atlanta forward John Collins if he's traded, which is far from a sure thing. Notably, Dallas is one of the least-media-leak-ish organizations in the league outside of a handful of reporters, of which I am not one. So take those "feelings" with a grain of salt.
Bryn Forbes and Langston Galloway are among the veteran options available in deals, with both seeking larger roles than what they have with Milwaukee and Phoenix respectively.
Cleveland continues to look for deals; Cedi Osman is available in talks.
Denver has an interest in PJ Tucker, as was reported by ESPN's Tim MacMahon, but there's skepticism they can offer the right amount. The asking price for Michael Porter Jr. remains what it was in the (short) offseason: too high for any team to realistically offer.
How would you rate this article?
This site contains commercial content. We may be compensated for the links provided on this page. The content on this page is for informational purposes only. Action Network makes no representation or warranty as to the accuracy of the information given or the outcome of any game or event.