NBA Trade Rumors: Is Writing on the Wall for Andre Drummond to Join Nets?
Credit:
David Liam Kyle/NBAE via Getty Images. Pictured: Andre Drummond.
Let me take you back a bit.
July 2014: Kyrie Irving, James Harden and Andre Drummond win gold in the 2014 FIBA World Cup.
July 2016: Kevin Durant, Irving and DeAndre Jordan win gold in the 2016 Olympics in Rio. Durant and Irving had been friends since 2011; Durant and Jordan went back all the way to KD's college recruitment. But the three spent time together on that team and celebrated afterward together.
June 2019: Irving and Durant decide, without telling the Nets, they're going to sign with the Nets. Jordan is part of the package deal. Jordan has expectations to start.
March 2020: The Nets fire Kenny Atkinson, highly regarded for the job he'd done to rebuild the Nets and put them in a competitive position.
January 2021: The Nets trade both Jarrett Allen and Caris LeVert, key members of the Nets' resurgence, in a deal for Harden. Allen is traded to the Cavaliers, which is odd, given that they have both JaVale McGee and Drummond under contract. Both players and the team have been playing well.
February 2021: The Athletic reports a league scout believes that Drummond could wind up being bought out by the Cavaliers, eventually joining the Nets.
Monday, Feb. 15, 2021:
Reporting with @WindhorstESPN: The Cleveland Cavaliers are no longer planning to play center Andre Drummond as they work to trade the two-time All-Star prior to the NBA's March 25th deadline, sources told ESPN.

— Adrian Wojnarowski (@wojespn) February 15, 2021
When pinged on this news, two independent league sources not involved in trade talks shared the same sentiment: Unless a team comes to the table, the result will be a buyout for Drummond, leading to him signing with the Nets.
That whole timeline I shared reinforces a few key ideas. Pre-existing relationships reinforced by playing together in the Olympics bred future personnel decisions, particularly by the Nets, where Durant and Irving clearly run the show.
We also know the duo don't exactly keep things under the radar. They're pretty open about their intentions. Bread crumbs were leading to Durant and Irving teaming up and Jordan's name was often sprinkled in. Brooklyn was one of the first leaked suitors for Harden, leading to premature reports of a "done deal."
So while the Raptors are reportedly a suitor for Drummond, according to Shams Charania at the Athletic, the question is whether the outcome will be significantly different than what the cards foretell here.
Drummond is on an expiring contract, so any team that takes him on is dealing with his inconsistent attitude and effort and the fact that they have to then commit to a future contract based on what they give up for him. You can't send out a role player and a pick, even a second-rounder, and then have nothing to show for it in six months.
If Drummond's wish is to join the Nets, he'll get to make that decision this summer no matter what happens from here on out. That presents a possible chilling effect on talks, a league source suggests.
"Can you give up assets if the guy has already made his mind up about this summer?" the source said. "But no one knows if he's there yet. It's just a concern you have to weigh, alongside everything else."
The Nets are an obvious suitor for Drummond but are almost entirely out of assets to send for the Cavs, given what they gave up for Harden. They need a defensive center, since Jordan lacks the ability to make much of a difference on that end at this point in his career. Drummond's effort is inconsistent, but earlier this season, with a surprisingly plucky Cavs team, he was exceptional (until the Allen trade when he checked out, Larry Nance Jr. got hurt and the wheels fell off).
The Raptors have been searching for a center upgrade, having gone through Alex Len and Aron Baynes with Chris Boucher starting to struggle, as well.
The Celtics might be another candidate. If the market sours for Drummond, the Celtics can offer young players with upside or seek to use their traded player exception from the Gordon Hayward deal alongside picks. According to league sources, Drummond was thought to be a free agency candidate for the Celtics last season before he opted into the last year of his deal.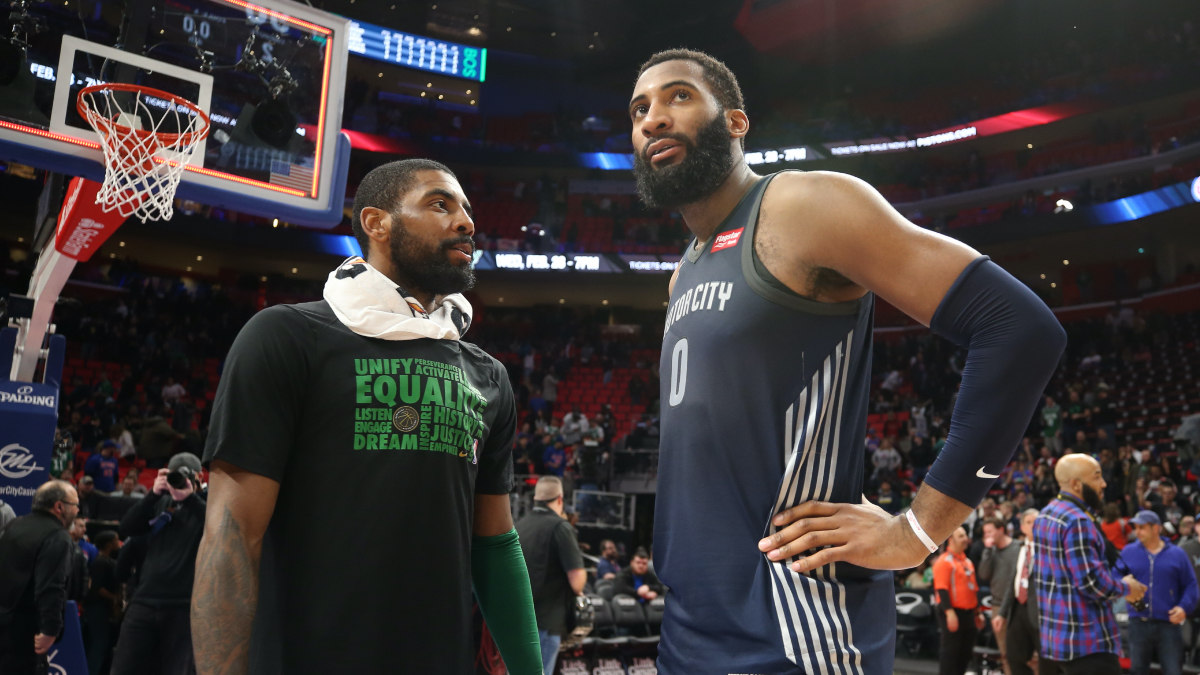 Drummond's culture fit with Boston is dubious, however. Effort is a key part of the program, and much of Boston's success has come from consistent high-effort from all of their players. Brooklyn is much more of a "try when it matters" kind of team, as evidenced by their high-profile wins and sub-.500 record vs. teams under .500.
If Drummond is bought out, he may have offers from other championship contenders. The Lakers have Marc Gasol and Montrezl Harrell but have missed the raw size advantage that McGee and Dwight Howard provided last season. Their issues with Nikola Jokic on Sunday, even considering Anthony Davis' injury, were proof of that matchup problem.
"Any veteran player with value on the buyout market is going to have the Lakers on the list. Whether that means the Lakers want him or not is another matter," a league source noted.
Adding Drummond to Brooklyn would solidify a rim threat with Harden, Durant and Irving. Brooklyn is 21st in defensive rebound percentage, allowing the third-most points in the paint per 100 possessions. Drummond's often frustrating wax-and-wane focus may be best suited in Brooklyn with Kyrie Irving's "art" and under Steve Nash's coaching.
If another team comes in and snags him, the Nets may have the most to lose short-term, but any suitor has to try and see if they can finally provide the culture that manages to get consistency out of a maddeningly talented player.
How would you rate this article?