Phan & Jennings: Drafting Our Favorite NBA Win Total Over/Under Bets for All 30 Teams
Credit:
Barry Gossage/NBAE via Getty Images. Pictured: Devin Booker #1 and Chris Paul #3 of Phoenix Suns.
With the NBA preseason winding down and the opener less than a week away, there's no better time to preview the upcoming campaign and take a look at some win totals. Peter Jennings and I took a deep dive and previewed every single team, ranking our favorite bets for each win total from 1 to 30 in a draft format (Picks 1-3 were snake style, and 4-30 alternate).
If you haven't heard, the 2020-21 NBA season has been condensed to 72 games instead of the standard 82. These picks were made using win totals from the Westgate Las Vegas SuperBook and their rules indicate that teams must play at least 69 regular season games for these bets to have action.
As we note in the video below, you have the option to play some of these bets by percentage at certain books (DraftKings for example), which could shield you from the possibility of game cancellations impacting raw totals.
Check out the video of our draft and read the transcribed version of it below.
Note: The conversation below has been edited for brevity.
2021 NBA Win Total Picks
Pick No. 1
Phoenix Suns Over 38.5
Peter Jennings: I'm going to go with a pick here that I'm not sure you're going to love as much as I do, but I'm really excited about the Suns. I think the Suns are set up extremely well for the regular season. I love what they've done this offseason, obviously the addition of Chris Paul is the biggest one.
His leadership is going to be huge for this young team. We saw what Chris Paul did in OKC, players really rallied around him, and I'm super bullish on Devin Booker. I just think they're going to do really well in the regular season as we saw at the end of the bubble.
Pick No. 2
Boston Celtics Under 45.5
Justin Phan: We got the Kemba Walker news — he's out until at least January — it wouldn't surprise me if he was out until mid-to-late January. They lost Gordon Hayward and their offseason has been pretty underwhelming.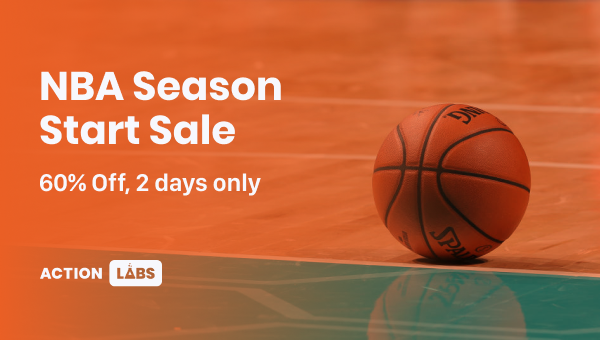 Tristan Thompson's already dealing with an injury, he's been limited/out during most of camp, so he'll enter the season less than 100%. Jeff Teague enters as the presumable starter from the get-go, though that's not set in stone just yet.
Their bench is a huge question mark and for this season, depth is going to be a really big factor with the condensed schedule. I don't think they are well equipped to deal with an injury and it puts an enormous strain on Jaylen Brown and Jayson Tatum to stay healthy and carry the load.
Pick No. 3
Sacramento Kings Over 27.5
JP: I just think this number is way too low. I really like how they filled out their second unit with Tyrese Haliburton, Hassan Whiteside — for the minimum — and Glenn Robinson III. Tyrese Haliburton, one of my favorite rookies in this class, I think it's an absolute steal that he fell to 12th.
We're going to look back a couple years from now and he's going to be one of the top four to five rookies from this class. I think that's a low number for a team that has no real incentive to tank. I think they'll be competitive from start to finish.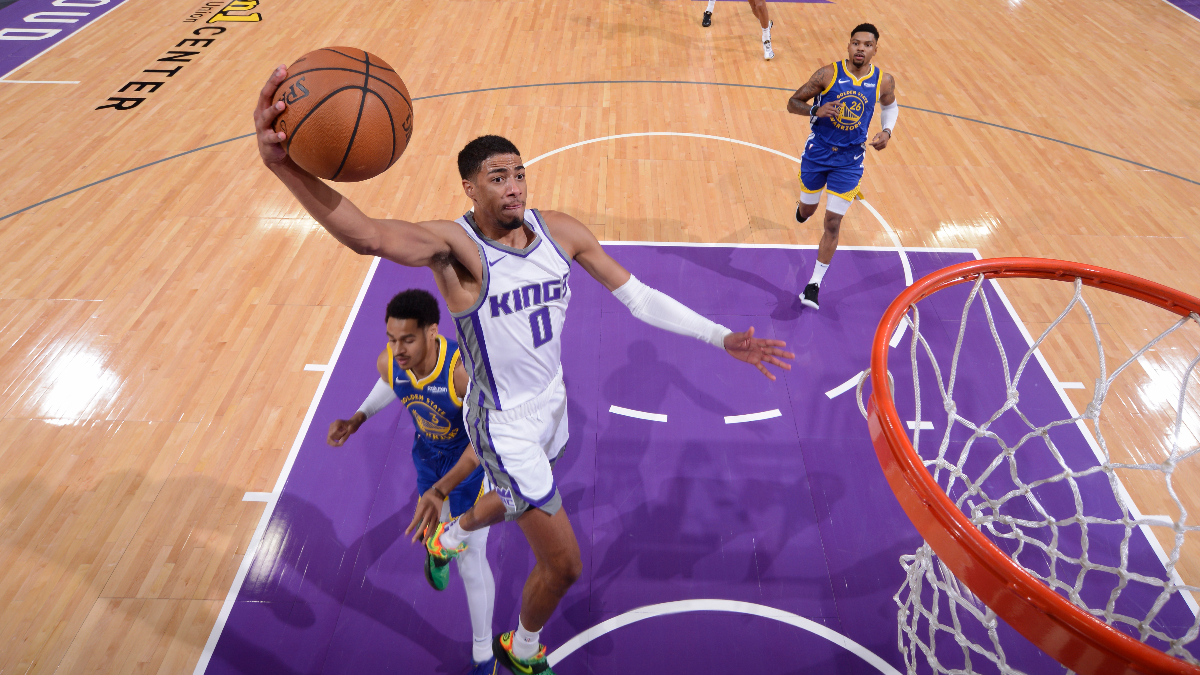 Pick No. 4
Dallas Mavericks Over 43.5
PJ: I actually think there's still value in this number at 43.5 and the over for Dallas. I think Luka Doncic should be right there as the favorite for MVP. I LOVE the [Josh] Richardson signing, I think that is literally the perfect compliment to Luka — great defender, doesn't need the ball in his hands, Luka can do the majority of the creation.
The variance on this bet is really what happened with Kristaps [Porzingis]. If you told me Kristaps is going to be healthy for sure in mid-July, I think this is a "smash the over" spot. I still see a little bit of value in the over and I had to move this up just because of [Mark] Cuban and Doncic — it's basically a Luka bet.
Pick No. 5
Washington Wizards Over 32.5
JP: This is mostly a bet on talent. I think they're the clear No. 9 team out East after the Pacers and the Hawks. I don't expect them to make the playoffs necessarily, but I think it's close between them and some of these other Eastern conference teams. The Russell Westbrook addition is going to be interesting just in terms of fit.
He's going to a team that's starting a more traditional frontcourt with Rui Hachimura and Thomas Bryant, so not really an opportunity for him to play that small-ball center role — though I think he's got really good shooting around him with Davis Bertans. Just on talent alone, I'm going to bet on this team being the No. 9 seed.
Pick No. 6
Charlotte Hornets Over 25.5
PJ: It's a really weird roster, a ton of guys that are weird fits together, specifically on the creation side. [Devonte'] Graham was a huge success last year. A lot of that was in the beginning of the year and he regressed at the end of the year. [Terry] Rozier I'm not a huge fan of, then they add LaMelo [Ball], so you've got three awkward fitting guards. But, the nice thing for them is Hayward playing closer to what we saw at the end of [last season]. When he was healthy, he looked really good. And it's just a low number.
Pick No. 7
New York Knicks Over 23.5
JP: I think [Tom Thibodeau] is going to squeeze every bit of win equity that he can from each game. They're going to see a sizable improvement on the defensive end this season. What I really like that I've seen so far in the preseason is that their second unit is really going to keep them in games.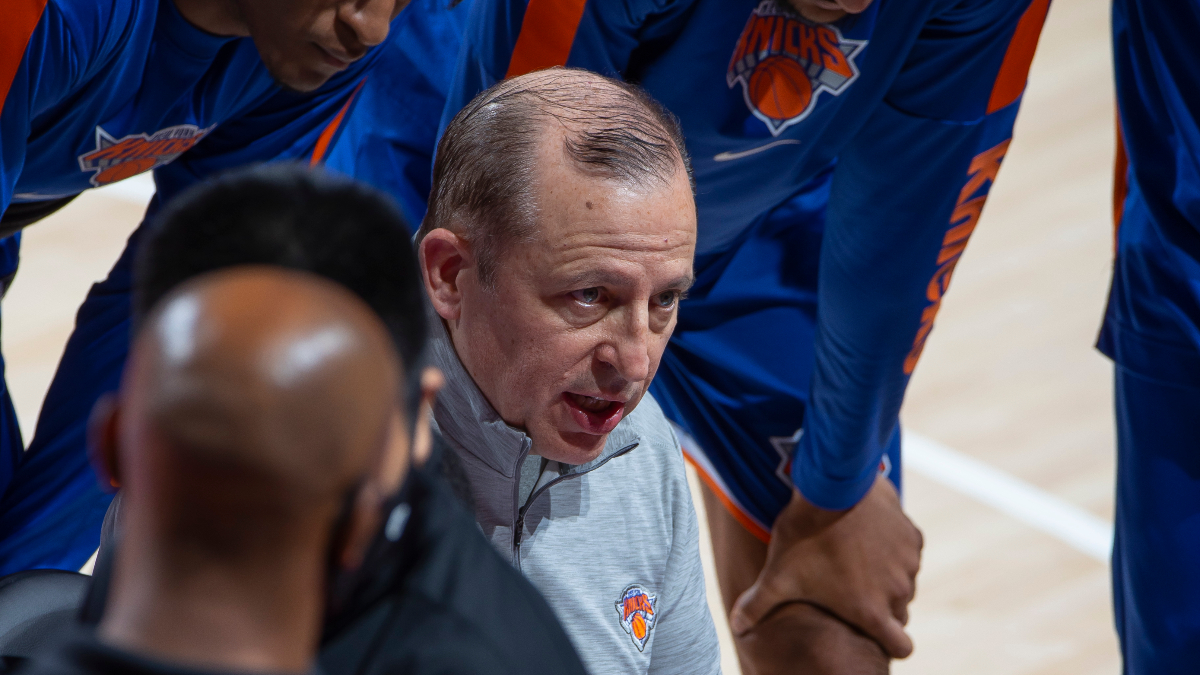 You're looking at [Austin] Rivers or [Dennis Smith Jr.], Frank Ntilikina, Obi Toppin (who has been really impressive) and maybe Mitchell Robinson comes off the bench if they continue to start Nerlens Noel. I'm still very pessimistic on their small forward position between RJ Barrett and Kevin Knox. But with the set-up, with Thibs, with improvements coming, I think 23.5 for the Knicks is just too low.
Pick No. 8
Miami Heat Under 45.5
PJ: They were an amazing story with what Jimmy Butler and that team was able to do getting to the Finals in the bubble. We've seen potential offers where the Heat could go after a James Harden type. There's certainly some risk here, but assuming they have the roster as is, I think we're going to see a team that's going to have to be strategic with resting guys.
They've got some veterans that certainly are going to need to take some time off, Jimmy Butler in particular. I'll bank on a little bit of regression and a team that had to play so far into the bubble, I think they might get off to a slower start than some of these other teams.
---
Want to get this same kind of NBA insight from Justin Phan all season long? Subscribe to Action Labs to get our NBA Insiders tool to beat the market with our cutting edge player projections, injury news and betting thresholds.
---
Pick No. 9
Los Angeles Lakers Under 46.5
JP: I'm going to take the other Finals team and go Lakers under at 46.5. I don't feel that great about this, I just think it's the right play given the huge question marks about LeBron's workload, how many games he's going to actually rest and how the minutes will come down when he does play.
The reason I don't feel great about it is they got even better during the offseason and I think they are really well equipped to compete even without LeBron when he rests. Their projected bench is pretty damn solid. They have the depth to stay competitive even if LeBron sits, so I don't feel great about this, but I think it's the right play to take the under.
Pick No. 10
Portland Trail Blazers Over 41.5
PJ: My next pick is the Blazers' over and I think they had one of the best offseasons. They just made some really sharp moves, the biggest move, for sure, is [Robert] Covington, who fits perfectly on that team.
Defensively is where they hurt a little bit and to pick up someone like Covington should really help them defensively. A full season of [Jusef] Nurkic is going to be fantastic. They have a lot of pieces that fit pretty well together and the Covington addition is that perfect combination.
Pick No. 11
Chicago Bulls Over 30.5
JP: Another one I don't feel great about but I think is the right move is the Bulls' over. I think Billy Donovan is going to be big for this team going from Jim Boylen. Players have already started raving about [Donovan].
They still haven't really addressed their point guard position. Zach LaVine is a score-first guy, Coby White is a score-first guy, so I'm still worried about distribution and how their offense gets set up … that's still a question mark for me. I'm still generally optimistic on this team. They have the talent to outperform this 30.5 over/under.
Pick No. 12
Detroit Pistons Under 23.5
PJ: It's a number that I don't feel great going under in 23.5, but I don't know what they're going to be. I don't know how they will play winning basketball this year. I think they should really try to develop this young roster that they have and Blake Griffin is at the end. He lost his athleticism, and then gained his shot. I would have been great if he had his skills now with his elite athleticism when he was younger.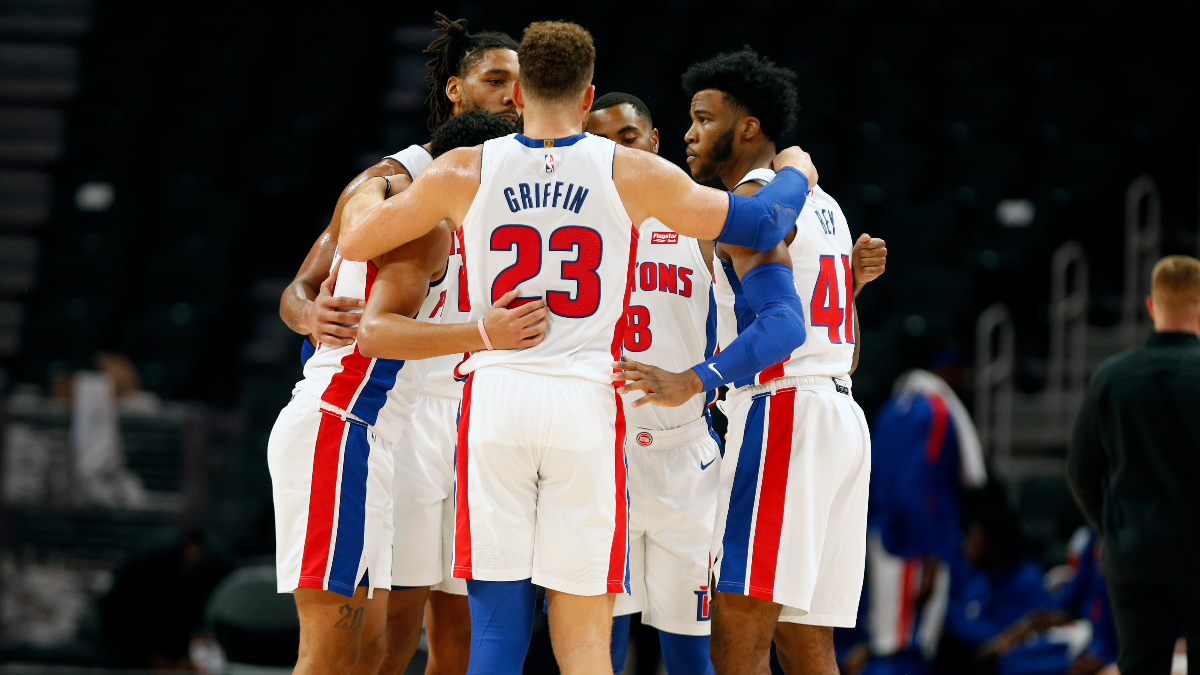 He's the perfect trade candidate. Derrick Rose is a big part of this team and he's someone you are always worried about health-wise. Even in the East, the Pistons have a really good chance to be the worst team in the NBA. I think there will be some good spots where you can potentially bet against the Pistons and I'll be certainly looking at our Insiders page on the right nights.
Pick No. 13
Oklahoma City Thunder Under 22.5
JP: I'll go under on the low total too and take the Thunder at under 22.5, which is a full win under the Pistons. One thing to mention is that this draft class is extremely loaded. This is definitely one where we'll see teams go fully in the tank.
The Thunder are another that I fully expect to go deep in the tank sooner rather than later. It's highly unlikely that [Al] Horford, [Trevor] Ariza, George Hill will be on this roster past the deadline. This is all about developing their young players. When you get those vets out of the way, this offense is going to look really rough.
Pick No. 14
Atlanta Hawks Over 36.5
PJ: I'm going over on the Hawks. I think long-term it's a basketball hub and they have pieces now. They're building around Trae [Young]. I love the addition of [Clint] Capela last year, I think he fits so well, we're going to see so many alley-oops. I think that's correlation play that you can actually look at in DFS. A lot of the big assists games from Trae are going to involve Capela on rim runs.
I was ready to bet the house on Milwaukee, [Bogdon Bogdanovic] has been one of my favorite players in the league. I think he's wildly underrated, I think he does so many things extremely well and I think he'll be a great addition to this team. They have a clear direction to improve and, in the East, I think this is a clear playoff team that might be more competitive than people think.
Pick No. 15
Houston Rockets Under 35.5
JP: I'm going Rockets under and this has everything to do with the direction of the team right now. James Harden is on his way out. I think PJ Tucker is likely to follow afterwards and this team kind of shifts its focus more towards a rebuild around whatever package of players and picks they get for Harden in return.
You have a guy like John Wall, who has missed extended and has an extended injury history — same thing with Demarcus Cousins. When they get deeper into the season and they're out of the playoff picture, they're going to take the gas pedal off those guys and scale them back.
I think the direction of this team is pretty clear given the trade demand of Harden and deeper in the season I see them shifting their focus entirely.
---
Join the Lab for exclusive access to the fastest real-time shopping, the largest historical database, and the top insiders in the betting industry.
---
Pick No. 16
Golden State Warriors Under 37.5
PJ: You're counting on an efficient year from [Kelly] Oubre, I'm not sure that's going to happen. I think Draymond [Green] really benefited from the team around him before, which was perfect to emphasize his strengths and hide his weaknesses. I just don't think they're going to be the same defensive team.
Pick No. 17
Los Angeles Clippers Under 45.5
JP: With this condensed schedule there's a lot of red flags here with this roster. You have Kawhi Leonard still dealing with that chronic knee injury, he'll still continue to rest games. They have Patrick Beverley who's 32, he's missing more games, seeing fewer minutes. They have Lou Williams ( 34).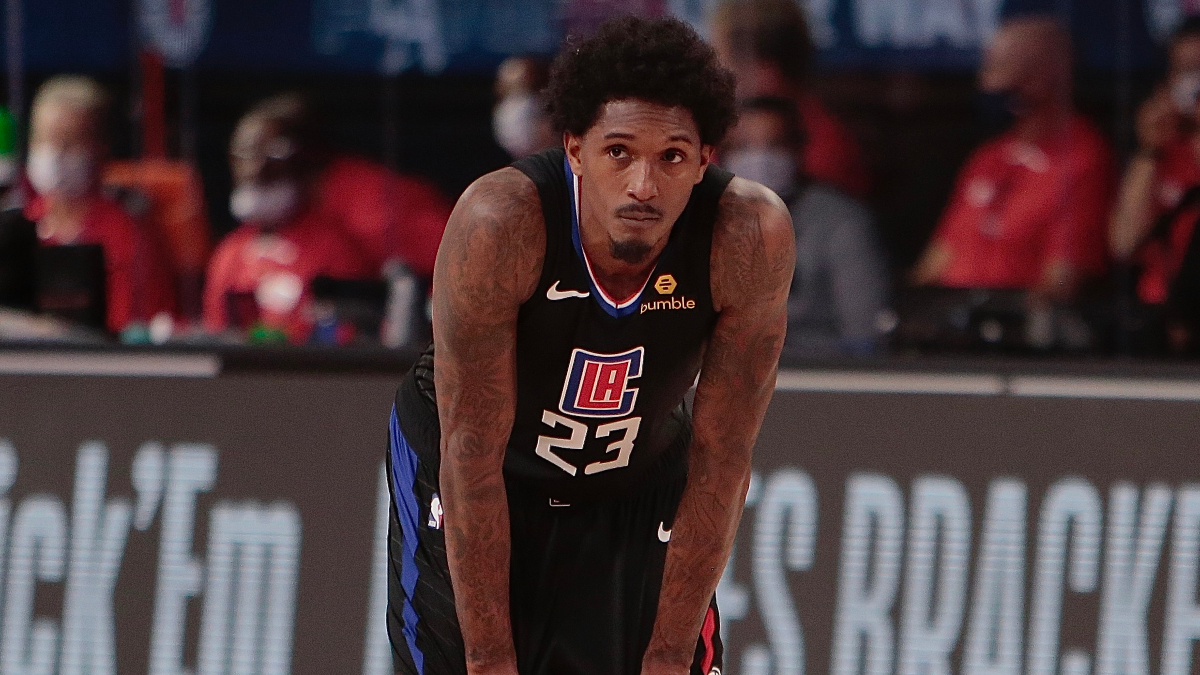 And while I like Serge Ibaka over Montrezl Harrell in a vacuum, I think Montrezl Harrell is still the better player in the regular season. He's the guy that you need out there, especially on the days that Kawhi is resting that you need offense from."
Pick No. 18
Milwaukee Bucks Over 49.5
PJ: I love that they re-signed Giannis, obviously that's huge for the trajectory of the franchise long-term. I think that will help the team a ton throughout the regular season not having to deal with that drama.
I'm the biggest Jrue Holiday fan there is, I think he's such a plus and a perfect fit on that team. Regular season, Giannis is unstoppable. [Khris] Middleton, we saw how good of a player he was last year, especially in the playoffs. It's also a line shop here — 49.5 total at Westgate, it's 50.5 in the majority of the market.
Pick No. 19
New Orleans Pelicans Over 36.5
JP: Stan Van is already running them through two-a-days. Defense is a huge focus for them which is a welcomed change after last season. I don't know what Alvin Gentry was doing during practice but this team was just horrendous defensively.
One thing that's really encouraging is that Zion Williamson is coming in with no restrictions this season. We're seeing that already — the other day in the preseason game he played 10 straight minutes in the first quarter.
Pick No. 20
Memphis Grizzlies Over 31.5
PJ: They started playing a lot better down the stretch, they have a lot of young talent. Obviously it's a tough conference but 31.5 wins is reasonable. Hopefully [Jaren Jackson Jr.] can make some big improvements and we see a lot of the success they had towards the end of last year come to fruition for this entire season. Ja Morant, superstar. Saw him in the preseason shooting only at the rim and shooting threes basically. He can get wherever he wants on the court and he's only going to get better.
Pick No. 21
Utah Jazz Over 42.5
JP: Continuity is something that I'm focusing a lot on this season just with the shortened ramp-up period and the Jazz are going to bring back their top eight rotation players and Derrick Favors, who played for this team a couple seasons ago and has familiarity playing behind Gobert, playing in that system. They upgraded their depth, they went from Tony Bradley and Emmanuel Mudiay to Derrick Favors and Shaq Harrison. They're going to get Bojan Bogdanovic back from a wrist surgery so he'll be back to 100 percent and ready to go.
Pick No. 22
Denver Nuggets Over 44.5
PJ: This is a homer pick, don't have conviction either way on the number. It's going to come down to how well Michael Porter Jr. progresses this season. Obviously Jamal Murray, we saw what he did in the playoffs, would like to see him take a step up in the regular season.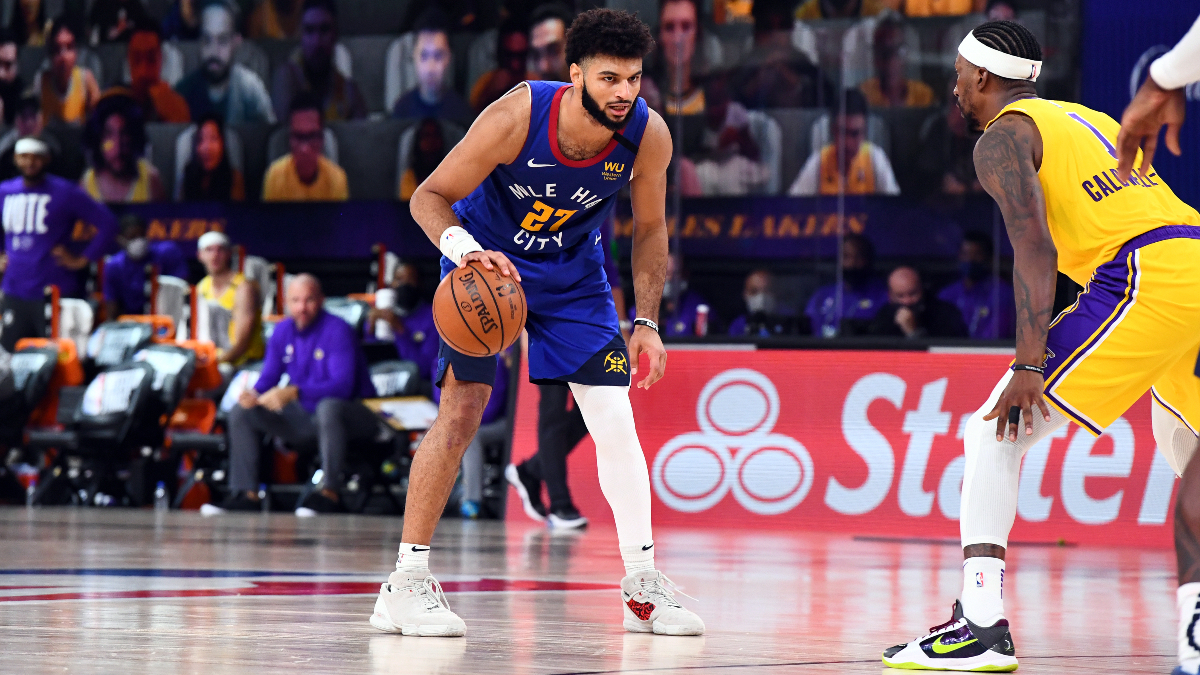 Hopefully we can see those superstar takeover games a little more in the regular season. Continuity they have. Their offense is going to be unbelievable. Can they play well defensively?
Pick No. 23
Philadelphia 76ers Under 45.5
JP: This is a just pure numbers take because this number got bet up all the way from 41.5. I still like the over at 43.5 but at 45.5 I'll take the under. I'm really optimistic about the direction of this team. Love what they did with Morey in the off-season adding much-needed shooting with Seth Curry and Danny Green.
My concern with this number at 45.5 is you still have concern with [Joel] Embiid resting or being managed this season with the condensed schedule. They added Dwight Howard, but it's still a massive drop-off going from Embiid to Dwight.
Pick No. 24
Toronto Raptors Over 42.5
PJ: I think the market is adjusting a decent bit because of Gasol and Ibaka, which are obviously really valuable pieces, but long-term this is the right move for this team. Those guys are both old and in the regular season getting some young bodies out there might actually be a win.
You and I are both really high on OG Anunoby who I think will become a household name, an absolute stud defensively who made big strides offensively last year. Just a total freak in terms of body type — if he makes the jump, now you're looking at a team with a ton of versatility and upside.
Pick No. 25
Brooklyn Nets Under 45.5
JP: I had this ranked higher before until I saw Kevin Durant play, and he looks like the Kevin Durant of old so I had to knock this down a bunch. The concerns here at the 45.5 total is that you still have the question marks of them staying healthy — KD and Kyrie.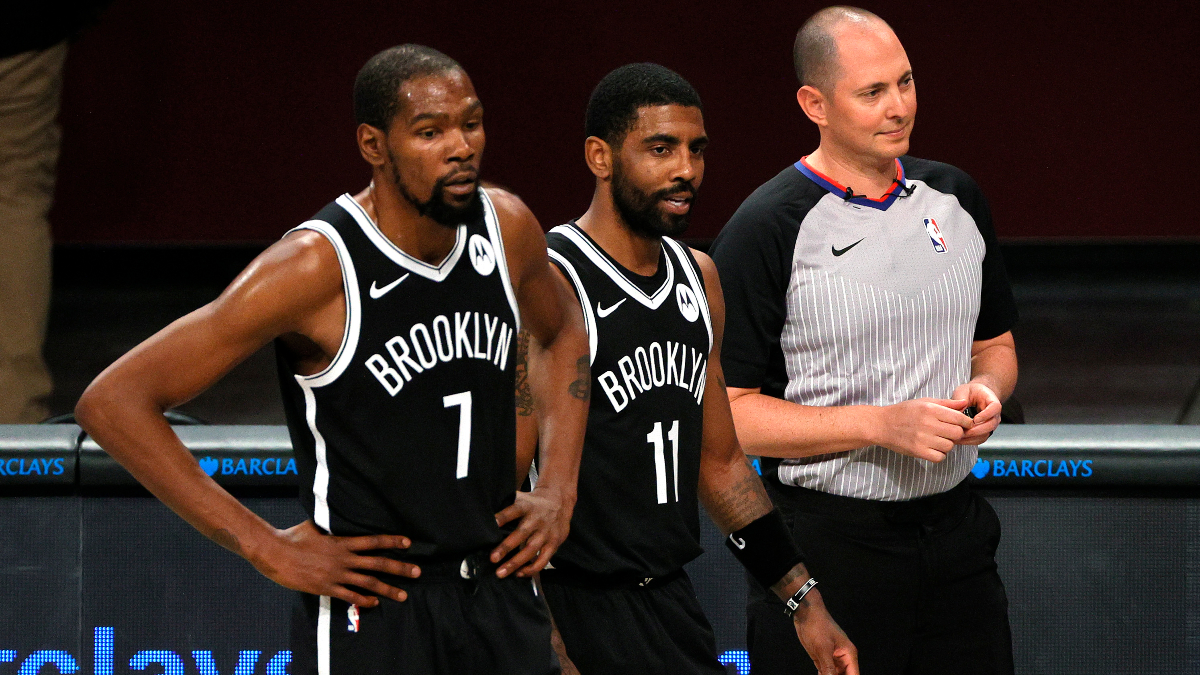 KD looked great in his first game action in 18 months but this is still a shortened camp/preseason adjustment for KD and Kyrie having never played together. They have a first-time head coach in Steve Nash. It's mostly a bet against KD and Kyrie both playing 60-plus games each.
Pick No. 26
Minnesota Timberwolves Over 27.5
PJ: I'm super bearish on the Wolves, I took the over strictly because it's 27.5 on Westgate, 29.5 on some markets. I think they're going to be really bad defensively. Maybe Towns really takes a step up again. He started off last year so good and then kind of fell off. That's really the X factor for them, if he can be a super-super star player for them on both sides of the ball ideally.
Pick No. 27
Indiana Pacers Over 39.5
JP: This is just a bet on continuity. They're going to return the most minutes and the most players from last season of any team. Basically all their rotation players are back next season. I think that's obviously important in a season where there's a shortened ramp-up period, shortened camp, shortened preseason. Still some question marks here — TJ Warren already dealing with a plantar fascia injury, he's week-to-week, might not be ready for the start of the season.
Pick No. 28
San Antonio Spurs Over 29.5
PJ: Just the number but man they're dealing with injuries already. DeRozan they need to figure out a different type of role, I know you're high on him as a power forward that we saw in the bubble. Don't like to see injuries to Derrick White already. I don't think there's much of a ceiling, the West is stacked. I think the Spurs should probably tank. What happens to Aldridge this year? It's just a weird team for me. I don't have conviction on it that's why we both waited to take the Spurs.
Pick No. 29
Cleveland Cavaliers Over 22.5
JP: It's just the number here — 22.5. There's only one way to go for this team and that's up. There's interesting pieces but there's still going to be some growing pains. I was really expecting Darius Garland to finally take the leap this season.
Point guards have a tough go at it their first year adjusting to the pace, reading the game, playing off the pick-and-roll so I was expecting him to take a jump but the preseason has been brutal for Darius Garland. Just a turnover machine.
They still don't have a real point guard who can set up that offense. Just banking on some natural improvement from some of their younger guys to get over the hump here at 22.5.
Pick No. 30
Orlando Magic Under 31.5
PJ: It's extremely efficient, we both waited until the very end so basically agree with the number. Really wish Isaac was healthy. Maybe have some continuity, they played really well last year for a long stretch. Kind of a surprise as a team. I'd be interested in betting the over on them assuming Isaac was healthy but obviously he's out.
How would you rate this article?