Moore: Can Nikola Jokic Win NBA MVP in the Next 5 Years?
Credit:
Bart Young/NBAE via Getty Images. Pictured: Nikola Jokic (15) of the Denver Nuggets.
Could Nikola Jokic win an MVP award? Is that even a thing that could happen?
On the one hand, Joker is an All-Star level player who led his team to the second spot in the Western Conference last season and the third spot in the West at the time of the league's suspension this season. He's widely regarded as either the best or second-best center in the NBA behind Joel Embiid. He is very likely the best passing center in the history of the NBA.
On the other hand, Giannis Antetokounmpo, Anthony Davis, James Harden, Stephen Curry, Kevin Durant, Joel Embiid, Kawhi Leonard, and Luka Doncic exist, not to mention LeBron James.
Jokic's game is, at times, beautiful and subtle while seeming plodding and awkward. It's incredible control and manipulation crossed with raw brutality that always seems on the verge of teetering. No one looks like Jokic on the court. No one plays like Jokic on the court. Very few dominate the way he does.
Can he win the MVP, though? What would that look like?
[Get All of Your Colorado Sports Betting Questions Answered Here]
THE CHALLENGE
Let's just get this out of the way: the Nuggets would have to win the most games in the league. Not just the West, but the entire NBA. They have to outpace LeBron's Lakers, Giannis' Bucks (if he stays), Kawhi's Clippers, and whatever crazy thing the Warriors wind up doing.
There's no combination of points, assists, and rebounds that Jokic will realistically achieve that will compensate for the scenario they finish behind another team. The central issue is Denver's standing as an NBA market. It's simply more important in the NBA to be from a glamour market like Los Angeles. It will never be cool enough to be great in Denver to overcome any argument over other players.
Let me put it this way. Let's say the team with the best record did not have a player who was going to win MVP (like Durant, Curry, or any Spurs team since 2005). Let's say the Nuggets won more games than the Lakers with Jokic having comparable but slightly better numbers and impact than Davis.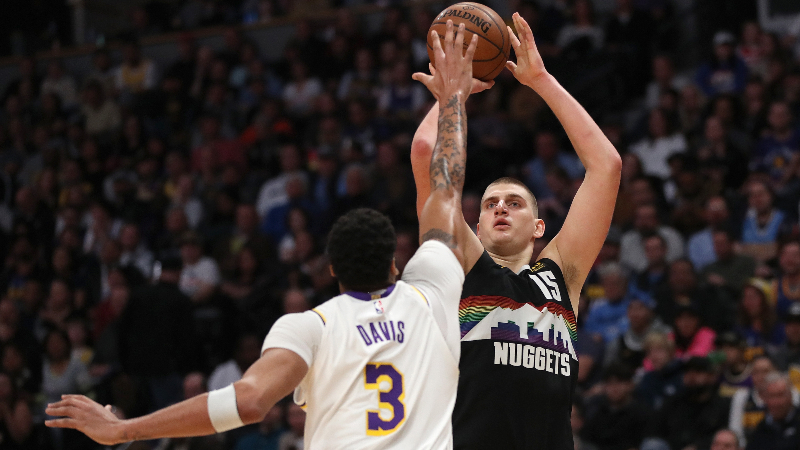 Davis will still have a better chance at MVP. That's just the reality: the deck is stacked against Jokic winning.
So the Nuggets have to win the most games in the NBA. That's an unshakeable precept.
This is possible, given that the Nuggets won 52 games last season and were at 44 with around a month and a half left in this season before the league's suspension. The gap between them and the Bucks is meaningful, but it is within range given how much better the Nuggets (and Jokic) can still become.
Additionally, look at the potential teams that we can see winning that many games, barring a Black Swan event:
(Note: We've seen many Black Swan events over the past several years, including this current pandemic shutdown)
Bucks: Either Giannis leaves as an impending free agent following a trade request to a large market team or the Bucks shift to a mode of competing for titles, inherently valuing the regular season less.
Lakers: LeBron will age eventually; it may take a full five years, but it will happen. (I think?) Meanwhile, the rest of the roster is thin and dependent on aging veterans (Dwight Howard, Danny Green). There's very little capacity for them to restock.
Clippers: Leonard and George are only on two-year deals and Leonard's motivations and intentions have always been unfathomable.
Sixers: There's no telling how the Embiid-Ben Simmons pairing is molded over the coming years, or if Embiid can stay healthy. They feel loaded with potential but also an unstable element.
Raptors: If they land Antetokounmpo through Masai Ujiri's previous relationship, then surely it would put them in position to lead the league in wins for a while, but that needs a lot to go right at the same time.
Jazz: If it wasn't going to happen for them this year, I don't know when it is in the Rudy Gobert era. They seem to be becoming more solvable, not less.
Rockets: Given their owner's near-panic about the economic effects of the pandemic, the fact that head coach Mike D'Antoni has been clearly told where the door is once this season's business is concluded, and the financial weight of Harden and Russell Westbrook's combined contracts, they seem pretty much out.
Celtics: Kemba Walker's improvement curve is sloping down slightly as he ages over this contract, Jayson Tatum and Jaylen Brown will become stars, but the Celtics bench is thin and most of their great drafts have run out.
Nets: Durant is coming back from an Achilles injury and Kyrie Irving is Kyrie Irving. They're going to hire a new coach and there are a lot of ways that goes sideways.
So Denver has an opportunity to reach 60-plus wins and secure a top spot. That's doable. The issue is the necessary elements for that to happen may inherently limit Jokic's chances.
THE PATH
For starters, they need a major trade upgrade. Denver kicked the tires on multiple guard upgrades this summer, and will likely continue to do so in the offseason (depending on how apocalyptic the new cap projections are).
Let's say they add someone like Bradley Beal (there's been continued insistence the Wizards are not trading Beal and that he is not asking out). Doing so increases their chances of reaching the league's top mark at least once in the next four years. However, the addition of a player like Beal will immediately force the question of who is better.
Understand this question is ridiculous. Jokic is a first-team All-NBA player. He's made the All-Star team the past two seasons. But he's perceived as a chubby passing big with a little bit of range and a few good inside moves. Elite killer guards rule the modern NBA. If the Nuggets traded for a Beal-type player and won the most games in the league, there will be an argument — a fallacy still — that it's because of that Beal-type player.
The other thing the team will absolutely need to reach that level is for Michael Porter Jr. to become a star. Porter averaged 19.2 points and 10.7 rebounds per 36 minutes this season, one of only six rookies to do so since 2000. There is every reason based on his skillset, size, statistical profile and eye test to believe MPJ is the next big thing. His elite scoring ability fills a major need for the Nuggets.
But again … if MPJ becomes good enough to help lead the Nuggets to that level of team performance, then the inherent question that will follow is if he is better than Jokic.
The key issue is that Jokic's best attribute is not his points, rebounds, or assists. It's his ability to impact the game. The Nuggets win by a great deal when Jokic is on the floor.
He makes everyone better. He punishes mismatches and single coverage with scoring. Julius Randle needs to call for an adult to help out here like a toddler wanting to get a drink of water from the tap:
What about two-time defensive player of the year Rudy Gobert, though?
He punishes double-teams and zone schemes with passing. Pay close attention to the subtle fake he gives here to pull Ingram to the baseline, opening the middle:
His ability to find guys in transition is unparalleled. I'm still not sure at what point he decides to throw a bounce pass instead of his usual touchdown throw on this play. There's no way when he turned he knew Jrue Holiday was back.
On this transition pass, he's going full sprint and not only leads Barton to it but puts enough English on it to bounce it back into his hands:
Often times he's not so much throwing passes as just dropping them into a slot for guys to simply collect in exchange for buckets:
He's highly capable at dominating any opponent in those three key areas, but he rarely does all three of those things in a game because the best thing for Denver is rarely that he does so.
What I'm trying to say is that Jokic has a great deal of 8-point, 12-assists games, and a great deal of 20-points, 5-assist games, and very few (for a star player) where he does all those things at once.
So if the Nuggets were to get that star wing, and MPJ were to also become a star third or second option, what would Jokic have to average?
The fewest points in the modern era for an MVP stands at 15.5 for Steve Nash in 2005, who also averaged 11.2 assists for the 62-win Suns (best record in the NBA that season). But that was also a different era. Stats today are much more explosive for whatever reason you want to describe.
Jokic is going to need to average at least 23 points and double-digit assists along with at least eight rebounds for the best team in the league to have a shot at it. There are ample cases of players averaging 23 points and around eight assists and winning (Magic Johnson multiple times, Steph Curry in 2015). But the bar for Jokic will simply be higher.
Derrick Rose averaged 25 points and 7.7 assists in 2011 in winning the MVP award, but that was also maybe the most heavily narrative-weighted award in modern times.
Centers are also held to a different standard, historically. The fewest points in the last 40 years for an MVP center was 24.5 by Moses Malone in 1983, but Malone also averaged 15 boards per game. Every other center to win MVP since has averaged at least 25 points, and at least double-digit rebounds.
Jokic's assists offset some of this, which is why 23 is probably a reasonable number, provided he's in double-digit assists. No NBA center has ever averaged double-digit assists in an NBA season since the statistic began to be tracked. (Wilt Chamberlain likely had many, because he did literally everything on the floor. )
Jokic averaged 7.3 last season. This year, Denver's shooting fell off a cliff and his assists dipped to 6.9. So we're talking about a three-assists per-game jump at some point in the next five years.
Doable, with added firepower, but pretty tight. It would take a perfect year where Jokic and the Nuggets were mostly healthy, managed to secure the No. 1 seed in the NBA, and Jokic put up those figures (23 points, 9.5 assists, 8 rebounds) in that same season. It would take a perfect storm.
But all of this is doable. Jokic's vision is unparalleled, his touch otherworldly. His teams have won, consistently, over the past three season. I'd put the odds of this perfect storm happening at some point over the next five years at 5%. His preseason MVP odds this year were +12500.
Timing will be crucial, but adding Jokic as part of a greater MVP betting position will make a lot of sense in the coming years. Be ready for that opportunity.
How would you rate this article?