Magic-Raptors Game 1 Betting Preview: Expect Toronto to Start Hot
Credit:
Photo credit: Raj Mehta-USA TODAY Sports. Pictured: Kawhi Leonard
Game 1 Betting Odds: Orlando Magic at Toronto Raptors
Spread: Raptors -8.5
Over/Under: 213
Time: 5 p.m. ET
TV Channel: ESPN
---
>> All odds as of 10:45 a.m. ET. Download The Action Network App to get real-time odds and live win probabilities on your bets.
---
The new-look Raptors with Kawhi Leonard & Co. have lofty aspirations these playoffs, but it'll start with a Game 1 matchup against the Magic. Will they come out hot and cover the number? Our analysts discuss.
Betting Trends to Know
No. 2 seeds have historically been undervalued in the opening round, going 86-52-6 (62%) ATS since 2005. No. 2 seeds that are sizable favorites (eight or more points), like the Raptors, have gone 33-19-1 ATS against 7-seeds. –– John Ewing
The Raptors ended the regular season on Tuesday and have had four days to prepare for the Magic. Since 2005, well-rested (at least four days between games) home teams have gone 97-58 (63%) ATS in the playoffs. — Ewing
---
LaMarca: Nikola Vucevic Is the Key to This Series
Vucevic is expected to be 100 percent for Game 1 of this series, and his importance for the Magic can't be overstated. They've posted a Net Rating of +4.6 with Vucevic on the court this season, but their Net Rating has plummeted to -6.0 with Vucevic off the court.
How the Raptors choose to defend him could have a big impact on this series. Marc Gasol will likely get the first crack at it, but Serge Ibaka was significantly better against him during the regular season. He held Vucevic to -6.9 points per 100 possessions below his regular season average, and the Magic averaged -8.0 fewer points per 100 possessions in that matchup. — Matt LaMarca
---
Locky: Why I'm Betting the Raptors
The Raptors are very difficult to handicap because they have played almost the entire season with an eye toward the playoffs. Kawhi Leonard missed more than a quarter of the season. With a rested, mostly full roster expected for Game 1 (OG Anunoby notwithstanding) and one of the biggest home-court advantages in the playoffs, I think this number is short.
The Magic may appear feisty because of how they finished the season, but all the historical data we have suggests that the hot team down the stretch doesn't have any advantage in the market.
I'm aware of the Raptors in Game 1s, but it's hard to argue the culture that created that trend is still intact when the star player and coach are different. I'll take Toronto here. — Ken Barkley
---
Mears: Expect the Raptors to Come Out Motivated
The Toronto Raptors have had some nightmare endings to the playoffs over recent years, prompting them to reshuffle their team. The end result is a rotation with Leonard, a top-five NBA player and one with playoff experience at the highest level; a top role player in Danny Green and an intriguing trade deadline addition in Marc Gasol.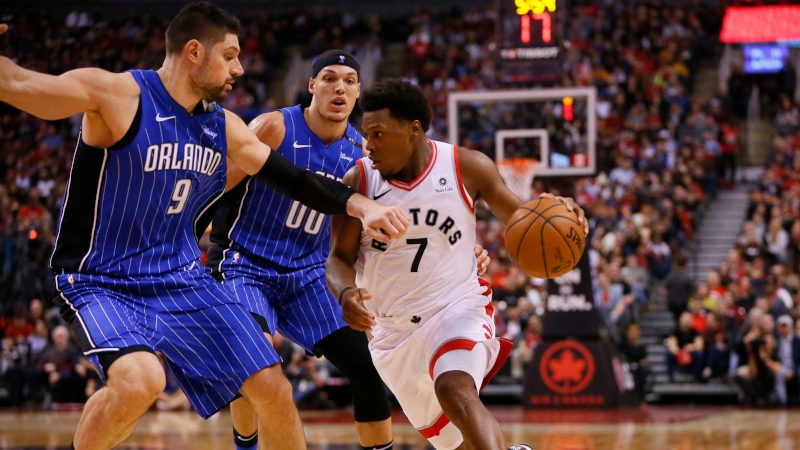 The strength of the Raptors historically has been their bench, but they went all in this season on fortifying those top-seven guys. That's wise, as rotations shorten in the playoffs. It's not as valuable to have an advantage between your respective 10th through 12th players down the bench. The Raptors now have a high-end rotation that can compete with any team.
On the season, their starting lineup has posted an excellent +9.0 Net Rating. Even with Kyle Lowry off the floor and Fred VanVleet on, they've demolished teams, posting a +15.1 point differential in 384 possessions together. Lowry and VanVleet together — still awesome.
I love when data and narrative come together, and we have that today. The data favors the Raptors, and narrative-wise, I think they come out highly motivated to prove they're a true title contender.
Orlando can potentially do some things in this series — there's a good chance I'll bet them to cover in Game 2 — but I'm on Toronto today. — Bryan Mears
---
Moore: My Thoughts on Today's Game
Things I'm factoring here for Magic +8.5:
The Raptors are 1-8 ATS in Game 1s since the start of the Kyle Lowry era in 2014. Their lone win came last year vs. the Wizards in Game 1, in which they struggled for most of the game but won by eight. They were favored by 7.5.
After going over the film, I'm a little more concerned for Toronto here because D.J. Augustin had great numbers in terms of on-court impact and I'm not sure Marc Gasol can cover Vucevic in the pick-and-pop in space. The Magic also have shooters in Terrence Ross and Evan Fournier. Their offense is pedestrian, but the model is sound.
The OG Anunoby absence (appendectomy) is not as bad as one might think — he had a -29.6 Net Rating vs. the Magic in the regular season — but losing another long defender means the bench unit may be able to make hay for Orlando.
Jonathan Isaac is a big swing vote here: If he has a big game, Orlando might have a shot at not only covering but winning outright.
I'm heavy on Toronto no matter the line and no matter the outcome of this game, but Game 1 is where I want to test Toronto when I'm getting eight-plus points. No. 2 seeds favored by eight points or more vs. 7-seeds are only 10-10 ATS. — Matt Moore
---
Editor's note: The opinions on this game are from the individual writers and are based on their research, analysis and perspective. They are independent of, and may not always match with, the algorithm-driven Best Bets from Sports Insights.
How would you rate this article?