Play or Protest? The Difficult Choice Facing NBA Players and Black Fans
Credit:
Ned Dishman/NBAE via Getty Images. Pictured: Bradley Beal of the Washington Wizards and several Washington Mystics players lead a peaceful protest.
If you're surprised that some NBA players are unsure if they want to resume playing basketball this season, you shouldn't be.
It's not just Kyrie Irving, who has said players should sit out to combat racial injustice. Since protests around the country began, a growing number of players are still debating whether they want to participate in Orlando.
They are asking themselves tough questions about whether now is the right time for the league as a whole to extend its break from basketball, or if they can be just as vocal while playing.
As a Black man, media member and someone who bets on the NBA regularly, it is a question that I've had to grapple with for weeks. It's hard to work in sports if there aren't any sports on TV. The sports media industry has already taken hits due to the COVID-19 pandemic and subsequent recession. Eliminating basketball certainly would not help in that regard.
Plus, from a personal standpoint I just love the NBA. I love it so much I've tortured myself by watching Knicks games from this past season just to pass the time. Since the season took a pause, I have wanted nothing more than to bet on an activated LeBron James.
But I can't shake how much those two things seem outweighed by the idea of mass mobilization around a greater cause.
The prospect of players sitting out and using their platform to combat racism just excites me more than the idea of cashing a preseason futures bet on the Lakers.
And then it dawned on me how unfortunate it is that I even had to consider which option I would prefer more: entertainment or the potential for progress.
"Basketball, or entertainment period, isn't needed at this moment, and will only be a distraction … And the smallest distraction for them, can start a trickle-down effect that may never stop." — Lakers center Dwight Howard
Playing gives all parties (fans included) something positive but leaves some "what ifs" that would always linger.
What if the highest-paid athletes in the country decided against entering an already complicated situation and instead used their time and energy to exclusively address one issue?
Instead of trying to be advocates and athletes, what if they decided to "give up everything" for this one cause, as Irving reportedly told his fellow players he was willing to do?
If choosing not to play could lead to a world where systemic racism is being openly challenged on a daily basis and eventually rectified — whatever that looks like in reality — I can't help but think that it's worth it.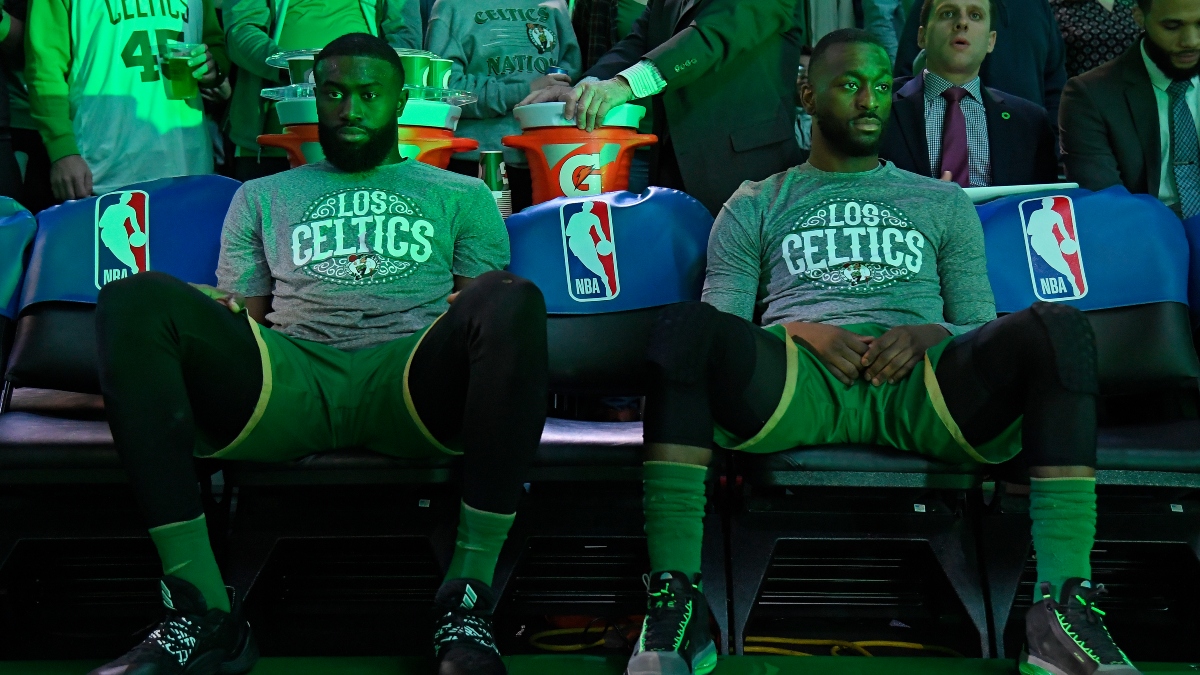 Seeing players like Malcolm Brogdon, Jaylen Brown, Kyle Lowry, Russell Westbrook and so many others on the front lines of protests around the country in the middle of a global pandemic sends such a powerful message to the Black community and the world at large.
The players understand the gravity of their celebrity better than anyone and know that there is power in them showing up arm-in-arm with protestors affirming that they are Black first and athletes second — because at the end of the day, their celebrity doesn't shield them from the realities of the world around them.
Racism in America and excessive force from the police toward Black people are not hypothetical for many of these players; some have experienced it first-hand despite their relative notoriety and bank account figures.
Rockets forward Thabo Sefolosha suffered a broken leg in 2015 at the hands of the New York City police department because he didn't leave the scene of a club fast enough. He eventually sued the city for a violation of civil rights.
Sterling Brown's case against the City of Milwaukee and its police department is still in court. In 2018, he was tased on the ground after being taken down by six police officers and arrested for parking illegally at an empty Walgreens parking lot.
And those are just the instances that garnered media attention and led to court cases.
This past Friday, on Juneteenth, Washington Wizards guards Bradley Beal and John Wall joined Washington Mystics guard Natasha Cloud, who led a protest in Washington D.C. Beal gave an impassioned speech in front of the crowd about what freedom means.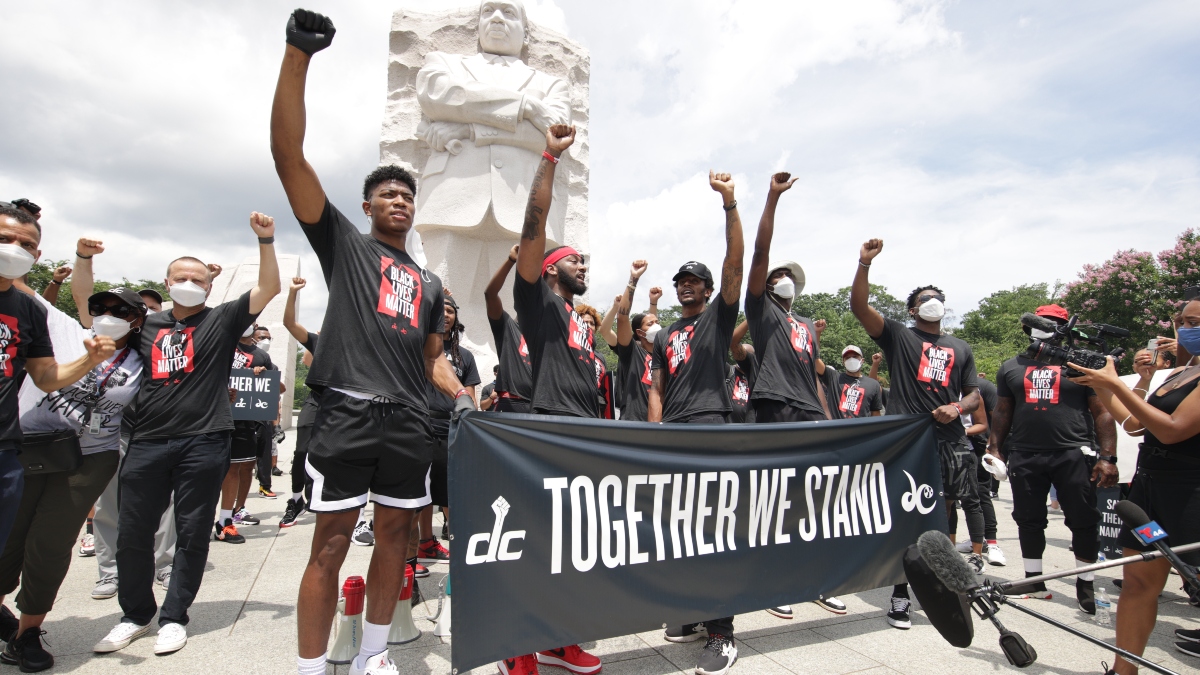 "How can the Black community feel free in a world where racism, discrimination and prejudice are normalized and condoned?" Beal asked the crowd.
He also told a personal story about being pulled over two years ago and being told "What if I f*** up your Monday, put you in a headline and arrest you right now?" by an officer because the tint on his car was too dark.
Beal, who is from St. Louis, said he wasn't as socially active in 2014 when Michael Brown was killed in Ferguson, which is just a stones throw away from where he grew up.
"It really hurt that when Michael Brown passed in my hometown, I didn't do anything about it; I swept it under the rug," Beal told ESPN's culture site The Undefeated.
"My last thought on my mind is basketball … I think there's bigger issues and bigger things to tackle in life right now than a basketball game, but that's just my personal opinion." — Bucks guard George Hill
The question remains: Would they be willing to say to the league and everyone watching as Dwight Howard put it? … "No Basketball till we get things resolved."
WNBA players have already taken the lead on sitting out this season for the Black Lives Matter movement. Cloud has decided to sit out for the Mystics. Atlanta Dream guard Renee Montgomery announced her intention to do so last week on Twitter and fellow Dream guard Tiffany Hayes will join her as well. Maya Moore hasn't played basketball since 2018, instead using her time and influence to help free Jonathan Irons, a man she believes was wrongly convicted of burglary and assault charges in 1998.
Maybe Irving will follow in Montgomery's and Moore's footsteps and give up everything for this cause (he's out for this season regardless).
Maybe the symbolism of using the large platform that the NBA Playoffs would provide can keep the spotlight on all of these issues.
We've seen a resurgence of socially conscious athletes who have become the 21st century versions of John Carlos and Tommie Smith by using symbols to speak truth to power on the field of play.
The choice ultimately lies with each individual player.
Some players will end up sitting out: Clippers guard Lou Williams said he was "50/50" on whether playing sends the right message at this moment. 
Others will end up playing: LeBron seems intent on being both the biggest athlete in the world and one of the loudest voices in support of the social movement happening in America. 
As Black fans, the choice to be distracted in this moment by sports — which is seen often as a positive but could be counterproductive in the moment — is on us, too.
How would you rate this article?