Wob: Raptors Prove the Sequel Can Be Better Than The Original
Credit:
Kyle Terada-USA TODAY Sports. Pictured: Kawhi Leonard and Serge Ibaka
The Raptors won their first-ever NBA title on Thursday night, toppling the Warriors' dynasty in the process.
Toronto got the benefit of Golden State's many injuries, but make no mistake: The Raptors earned this championship.
As I sit here trying to make sense of what we just witnessed, there's one sentiment that I can't get over: The sequel is never better than the original. For every Star Wars: The Empire Strikes Back, there is a Speed 2: Cruise Control to negate it.
After watching the final seconds of the 2016 NBA Finals tick away from the corner of 4th and Euclid in downtown Cleveland, I swore to myself that I would never let recency bias conquer the euphoria I experienced first-hand that very night. But I didn't need to be in Toronto to deliver this hypothesis to you now: This is one of, if not the most memorable championships in league history.
If any team was ever "cursed," it sure felt like it was the Raptors — from the Vince Carter series-winning missed shot in 2001 and then rubbing elimination back in their faces years later, to Kobe's 81-point massacre, to McGrady leaving for Orlando, to Bargnani, to Chris Bosh bouncing for South Beach, to having the city renamed LeBronto.
For this franchise to not only defeat its playoff demons, but end a dynasty in the same season is simply an unfathomable feat after what it has been through all of these years.
Let's get this straight right now: There is no asterisk next to their accomplishment. Don't you dare think about taking anything away from what the Raptors just did. Every Finals ever played has guys who are banged up, facing adversity, and circumstances that put them at a disadvantage.
The best teams always win in the NBA. The league's business model designed to feature the biggest stars on the brightest stage, but the path from which they triumph is different every single time. THAT'S the mystique of the Finals.
The Warriors were the recipients of a Kyrie knee damage in 2015, the Zaza/Kawhi play in 2017, and a Chris Paul pulled hamstring in 2018. They had their own issues to deal with, as well, but what transpired this series with the devastating injuries to Kevin Durant and Klay Thompson was a combination of poetic justice and destiny depending on how sadistic you want to get with your anti-Warriors narratives.
I simply cannot believe this is what it took for the mainstream audience to view the Warriors in a sympathetic way. Did the majority of people watching want them to lose? Sure, but not like this. Not like this, man. Col. Helmut Zemo from Captain America: Civil War said it best: "An empire toppled by its enemies can rise again, but one which crumbles from within is dead forever."
But what if both happened?
How do the Warriors come back from this?
Let's say they offer Kevin Durant and Klay Thompson max contracts and they accept, that doesn't change the fact they're both likely out for the entire 2019-20 campaign including the playoffs and Golden State may not even be good enough to qualify. The amount of money the Warriors will have to pay in salary + luxury tax repeater tax will be $1.4 billion — with a b — by the time those contracts expire.
The once invincible dynasty has found itself in a no-win situation: Either "do the right thing" and pay the guys who risked everything for the company, or make a business decision — cut them loose/offer a lesser contract and run the risk of being known as the organization that will leave their employees on the battle field to die when the bullets start flying.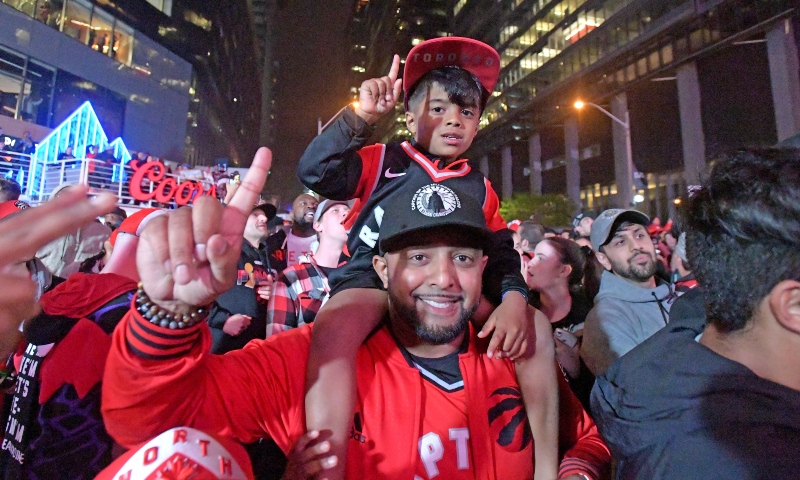 It's not fair, but life sucks sometimes and this is one of those moments.
I have never seen a Finals end in such carnage. If you're going to lose the Finals on your home court, I honestly could not script a better way to go out — a beautiful disaster of bodies were hitting the floor like salaries were tied to loose balls retrieved, and the game being officiated like a pickup game at Pelican Bay — no blood, no foul.
Every dribble was stress-inducing, every shot attempted felt like a mortar. For Klay to just walk up to that foul line after tearing his ACL and make those two free throws like it was nothing is jaw-dropping. He even wanted to keep playing after, and it wasn't to prove how tough he was — it was that he was so preoccupied with being there for his brothers that it superseded all sorts of shock any other mortal human would normally be experiencing.
This is how I'm going to remember these Finals. A series that was so important that players were willing to risk millions of their own dollars to participate in it — and those millions were only worth a drop in the bucket to them compared to the glory that awaited on the other side.
Truly, utterly … hearts of a champion.
They weren't going down unless they were knocked out, and the only way they were going to be knocked out was if you killed them. It was basketball's version of Apollo Creed demanding Rocky not stop the fight against Drago, a night fans will tell their grandchildren about around their digital iPad fires for decades to come.
"Strength in Numbers" was the cornerstone philosophy of the Warriors for years during their come-up, and while the slogan changed the past couple of postseasons — it reverberated throughout the walls of Oracle Arena during Game 6 more than ever. I would be so damn proud of this team if I could call them my own.
We don't know what's next for the Warriors, and whether they disband or unite again — we just got the cold, hard truth of how difficult it is for a dynasty to reign in this league. A combination of egos, contracts and injuries ultimately ended the Showtime Lakers, the 90's Bulls, the Big 3 Miami Heat, and these very Golden State Warriors. And now, like almost every dynasty before them, they must pay the tab for their deal with the devil in the form of irrelevancy and cap holds.
You know who was at the center of two of those regime changes? Kawhi Leonard. Now the third player in NBA history (Kareem Abdul-Jabbar, LeBron James) to win a Finals MVP with multiple teams, The Slim Reaper has been overthrown by The Gym Reaper.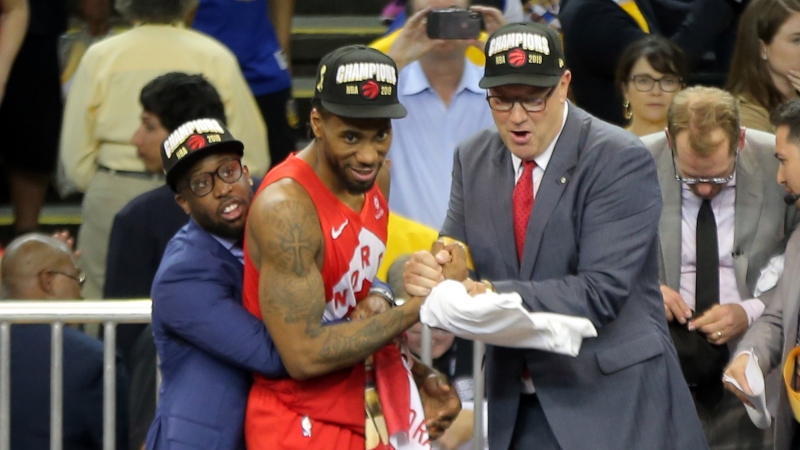 Kawhi was so damn good that we don't even need to look up historical statistics to prove the point. We know what we just witnessed, a basketball nuclear weapon deployed from which there was no hiding. A man who just joined the ranks of Kobe Bryant, Hakeem Olajuwon, Michael Jordan and LeBron James among the highest quantity of 30-point scoring games in postseason history. With free agency approaching he may stay, he may go — but his legacy in Toronto will live on forever.
His teammates were a bunch of dogs. Underdogs, in the form of undrafted Fred VanVleet, Most Improved Player of the Year frontrunner Pascal Siakam, and one-time G-League demoted Danny Green. Bulldogs — fearless, undersized guardians with short-term memory spans — in the form of Kyle Lowry. And, of course, puppies, in the form of rookie head coach Nick Nurse.
They were the better team from the start, but because of what it said on the front of the jersey — nobody took them seriously …
… except for the people with their names on the back.
Flags don't fight wars, soldiers do.
Fair or not, this 2019 Finals may be remembered for what could have been more than what actually happened. But go ahead and try to tell that to the people still partying in the streets of Toronto — the same fans who have been on the wrong side of history for decades across multiple sports. They'll be the first to tell you: This wasn't a feel-good sequel to previous horror classics, it's the original of a new era for the city and the NBA.
How would you rate this article?