Rob Perez: You'll Never Regret Betting on Yourself
I made a series of bets in my life that helped lead me to The Action Network.
A love of hoops led to me taking a job in the Hornets' ticket office out of college and eventually starting my own ticket brokerage firm.
A few years later, I had made enough money that I could support myself while I pursued my passion: talking about the NBA. And now I get paid to do just that!
The lesson? Find what you're passionately interested in, bet on yourself and don't look back.
June 3, 1994.
Indianapolis, Indiana.
Market Square Arena.
Game 6.
NBA Eastern Conference Finals.
Less than 48 hours earlier, Reggie Miller had famously put his hands around his neck and seemingly harvested the souls of the entire Basketball Mecca.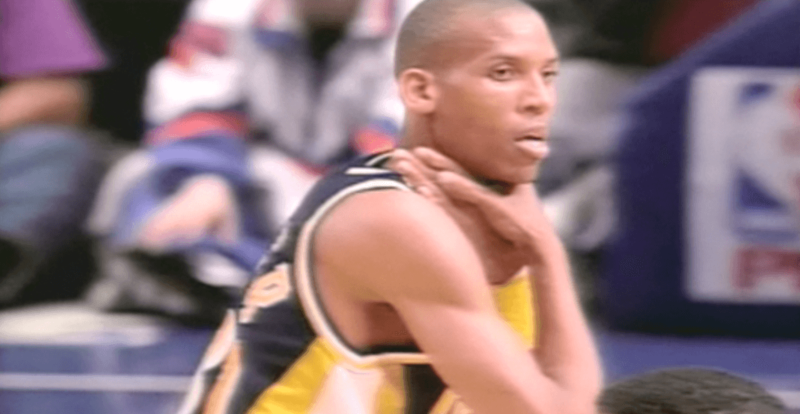 So now New York faced elimination and all-but-certain defeat. But you see, the Knicks had the joker. An agent of chaos. The Pacers may have won the battle, but to win the war, they were going to go through John Starks.
True to form, Starks took Reggie's plan and turned it on itself. Look what he did to that city: 26 points, 6 assists, going 5-of-6 from 3 to force a Game 7.
It was at this moment, when Starks walked the ENTIRE length of the floor at the buzzer to dap up Spike in the faces of the opposing proletariat, that I was hooked. Not just to the Knicks, but to the game.
That statement needs some context, because it's not just about basketball or Starks balling out. It's why Starks balled out and how he did it — from bagging groceries to NBA All-Star in less than five years.
As Avon Barksdale regularly reminded us in "The Wire": "The Game is the Game."
If there's one thing guys like Starks and Avon know, it's that you create your own luck.
---
"THE GAME," FOR ME, started when I was just 12 years old. I had dreams of being a club DJ one day and I needed $2,000 for two CDJ 20s, a mixer, turntables, four speakers, a subwoofer, and enough CD-RWs to burn a Napster library so prolific you wouldn't believe it unless you saw it with your own eyes.
To reach this goal, I went and sold sodas on the third tee box of the local golf course.
Four 12-packs of Coca-Cola, Pepsi, Sprite, Mountain Dew, etc. cost me no more than $20.
Two big ass bags of ice: $4.
$24 in the red.
I'll sell them for $2 a piece, undercut the $5 price the course was offering them for, and walk out of there with $72 net profit. I wouldn't leave until they were all gone.
Do the math on how long it took to sell these things: one group of four golfers would come through every 10 minutes. On average, I'd say I sold 1 soda per group. To get to +$72, that's an 8 hour day in the sweltering New York summer sun. It was well worth it to me knowing there was a reward at the end of it.
The club rangers eventually found out there was some punk kid taking business away from the snack bar and kicked me off the course more times than I can count. So I sat in the marsh behind the ninth green right in the middle of the walkway to the 10th tee box. The marshy bush was technically a public park, they couldn't do shit to stop me.
The game is the game.
---
AT THE CONCLUSION of the summer, I finally got to my $2,000 number. I bought my equipment, put fliers up around town everywhere that there was a DJ available for hire, and never looked back.
Eventually, I had so many gigs I had to buy more sets and hire help. Remember: This was the end of the 90's. There was no Facebook, Twitter, or even iPods for that matter — there was a massive demand for DJs, but the amount of capital required to build a music library, both financial and human, was overwhelming enough to keep most away.
I wish y'all could have seen how the security guards at an NYC club reacted when I arrived for a gig. When I walked up and said I was the DJ please let me in, they looked like the lawyer in Jurassic Park when he sees the T-Rex.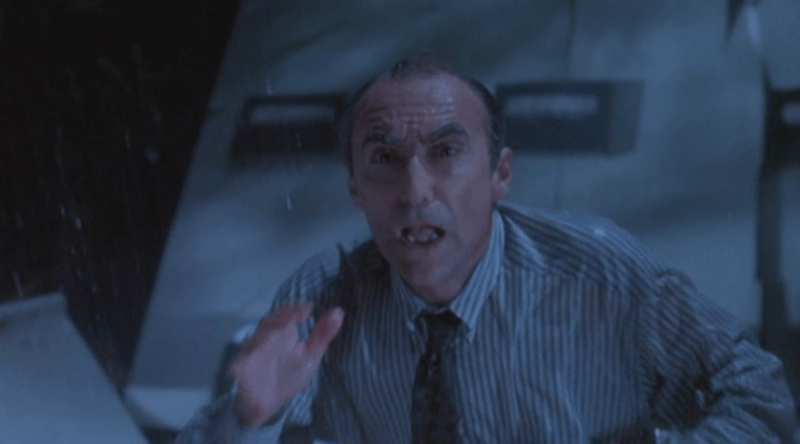 "This little kid is DJ'ing tonight? You gotta be kidding me." I'll never forget it. I brought the damn heat that night, by the way.
---
A COUPLE OF YEARS LATER, I was off to college, The University of North Carolina at Chapel Hill. I still DJ'd the first two years, weekly gigs at Lucy's and Goodfellows on Franklin Street, but then I hung up the ones and twos for good.
It took me all of one semester to learn that this world is not about the grades you make it's about the hands you shake. I was going to take full advantage of that while at school because I knew I wanted to pursue my passion post-graduation: hoops.
After throwing my Oxford hat into the air in the spring of 2009, I scored an entry-level Inside Sales position with the New Orleans Hornets.
Here's a phone book, kid, start dialing and sell some season tickets.
I went to college … for this? You're damn right I did. Anything to be involved with an NBA team.
So I dialed.
80 times a day.
And got rejected …
… A LOT.
But occasionally I found someone who was interested and wanted to buy something.
I went to every single home game and sat courtside with potential clients. This was actually kind of fun.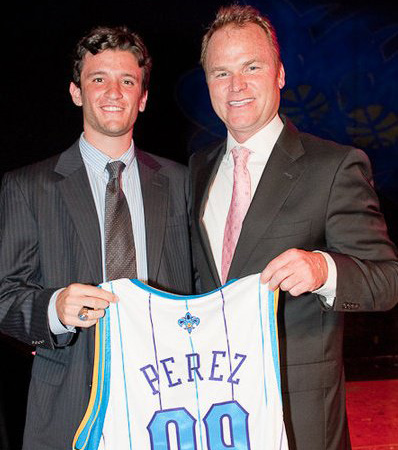 I was a dog chasing cars: I didn't know what to do when I finally caught one — the thrill was in the chase. I did just fine for myself, got promoted, made some great friends, and most importantly, established business connections.
The most important of these connections: ticket brokers. Ticket brokers are exactly what they sound like, they buy tickets in bulk for a discounted price and (try to) re-sell them for more than they paid. It's not as simple as I make it sound, but I learned how it worked and I wanted a piece of it.
I left New Orleans to start my own firm. I had enough money in the bank from my DJ'ing days and commission checks from the Hornets to make a couple big investments and see if I could make some real money.
This was the first real "bet" of my life. I, like many of you, would play $10 blackjack with buddies, bet a couple bucks on basketball games, pay an entry fee to compete in a work fantasy football league … but this was serious money that I spent my whole life earning.
---
THE YEAR WAS 2010 now. I remember it like it was yesterday. I was with my mother during the Christmas holiday trying to figure out who/what I was going to invest in, and we were watching the Mavericks play because I'm sick and make anyone I'm with watch League Pass with me or I threaten to leave the room. There was something about this team that made me think they had it.
We'd been fooled for years by great Dallas teams that dominated the regular season, only to get their entire franchise dunked on by Baron Davis and bounced out of the playoffs in the first round every April. But this team had it, I swear they had it.
There were lower-level playoff tickets available at a very affordable price, probably because fans were sick of all the letdowns, and I bought as many as I could afford. I prayed the parlay of Dallas sports Stockholm Syndrome and my basketball intuition would pay off by the time the playoffs were done.
Bangarang.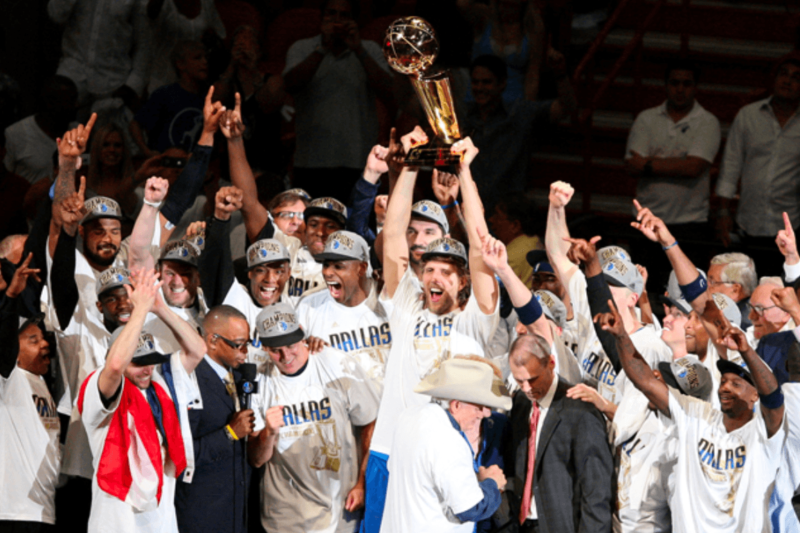 Not long after my big bet paid off, I doubled down and moved to Los Angeles, co-founding the Groupon of Sports Tickets, a website called CrowdSeats.com. Two years later, we got acquired by a bigger company.
OK now what?
---
ALL I KNEW at the time was that I wanted to talk about the NBA.
So how do you get from there to here?
Start writing and don't stop until your eyes start bleeding. Even then, go take a shower, grab a chilled beverage of your choice, and then get back on the grind. When your roommates/friends/wife/family/whoever go to bed — open the laptop and start writing some more. While getting started, no one is going to see the work that you just spent your entire day writing. It is absolutely demoralizing, but again, people create their own luck.
With enough persistence and commitment to putting out stuff like you're operating an assembly line of digital content — it'll only be a matter of time until you get some recognition from someone with a checkbook. When they ask: "Hey, I liked your post! What else can you show me?" Well as a matter of fact, here's a year's worth for you to choose from!
See how that works? That was the only reason why I got my first freelance writing job. I was ready when the call came.
I honestly can't tell you how I "got my start" doing this whole media thing, but I do know one thing: I picked a topic that i was PASSIONATELY interested in (for me, that was NBA future bets) and started doing stuff in a way that many would consider to be "nontraditional."
---
>> Sign up for The Action Network's daily newsletter to get the smartest conversation delivered into your inbox each morning.
---
This app called Vine became a thing which allowed me to illustrate my comments with bootleg footage. Then this app called Periscope debuted where I could go LIVE!!! ON VIDEO!!! TO THE WORLD!!! AND GET PEOPLE'S REACTIONS TO WHAT WE JUST WATCHED IN REAL-TIME. WHAT??? That's how my show simulcasted by ESPN and Cycle Media started. With a live stream of me cooking pizza rolls and talking basketball at 3 a.m. because I struck out at the bar.
Give the people something they've never seen before. Between all the major blogs and networks on the Internet today, there are ARMIES of writers out there who are covering all things sports/pop culture/current events. Not only are they paid to be first-to-market with their content, they have gigantic platforms to distribute their work.
If you want to be seen, don't waste your valuable time working on something that fans can read somewhere else. Choose a topic you love talking about, put your own special flavor on it, learn all forms of media (written word, audio, video), and then produce mass quantities of it.
I was never going to love producing content if it wasn't coming from the heart. I wrote every day for about three straight years as a hobby, and no one really cared until I had a couple viral hits.
I'm not kidding you, I think I have almost a million words written that have never been seen by a single soul other than myself. It's still depressing to think about to this day.
Ninety-nine percent of start ups in this country fail, mainly because they aren't solving a problem that needs fixing. The same philosophy applies to content. Even when you think you've finally figured it out — you're probably going to fall flat on your face. Don't let failure discourage you; use it as motivation.
That's why I'm here now at The Action Network. They are willing to risk it all to try something new and are providing me with the resources to help them execute the vision. This is the place I'm betting on while never forgetting where it all started. Sticking to what I loved and who I am is why "Buckets" was so successful, and it's why what we've got in the works for you as a sequel is going to be so much fun to be a part of.
After all, if you're not looking for your own John Starks moment, then what's even the point?
How would you rate this article?