Wob: It's 2015-16 All Over Again for Steph Curry. Can He Keep Up the Pace?
Credit:
Kyle Terada-USA TODAY Sports. Pictured: Stephen Curry
It's a small sample size, but Steph Curry has started the season so hot that we have to talk about it.
The ridiculousness that's been on display begs the question: Could Curry somehow top the seemingly unbreakable records he set during his unanimous MVP campaign in 2015-16?
I asked my editor twice if I should write this. He said it might be interpreted as a stretch.
I asked Dieter Kurtenbach, columnist for The Mercury News, if I should write this. He said wait 10 games before you do.
The truth of the matter is, I know five games is too small of a sample size to make a legitimate hypothesis, but after Steph Curry lit the world on fire Wednesday night launching apocalyptic napalm from the moon…
…making Kelly Oubre Jr. question why he even bothered showing up to play…
…having Jeff Green look like he wanted to just forfeit…
…and causing Bradley Beal to go on the record after the game and say the only way to prevent Steph from scoring is to "foul the shit out of him," I couldn't wait.
I admit, I looked at the numbers. I couldn't help it, so now I'm wondering — could Curry do the impossible? Could he somehow top the seemingly unbreakable records he set during his unanimous MVP campaign in 2015-16?
There is no right or wrong answer this early in the season, but when you dive into it — what Steph has done out of the gates is nothing short of laughable.
This season, per game, he's averaging:
34.6 points
6.6 threes made
52.4 three-point percentage
69.7% average of 3s that are assisted by another player
If he somehow kept up this pace every five games until the end of the regular season, he would finish with 541 threes made, 139 more than the 402 he finished with in 2015-16.
And how about this little tidbit: Kemba Walker actually broke Steph's record of 21 threes made in the first four games of a season. But in what might be the rudest unintentional clapback of the year, Steph came out vs. the Suns later that night and dropped in six more to put him at 22 and reset his own + Kemba's mark.
Steph didn't even let Walker go to bed with the comfort of knowing he was an NBA-record holder before taking it from him.
And then there's this…
Shout out Donyell Marshall!
Anyway, we could sit here all day and roll off eye-popping stats about the man. He is the greatest jump-shooter of all time. Even the last remaining Ray Allen die-hards have waved the white flag.
But the question with all volume shooters is: Are they efficient?
Allen Iverson, Carmelo Anthony, Russell Westbrook, Gilbert Arenas were undoubtedly elite scorers, but they all had/have those nights where you look at the box score to see how many shots they took/missed/turned over and your jaw hits the floor.
Curry's current Player Efficiency Rating of 32.9 is 1.4 points higher than that of the greatest individual season for a jump-shooter ever.
His box score +/- of +12.9 — meaning the Warriors are +12.9 points better than their opposition for the totality of the time Curry is on the court — is 0.4 points higher than it was in 2015-16.
His 72.9 true shooting percentage (a measure of shooting efficiency that takes into account the value of 2-point/3-point field goals, along with free throws) is 6% higher.
What Steph is doing isn't just historic, it's basketball art that's making everyone else think they can draw too.
If all of these stats I just sprayed into your head have any meaning, it's that Curry has overtaken Draymond Green as the most important player on arguably the greatest team of all-time.
When he is raining demoralizing 3s and pulls up for that inevitable 40-footer from the logo, find a male and female of every animal, get them onto the ship, wait 150 days and just hope there is enough life left over somewhere to continue playing when the flood recedes.
OK, that's enough hype; this is the part where I have to come back to reality. While Steph is certainly capable of doing the unthinkable, his biggest challenge isn't other NBA teams or his own ceiling — it's simply that the Warriors are too good.
When Golden State drops a 100 piece on you after three quarters, Curry and a majority of the starters often sit the rest of the game. During the 73-win campaign, Steph sat out the fourth quarter 14 of the first 50 games. Last season he sat the fourth in 7 of the first 13. More than half!!!! This helps explain why he has averaged only 33.6 minutes per contest since 2015.
And you absolutely cannot, under any circumstances, blame Steve Kerr for holding Steph back and preventing him from going for history.
Curry missed 31 regular-season games in 2017-18, plus an entire playoff series and one game of Round 2, stemming from a brutal history of chronic ankle injuries and five straight seasons between 2012 and 2017 in which he played at least 78 games.
He is owed $166.5 million through 2022, his health must be protected and made a priority at all costs.
The Warriors have made it abundantly clear that after the effort it required to complete the 73-win campaign, they are going to let these record-breaking things happen naturally without (publicly) pursuing any agendas other than winning the championship.
You mash up all of this information and sprinkle it into the cauldron of NBA future, the broth we see forming is that Steph is going to continue sitting out fourth quarters during blowouts.
He's likely going to sit out some games when the Warriors are on road back-to-backs in the dog days of the NBA regular season marathon, simply to preserve his well-being.
Because of this, his torrid pace of record-breaking this season is going to regress.
What's not going to regress is Curry's skill continuing to grow to levels that, frankly, have broken the game of basketball.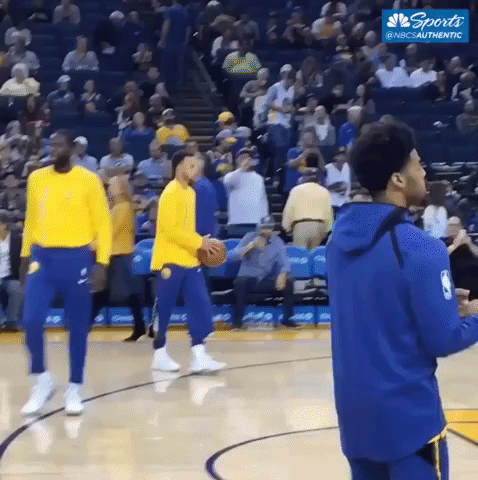 He is not only the early leader in the clubhouse to win yet another MVP; he somehow, someway continues to find ways to astonish us despite everyone already knowing the climax of the plot.
2015-16 Steph Curry is not "back." He never went anywhere. He just happened to reboot himself and the Warriors' hardware with his newest update.
What's different now is that Curry is surrounded by a dynasty…
…just don't forget who the emperor is.