The Betting Impact of Ben Simmons' Knee Injury: More Sixers Overs, Embiid 3's
Credit:
Photo credit: Mitchell Leff/Getty Images. Pictured: Ben Simmons and Joel Embiid
Ben Simmons elected to have surgery on his dislocated right knee, ESPN reported Saturday. While an exact timeline for his return has not been released by the team, it is presumed Simmons will be unavailable until at least partway through the conference finals, and potentially for the season.
It signals a disappointing end for a Sixers team that experienced a disappointing season. Their year was marked by underperformance both in effort and execution, all of it draped in the caveat that so many repeated: "When the playoffs roll around, they can be really dangerous."
Philly isn't done just yet, but this hurts.
I wrote about how Simmons' move to power forward could be the catalyst they were looking for on offense. But instead, the Sixers have underwhelmed while going 3-1 headed into play Sunday.
What does Simmons' injury mean for the team? As always, it depends on what Joel Embiid brings to the table.
I've held a theory for some time that the Sixers can be great by building around Simmons or great while building around Embiid, but only good while building around them both. We've seen variations of this theme throughout their time together.
Embiid's game is hindered by Simmons as a non-spacer around him, and next to Simmons, he elects for far more 3-pointers than without.
Check out these two charts.
First, here's Embiid with Simmons: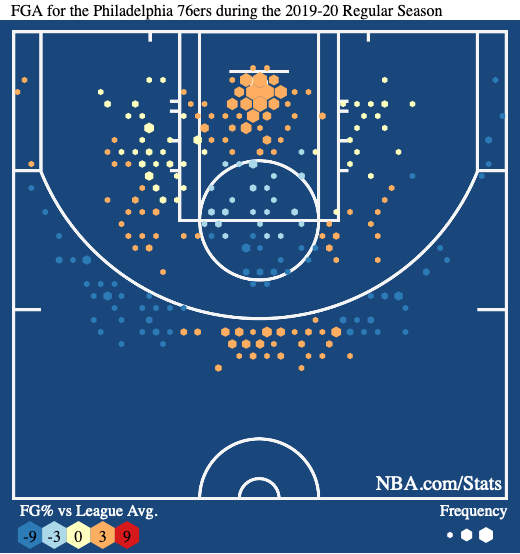 Here's Embiid with Simmons on the bench: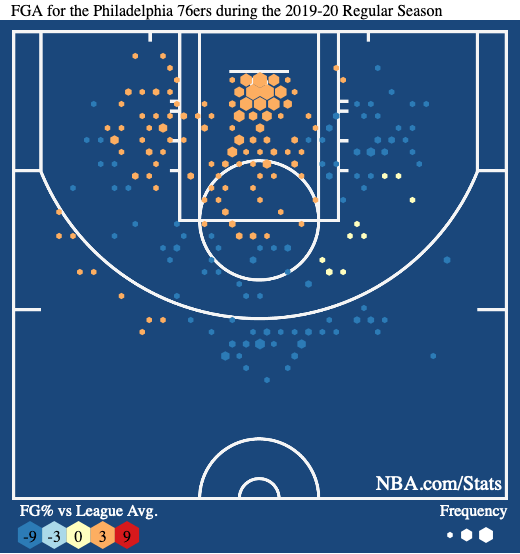 With Simmons on the floor, 28% of Embiid's field goal attempts come from 3-point range. With Simmons on the bench, it drops to 14%. With Simmons on the floor, Embiid gets slightly more points in the paint.
Embiid also takes a higher percentage of mid-range shots, though. That's a sharp cost; Embiid took the 7th-most mid-range attempts of any player this season, shooting just 40%. They would need to curb that.
But there is an opportunity here for the Sixers. With Shake Milton at point guard, the Sixers at least have someone who presents a threat from three, alongside Josh Richardson and Tobias Harris.
The Sixers can play four-out with Embiid, if they make the transition. The question is whether Embiid will do so.
I was ready to fire on the Sixers to beat the Celtics if they matched up in a first-round series. The Celtics have not been able to guard Embiid since Aron Baynes and Al Horford departed.
Simmons' injury backs me off a series price for the Sixers; he's that much of an impact on the defense. He legitimately should be a Defensive Player of the Year candidate. The Celtics may be able to simply outgun the Celtics without him to even things.
[Bet $25 now at Parx and Win $50 if the 76ers make at least one 3-pointer]
But I'll be looking for series prices, should they play one another. (The Sixers can still move up in the standings and out of Boston's bracket.) Much of it will depend on Embiid, though, and he's proven himself to be an unreliable structure to place your position on. If he goes in and dominates the way he can, the defensive structure of either Miami or Boston will crack; they'll have to double.
That makes things easier for the Sixers' role players, especially those filling in for Simmons in Mike Scott, Furkan Korkmaz, and Glenn Robinson III. But Embiid has to actually do it. He too often floats or just has "eh" games. This is a test for him. I'll likely be taking the Sixers game by game in the playoffs.
As for the regular season, the Sixers play a little more uptempo without either one of the bigs. The defense suffers without Simmons, so the over gains value. The last two seasons the over is 10-4-1 in 76ers games without Simmons, including 8-3-1 this season with a revamped roster.
I don't think the Sixers are doomed without Simmons. There's still a Finals path for them. It's more difficult. But the value on their longshot series or East odds is gone without arguably a top-five most impactful all-around defender in the league.
How would you rate this article?