Warriors vs. Rockets Game 1 Betting Preview: Is Houston Undervalued with a Rest Advantage?
Credit:
Kyle Terada-USA TODAY. Pictured: Houston Rockets guard James Harden (13) and Golden State Warriors forward Kevin Durant (35).
Game 1 Betting Odds: Houston Rockets at Golden State Warriors
Spread: Warriors -5.5
Over/Under: 225.5
Time: 3:30 p.m. ET
TV Channel: ABC
---
>> All odds as of Saturday night. Download The Action Network App to get real-time odds and live win probabilities on your bets.
---
Less than 48 hours after finishing off the pesky Clippers, the defending champs now have to begin their rematch with the Rockets. Will that rest disadvantage hurt them in Game 1? Our analysts dive in.
Betting Trends to Know
A majority of spread tickets are on the Rockets in Game 1. Bet against the Warriors at your own risk. Under Steve Kerr, the Warriors are 12-2 against the spread in the playoffs when getting less than 50% of bets and 39-36 ATS in all other games. Further, when listed as single-digit favorites they've gone 37-20 (65%) ATS. — John Ewing
Under Mike D'Antoni, the Rockets are 5-1 straight up and 4-2 ATS in Game 1 of a playoff series, covering the spread by 10.1 points per game. The Rockets' only straight-up loss came against the Warriors at home last year. — Evan Abrams
That said, the Warriors have played in 17 total Game 1s under Kerr, going 16-1 straight-up and 10-7 ATS in those. Golden State's only Game 1 loss came against the Thunder back in 2016. — Abrams
The Rockets finished up their first-round series at home in Game 5 on Wednesday night against the Jazz and enter Game 1 vs. Warriors on four days rest. The Warriors, meanwhile, are on just two days rest.
The Warriors have never played a playoff game under Steve Kerr with this big of a rest disadvantage. Since 2005, teams on two days rest or less facing a team on four days rest or more in the playoffs have gone 14-23-1 ATS (37.8%). — Abrams
---
Locky: How I'm Betting Game 1
I am not yet convinced the Rockets can win the series, but I am absolutely not overthinking this situation. It is a unique one.
The Warriors played Friday night, two of their best players are hurt and may not play, while Houston has been in Oakland preparing for this game, essentially waiting for the Warriors to come home. In the Rockets' minds they've probably been preparing for this game for almost a full year.
I'm on Houston here. This is not complicated.
I actually think the Warriors being the Warriors is the only thing keeping this number where it's at. The Warriors attract money and attention; they are held in the highest regard compared to other NBA teams.
If this were a random team that had a similar statistical profile to Golden State's, had played two nights earlier and had these injury concerns, there is no way this number would be so high.
The idea that rested Houston is still about three points worse than Golden State on a neutral court considering the status of Stephen Curry and Klay Thompson seems off.
Now, later in the series, when the Warriors get more accustomed to Houston (again), and James Harden fatigues late in the series (again) and this thing grinds to a halt like it did last year (again), Golden State can most likely win or be favored in many of those games.
But for this game specifically, it's an incredible setup for Houston, and the number isn't even really adjusting for it fully (it has moved a couple points). I like the Rockets a lot at +5.5. — Ken Barkley
---
Mears: How I'm Handicapping Today's Game
This line has moved quite a bit already, starting at Warriors -8 at a couple books and getting to -5.5 as of Saturday night. I grabbed the Rockets at +7 — follow in our app if you want alerts from some of our experts — but still like it even at +5.5.
I agree with pretty much everything Locky said above: I don't think the Rockets are 2.5 to 3 points worse than the Warriors in this spot.
The Dubs are on a quick turnaround, and there seems to be a legitimate possibility that Thompson won't suit up. He's of less importance than Curry, who, it seems, will play, but he's still very valuable, especially since the Warriors' bench is much worse than it's been during their previous playoff runs.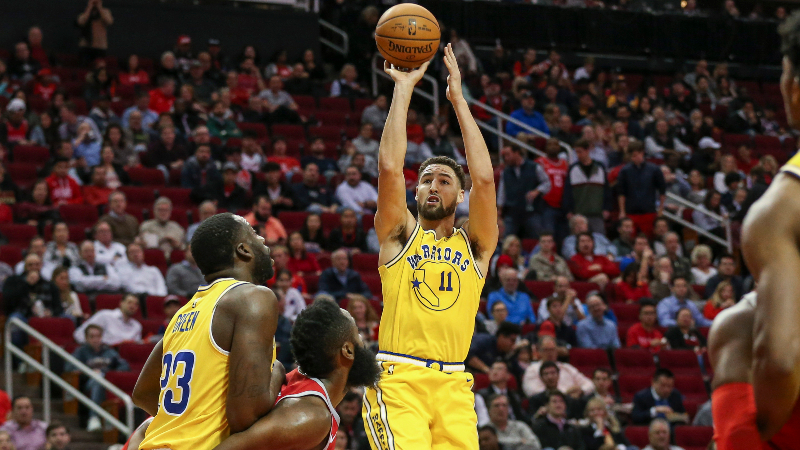 I also think there's some value on the under, especially if Thompson doesn't play. The Warriors' eFG% marked dropped by 2.9% (91st percentile of players this season), and I don't think the bench guys who would fill his minutes are great matchups for Houston.
My colleague Matt Moore wrote about interesting Warriors vs. Rockets trends, noting that unders hit in six of the past seven games last year. Further, he noted that Kevin Durant, who averaged 3.5 ISO possessions per game, averaged 10 such possessions per game against the Rockets. If Thompson is indeed out and with Curry playing at less than 100%, Durant might be leaned on even more.
Even if Durant is efficient on ISO possessions– and the dude has been crazy efficient scoring the ball lately — those plays are inherently slower-paced. Golden State already forces a ton of halfcourt possessions on defense (fourth-most this season, in fact), so this game could turn into a halfcourt affair instead of an up-and-down one.
As a result, I'll likely be betting the under as well, on top of my Rockets +7 bet. — Bryan Mears
---
Editor's note: The opinions on this game are from the individual writers and are based on their research, analysis and perspective. They are independent of, and may not always match with, the algorithm-driven Best Bets from Sports Insights.
How would you rate this article?