It's Time to Stop Blaming Otto Porter for Wizards' Struggles
Credit:
Troy Wayrynen-USA TODAY. Pictured: Kelly Oubre and Otto Porter
The Washington Wizards have started the season 1-3, and Otto Porter is naturally getting a chunk of the blame.
Wizards coach Scott Brooks went so far as to call Porter out publicly.
But as usual with Porter, the criticism is off-base and fails to take into account the bigger picture.
Of the many people to blame for the Wizards' shaky-as-hell 1-3 start, Otto Porter has been a popular choice.
Among the narratives floating around out there, Porter is …
Not shooting when open
Not being aggressive enough
Not worth the money he was paid on his latest contract
And most confusing, not running the break hard enough
"I want guys to play hard. We've got to play hard. You don't need extra minutes to play hard," coach Scott Brooks said when asked about Porter playing only 25 minutes during Saturday's loss to the Raptors. "Got to play hard. Everybody."

It's rare for Brooks to call out a player so obviously. He wasn't just unsubtle in his criticism of Porter. He flat-out named him.

"I love Otto…But he has to play faster," he said.

"You got to move. You got to set yourself up. You got to run the floor," Brooks said. "We've got a fast point guard. I don't know if you guys know that, but he's fast and if our wings aren't running, what good is it when you're going to have a one-man break?"
One issue with this: it's nonsense. As Fred Katz of The Athletic noted, "(The) Wizards had 16 possessions Saturday in which Porter had an opportunity to bolt down the floor on a fast break. According to my perfectly unscientific account, he did so successfully on 13 of those chances. Often, he was the second player past half court with the speedy Wall leading the way."
You see this when you go back and watch. I did.
You'll also find is a pretty clear pattern: The Wizards don't involve Porter in primary action, and then they expect him to find opportunities while playing with two guards who very clearly have tunnel vision toward the basket.
Not ideal.
WHAT THE NUMBERS SAY
For starters, just to get really basic on some of this, Porter is not getting the ball as much as he did last season. He averaged 48.4 touches per game last season according to NBA.com. This year, that's down to 39.0, which is more in line with his 2016-17 season.
He's shooting 14.7 times per 100 possessions this season, which is his lowest mark since his rookie season.
We're also seeing this in whom he shares the floor with.
We'll come back to these numbers in a minute, but it's pretty clear that this season the Wizards just aren't getting Porter as many shots. The Wizards contend that's a Porter issue. But as I'll show in a bit, it isn't that simple.
ABSENT OTTO
Wall, in particular, seems hellbent on not getting the ball to Porter in obvious spots.
Late in the Wizards' loss vs. Toronto, here's Wall taking on not one, not two, not three, but four (or at least three and a half) defenders in transition with Porter open in the corner.
Wall converts here; he's John Wall. But Porter, a tremendous spot-up shooter, ran the floor, was well in position before Wall began his attack, and …
Here Wall finds Kelly Oubre Jr., who is shooting 40% to start the season. Oubre takes a pretty good shot here, only moderately contested, and knocks it down. Porter is also open in the corner if the extra pass comes:
Bradley Beal has had a bit of tunnel vision in transition. He's a tremendous scorer, but here he takes on multiple defenders, when the turn-and-kick to Porter or, more easily, the side kick to Austin Rivers (who can extra pass to Porter) were both available.
And again, here comes Beal, weaving through multiple defenders … which he can do, he's Bradley Beal. But the whole benefit of having an elite shooter on the wing — and Porter has been elite the past two seasons — is you can kick to him in situations such as this:
The Wizards offense in a stillframe: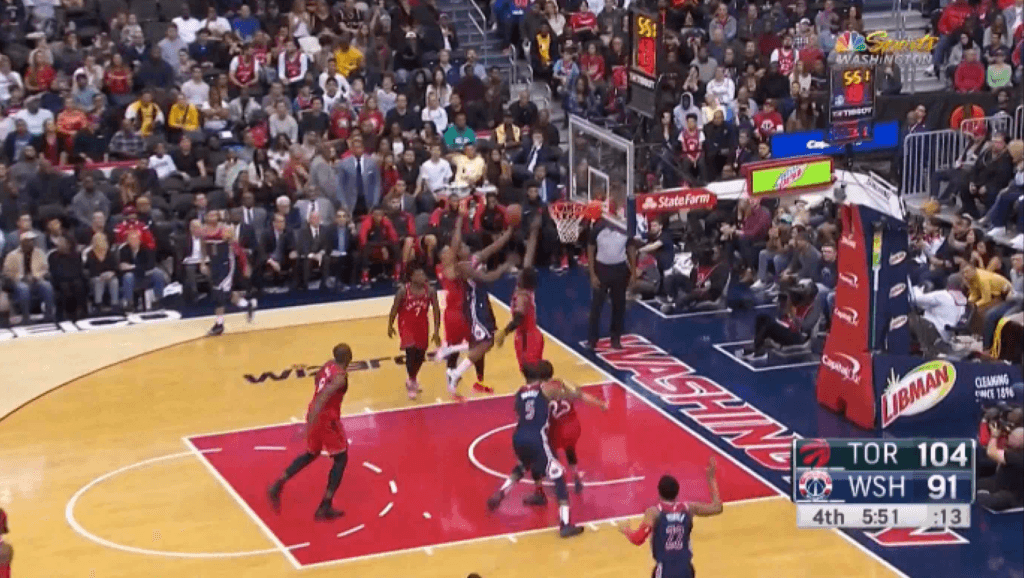 I'm sure some of you will criticize that Porter is just standing there … except, that's what he's supposed to do: space the floor.
He gets himself in position, and the lack of weakside movement is a staple of Scott Brooks offenses through the years dating back to OKC. Maintaining that floor spacing is vital for giving Wall and Beal the room they want to navigate.
When the opponent ignores the good shooters, that's when the House of Guards has to make the best decision and find those shooters.
This one's borderline. Wall might be worried about Jonas Valanciunas grabbing the pass or blocking Porter. This might be part of the team-wide edict to get up more 3s. But Porter is right under the basket.
The other thing we have to talk about is Markieff Morris.
THE KIEFF THIEF
I've been on the "trade Markieff Morris" wagon for some time. It's not that Morris is bad — quite the opposite. He's a good player. His toughness and bravado, especially on a team that's lacking in that department quite a bit, would be very valuable.
But here's the problem: His fit on this team has always been a little dubious. The lineup data with him in small-ball spots hasn't been great. He's prone to confrontations that can derail focus. And more importantly, the team just hasn't been great with him.
The Wizards outscored their opponent by only 0.2 points per 100 possessions more with him on the court than they did without him.
That's good for a role player off the bench. But the amount of time Morris played with the starters should have boosted that.
But this season — a contract year, notably — Morris has been lights-out so far. He essentially won the Wizards' the game vs. Portland, their only win of the season.
He's shooting 60% to start the season, a figure that will, of course, not hold.
But key in this discussions are the numbers from that chart above. Last season, Porter's shot rate went up with Morris on the floor. This year it's way down. And Morris is averaging a career-high in shot attempts per 100 possessions.
Some of this is the lineup construction.
Lineups with Oubre at the 3, Porter at power forward and Marcin Gortat were plus-17 per 100 possessions.
With Dwight Howard out, the Wizards are relying on Ian Mahinmi, and the struggle is real.
The small-ball lineups are cooking so far: House of Guards plus Oubre-Porter-Morris is plus-22.9 in this tiny sample early in the season. They're off to a good start.
One issue with this lineup is that it removes Porter almost entirely as the screener. A great way to get Porter looks is simple pick-and-pop action. Porter has just two shots out of the pick and pop so far this season. He has two shots as the roll man. The Wizards are just flat out not using him in all ball-screen action.
Some of that is the result of an increased role for Morris.
If Morris is going to have a bigger role this season, and if the Wizards are going to trust and empower Morris in a way they don't Porter, it begs the question of whether the Wizards would be better off using Porter's value to find a deal.
That's a drastic reaction to such a tiny number of games, but it's only to underline the point: If your problem is the money you spent on Porter, you need to make the most of the asset you've got.
This is all small-sample stuff and can turn around suddenly.
Porter looked more aggressive vs. the Blazers. This could get sorted out. But I remain skeptical that both Morris and Porter can eat to the degree Porter needs to and Morris wants to unless Wall makes it a priority to get both of them going.
Wall is always better as a distributor. (He's still averaging 8.0 assists per game because he's incredibly good.) Wall said he didn't want to talk any more about Porter's 3-point shots.
The problem with that is Wall's the only one with the answers to the questions surrounding this start for Porter.
Porter has been the same. The Wizards have not.
How would you rate this article?