NBA Win Total Odds & Pick: Are the Washington Wizards Stuck in Purgatory?
Credit:
Stephen Gosling/NBAE via Getty Images. Pictured: Bradley Beal #3 of the Washington Wizards.
Check out this post for updated season win total odds for all 30 NBA teams.
---
Washington Wizards Win Total Odds
| | |
| --- | --- |
| 2023-23 Win Total | 35.5 |
| Previous Season's Wins | 35 |
The Case for the Over
Veteran Floor
3-point Regression
Bradley Beal + Kristaps Porzingis
This is not a young, up-and-coming team. They have nine players with at least four years of NBA experience. Most, if not all, are in the top-10 of the rotation. The roster also makes sense.
Monte Morris joins the Wizards as a low-turnover, high-efficiency starting guard. Morris won't put in 30-point games, but he'll have more good nights than bad and is ready to contribute as needed. If he needs to set the offense and then spot-up for spacing, he can. If he needs to run pick-and-roll, he can. Morris is the very definition of a high-floor player.
Kyle Kuzma, Will Barton, Delon Wright, and Kristaps Porzingis have experience and ability. Outside of Kuzma, they're not players you feel great about trusting for big things, but Barton was part of a very good Denver Nuggets team the last four seasons as a starter, and Porzingis continues to be tantalizing for his combination of skill and height.
Corey Kispert and Rui Hachimura both have good upside as scorers; Hachimura held a 68% eFG on catch-and-shoot opportunities last season, averaging nearly 45% on 3-pointers overall.
Speaking of 3-point shooting, it was a weird season for the Wizards last year as several players had outlier seasons. Bradley Beal, a career 37% 3-point shooter, shot just 30% before shutting his season down to ensure his super-max. Kyle Kuzma was at just 34%, and Davis Bertans, a pure shooter, was less than 32% before he was dealt to Dallas.
The Wizards had the eighth-worst differential between expected eFG% and actually based on shooter, contest level, and location per Second Spectrum. Barton and Morris should improve that, as well as Beal returning in presumably healthy shape.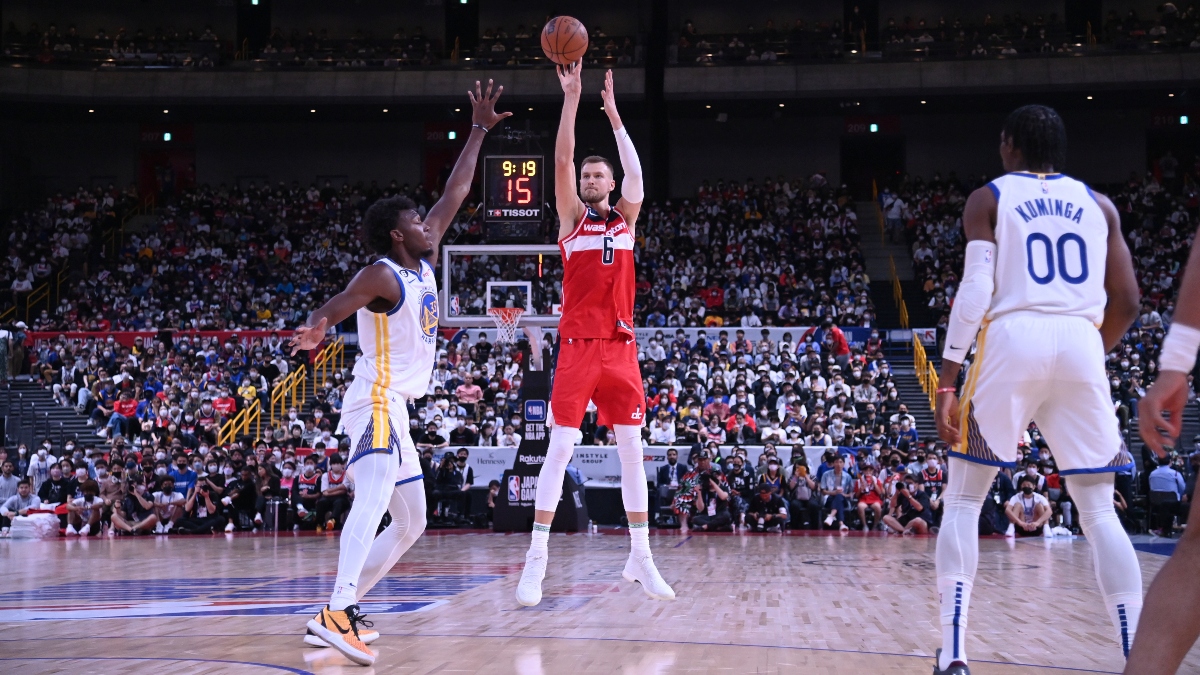 Beal and Porzingis played no games together last season, and the pairing holds a lot of promise. Beal is overpaid at this point relative to his league standing in star power, but he's still the guy who came up just a handful of points short of the scoring title two seasons ago, and a dynamic playmaker with the ball in his hands.
Pairing him with Porzingis who can play five out and stretch the floor should yield some good results for however long Porzingis is healthy outside of his usual more-than-half-season absences to injury.
The Wizards were 10-10 before March 1 last year when Beal didn't play and 17-23 in games where Beal played. It's concerning that the Wizards were better without Beal than with him before they tanked late in the season, but when you consider that the Wizards started the season 13-8 before the COVID craziness of December set in, there's cause for optimism.
The Wizards had the second-most games missed due to injury last season. In an outlier season for player absences, the Wizards were the outlier even under those conditions.
Teams that missed the playoffs with a Pythagorean expected win differential of 3.5 or more are 7-2 to the over in the last 10 years. To put that in layman's terms, the books' win totals are lined a lot more with their expected wins from the previous season based on point differential than how many they actually won.
But that moves the line too far the other way, and those teams that over performed based on point differential have actually consistently gone over. The Wizards' 3.5 mark is in the 89.5th percentile over the last 10 years. Teams at the 70th percentile have still gone over at a record of 17-10 (63%).
---
The Case for the Under
Very Low Ceiling
Key Departures
What's the Motivation?
What's an absolute best-case scenario from where we're at in preseason? The Wizards, full of players with serious injury histories, stay remarkably healthy and top out at 45 wins? More likely they play to a 45-win level but injuries take four games off them for a 41-41 finish at .500?
That gives you a full five games of clearance, but that's a best case scenario. The Wizards' floor might be a reason not to bet their under, but their ceiling is a reason not to be the over.
Four of the Wizards' top-10 players in Win Shares from last season are gone in trades or free agency. They lost defense and shooting with Kentavious Caldwell-Pope in the Morris-Barton trade, lost bench energy and muscle with the Harrell trade, lost center depth with Thomas Bryant not re-signing, and shot creation after trading Spencer Dinwiddie.
What player could make a leap to push them to an easy over like Miles Bridges did for the Charlotte Hornets last season? Hachimura? Deni Avdija? Kispert? It's hard to see the breakout candidate.
Finally, the Wizards know they aren't a contending team. The issue with Beal, repeatedly, has been that he gets banged up and when the team isn't in a top-end position, his season ends. He just got the supermax. How long until he starts planning his exit?
Even if that won't happen this season — and Beal notably has a no-trade clause in his deal — if the wheels start to turn in motion, what does that do to morale?
This is a team where every player is having to play one level up. Beal is probably an ideal second or third star. Here, he's the No. 1, biggest name on the marquee. Porzingis probably needs to be fourth, he's second here. Kyle Kuzma should be fifth, he's third, and on and on.
The roster is just uninspiring.
Beal's games played since the pandemic: 57 (shortened season), 60 (out of 72), and 40. I'm not entirely convinced that if this team is out of top-six seed contention (and they should be) that Beal will play the whole season, even after securing the bag.
Porzingis is another level of questionable availability. His last six seasons games played: 66, 48, zero (missed season with ACL tear), 57 (shortened season), 43 (72 game season), 51. He's just never healthy. If he's out, Kuzma or one of the young guys becomes the second-best player on the team and that's rough.
Their win profile last season was rough as well. They went just 15-14 vs. teams under .500. You have to win more of those games to go over in most spots. The Wizards went just 21-20 at home and 7-9 in the division. Again, those are games that are signs of your regular season strength and they failed in both those categories as well.
Wizards Win Total Bet
I'm staying away, though I do lean toward the over. The roster is decent and experienced, they have no incentive to pull the plug and tank, Beal can have scoring nights that separates them from their play-in level competition, and the expected wins differential trend leans to the over.
However, I just can't trust their best players to be healthy, their win profile is worrisome, and their young talent isn't exciting.
I will say there are some pretty under-the-radar good guys on the depth chart. Anthony Gill's advanced numbers for a 28-year old veteran are impressive, I like Devon Dotson (if he makes the roster) and Delon Wright was a great pickup.
It's just not enough to talk me into over 35.5. The under is a no-play, for sure, the over isn't compelling enough to warrant the bet.
How would you rate this article?
This site contains commercial content. We may be compensated for the links provided on this page. The content on this page is for informational purposes only. Action Network makes no representation or warranty as to the accuracy of the information given or the outcome of any game or event.